Announcements
#vsualumni Homecoming 2016
Relive your unforgettable experience at your Alma Mater! Come to the grand alumni homecoming at VSU on May 20-21, 2016.
Hosted by freshmen batches 1976 and 1992, this year's homecoming is about reminiscing the past, building memories, forging ahead. Your two-day stay in VSU will look like this.
Hurry, sign up now.
Application for Senior High School Voucher Program
The Senior High School (SHS) Voucher Program is re-opened by the Department of Education for completers of Grade 10 who would like to pursue SHS education in private schools, universities and colleges, state universities and colleges, and technical and vocational institutions offering SHS in SY 2016-2017. The program provides students with a subsidy that enables them to get a discount on the cost of tuition and other school fees for SHS.
All applications must be done strictly online. Applicants must fill-up the online application form and upload a scanned copy of all the following documents:
Colored ID picture (2x2)
Latest copy of the Grade 10 Report Card
Birth Certificate
Proof of financial capacity of the parents/guardian (any of the following):
Latest Income Tax Return
Certificate of Employment (stating position and monthly income)
Certificate of Certification of Tax Exemption or Municipal Certification of Unemployment
Applications will be accepted until May 6, 2016 only. The deadline is non-extendable. Results will be announced on or before May 20, 2016.
To apply, log-in to shs.dev.fapeonline.org.ph using the following details:
Username: 1111111
Password: 11-1111111
Downloadable guides are available in this test site (link: http://shs.dev.fapeonline.org.ph/downloads) for further information about the program.
For queries, contact Dr. Rizalina Truya, VSUSHS Principal through (053) 563-7527.
Jobs Fair at VSU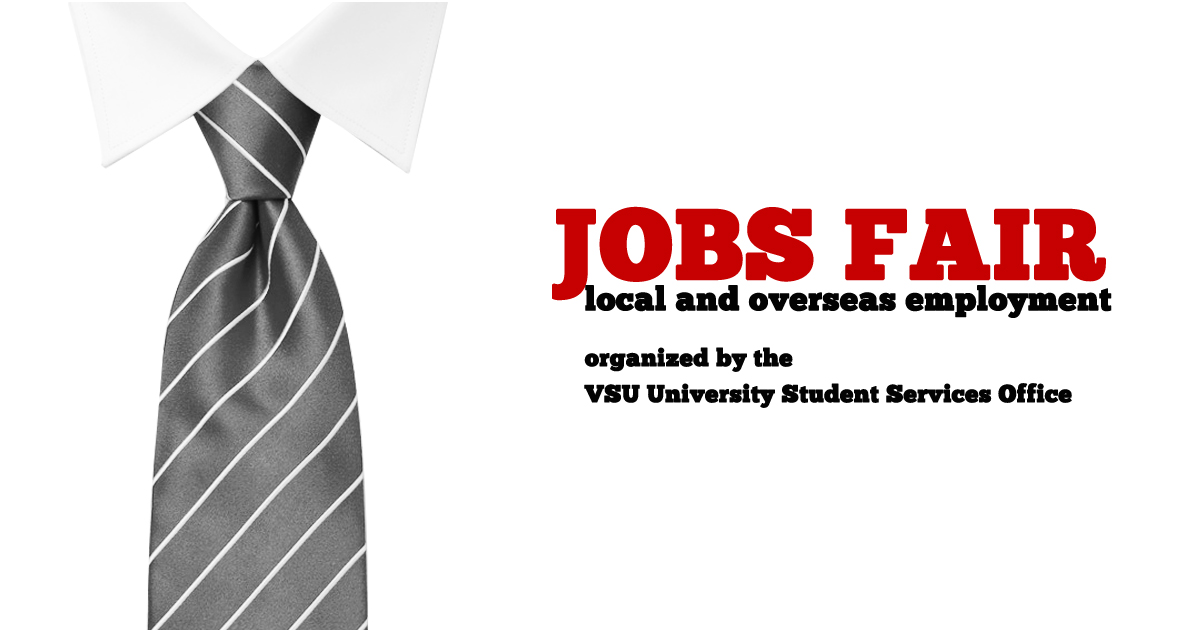 Local and international companies are coming to VSU for the Jobs Fair at the VSU Gymnasium, April 15 from 8AM to 5PM. As of Friday last week, eight local and five overseas companies have signified to participate in the Jobs Fair. Staff from the Philippine Overseas Employment Administration will also conduct a seminar on job-seeking and employment abroad.
The University Student Services Office (USSO) said there is no need to make reservations for the Fair but it will be on a first-come-first-served basis. Applicants should have mainly their resume and Transcript of Records ready.
Program of activities:
7:00-8:30 - Registration of job seekers
8:31-9:00 - Opening Program
- Presentation of DOLE Personnel and participating agencies and employers
9:30-10:00 - Pre-employment orientation seminar by Ms. Rose Jervoso, POEA
10:00-5:00 - Jobs Fair (with lunch break)
[Full List] VSU Graduates Class of 2016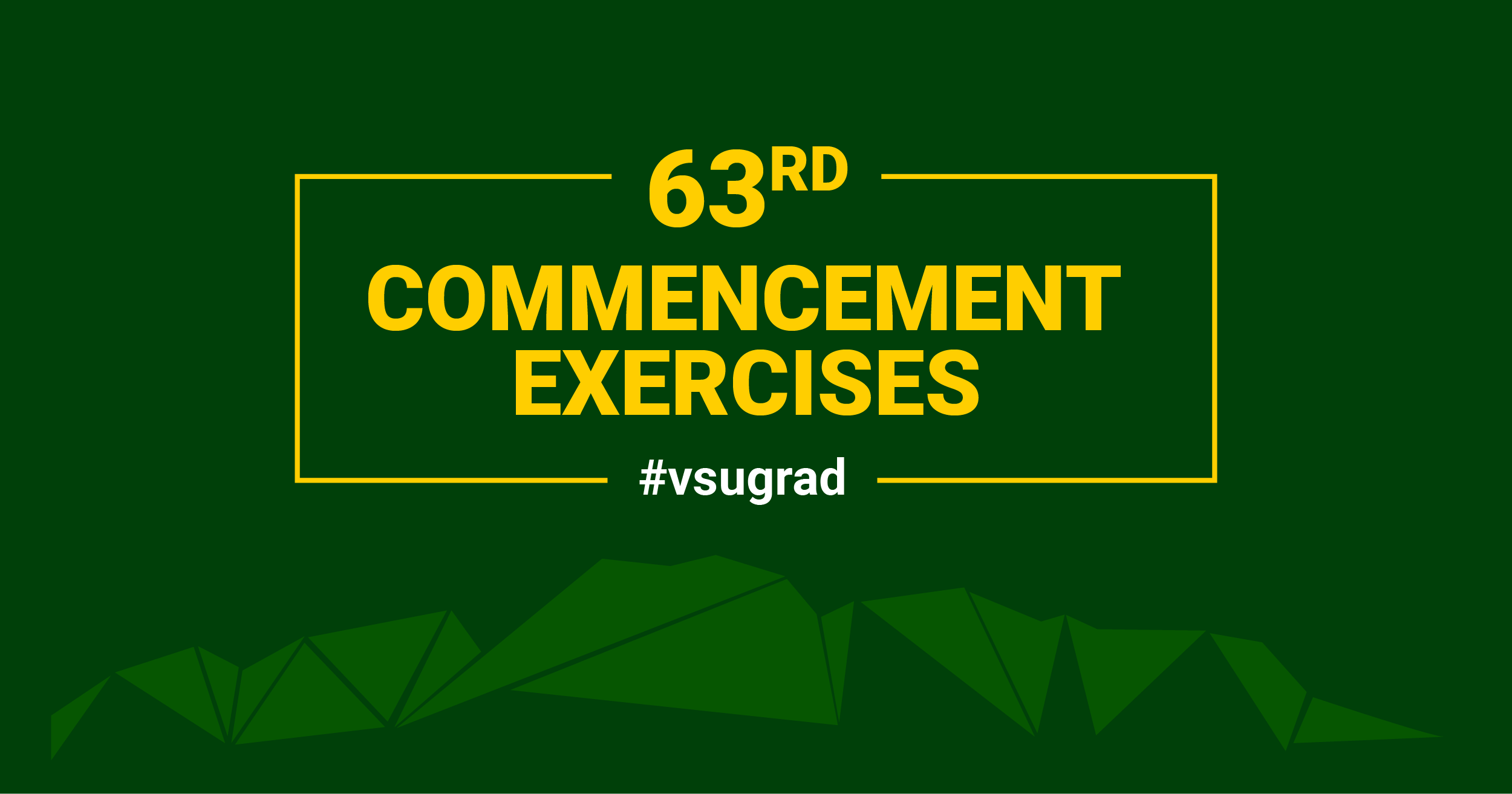 Names of all candidates by program who will graduate on April 13, 2016.
Read more ...
Submission of Graduation Photo to VSU Media Team through DDC
All graduating students are encouraged to submit graduation photos to be used for their transcript of records. The VSU Media Team is also planning to show the photos in the LED walls as each graduate receives the diploma during the graduation ceremonies. Two photos of the graduate in academic dress or toga must be submitted: (1) one wearing the academic cap (or mortarboard), and (2), without the cap.
The photos must adhere to the following guidelines:
The graduate must wear the proper academic gown prescribed for the degree program. Graduates of bachelor's degrees, except for Doctor of Veterinary Medicine, must not wear a hood.
The graduate must wear formal attire under the gown: long sleeves with tie (men), appropriate dress (women).
For the cap photo, the tassel should hang from the graduate's left side (photo's right).
The background should be a dark green to black gradient without any texture (please see attached graphics).
The photos must not look too "photoshopped". While airbrushing is allowed to remove blemishes, it should not be overly done that the skin texture looks artificial.
The photos must not contain any markings, design overlays or watermarks.
The photos must be in high-resolution.
The two photos will be named as follows:

Without Cap: Student number + Surname
Ex. 12-1-00001 DELA CRUZ.JPG
With Cap: Student number + Surname + "CAP".
Ex. 12-1-00001 DELA CRUZ CAP.JPG
The digital copy (JPG or PNG) of the photos should be submitted on or before April 10 to the VSU Media Team ℅ Mr. Derek Alviola at the Department of Development Communication, or email as attachment to This email address is being protected from spambots. You need JavaScript enabled to view it.
For your convenience, the Media Team has accredited Palm Printshop to take studio photos on April 7-9 at the ADE Rm. 123A from 9AM to 6PM. Palm Printshop will only collect P120.00 for this with printed copies of 18R, 1 3R and 2 passport size photos. Graduates may have their photo taken at other studios as long as the guidelines are strictly followed. The VSU Media Team reserves the right not to accept photos that do not follow the guidelines.
For your guidance and compliance.
2016 VSU Grand Alumni Homecoming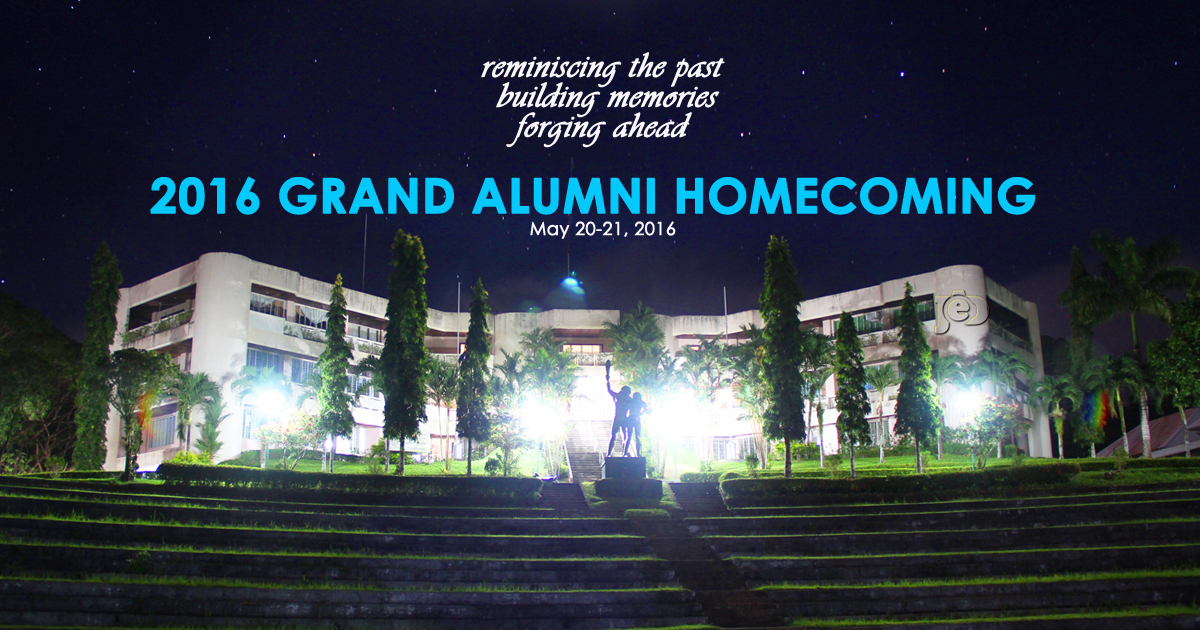 Relive your unforgettable experience at your Alma Mater! Come to the grand alumni homecoming at VSU on May 20-21, 2016.
Read more ...
Subcategories
Announcements circulated within the College of Education.