#EnrollAtVSU: VSU College Admission Test 2020 Qualifiers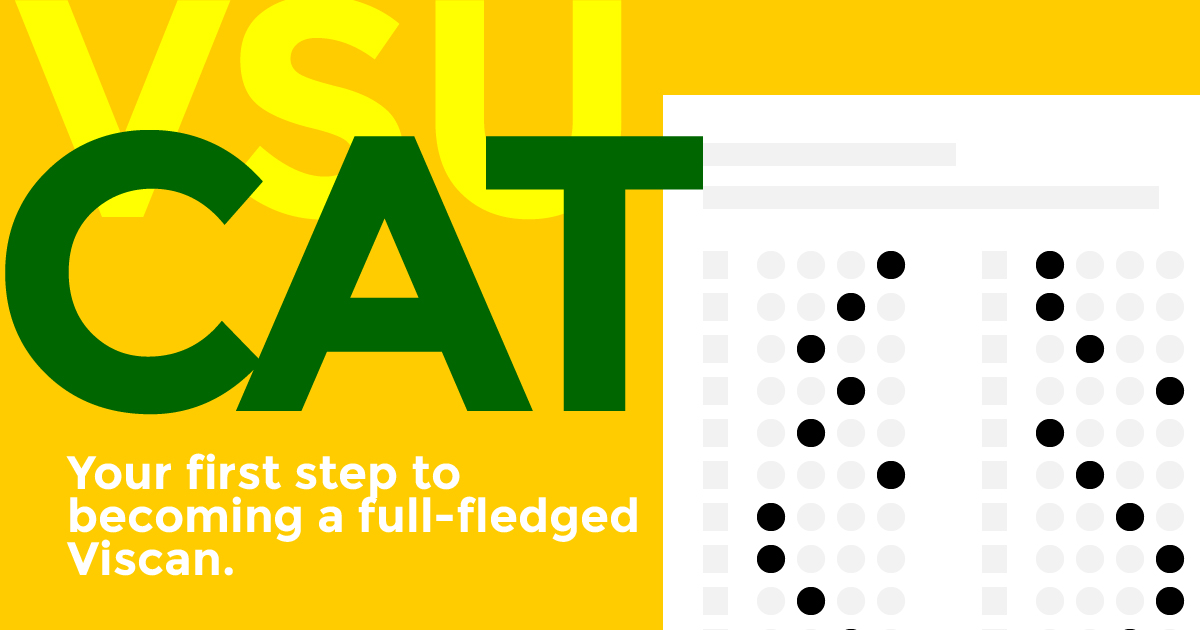 Visayas State University is happy to announce 4,698 qualifiers out of the 12,040 who took the 2020 VSU College Admissions Test (CAT). Congratulations!
Out of these, 2,644 are eligible to enroll in the main campus in Baybay City, while 2,054 are eligible to enroll at our component colleges in Alangalang, Isabel, Tolosa, and Villaba.
This is the full list of all qualifiers on all campuses, colleges, and degree programs. Qualifiers listed in specific programs must enroll in the program—no shifting allowed. Meanwhile, those who passed the exam without programs may enroll in the ones with open slots:
AB English Language Studies - 24 slots
B Early Childhood Education - 12 slots
BS Development Communication - 22 slots
BS Environmental Science - 19 slots
BS Food Technology - 44 slots
BS Forestry - 43 slots
BS Geodetic Engineering - 21 slots
BS Statistics - 9 slots
We will announce the enrollment schedule and process in due time. Please check the VSU website regularly for updates.
Welcome to VSU!
---
VSU Main Campus
College of Agriculture and Food Science
College of Arts and Sciences
College of Education
College of Engineering and Technology
College of Forestry and Environmental Sciences
College of Management and Economics
College of Nursing
College of Veterinary Medicine
Other qualifiers
VSU Component Colleges
VSU Alangalang
VSU Isabel
VSU Tolosa
VSU Villaba
---
VSU Main Campus
College of Agriculture and Food Science
BS in Agriculture
ABANERA, Mary Jean P.
ABARQUEZ, Je-An F.
ABASOLA, Mariel Ann F.
ABESIA, Fehby D.
ABINES, John Paul A.
ACERO, Leslie Ann C.
ADARON, Georgie B.
AGUILAR, Angelo M.
AGUILINIA, Jecelle T.
ALBERO, Darwin E.
ALBINO, Julie Ann
ALCOSERO, Reymund D.
ALDAYA, Rey Cristian B.
ALDIANO, Monica L.
ALIBANGO, Margie M.
ALIMA, Aileen G.
ALVARADO, Jean Myka A.
AMABAO, Paul C.
AMARILLE, Anthony T.
AMOLO, Kathe Aileen C.
ANDAL, Rose Diane T.
ANTILLON, Dannah Jane I.
APUYA, Kristine Joy D.
ARTIAGA, Karen Joy E.
ASUNCION, Chelie Mae G.
AUSTERO, John Paul M.
AYOP, Adrian P.
BAGARINAO, Jon O.
BAGARINAO, Harvey S.
BALA, John Anderson C.
BALABA, Frenzeil Zabea I.
BALABAG, Reziah Jeann P.
BALASABAS, Ernesto Jr. Iii L.
BALUGO, Mariejo L.
BARCELON, Jessie M.
BARRO, Venus D.
BAUTISTA, John Dilbert F.
BAYKER, Christa Mae T.
BENTULAN, Richmond P.
BERADOR, Marecar B.
BERIN, Meir P.
BERNADEZ, Merylle A.
BERON, Angeline V.
BESAÑES, Perlita P.
BIBAT, Marigen H.
BISNAR, Louisse Heart T.
BISNAR, Neomelyn B.
BITAYO, Russel V.
BOBIER, Carolyn D.
BONCALES, Roxanne L.
BONGOT, Joy Marie R.
BORLAZA, Develyn
BRIGILDO, Johanna L.
BRILATA, Shunn Rhayback M.
BUERA, Jonathan N.
BULANON, Nicole Jane L.
BULFA, Roel Jr. B.
CABAHIT, John Mark
CABAÑAS, Gemma L.
CABAÑERO, Nathaniel C.
CABILING, Jennyve B.
CADORNA, Jen Xy-Rel C.
CAGABHION, Romeo B.
CAGABHION, Raymond
CAGADAS, Renee Rose P.
CAGAS, Apple Queen T.
CAHIGAS, Anghie R.
CALAMBA, Melvic C.
CALIPES, Nathalia Margaux M.
CALIXTE, Angeline R.
CALO, Antonio M.
CANADALLA, Mary Flor N.
CANAWAY, Eugene A.
CANAWAY, Julius E.
CAÑETE, Allan Mae M.
CAÑETE, Rommel F.
CAÑETE, Dionesio Jr. P.
CANO, Eric A.
CANONIO, Julius Cesar P.
CANOY, Aldwin M.
CAPANGPANGAN, Reena Mae J.
CAPATE, Aldemil L.
CARDINES, Eugene B.
CASAS, Deodisa C.
CASIDO, Arnel R.
CASONA, Jomar B.
CASTILLER, Ian C.
CASTILLON, Josie Ann J.
CASTILLOTE, Frances Clare N.
CATORCE, Jose Pepito Iii T.
CAYANONG, Jaime Jr. A.
CECILIO, Prince Cj R.
CELLONA, Patricia Ann S.
CHUA, Melanie B.
CONSIGNA, Mark Joseph S.
CORMANES, Mariz V.
CORMANES, Danica Mae A.
CORONEL, Junmark G.
CORTES, Shenitte Jyne G.
COSTIN, Rolan A.
CRISOSTOMO, Jed G.
CUARENTA, James Brown B.
CULTURA, Julito P.
CUTANDA, Giovanni B.
DAGA, Leonel R.
DAGING, Dexter R.
DAMALERIO, Novie Ann V.
DANCIL, Romeo Jr. M.
DASMARIÑAS, James Jovan G.
DE PAZ, Riane Vincent P.
DEBORSA, Angelo
DECIERDO, Mariza R.
DELA CRUZ, Gisselle
DELFIN, Hancel Henley Ammar B.
DIANG, Ruth C.
DICDICAN, Alexander John G.
DOLORITO, Kimberly D.
DOMANACO, Nelvy Mary G.
DUARTE, Anthony O.
DULA, Mariel C.
DUMAGUING, Dan David I.
DUMANGAS, Glory Jane S.
ECHAVEZ, Jovan L.
ECIJA, Jamaica Michaela L.
ELISAN, Ruelyn C.
ELIZAR, Mark T.
EMPILES, Roel Jr. A.
ENCIENZO, Gilbert Paul Ii L.
ENTERO, Genalyn H.
ENTERO, Antonette D.
EREJER, Janice D.
ESCUADRA, Jandell T.
ESGUERRA, Ian B.
ESPERAS, Michael A.
ESPINAS, Mylene B.
ESTACION, Kalehla P.
ESTOLANO, Madel R.
FLORES, Karl Eduard S.
FLORES, Kristil Mae M.
FORNOLLES, Kiara Mirava Noelle T.
FULACHE, Datche D.
FURTON, Keendrick B.
GALAMITON, Cherry O.
GALLER, Myca H.
GALLO, Jeca T.
GALOPE, Michaela Marie M.
GALVE, Jessica Amor C.
GALVEZ, Shaun Mark A.
GARAY, Larry D.
GARCIANO, Jerome S.
GARMA, Raymond
GASATAN, Dianne Rosemie C.
GAVIOLA, Jomari C.
GAYTANA, Mark Jone P.
GERONA, Jayvee G.
GOCELA, Rheo O.
GODOY, Jay Man V.
GONGOB, Grace Irene C.
GONOS, Noe
GONZAGA, Jenjen
GONZALES, Khay S.
GOPIO, Angelika S.
GRAFE, Icy A.
GUCELA, Wendyl
GUIÑAREZ, Jolina G.
GUINOCOR, Micah Jean O.
HAMOC, Forrest Angel D.
HANOHAN, Primitivo C.
HINAY, Myca G.
HONORIO, Nhelia
IBAÑEZ, Dennis P.
INDAC, Roselle Ann B.
INGUITO, Jay G.
INTANTO, Nova Mae T.
INUTAN, Kyle D.
ISAIAS, Lester John F.
ISIP, Jennifer D.
JABOL, Harold B.
JABON, Hervey S.
JACEA, Dorothy Joy P.
JACOBE, Jhanna D.
JALOBER, Dianne Trisha R.
JAWAY, Ma. Jeny Pauline O.
JOYO, Kristian Joneal N.
JUANIR, Ronilo,Jr. G.
JUANITE, Charon Shane M.
JUMAO-AS, Louise Marie R.
KIKIMEN, Jasper Loucil B.
LAGADO, Denabe Z.
LAGUNA, Ricardo Jr. L.
LAMADORA, Floramae C.
LAMOSTE, Faith Mae B.
LANANTE, Jade O.
LAPASTORA, Joshua
LARANJO, Gift Rochelle T.
LASTIMA, Leonard D.
LAZARTE, Jhayzell V.
LEOVERAS, Nicel Ann M.
LIMAS, Lica C.
LIMPIN, Jehanne R.
LINA, Joel L.
LLANO, Lynette D.
LLANTADA, Argie V.
LLEVE, Zandra A.
LUMANTA, Eugene S.
LUMAPAC, Jovelyn N.
LUMAPAS, Jasmine Joyann P.
LUTCHAVEZ, Kent James C.
MACALALAG, Leo,Jr. D.
MADRAZO, Mariane A.
MAGCURO, Queen Anne Mhajheelah S.
MAGLUYAN, Mary Grace R.
MAGNIFICA, Jemeoel A.
MAGSANAY, Monica Sheldane Y.
MAHINAY, Luie
MALASAGA, Christella C.
MALATAG, Melvin H.
MALBAS, Ronalyn Mae P.
MALDA, Marycris E.
MALINAO, Marvin Louie G.
MALOLOT, Harriet Vandey D.
MAMOLO, Tommy G.
MANALAD, Mharian Allen H.
MANATAD, Jenno D.
MANATAD, Jeanne V.
MANCIO, Rojan Mark C.
MANTAHINAY, Michael S.
MAQUILAN, Kim Camille
MATIN-AO, Lani Mae M.
MAZO, Manilyn S.
MAZO, Mitchan John A.
MEKING, Raphael S.
MELITON, Stephen G.
MENDOZA, Kayra-Mae G.
MERCONES, Jhude M.
MERTO, Crisha Faye L.
MILLANES, Jhunine Rose A.
MILLANO, April Joy C.
MILLEZA, Mickie O.
MIRAFUENTES, Trisha Mae R.
MIRATA, Vensar B.
MODINA, Julie Mae
MONTANES, Angel M.
MONTEDERAMOS, Bianca P.
MONTUYA, Loreynz Rafael R.
MORETO, Mark Joseph T.
MORI, Syndicar P.
NAMUKATKAT, Katrina P.
NAPALLACAN, Mary Joyce V.
NARIDO, Perlyn
NAUL, Roel B.
NIOG, Cheryl Mae B.
NODALO, Janela Y.
NOROÑA, Alfe Angeli M.
NOROÑA, Athella Mae D.
NORONIO, Christy I.
NOTARTE, Lita R.
NOTARTE, Joselito B.
OBEDA, Nick Jave C.
OBIEREZ, Joshua Miguel P.
OCOY, Jenny P.
ODO, Jeson P.
ODOG, Lineth Joyce C.
OLARTE, Anjelyn L.
OLING, Jemmalyn F.
OMISOL, Juray V.
OPONDA, John Kenneth A.
ORBELLO, Jhanine P.
ORIA, Merry Rose C.
ORION, Princess Mae M.
ORTEGA, Vivianenmay G.
ORTILLO, Lyca Mae L.
PABROQUEZ, Jovilyn C.
PACAÑOT, Marinilo P.
PAET, Khristian Mike T.
PAJULIO, Mark Louis C.
PAL, Maria Elisa G.
PALARAN, John Steve L.
PALEN, Niño Abel V.
PALERMO, Darwin B.
PALERMO, John Henry M.
PALLER, Brian Basil Y.
PALO, Mary Joy M.
PAÑA, Justine O.
PARA-ASE, Ma. Lourdes B.
PASANA, Joan Mae B.
PASICARAN, Jenica Mae A.
PASTERA, Jeneva C.
PATUAR, Jay - R L.
PEDERICOS, Nael Lyndon C.
PELOBUENO, Ricky E.
PEREZ, Lester Jhon D.
PERNITES, Irish S.
PERNITES, Cyrene Marri S.
PETERE, Luis Gabriel G.
PIDE, Kenn Welmarc V.
PLANDO, Vince O.
PLAZO, Reynacris G.
PLAZO, Mark Leonard A.
PLAZO, Jhon Rheymar C.
POLISTICO, Anthony D.
PORCADILLA, Egie A.
PRECILDA, Vince Neil D.
PREMIA, Donald R.
QUINDAO, Niña Lyn P.
QUINIQUITO, Paul Arthur B.
RAMOS, Jelaica B.
RELAVO, Racquem W.
REMOTO, Darlene Mae Z.
REPONTE, Nestor A.
RESUSTA, Angel Rose A.
REYES, Julliana M.
ROCA, Joshua S.
RODRIGUEZ, Jimwel M.
ROSALEM, Ephraim D.
ROSALES, Zyra Grace C.
ROSINAS, Dean Paul R.
ROTAIRO, Elizabeth Jade V.
ROXAS, Mezillah B.
RUANES, Dominic C.
RUBILLOS, Judeah Marielle R.
RUELA, Frens G.
SABANDO, Angelo Jr. T.
SAGRADO, Carlo P.
SAGUSAY, Kent Iverson A.
SALAC, Lovely Archie O.
SALAZAR, Henry E.
SALVO, Lila May B.
SAMORAZ, Albert James B.
SANDOVAL, Margon C.
SARATAN, John Aldwin R.
SARCO, Jylle Leslie A.
SARSOSA, Dannielle Kristin B.
SENTORIAS, Ejie A.
SERAT, Racquel P.
SESCON, Ivon Grace S.
SEVILLE, Julianne S.
SILVANO, Lobvely Rose R.
SOLIS, Jayne L.
SOSING, Beamarie V.
SOTTO, Analy C.
SOTTO, Rhea Ainee N.
SUDARIA, Sheila Mae D.
SUGETARIOS, Jetfreda D.
SUMABAT, Madeline B.
SUMAYLO, Jamaica A.
SURALTA, Adelfa S.
TAGOD, Riza R.
TAMBIS, Charls Cassander S.
TAN, May Queen B.
TAÑA, Restie Van C.
TANUTAN, Alemar P.
TEVES, Joselito V.
TIMON, Crispulo Jr. R.
TISADO, Ceasar D.
TOLIBAS, Gia P.
TONDAG, Peter Lee Dixon L.
TORRES, Ruselle N.
TRILLES, Ivan B.
TRUYA, Edcel A.
TULIN, Joseph Andrie T.
TUMOLAK, Gene Marcrisa S.
TUYAN, Wenalyn O.
TUYAN, Wella O.
TUYOR, Immarie Christine Q.
UDTOHAN, Carin P.
VALENCIA, Sheryl Ann C.
VELASCO, Jamaica D.
VENTULA, Arnel M.
VERALLO, Marjorie P.
VERANO, Jovelito
VIAGEDOR, Jorelyn S.
VICENTILLO, Grace Keren B.
VILLALINO, Niño Maximo L.
VILLASANTE, Gabriella Mae R.
VISCARA, Reggie B.
VIVERO, Rogelyn M.
YAMAZAKI, Mari M.
YTAC, Niñazara D.
ZAMORA, Crystal C.
BS in Development Communication
ABANIEL, Robel Sim C.
ABAY ABAY, Jay Fraim B.
ALEJANDRINO, Argensheen A.
ALMONTE, Jonalyn L.
ALMOROTO, Mary Claudine B.
ARREGLO, Kaye Hazel S.
ASUPAN, Jillian P.
AVES, Ceasar Steve D.
BAE, Mijin L.
BAGALAWIS, Shaira T.
BARBOSA, Niño Generyll V.
BENTULAN, Knarf Nave E.
BERAY, Janah P.
BULAWAN, Cliff Aijan M.
BURLAS, Joannah C.
BUSCAGAN, Mark Christian Z.
CAAYOHAN, Charlito Jr. G.
CABAL, Shielou Mae D.
CABANAG, Angeli C.
CABIDO, Marjolina A.
CALLENO, Jon Menachem C.
CAYANONG, Nica Mae D.
CENTINO, Jhonvie P.
CORAZA, Francis May N.
DAMPIOS, Angelica C.
DE LA CRUZ, Maxine Athena G.
DUMANGAS, Herlyn Maowie L.
DUMAPI, Abegail C.
DUMARAN, Liza Mae M.
ESMERO, Ian Rae R.
FUENTES, Ramilyn P.
GABATAN, Jane Kimberly P.
GARCIA, Venus Zane D.
GERALDO, Vince Ivo Luis E.
GRABINO, Lorelie A.
GRADO, Chamie M.
GUIRAL, Ma. Alondra J.
HERMOSILLA, Aila Marie B.
JENTASAS, Jenelle-Ann C.
JUNSAY, Cathy C.
LABRA, Genran L.
LARAGA, Kylene Anthea L.
LASCOÑA, Shanica A.
LIBATO, Arjun Jay
LLANITA, Raymund B.
LORETO, Ivannah C.
MANAGBANAG, Maria Francesca Elizabeth T.
MANGUBAT, Jan Alexis C.
MANTUA, Qryl S.
MINARDO, Chrischaelle Sofia G.
MONTES, Cyrus Lem R.
MORBOS, Shane E.
MORQUIANOS, Jay Ariel
MUSONG, Lenra A.
NIERVES, Mariel P.
OLIVERIO, Sascha Felicity V.
OQUIAS, Lerniel Angelee F.
PASTORIL, Fretzie Mae D.
PERALES, Angelie S.
PEREZ, Erwin Luke F.
PIL, Jan Gretel F.
PINOTE, Melca S.
PONDOLANAN, Christyl Angelene R.
REÑOS, Victor L.
REYES, Chen Chen M.
RIVERA, Janil E.
SABALLE, Roslyn Niña S.
SALANGSANG, Jaycel C.
SAPAULA, Dara Cleo P.
SATUR, Dyna Faith R.
SEPULVIDA, Daniellla Marie C.
SERENIO, Urie J.
TAJOS, Christopheer U.
TANZA, John Kent G.
TAPAYAN, Cristine B.
VILLAFUERTE, Hannaj Eirin C.
YAP, Alphea Mae M.
YOKINGO, Hana Lyn B.
BS in Food Technology
ABAPO, Nenelyn C.
ABAPO, May Carlota V.
AGRAVANTE, Hanna Marie S.
AGUA, Adrian S.
ALFANTE, Catherine L.
ARRADAZA, Jolina P.
ASTILLA, Jane Rica C.
BAJAO, Ana Marie A.
BRAGA, Rocelyn A.
CAMPILAN, Trixie J.
CAPUTOL, Juliet
CASINILLO, Justine M.
CASTILLO, Jerson M.
COLASITO, Rizzalyn N.
COSTILLAS, Quennie Marie L.
DELA CRUZ, Aldean Philip K.
DELA PEÑA, Zenny E.
FEVIDAL, Veronica Dhalin N.
FLORES, Hermes
FRUTAS, Loe Anne Frances C.
GARCIANO, Dana Ivy B.
GEAGONIA, Bianca Lalaine B.
GUARTE, Angelica R.
GUINOO, Jellian L.
LORA, Jesse Mark A.
MADRASO, Vic Brayan P.
MALIGRO, Myra Mae C.
MENDOZA, Mes C.
MIRA, Jerazule T.
MORIO, Promise Joy G.
MORTEZO, Robelle Jane B.
NAMA, Karl Vincent C.
NAYRE, Sheena Jay G.
NOPAL, Harold C.
ORDIDOR, Lord Dillan K.
PADON, Ronielyn G.
PANDO, Jwaltz
PASTORIL, Joe Ralph D.
PATINDOL, Karla Trixia N.
PEÑAFLOR, Ma. Colette P.
PETEROS, Emmanuel Jed B.
PINO, Shiela R.
QUIBOY, Reynald E.
REMEDIO, Praise Joy B.
SAMSON, Ena Marie P.
SANCHEZ, Lyra Jooly A.
SAURE, Angelica A.
SERATO, Clene Mae M.
TAMAYO, Frances Lyn
TAN, Willbert Rhic M.
TIGUELO, Ann Elizabeth A.
VALENZONA, Jimboy C.
VARGAS, Jercy Mie M.
VARRON, Nova Mae M.
VISCARA, Maria Nena F.
YCOY, Ryan D.
College of Arts and Sciences
Bachelor of Arts in English Language Studies
ADCOR, Emelle Justin A.
ALBAN, Jerusha Eve C.
AMBATALI, Sarah May S.
ANDOY, Juvelyn
ARCENA, Jens E.
ARQUION, Erica Mae J.
ATACADOR, Rhodelyn T.
AURORA, Kathleen P.
BARING, Karen Q.
BAYONA, Raiza Joy S.
CAPILITAN, Juliana Marie T.
CASAS, Jeophep J.
CASUCO, Donabel P.
CUBRESIS, Ma. Carrie D.
DAZO, Tricia
ENERIO, Mary Jane L.
FAROA, Nora Mae O.
FLORENDO, Mar Anthony
FUENTES, Chrestel Faye L.
GARA, Mary Grace B.
GUARIN, Carmela T.
JABALLA, Vanessa C.
KELIOPE, Joy Maritte P.
LAURENTE, Julius P.
LUNGAY, Ruth C.
MADIZ, Lyka Mae
MANAOG, Cris Desiree D.
MENDEZ, Patrick Paul M.
MITA, Michelle D.
NEGAD, Rujilu A.
NOPAL, Samuel F.
NUNGAY, Lorien T.
ORDIZ, Jonas Edson G.
PALCONIT, Franz Bryan D.
PALMA, Ma. Mena L.
POLIQUIT, Louie Jay C.
RESUS, Eugene Caezar B.
SABEJON, Kessha Mae Y.
SALUDARES, Jamie Lorriz A.
SALVE, Isabela L.
SAYRE, Allyza M.
SEGALES, Karl Justin R.
SUCALIP, Krista Claire A.
TUBALADO, Richlyn J.
VILLOCINO, Frances Andrea C.
YOSORES, Zyrhyll Vincent S.
BS in Biotechnology
ABELLAR, Nordilane D.
AMARGO, Charles Oneil O.
ANDRADE, Stella Vianney J.
ARRADAZA, Kyle Rosario R.
ARTATES, Kurt Ruthchez L.
BANDALAN, Shiena Mae
BIBAT, James Char B.
BORNEO, Cristel Marie F.
CAGASAN, Van Marie Editha G.
COMOTA, Mharjhonz Rey B.
CORMANES, Jan Michael Y.
COSIDO, Jazzie J.
DABATIAN, Via V.
DAPITON, Bea Nicole M.
DERECHO, John Nino T.
DOLLERA, Carlie Dale A.
DOYOLA, Carl Dominic C.
ELIAS, Remy Annen T.
ETULLE, Arnel C.
FAELNAR, Don Jerald C.
FLORDELIS, James Nicko O.
FLORES, Camille P.
GONZALES, Lee Andrew L.
GUBATON, Leenyka Goldy A.
LAVADO, Jaypee L.
LISONDRA, Althea Lyka L.
LLAVE, Ara Marie C.
LOPEZ, Monique Grace
MAMOLO, Glennard J.
MANONG, Angel Vi E.
MANTE, Lorene B.
MEJIA, Vincent J.
ORILLANO, Cerilo D.
PACOT, Dionn Marie B.
PADERES, Lailanie B.
PANTINOPLE, Wilmer,Jr. B.
PIAO, Isaac G.
PRING, Ruby Angeline A.
QUIROL, Ken Alphone Brian M.
RAGAS, John Victor A.
REDULLA, Ethel Grace S.
ROJAS, Alexa Gail L.
SALUBRE, Vince Isidore D.
SARABIA, Ephraim Philippe M.
SERAFINA, Reshiel A.
TINONGA, Pete Jeanncy T.
UBAS, James Kyle B.
UDTOHAN, Chelsea Lynn M.
VILLAMOR, Adonis James L.
VITO, Lourin Vina T.
BS in Chemistry
ABAD, Ma. Eralyn M.
ABUDA, Kim V.
AGANG-ANG, Gedric Lester A.
ALCOBER, Mary Christine Loreal A.
ALDAMIA, Louie James A.
AMPER, Angelyn L.
ARBAS, Oellyssa B.
ARCILLA, Clint Anthony B.
AYSO, John Richard P.
BANQUIAO, Cherry Lou M.
BASCON, Kyzyl Mhy K.
BATION, Michael John G.
BATISTIL, Essielve T.
CANONIGO, Geln Jr. S.
CASILAC, Laura O.
CELEDONIO, Kim Cyril T.
CUESTA, Hannah Kaye N.
DIANGO, Tricia Mae S.
DUEÑAS, Hannah Mae M.
FERRER, Ryrelle N.
GABRIEL, Julianne Rissa P.
HAGNAYA, Glaiza Rose A.
HIGUM, Dana Mae
IBAÑEZ, Vance Aldrich
JANDOC, Junamae O.
JORVINA, Josie Gel B.
JUSAY, Marion Angelique R.
LABISTE, Gem Angiely P.
LARGO, Brainy Luv A.
LENDIO, Rochelle O.
MACASAET, Rhea P.
MADERA, Rojane Kyle E.
MALSIT, Julia C.
MARTINEZ, Angel Jamina M.
MATUGUINA, Leilanie P.
MENDIOLA, Niño Miguel B.
MERELOS, Eulia D.
MERIN, Denz Kayro D.
METRAN, Glaiza A.
MIRALLES, Crixella C.
MORENO, Ma. Raniza W.
OPERIO, Jude Eric R.
OPERIO, Jericho Ross R.
ORA, Wreindt S.
ORDIZ, Mark Vincent P.
PELIMER, Jesheeva Mae N.
QUINTANO, Charlie L.
RAMOS, Alyssa Mae P.
SALCES, Keith Nicole B.
SARZUELO, Dale Frances R.
TAN, Ivan Noel A.
UTRERA, Cherilyn V.
VALENZONA, Ma. Conception S.
VARGAS, Mary Hail B.
VASQUEZ, Dann Caryl R.
VELARDE, Ranzelle M.
VILLAMOR, Aquilla Luke G.
VILLAMORA, Maria Angela M.
VILLASOTES, Jian Carl M.
WENCESLAO, Louise Christian P.
YUAG, Gianyhle Shynne G.
BS in Marine Biology
ABANDONADO, Shenmae G.
ABOGADIE, Mardorie C.
ABUYEN, Trisha S.
AGUELO, Abegail
AGUSTIN, Ramel Jr. R.
BALILING, Jesli Angel R.
BAÑEZ, Leigh Veronica A.
BASAS, Jesselle T.
BOISER, Michela B.
BUICO, Villa Irish B.
BULADO, Meryland Jean B.
COBACHA, Brendon Andrew K.
CORBITA, Froy Vincent V.
DE LA PEÑA, Nikole Jannie P.
ESTOY, Francis Ann G.
GERARCAS, Wyatt Earp F.
GOCELA, Kim V.
ISRAEL, Velly Joe F.
JASMIN, Jasmine Mae F.
MALBAGO, Rhea Mae R.
MELANO, Sarah Mae E.
MIGUELES, Jea Yvonne H.
MILANO, Adriel John T.
MURILLO, Abegail V.
NADELA, John Vincent B.
NAVARROSA, Sybil Therese F.
PALENCIA, Raphael Yanni C.
PEDROSA, Frances Marhie L.
REMELLETE, Aila Marie A.
ROCABO, Marinella P.
ROMO, Princess Rey Ann Lene E.
SARCO, Kyle Bryan C.
SARMEN, Blaire R.
SIDO, Rheannie Claire C.
VALLENTE, Herald Shalom R.
BS in Statistics
ADOBAS, Leonessa T.
AJETO, Katerine B.
ALFANTE, Judessa Faye E.
ARIZA, Alexia Aira B.
AURESTILA, Juanito Bien M.
BACLAYON, Reshea Mae L.
BALDICANTOS, Jurich Ashley Q.
BALLAD, Jamylle A.
CHAVEZ, Rhian Gil T.
JADENA, Lynden I.
MACASERO, Ma. Lealynn Evanne T.
MANLANGIT, Silenna Lauren G.
MANTE, Lorefiel B.
MODINA, Roby Jane A.
PAYOD, Carlo B.
PEÑA, Aizylle Anne S.
PERTURBOS, Argean S.
SARVIDA, Jovelyn P.
SON, Norbert M.
TARIGA, Christine Joy N.
VERRA, Dirck S.
BS in Biology
ARRADAZA, Arnon Rogel F.
AUXTERO, Karissa Cate A.
AWATIN, Gabriel Howard J.
BALAIS, Kristofer E.
BALLESTEROS, John Carlo F.
BANDE, Belinda Hazaife
BASA, Daisy Mae P.
BOBILA, Rhodine Grace T.
CAMBA, John Raphael P.
CAMBANGAY, Rhea Mae B.
CATALAN, Ma. Niña Cristlyn A.
CATARONG, Girlie D.
CATOY, Collin Greco S.
CELEBRAN, Jacinthe O.
DE PAZ, Robie Dana Grace M.
DESPABELADERO, Jemimah T.
DOROG, Graciela P.
DUCALANG, Jessa Mae C.
ENGAÑO, Athena Marie V.
ENSO, Rose Ann B.
ESCAÑO, Ivan Jerry S.
ESTRELLANES, Lloyd Ernan C.
GALLARDO, Junley M.
GONO, Beverly F.
HURBAN, Roxanne S.
JANOYAN, Jessa Mae M.
LAO, Mariel Geraldine G.
LIEM, Andria C.
LOMOCSO, Merry Angel R.
MAGPAYO, Erika Mae E.
MALAZARTE, Naive Marie B.
MALUBAY, Vinus Angel O.
MEJIAS, Mafe Nenia A.
MESA, Francis Ryan R.
NAINGUE, Kelly Kathrine Grace E.
OCIONES, Geoffrey T.
PARIS, Regina Isabel B.
PEJA, John Patrick S.
PEREZ, Rica Paula G.
POL, Angel Anthony E.
PRESBITERO, Kristtie Mae A.
REMULTA, John Joshua C.
SABELA, Maria Kate G.
SILLOS, Ian Grace G.
SITOY, Glaiza Andrea M.
TAGALOG, Rheyamei I.
TERAZA, Mark Dave A.
TUBIGAN, John Edred Z.
VILLAFLOR, Jaggey Reid R.
VILLALUZ, Shellamie G.
College of Education
Bachelor of Culture and Arts Education
ALBEOS, Russel Jay B.
ALBESA, Waren D.
ALFANTE, June Rey L.
ALTEJAR, Lalaine U.
BALIDIO, Justine Mae D.
BEBANCO, Margie C.
BELEN, Romulo Jr. G.
BENITEZ, Michael Jose A.
CALINYAO, Glaiza R.
CARULASAN, Kent Kyle
CATALLA, Elieser R.
CATIMO, Lovely Rose A.
DAGANGON, Kerby S.
DELUTE, Maria Elisha E.
DIANON, Jamaica M.
DURANO, Reslie A.
ESTRADA, Dara Danielle B.
FERNIZ, Clyde L.
GRANADA, Ma. Monica C.
GUIBONE, Rejie Mae G.
GURA, Arnold C.
ILAIDA, Ronald S.
LACOSTE, Maila Joy R.
LADICA, Maria Liza E.
LLENOS, Camella
MANAGBANAG, Crisbon B.
MAQUILAN, Ivon Jr. B.
MENDIOLA, Kristine Mae M.
NAPOLES, Eduard C.
NECIO, Rona A.
OLAIVAR, Ymmylyn Nica Marie R.
OLIVAR, Jerdiemar R.
PEÑAS, France Ericah O.
PEPINAS, Darvee Janus L.
QUINDAO, Dhovie Jane Y.
SABAL, Ann Melendres C.
SAPAULA, Mil Winde P.
SUGAROL, Kathlene Joy R.
SUHITADO, Jonalyn B.
SURALTA, John Paul Q.
TAÑALA, John Royd B.
TUBO, Ma. Paula S.
TUMARAO, Hans Christian T.
VERRA, Ej Carl M.
VILLAMOR, Jonilen B.
Bachelor of Early Childhood Education
BELLOTE, Sheena Mae O.
CANAWAY, Jocelia E.
FELISARIO, Georbel P.
FELISARIO, Vivica P.
GABRITO, May Bien D.
GULITA, Miles O.
LACSON, Arbhe Joyce C.
LUNA, Shaira M.
MALAZARTE, Lyza Maye O.
MUZARES, Aubrey M.
POSION, Carme A.
RODADO, Crisha Faith R.
URGEL, Mary Joy M.
Bachelor of Elementary Education
ACAR, Justine Daphny O.
AMPONG, Jamaica G.
APAC, Eva Mae M.
ARAR, Hynnie Mae L.
ARENA, Nerisan M.
ARTAJO, Mark Anthony Gil M.
BACLOHAN, Jay Ann E.
BALOBO, John Ryan V.
BARRIENTOS, Sheila A.
BASI, Jovie Ann C.
BIOC, Karen J.
BOHOLST, Noemie M.
BULFA, Jechelle D.
CALIBUD, Sheina Fe P.
CALIZAR, Al James D.
CALOOY, Rhea Jan
CARBONA, Algie Mae D.
CASIL, Sandy G.
CASIMERO, Maynamie P.
CASIMERO, Jeamie F.
CUADRA, Katrina G.
DACOYLO, Niña Floramae T.
DEL ROSARIO, Chiesa Cris S.
DEMETERIO, Samantha Angela A.
DESPACIO, Jhenney Anne M.
EMAN, Jonalyn G.
ESCASINAS, Divina B.
ESCOBIDO, Maria Pinky I.
ETIS, Jane Carla R.
FLORITO, Deborah I.
GAMO, Lodever Y.
GERALDO, Angelou Z.
GESULGA, April Rose G.
GOMEZ, Pearl Mary A.
HIBAYA, Hanna Marie M.
JIVERO, Angelica B.
LABESORES, Jeromel P.
LAGADO, Jemarie C.
LETABA, Robemari Rose B.
LUYONG, Marcon C.
MALINAO, Shiela Laine G.
MANAGBANAG, Roem H.
MANINGO, Erika Kyla
MARCELLANA, Alexandra S.
MOCASA, Chonna F.
MONTILLA, Yardlyn S.
NALITAN, Kate S.
NERIO, Bernadith L.
ORAÑO, Reyll R.
PACHECO, Hannah Faye B.
PAPONG, Ricamae C.
PARDILLO, Kristian Peter D.
PATUAR, Chonalin G.
PENING, Meralyn P.
PEPITO, Evangeline A.
PETEROS, Shaena Dawn L.
PLEÑOS, Irish Jane C.
POLANCOS, Riza Mae M.
PRECILDA, Maribeth D.
REYES, Jenelyn B.
RIAS, Maria Antonette B.
ROLA, Jeric T.
ROMINA, Rose Cain Jean C.
RUBES, Annarose A.
SALUBRE, Lilia Joy M.
SANTIAGO, Lorijane Francis M.
SARSONAS, Christine P.
SAUSA, Ruby Ann O.
SEGUIDO, Limuel C.
SEMACIO, Lovely Jane B.
SOCO, Leneath L.
TADO, Alex Ann P.
TALATAYOD, Glazel C.
TELEN, Franklin Iv S.
TORCINO, Jelly A.
VALENZONA, Mary-Ann C.
VARRON, Joyce B.
VARRON, Bianca Judela Mae R.
VILLOCINO, Ronna Mae O.
VIOLON, Valere Grace A.
Bachelor of Physical Education
ACOMPAÑADO, Ana Rose L.
ALAMA, Mc Louie A.
ALAMOS, Angelo Fiel P.
ANSALE, Angelo B.
BALILI, Jessa Mae D.
BERMUDEZ, Mary Joy A.
BUDIONGAN, Jze Mae M.
BUNA, Bernadeth B.
CEROJALES, Diana Rose P.
CONTE, James Val C.
DOYDOY, Jeromel Y.
ELI, Fern Naica Marie P.
ESPERANZA, Eloisa Rose D.
ESTREMOS, Alwin Marie P.
GABI, Wellbhor N.
GAYO, Char Lhin John G.
GERONES, Jazmine C.
GOZO, Vanessa B.
IGUT, Gerald D.
JOSEPH, Frency Kaye B.
JUERA, Julius C.
LABARES, Windel S.
LAO, Angelito M.
LASTRA, Mary Jane G.
MARTINEZ, Mariel B.
MIRAFUENTES, Carmela R.
MIRAFUENTES, Mary Dathlene M.
MORALES, Vinna V.
OCHAVEZ, Junna Mae E.
OTEDA, Janina Mae A.
PANTOLLANO, Camille H.
PARRILLA, Nathaniel D.
PELICANO, Janice A.
PERNIA, Eliza Crosti B.
PIRAMIDE, Earl Francis B.
POLICARPIO, Vincent R.
POSAS, Mary Louise M.
RALLOS, Robel S.
RELACION, Krisza May G.
SABUCIDO, Roselyn B.
SANCHEZ, Jundel C.
TAJALE, Lesamie C.
TALAMO, Romuel R.
TORIBIO, Rosemarie A.
TUMABANG, Jhec A.
TUYAN, Leizel Mae P.
VERGARA, Shara Ville I.
VILLAFLOR, Emily U.
VIRTUDAZO, Estella Mae B.
WAN, Nadia M.
YAHOT, Rhonmark L.
YBAÑEZ, Anileen N.
Bachelor of Secondary Education
ABABAT, Syrah U.
ABE-ABE, Rosell G.
ACERA, Princess Zianne L.
ADANZA, Teresa Mae B.
AGUILAR, Niño Paul T.
AJOC, Leslie Lloyd V.
ALBARICO, Ma. Vhi C.
ALCARAZ, Paula Rossi S.
ALCORDO, Jastene Mae H.
ALESNA, Joshua Alfred P.
AMANCIO, Ailyn H.
AMPADO, Clent Argie
ANAS, Edcris Adrian C.
ANGNI, Lieza T.
AÑUDA, Marry Grace
ARIÑO, Sophia Mae M.
ARSENAL, Princess Joy G.
AUGUIS, Desiree D.
BAHIAN, Jully-An J.
BANDIBAS, Porferio Jr. S.
BASILISCO, Claudine P.
BAYENG, Robliyn S.
BEBANCO, Angeli B.
BEDON, Berlie Ann F.
BERO, Neil Johann D.
BIABAS, Nerissa R.
BLANDO, Mac Laurence G.
BOCO, Niña Carmela A.
BORINAGA, Vera Thryxcy B.
BRAÑA, Justine P.
BRIONES, Annabel N.
BRIONES, Analien C.
CABAHIT, Jannien Dora H.
CABALUNA, Jannine C.
CABATINGAN, Krisna Mae G.
CABULANG, Rosie R.
CADION, Shannen Faye V.
CADIZ, Radcel Benz P.
CAGAT, Rhea Mae A.
CAMALLERE, Reylan R.
CASTRO, Ayessa Mae A.
CASUCO, Rejine E.
CODILLA, Rodelma C.
COLARTE, Euriloi Kate Marie S.
CORDOVA, Nelvin
COSTORIO, Anjeline A.
CUSTODIO, Lyndel N.
DAIGAN, Elbert R.
DALAGUIT, Gerally M.
DANO, Airah M.
DAPITON, Jessa Mae C.
DAVID, Mary Guide R.
DEBALUCOS, Jimboy M.
DEDACE, Reynante Louis
DENDEN, Ruby I.
DUALLO, Kathrine Shantelle N.
DURUHA, Rj Dave D.
EMBERSO, Renel N.
ENERO, Chery May A.
EREPOL, Angela Mae L.
ESCORIAL, Frences Lyn A.
ESPINA, Gwynn Ashja J.
ESPINOSA, Genevieve C.
ESTRERA, Cristel Marie O.
FERNANDEZ, Kyle A.
FERRY, Eavien Louie B.
GABASA, Maria Angelica Q.
GABUCAN, Jose Iii D.
GARCIA, Grace I.
GASATAN, Renette S.
GASIS, Charlene A.
GENCIANOS, Maria Vic Leah C.
GENDOY, Mechaela G.
GENERALE, Maria Adela D.
GENERAN, Ryan Paul I.
GERALDO, Colen
GERONA, Joanna Lhyn A.
GESULGA, Grecille Mae G.
GILLES, April Ann S.
GONZAGA, Romel A.
GUARINO, Ira Joy L.
GUILLEMER, Irish A.
GULAYAN, Ma. Nicolle
GULTIANO, Rose Marie F.
GUTEZA, Angelica M.
HUMANG-IT, Cecill S.
IBARRA, Alicia Lyn G.
IGNACIO, Ia Purple P.
INFORTUNA, Beth A.
JANCINAL, Irish T.
JUALO, Rey Christian S.
JUMAO-AS, Jeremy B.
KALI, Suraya P.
LABRADOR, Angel J.
LABURADA, Cielo B.
LAMELA, Jean Rose M.
LAO, Gladys A.
LARAN, Trisha Mae N.
LAZAGA, Leah T.
LEONOR, Glenda I.
LOPEZ, Mary Joy M.
LORETO, Jomar
LUBAG, Ma. Aliezza C.
LUCHAVEZ, Jane Marie L.
LUPAZ, Cindy M.
LUZADIO, Ynah Mae V.
MABOLOC, Stephanie Ella B.
MACATUAL, Kharissma Martina C.
MADRONA, Kimberly
MANDIN, Steven Rigor P.
MANGALA, Pete M.
MANLA, Kerlie Ann I.
MANLIMOS, Ree Jay M.
MARAVILLAS, Mark John P.
MARIKIT, Jenivy E.
MARTIN, Aiza B.
MEJARES, Rhose Anne J.
MENTES, Chrispy P.
MINGAO, Charish I.
MIRAFLORES, Cheribelle D.
MIRALLES, Niño U.
MIRANDA, Shannon Liffey S.
MONDANO, Riffy G.
MONDRAGON, Bryan C.
MONSALES, Josica L.
MONTAJES, Daryl S.
MONTALLA, Matthew G.
MONTES, Deevan A.
MORALES, Jane C.
MORALES, Monique E.
MORENO, Joshua R.
MUSILO, Jhane G.
NAPALA, Angelie D.
NAVARRA, Henya A.
NGOHO, Jonna Marris D.
NIPA, Rose Ann B.
NUÑEZ, Rojhean A.
ODITA, Chantal C.
OIKAWA, Aiko M.
OLAER, Kenny C.
OLLERAS, Ruwelyn B.
ONGCA, Cesar Jr. T.
ONIAS, Jet A.
ORAPA, Angel Melody C.
PACATE, Lovely Joy M.
PALER, Karyl P.
PALER, Jeric L.
PAMAONG, Alexa Manuelle P.
PARADO, Niño Carl P.
PASTERA, Charmel S.
PASTORIL, Victorino Jr. L.
PATOMBON, Lenpen Jien P.
PAYOT, Jeneva B.
PENIDO, Nanith L.
PEPITO, Ma. Bless Mignun N.
PEPITO, Maralyn G.
PEPITO, Jenessa S.
PEREZ, Jelahnie A.
PESADO, Jerome
PINOTE, Danica D.
POLIQUIT, Lutchie B.
PONA, Debieh D.
POTOY, Mylene B.
PUNZALAN, Rodia Mae
QUEZADA, Ana Nicole R.
QUILBIO, Mary Del Trixie B.
REGULACION, Leira Ann D.
RELEVO, Maryjoy Julane E.
ROMAGUERA, Chelsey Mae G.
ROMO, Cris Sheen G.
RUBILLOS, Denia P.
SABINO, Ma. Theresa N.
SABINO, Genevieve S.
SAGUISA, Vea T.
SALANAP, Gleen G.
SALISE, Hannah Mae M.
SALON, Kyla Sofia U.
SANICO, Irish M.
SARSONAS, Irish Jane A.
SARVIDA, Joanna P.
SEDA, Chrislyn Mae V.
SEROJALES, Jeremy D.
SOTTO, Shiela Marie C.
SUAREZ, Aya Joy P.
SUAYBAGUIO, Sheila Mae P.
SUCO, Allanie Marie R.
TABARANZA, Pearl Jean L.
TACULOD, Aishiel A.
TAMPOS, Rio Albert L.
TAN, Frances Rikka L.
TATOY, Lionel Frederich L.
TOBESE, Hannah Mae B.
TOÑARES, Steward Paul D.
TORDO, Reynald M.
TRAJANO, Kimberly Kris R.
UBANA, Angelica D.
URJALISA, Mariann A.
VALENZONA, Mary Jade C.
VELEZ, Icon D.
VEROLA, Karl Vincent B.
VILLACORTE, Genesis L.
VILLAMOR, Kelvin Klyde C.
VILLARANTE, Desiree D.
VILLAZORDA, Josephine P.
College of Engineering and Technology
BS in Agricultural and Biosystems Engineering
ABENOJA, Mark Joseph S.
ACLAN, May Anne C.
ADAPTAR, Kurt A.
ADVINCULA, Carlos Gabriel M.
ALCANTARA, Erwin N.
ANCERO, Louren Grace Q.
ANGLO, Danica Mae J.
ANIAS, Rhonlee B.
BAGUION, Roselyn S.
BALONGA, Lycamae M.
BAMBALAN, Diana Rose M.
BAÑEZ, Ariadna
BEBANCO, Irejane C.
BELDORO, Hannah Eve M.
BERNAL, Val Jancen C.
BETALLA, Shiela G.
BOISER, Benard L.
BOYBOY, Mae Ann Y.
CABALDE, Maria Nita S.
CADELIÑA, Joan B.
CADORNA, Richelle Mae A.
CAIRO, Lianna Mae G.
CAJEGAS, Apple Rose M.
CALDINO, Elvin R.
CAPUYAN, Cielito Jose O.
CELLAN, Gerald G.
CENIZA, Ramie Y.
CHIONG, Marielle Honey P.
CORBITA, Zoe A.
CURAG, Ivan T.
DASIGAN, Russel Jhon C.
DE LA FUENTE, Crisanta M.
DE PAZ, Glaiza R.
DEGELLO, Kyle Christian L.
DELA CRUZ, Chloe Niña Christine Y.
DELA PEÑA, Ezel Mae D.
DIONGZON, Jariz Kent L.
DONAYRE, Mariz C.
DULOSA, Jherica G.
DURO, Trisha M.
ENEREZ, Nixon Joy S.
ENGHOG, Cathlyn M.
ENTIA, Antonio Jr. T.
ESTILLER, Roberto Jr. G.
FLORES, Felix Leo R.
GALINATO, Rainer Gerald R.
GARCIA, Jason D.
GUERTO, Kaye Angel P.
GUTIERREZ, Kristel Ann C.
JAIVER, Fritz Gerard B.
JOYO, Ronnel R.
JULIAN, Mercy Grace S.
LEOPARDAS, Maria Jessica C.
LICARDO, Glennofre I.
LOBEDERIO, Kent Charles C.
LOPEZ, John Francis M.
LUCERO, Jeson Mark P.
LUCIANO, Carine Rose V.
MAGABILI, Aprilyn U.
MAGBANUA, Mary Agusthea B.
MAHUSAY, Claire S.
MENDOL, Oliver L.
MERILO, Arianne M.
MESCARIOLA, Melvin C.
MOLAVIN, Kezia J.
MONTAÑEZ, Dec Lorraine S.
MORALES, Iran Jay A.
MOSOT, Marc Christian B.
MUNDA, Harlene Mary V.
NALZARO, Joshua Ruel S.
OLAGUER, Dony Jr. T.
PASICOLAN, Lyn Laurence A.
PAZ, Ronald B.
PEÑA, Gerard Anthony Gyn D.
PILAPIL, Bianca Emily R.
PINO, Jeralyn F.
POJADAS, Olive Grace J.
QUILANTANG, Simon Andrew D.
RAÑIN, Cyprus Nicole G.
RESTIFICAR, Cristine Mae B.
ROMERO, Junna A.
ROMERO, Joemarl Kann B.
SABALDANA, Vanessa N.
SALUBON, Elaine T.
SALUDAGA, Joyce M.
SANCHEZ, Sharmin O.
SOLEDAD, Ma. Sioinenanne G.
SORIANO, Christian Jude H.
TABASA, Kendric D.
TENIO, Alysha L.
TOMARONG, Florante Jr. C.
TRIBUNALO, Lormelyn O.
TUBA, Quenie Marie M.
URIARTE, Lynnie Joy S.
VENTABAL, Elzie May R.
VERMUG, Annelyn Y.
VILLACORTA, Amy A.
VILLANUEVA, Jezreel Mae O.
VISTAL, Krizelle Shane J.
YBAÑEZ, Philoy C.
BS in Civil Engineering
ABARCA, Eleujane Earl C.
ACOL, Angel Iana B.
AGILLO, Allana Marie B.
ALMEDILLA, Christine Joy A.
ALOMBRO, Cris Van A.
AMBALONG, Britney Mae S.
ANINO, Jay Art H.
ARRADAZA, Shania Mae L.
AVILA, Jan Ylaika M.
BANTACULO, Kyrelle Maria Victoria M.
BANTILAN, Rodrigo Jr. D.
BERSALUNA, Diane O.
BESAGAS, Christian H.
BORDAS, Jason T.
BRIONES, Carl Harvey A.
BROBO, Niño Lito E.
CABANTUG, Queenie G.
CABEROS, Jared Gilbert N.
CAÑEGA, Aaron
CAÑETE, Azriel P.
CASAS, Nicole R.
CASTOLO, Mawin Ede C.
CASTRO, Princess U.
CERO, Jane A.
CHUA, Ronie Mark S.
CLARIN, Karylle Joyce T.
COSTILLAS, Miles B.
CRUZ, Alyka M.
CUARES, Kirsten Raine A.
DACERA, Marcos M.
DACLAG, Lacs Mae B.
DAGOHOY, Devenah Dawn T.
DELIMA, Vera S.
DIOLOLA, Ma. Tracia O.
DIZON, Marjorie A.
DUPAL, Soren Anthony M.
ELIZAGA, Angelica
ESLERA, Roy F.
FIGUEROA, Patrick L.
GABRIOLA, Grechel Joy V.
GACIS, Fhara Mae C.
GALO, Joshua Vanz Edison B.
GAMOTIN, Derek Gabriel L.
GARCIA, Ethaniel A.
GENATA, Jerrelie Q.
GILBUENA, Kirstine Mae S.
IBO, Serge Franz T.
JUMAO-AS, Joseph Vincent C.
LACAMBRA, Evalyn T.
LAGADO, Kyle Wyndel R.
LAGARET, Kiesha Grace T.
LAGUNA, Libert L.
LAURENTE, Julius Aikun F.
LAURENTE, Evea Krisyel
LERIOS, Athena Paula E.
LLANOS, Chanie A.
MANLANTAO, Jacqueline D.
MANUALES, Juvilyn P.
MARQUEZ, Christian Jaime Y.
MEJIA, Keanna B.
MILLAPEZ, Ma. Eloisa M.
MONTANES, Viviene Angelie M.
MONTE, Edward John D.
MONTEZON, Sheen S.
MUÑEZ, Vanessa G.
NIEGAS, Nhel Harold T.
NOBLE, Geoffrey Alan D.
NOVAL, Charlene C.
NUÑEZ, Jarrod Bee L.
OBILLO, Carl Jasper L.
OCMEN, Mary Aileen O.
OLASIMAN, Jullen
OLIVA, Zaskia A.
ONG, Joseph C.
PAMON, Jomarie C.
PASTORIL, Geraldine Rose G.
PERMEJO, Rodel Jr. C.
POLESTICO, Lady Jhanrie A.
POLIQUIT, Maria Alexandra G.
POLIQUIT, Jay Arcel F.
RADAZA, Mikhaela Francesca S.
REOMA, Hanah Raquel M.
REPALA, Frilyn A.
ROMERO, Lorenzo V.
ROSALES, Mikylle Josh
RUELO, Kim
SALAS, Roselyn M.
SALIGUE, Anthony V.
SALUBRE, Jhon Mark M.
SANCHEZ, Kaye Cyril T.
SARONG, Karen Joy E.
SEREÑO, Kathleen Kaye E.
SUMALINOG, Troy B.
SUMODLAYON, Kissy B.
TADURA, Frnaz Ian M.
TAMPOS, Carl Y.
TOYHACAO, Sam Reneir C.
VILLANUEVA, Elaine L.
VILLEGAS, Claire N.
VITUALLA, Alzher B.
BS in Computer Science
ADVINCULA, Carlos Miguel M.
AGUSPINA, Neil Stephen S.
ALGUZAR, Ma. Alexa Michaela C.
ALICANDO, Jamela M.
ALIDO, Rhea E.
AMAGA, Kianna
AMAMANGPANG, Mark Dave R.
ANDALLON, Ronar T.
ANIMOS, Dinah Marie D.
ARIS, Rubelyn P.
ASILOM, Glyza Mae Q.
ASOMBRADO, Jett G.
AUSTRIA, Niño M.
AVERGONZADO, Jiah A.
BALBUTIN, Grezel-Ann P.
BARDOS, Sheggie D.
BETONIO, Sheryl B.
BISNAR, John Babel C.
CABILLA, Vincent Jeremy P.
CACATIAN, Francis E.
CAGARA, Vincent Felix S.
CAPACITE, Althea Becky C.
CARIÑO, Donalito I.
CASUNDO, Ymmanuel B.
CATALO, Jussel A.
CINTO, Alvin L.
CORPEZ, O.D. Razile P.
COSTA, Angel Marie C.
DACUNOS, Kiana Marie P.
DADAP, Abimael D.
DAHAN, Van Aubrey A.
DAYUDAY, Shawn Michael A.
DE LA CRUZ, Jan Andrea L.
DELA TORRE, Antonette Gwen H.
DELGADO, Donnel Keith D.
DESOYO, Shawn Michael L.
DIZON, Matthew R.
ENRIQUEZ, Nicole Mariss A.
ESTRERA, Jana Marie M.
FENIZA, Jaymark P.
GADIZ, Mikhael C.
GALVEZ, Rael Alguien P.
GETES, Josiah Joed G.
GIBE, Mark Rossel B.
GIER, Hans Clement B.
GIL, Ian L.
HINOLAN, Jose Mari L.
LAGUA, Jefferson Ariel V.
LAMATA, Veronica
LANUGAN, Soxie P.
LEGASPI, Hans Joseph R.
LENDERO, Daryl Kim F.
LEPIT, Jarred Lee M.
LOGROÑO, Wynne Adriel A.
LUBATON, Franco Mikhail C.
MANTO, Imae G.
MAYLON, Jan Andrew Paul C.
MERCADO, Ian Gil C.
MICAYABAS, Karen P.
MOBE, Austin P.
MOLON, Phoebe Lois L.
MOSQUERA, Jess Victor Y.
NAPOLES, Agnes Sherlyn A.
NIERRAS, Kyle Anthony F.
NOFIES, Vince Cleid E.
NOTARTE, Cristel Mae G.
OMELDE, Joyce P.
OREIRO, Genesis Ar S.
ORILLANO, Raphael S.
ORNEDO, Rodel D.
PABI, Roman Gerard G.
PADA, Romagean Alexandra C.
PANCHACALA, Lyka Jeanine L.
PE, Icy Joy C.
PEDRANO, Yerlyn C.
PELADAS, Daenielle Rai A.
PELESCO, Jomar L.
PERAS, Neil Justine D.
POLICARPIO, James Gener L.
POLINIO, Lorlaine
RAZAGA, Ken Carlo D.
REDULLA, Andrei Dominic A.
ROA, Jun Michael M.
ROJAS, Sheila Marie B.
ROM, Garbriel Kym G.
RON, Carl Andrew D.
RUALES, Meldren C.
RUEDAS, Harlene M.
SERENIO, Dominick John J.
SOSMEÑA, Joshua A.
TAN, Essence Hannah R.
TANGPUZ, Abegail G.
TOLO, Frances Marie R.
TRIGO, Mary Joyce
TUMULAK, Hanz Felix P.
TUYAN, Emy Jane S.
UMPAD, Rudel Joshua M.
VERSOZA, Taniah Jane G.
VILLAS, John Marco M.
WENCESLAO, Marvin O.
YANGYANG, Nydee Dawn D.
BS in Geodetic Engineering
ABREJA, Rose Gabrielle
ALORRO, Niño Rufino B.
ANDAMON, Josiebelle V.
ARAPE, Catherine B.
ATUEL, Kevin A.
AVILA, Cedie Marie S.
BALICANTE, Karl Vincent S.
BARTE, Jocelyn G.
BINEZ, Jane
BOONYARAT, Vic Dam S.
BRIÑAS, Anica B.
BUAL, Joseph Sam B.
BUSCAGAN, Niño Alfonzo P.
CABUDOL, Kris Joy S.
CAJEGAS, Hyacinth C.
CAMPO, Chayanne Alexis P.
CANONIGO, Theresa Zyrha C.
CARCILLAR, Julie Ann L.
CASAVERDE, Marife M.
CASCO, Kaye Majorie B.
CATAMBACAN, Mary Ellain P.
CHAVEZ, Vincent A.
COLIAO, Shane Bryan G.
COMPENDIO, Peter Carl P.
DAYANDAYAN, Ruth G.
DELA PEÑA, Edie Mhar E.
DIOCTON, Robert Angelou P.
DORIA, Geelee D.
DULA, Michael Angelo A.
ENTUNA, Nova O.
FRANCISCO, Stephen N.
FRONTERAS, Helen Mae C.
GALANZA, Shen Claire D.
GIMOTEA, Felisa Kaye E.
GOC-ONG, Gheron S.
GOZON, Rhea P.
GUCELA, Jendyl Faith L.
GUISANDO, Brigitte R.
HANDAYAN, Joy Lei L.
JUMAWID, Vinesse F.
LADINES, Julianne Manuelle C.
LAWAY, Jonathan D.
LIGTAS, Joshua C.
LUMACAD, Jane G.
LUMAPAS, James Darel G.
MACANDA, Carl Dominic S.
MAQUILING, Johann Carmelo N.
MARANGA, Emmanuel Eli H.
MEJOR, Yllaiza Marie D.
MONTEROLA, Abegail C.
OCAT, Rowella May S.
OCLARIT, Francisco Miguel V.
OLAIVAR, Meryll Nicole C.
OLAYA, James Micko A.
ONTING, Nitz Carl S.
OPONDA, Jaylou T.
ORAÑA, Myrtlle Gem L.
PAYAC, Julia Mae G.
PEREZ, Ivy R.
PIZON, Ann Loriel M.
PLASABAS, Rogel E.
RIVAS, Alyssa G.
ROBIN, Jay Ann A.
RUIZ, Ysabelle Frances M.
SACUROM, Nicole Seth C.
SALAZAR, Jan Louis M.
SALVADOR, Neil Jasper F.
SEVILLENO, Mary Keathleen E.
SILONG, Jermine A.
SUMAYOD, Lara Mae D.
TAGHAP, Chris Jhunwyn D.
TAGUIK, Mealyn B.
TOLIBAS, Jerricho Anthony
TORRES, Ivan Jay P.
UNGAB, Jean Cricel T.
VICENTE, Darlen T.
VILLA, Romualdo Jr. Y.
VILLACOTE, Kimberly P.
ZALDUA, Oshzha Bea Shekinah D.
BS in Mechanical Engineering
ABLEN, John Mark R.
ALBA, Aldous Jair L.
ALCOBER, Calvin Lee H.
ALECER, Adrian T.
ALICANDO, Frenz Matthew D.
ALLUSO, Bryan R.
ALUPIT, Klent B.
ANTIPUESTO, Ian Jay S.
ARIAS, Cyrel James S.
ASEO, Meramae M.
AVILA, Josephine Jan F.
BACALSO, Lian Paul O.
BACO, Allan S.
BAGARINAO, Christian M.
BALILI, Van Vergel T.
BAÑEZ, Darren O.
BARBUSA, Joseph Andrew
BAYHONAN, Nodel M.
BEBANCO, James Francis S.
BESUÑA, Sean Andrews R.
CABAHUG, Laurence John A.
CAPULAC, Wendel A.
CARAMBA, Julius Dominic C.
CARCAGENTE, Rale Von C.
CARNICE, Jose Andrew C.
CARTAGENA, Limgie E.
CASAS, Nester Argie P.
CASTILLO, Norlyn Jane A.
COMILLOR, Lymar Ashly D.
CORTINA, Jade Harry E.
DACERA, Marc Laurence Glene S.
DE CHAVEZ, Gabriel A.
DONAYRE, Christian Rey J.
DUETES, John Paolo B.
DUMDUM, Derick Ivan C.
EDO, John Paul B.
FELICIO, Gilbert A.
FLORES, Earl Louwyndale N.
FORNIS, Lorie Anne A.
GALENZOGA, Kurt Rayner C.
GALLARDO, Mell Hubert B.
GALLETO, Alexa Jean L.
GARAS, Gerly G.
GATA, Farbench B.
GAVIOLA, Ionnie
GERALDO, Arley R.
GINGCO, Louis Felix D.
HOYUMPA, Gercel Niño E.
HUERTA, John Brylle L.
JACINTO, Jay Rowen G.
JORDAN, France Miguel P.
JUBAY, Jayclien J.
KANGLEON, Maureena D.
LAMPARAS, Claude Andrew
LEQUIN, Ricardo Jr. P.
LICUP, Russel Jan L.
LINGANAY, Francis Gerald S.
LINGO, Isagani Jr. M.
LOSAYNON, Jersh Gabriel S.
MAGALLANES, Christian C.
MAGLASANG, Joseph Ruel B.
MAGLINTE, Gil Francis F.
MALINAO, Julius Cesar A.
MATURAN, John Russel U.
MAURILLO, Francisco C.
MAYAMAN, Charles Vincent ..
MILLAN, Serge A.
MORILES, Jan Kym
MUÑEZ, Jhuniel G.
MUSONG, Ma. Janine B.
ODAC, Ryan T.
PACTURAN, Aila Marie P.
PALACA, Marylour D.
PAÑA, Patrick Anthony N.
PANGANORON, Eldrey F.
PATAC, Jan Vince Alexis P.
PELEGRINO, Michael Patrick
POLINAR, James Reymer P.
RECREO, Eduard L.
REMEDIO, Jeff Earnest M.
RENDORA, Ramil Reigh G.
RENOMERON, Paolo L.
ROXAS, Luis Manuel L.
RUBILLOS, Hazel Mtz J.
RUIZ, Reggie Mark O.
SABANDO, Jhevann J.
SALAS, Maria Cybelle Amity M.
SALAZAR, Derlyn L.
SOLANO, Brylle S.
TABAT, Dexter M.
TAHUD, Clark Vincent M.
TAJANLANGIT, Jianne G.
TAMPIPI, Niño Mharlito J.
TAN, Venus O.
VALLENTOS, Rose Ann E.
VALORIA, Renz Gabriel A.
VICENTE, Kenneth S.
VILLACIN, Tim Leoberrt E.
VILLAMOR, Janssin Ryan R.
ZABALA, Gerald M.
BS in Meteorology
ABELA, Mark Justen B.
AGOMAA, Joshua M.
ANDRADE, Jervinne Faye Ricaflor L.
BELLO, Lovely A.
BENDULO, Hera Alaine O.
CAGADAS, Paul Leander V.
CAGOROL, Sophia
CAÑO, Myoki M.
CAORES, Isaiah Ezra M.
CASIMSIMAN, Diana Ma. Theresa A.
COLON, Claire Merry Joy L.
CORDERO, Gian Carlo A.
ELY, Alvin Jay C.
ENDRIGA, Evalyn G.
ESTARES, Joana Marie S.
ESTREMOS, Maria Bebena C.
FRANCISCO, Crissa C.
GAVAN, Arvin Rae T.
INDAC, Louise Maricor D.
INONG, Justin Mae P.
JABON, Johnny S.
LUGOD, Ana Marie P.
MABINI, Apple Mary A.
MACATO, Gillian C.
MEREDORES, Neil Patrick I.
MORALES, Paul Joseph V.
OCHAVILLO, Miriam I.
OÑES, Synt Nynyu A.
PADERES, Lendie V.
PANGILINAN, Francine Therese Q.
PARAGES, Jeric S.
POLO, John Paul P.
RAAGAS, Jullie One E.
RITAGA, Mike Richie S.
RIVERA, Robinson
ROSALIA, Aileen C.
SERDAN, Gill Sophia D.
SUMAYOD, Raiven C.
VASQUEZ, Jelly Beth M.
VILLAHERMOSA, Anne I.
College of Forestry and Environmental Sciences
BS in Forestry
ALABA, Caryl B.
ALCUETAS, Drix A.
ARIÑO, Berlyn D.
BAGARINAO, Rexdil T.
BAGARINAO, Jerald B.
BAHINTING, Mariel C.
BATING, Eduardo Jr. A.
BAYLE, Frederick B.
CABUSAS, Ysobella Ann V.
CAÑAMO, Benjar J.
CAÑETE, Emeruan M.
CELEDONIO, Darve T.
CENIZA, Norilyn N.
CUMLA, Buddy C.
CUSTODIO, George A.
DAVIS, Jessa Mae F.
DE LA CRUZ, Alanna Grace M.
DELORIA, April Joyce R.
DUMALAY, Wilfredo Jr M.
ESMEDIA, Mico G.
FLORES, Kylenne Fe J.
FRANCIA, Augustine G.
GAMUTAN, Jessalyn Y.
GANAR, Jasmin Dave A.
GERVACIO, Daisy R.
GODEN, Roselyn C.
ITEM, Ruby Mae P.
LAGAHIT, Jerome J.
LARIBA, Nelson Jr. D.
LAURENTE, Maika P.
LOMBOG, Jonel L.
LOMOCSO, Ariel T.
MACUTO, John Olym B.
MAGLACION, Hazel V.
MASKARIÑAS, Neil Jhon P.
MATEO, Catherine C.
MORENO, John Marl S.
NAHOMAN, Shane Leen C.
NARRA, Ojara Mae S.
NAVAL, Kathleen C.
OQUIAS, Earl
PARILLA, Arch-Jid R.
PIEZA, Jovilyn H.
PRADO, Naomisol M.
PUDE, Chyna L.
REYES, Bernadette P.
ROM, Carl Evanz M.
SABATE, Kristine Marie V.
SALVE, Joshua
SARCO, Maria Lourdes Laura D.
SARGA, Enjely Marie C.
SOLIVA, Rosemarie Jerlyn Amor
TABIOS, Janilla C.
TACATA, Rosejohn Mae G.
TRUYA, Jansen All S.
VILLARIN, John Rave P.
VILLOTES, Jonnabelle Q.
BS in Environmental Sciences
AGUILAR, Rodlaine Grace B.
ARGALLON, Christian Rey P.
BALILI, Reyma Chael S.
BELAS, Dexter A.
BERNAL, Kevin A.
CAJES, Wareen S.
CALUNGSOD, Mikone Joshua
CAMARINES, Cherry Ann Q.
COMPENDIO, Carl Gio M.
DAGUPLO, Ivy S.
DAGUPLO, Kryzza Marie P.
DALUMPINES, Jeffrey
DAYON, Sherly C.
GAY, Stephanie Hazel G.
IGNACIO, Jamaica P.
LOPEZ, Gio Jacob P.
LUMEN, Razel Anne E.
MADERA, Ma. Analyn
MARCO, Jonathan R.
MORON, Rica D.
ORTIZ, Jude Ivan M.
PACARRO, Rochie B.
PAGAS, Arvin Chester L.
PETILLA, Joshua Mari Q.
PINO, Sheena R.
REPOSAR, Yisha May J.
SACLAY, Karen S.
SANTISO, Jayvee T.
SAUCELO, Gabriel S.
TABARANZA, Nova Ebon A.
VILLAREAL, Jasmin Rose L.
College of Management and Economics
BS in Agribusiness
ABRASADO, Maricel A.
ABUNDO, Karen T.
AGUILAR, Chris Vea R.
ALARDE, Irish V.
ALICO, Niño Laurence G.
ALKUINO, Dorothy Grace D.
ALSONADO, Michaella A.
AMABAO, Angel May S.
AMARADO, Vera Florence P.
AMERICA, Ma. Krisleen A.
AMESTOSO, Timothy Lex T.
AMPONG, Fernando Jr. M.
ANSULA, Alan C.
AQUINO, Eugene J.
AREVALO, Myca P.
ARRIBAL, Precious Grace M.
ARSENAL, Darmel L.
AUTIDA, Christian B.
BADANOY, Sila Mae E.
BALAGOT, Jeraldyn S.
BALBUENA, Sweet Apple Jean D.
BALOJA, Marie Paz J.
BALTAZAR, Arjay G.
BAÑEZ, Rachel C.
BANTES, Michaela P.
BARCOS, Redine E.
BATIANCILA, Ruby Janne M.
BATICAN, Lesly Ann A.
BATIGULAO, Ericka C.
BAUTISTA, Rhey Ann Jane L.
BAYHONAN, Ana Mae V.
BEHARE, Ara Grace D.
BERDOS, Mary Joy V.
BERNADEZ, Rhea Mae C.
BERNANTE, Nieramor M.
BISNAR, Kristine Marie P.
BORINAGA, Clyde S.
BOYLES, Justine John C.
BURRE, Mary Alicia Luz D.
CABARUBIAS, Kriskea Mae L.
CABELLERO, Charity Y.
CADELIÑA, Kimberly L.
CAINTIC, Norman M.
CAIWAN, Wilmar G.
CALIWAN, Bernie S.
CAMPANIA, Cris V.
CAMPOSANO, Mark Den A.
CAÑAS, Juv F.
CAPARAS, Mary Cris P.
CASTAÑAS, Babie Lyn A.
CASTONES, Mark Christian B.
CATUBIG, Kristelle Jane R.
CAYANGHO, Railyn A.
CEBRIAN, Charlaine L.
COLMENARES, Raven C.
CONDE, Ellie Mae C.
CUSTODIO, Justine ..
DACLIZON, Cris Angelo N.
DADIOS, Leonisa B.
DADIOS, Malou Jean S.
DAGPIN, Lloyd James V.
DALAYGON, Rochell Ann P.
DANDAY, Ali-Gane B.
DANIEL, Michelle L.
DAYO, Tricia Gen V.
DE JESUS, Kessille Jane S.
DE LA CRUZ, Jan Alden M.
DE PAZ, Rogine P.
DELA CERNA, Mabel T.
DELA CRUZ, Christine G.
DELA CRUZ, Mary Grace D.
DONAYRE, Catherene Maica K.
DUPAL, Bernanrd Anthony B.
DUPAY, Paula Bianca
ELISEO, Samantha R.
ENDONG, Mary Joy N.
ESCABUSA, Norlyne Jane P.
ESPERA, Niña Khaila B.
ESQUILONA, Jessa
EVANGELISTA, Mariel N.
FABIAN, Danica Joyce B.
FAELNAR, Florabelle E.
FERNANDICO, Alfer Mae C.
FORMENTO, Renabel T.
GALENZOGA, Andie Lee V.
GALENZOGA, Rey,Jr. V.
GALO, Ellah M.
GALO, Joelyn R.
GAVIOLA, Eudel Zaldy M.
GERMANO, Kristine R.
GERONG, Archielyn T.
GLINO, Ma. Gorfel G.
GLORIA, Eriberto Jr. I.
GO, Stephanie Ann G.
GORRE, Mary Joy C.
GORRE, Precious Yllana I.
HUETE, Judy Ann O.
IBAÑEZ, Jovy S.
IBAÑEZ, Rean Marie D.
IYOG, Sinne Dara I.
JABILLO, Floramie M.
JABILLO, Berbea E.
JOVEN, Ma. Catherine L.
KILATON, Maria S.
LABOR, Jean Kimberly A.
LAGO, Tricia E.
LAGRIMAS, Jodie Mae G.
LANZADERAS, Tricia Jane N.
LAPECIROS, Christian Humphrey R.
LAPORE, Doren G.
LAUDE, Kenneth Paul P.
LAUREL, Wilvie Jean P.
LAURIA, Niri P.
LECHADORES, Cherelyn W.
LEGARIA, Marcesar C.
LEONIDO, Jeffry A.
LIMEN, Jelica Jane
LIPATA, Stefhanie F.
LLANO, Sheena Marie B.
LOREJAS, Ronnel K.
LUMAKIN, Keila Shawnie G.
MABOLOC, Gemma B.
MADES, Ariño L.
MADRAZO, Mary Shaira A.
MADRIGAL, Balbino S.
MAGALOP, Ivan V.
MAGNO, Princess Diane S.
MAHINLO, Christina V.
MALAKE, William Jefferson A.
MANALAD, Isabelle Aubrey H.
MANGUNPIT, Meriam O.
MARTINEZ, Mechelle B.
MASAYAO, Jericho Clyde Y.
MASBAD, Laila R.
MASCARIOLA, Dessa Mae S.
MEJIA, Susana M.
MENDOZA, Ma. Theresa E.
MILLARES, Hazel Flor M.
MILLOSA, Myka
MONDAL, Leah Mae W.
MORALES, Jonna Mae C.
MORALES, Wella I.
MORENO, Maria Joana D.
NABLEA, Jirah Claire C.
NEMENIO, Angel E.
NIERVES, Rosemarie B.
NIEVA, Chade Ann D.
NINGASCA, Aliza L.
NOPAL, Alvin P.
NUÑEZ, Shiela Marie G.
ORAYA, Jomari B.
PALER, Daniel Niño P.
PALIMA, Shena S.
PARAGATOS, Erielle May C.
PARBA, Samantha B.
PARDILLA, Ana Patricia I.
PARRILLA, Trisha B.
PASAYLOON, Judy Ann L.
PATINDOL, Cyril T.
PAYLADO, Jonalyn R.
PEDROSA, Alonna Marie V.
PERNITES, Malou M.
PESTOLANTE, Kenth H.
PETEROS, Patrice Mae B.
POLO, Irien Kyle G.
PULTA, Florie Mae L.
PUPA, Gayle Cris Eve S.
QUIBOY, Daphnie A.
QUIÑA, Fiona Mariz T.
REAS, Julie B.
RECONES, Catherine P.
REDOLOSA, Rabby N.
ROA, Jessabel L.
RONATO, Rio Anne P.
ROSENAS, Ana Mae T.
RUIZ, Niña B.
SABARES, Jemiah B.
SALANGSANG, Trixie J.
SARUDA, Leo Mark
SIMBORIO, Japh Paul G.
TABLO, Jenelyn S.
TAGRA, Kerstine Kaye P.
TARIPE, Queenie P.
TEJADA, Jericho B.
TESION, Rodalyn E.
TIDOY, Maria Christina A.
TIU, Rhea D.
TUDIO, Maria Sofia I.
VERGARA, Kent S.
VERONA, Aira Mae C.
VIDALLON, Niel Rikko E.
VILLAMOR, Roxanne Mae R.
VILLAMOR, Cindy F.
VILLAR, Hilarie L.
VILLARTA, Lorra Jane C.
VIRTUDAZO, Brigitte C.
VISABELLA, Jasper P.
WAGAS, Jenny T.
WENCESLAO, Raymond B.
ZACARIAS, Kristine Meryl F.
BS in Economics
ALFARO, Chrissa Jane B.
ALIGWAY, Krisha Marie A.
ALQUILITA, Zaimon Mateo M.
AMEN, Raipa M.
ANDRIANO, Vernalyn T.
ASTORGA, Rhyz Danielle
AVES, Ceasar Peter D.
BAGARINAO, Shiela Mae O.
BANGCUYO, Angelie P.
BAUGBOG, Anne Maurice
BEA, Myca Andrea G.
BULAWAN, Axl Fitzgerald L.
CAINDOY, Ellianah
CALA, Christina Gwyneth L.
CAVITE, Charlene B.
CHAVEZ, Keith Lester S.
CLAVERIA, Genevieve Celeste M.
CORMANES, Ma. Denielle U.
CUTARAN, Louie P.
DAGUPLO, Alexis B.
DAJANG, Arvie L.
DAVIN, Yumi
DAYANG, Mirzi Teresa Y.
DIAZ, Marielle G.
DUMAGUING, Jamill B.
ESMALE, Nick Prince A.
ESTRELLA, Debbie Jane O.
FABROA, Sheena Marie P.
GABON, Sueziah Divinee R.
GAVIOLA, Hazel Mae L.
GIANAN, Mae Kyle B.
GUMBA, Crisbyll P.
GUNDAYAO, Junnalyn D.
HOYUMPA, Wendell C.
KILAPIO, Jillian Paz M.
LOPENA, Jasper Rei S.
MAESTRE, Veverly Mae S.
MAGDADARO, Kristine Jessa C.
MARAULES, Royce Van M.
MARO, Aira Mae D.
MENDOZA, John Carlo M.
MONTALBAN, Ellaisah Mae A.
OMBOY, Gina Mae S.
PIGAD, Kurt Ivan P.
PIQUERO, Franklin C.
POLANCOS, Lavia Lou D.
PUSO, Junry Clint V.
SALONOY, Michelle Ann
VALES, Jovie B.
VELASCO, Ma. Trishia Ynez B.
VILLASENCIO, Jedel A.
BS in Hospitality Management
ABAO, Maria Kaye Concepcion U.
ABONIN, Gemalyn V.
ABUYAN, Jamela D.
ACHECOSO, Dexter P.
ACLAO, Czarina S.
ADUANA, Sharina C.
ADVINCULA, Kathryn J.
AGUILAR, Maynard Roy G.
ALBA, Marco T.
ALBESA, Danila G.
ALCANTARA, Jabby
ALCUINO, Jo Hannah M.
AMAL, John Mcclane S.
AMBO, Marisa
ANICETO, Princess Zyra C.
APOLINAR, Hazel N.
APORTO, Keana Victoria A.
ARAGON, Honey Fer N.
ARROFO, Alberto Jr I.
BAGUIO, Jamaica
BASAÑEZ, Marvie B.
BAUTISTA, Maybelle N.
BENTILANON, Jackelyn D.
BERAY, Justine A.
BERDIN, Michelle C.
BERNALDEZ, Ma. Angela
BOBIER, Maria Alaine Stefani R.
BOISER, Marian Shanzy L.
BONGANCISO, Virginette A.
BORINAGA, Camille P.
CABAHIT, Hanna Marie M.
CABAÑERO, Mary Christine S.
CABSAG, Analie V.
CABUNILAS, Jasmine G.
CADIBEN, Althea Marie G.
CAPACIO, Trexie P.
CARAYO, Justain T.
CARLOMAN, Flora Mae C.
CAUBALEJO, Shekinah
COLARINA, Elias Jasper C.
COLINA, Gwyneth Nicole M.
COLO, Giovan P.
CRUZ, Judifer S.
DACERA, Alfredo Jr. B.
DACERA, Chester Paul P.
DAGUPLO, Kristen Jean J.
DANO, Honny Lou
DE VEYRA, Heyzel Mae L.
DECLARO, Mac Joven L.
DELA CRUZ, Claris
DELOS ANGELES, Godwin John N.
DORIA, Aprilyn C.
ECAT, Sarah Joy L.
ELLOS, Khrystal Bianca Marie M.
ESCOBAL, Mhaegia N.
ESCOTON, Vanda Sanderiana M.
ESPINO, Rhonalie T.
FORTON, Sherelyn L.
GALLEMBA, Milenel S.
GALO, Vanessa Marie P.
GALVEZ, Justine Jay P.
GESULGA, Ailen M.
GONOS, Roliejean Marie G.
GUITIERREZ, Mark Genre D.
HECTO, Larisa Marie P.
HINTAPAN, Cris T.
HONRADA, Manolito Jr. S.
HORCA, Joana Jay D.
IGNACIO, Julaine C.
IMPERIAL, Rubielyn B.
IMPUESTO, Babe Maureen Claire I.
JACLA, Welson O.
JUMAWID, Arthiel Joy B.
LABRADOR, Jzyl B.
LACERNA, Sheila Mae M.
LAMOSTE, Darilyne M.
LARIOSA, Chris John L.
LAUDE, Lenie B.
LAURENTE, Kristine Mie V.
LEYSON, Valerie Amor ..
LIGA, Kyla Marie P.
LOBO, Anne Marie Vic E.
LOVITOS, Chrizna Claire
MABULES, Rica S.
MACASOCOL, Ma. Happe Gael H.
MAGCURO, Queen Anne Mhajheedee S.
MAGLASANG, Ronalyn
MANAGBANAG, Chelsea I.
MARANGUIT, Mylene C.
MARIÑO, Fercus Godwyn L.
MASCARIÑAS, Resalyn J.
MAURIN, Renalyn T.
MAZO, Desireeh Anne L.
MAZO, Roger O.
MAZO, Ricardo Jr. B.
MENDOZA, Cris Anne T.
MERCADAL, Chrisamae D.
MERO, Edjinh Marie C.
MESIAS, Florabel E.
METING, Cherry Lyn G.
MIRO, Jeylo Francis P.
MORANO, Hazel Grace O.
MULLERA, Kyte Jensen P.
MUÑEZ, Danica R.
NAPOLES, Lester John
NOPAL, Rogin Mark F.
NOTARTE, Ma. Kristine Kyra V.
OCOY, Kate Colline C.
OLILA, Crestyl A.
OMEGA, Reyna S.
OPALLA, Hansen A.
ORAPA, Harold Dave L.
PAGPAGUITAN, Cherrymae P.
PAJO, Erl Vincent S.
PALMA, Claudine B.
PALMA, Ayla Jane P.
PANAO, Realyn
PEDERE, Ruff Jake Michael B.
RADORES, Laliane E.
RAGIL, Mariel R.
REOMA, Jobelle Therese E.
REQUILLO, Gella B.
RESOGENTO, Hannah A.
RIN, Marvelita O.
RIVERAL, Evangeline B.
ROLA, Darcy Kent V.
RONGCALES, Crizza Mae B.
SABUCIDO, Lalyn T.
SALAZAR, Mitzie Coleen C.
SANTISO, Anadwen L.
SARSONAS, Lady Leeh S.
SENDIONG, Lormelle G.
SILVANO, Dynna Fae R.
SINGSON, Crisanto P.
SONET, Lady Jane D.
TABA, Jenny M.
TACALAN, Maria Kyla P.
TADEO, Kate O.
TADIDA, Kzizia
TAGNIPEZ, Maria Joy L.
TANDA, Arvin P.
TEVES, Ana Crystel C.
TRAPAL, Mhanelle L.
TUBOG, Shyuome Kyle T.
TUDIO, Dorothy Lynn B.
TUPAZ, Ericka Mae P.
URGEL, Anna Claire L.
VELOSO, Lyca P.
VILLACORTA, Jamaica D.
VISANDE, Rica J.
VISCARA, Marielle S.
BS in Tourism Management
ABAY, Stephanie Jane I.
ALBOFERA, Emily Rose A.
ANADON, Ladieh Jane F.
BATAC, King
BENSEG, Ma. Claire T.
CAMPOS, Althea Trisha Mae G.
COBACHA, Fiona M.
COLIBAO, Jan Monique D.
COMADUG, Aira Cristelle L.
COSICOL, Monique G.
CUARTEROS, Jecca C.
DALORAYA, Juliana Kaye S.
DAÑO, Aia Jhernnie M.
DAVIN, Treshia F.
DEDAL, Cris Joy U.
ENEJENTE, Aijean J.
ESPERANZA, Jeny V.
ESTEMBER, Miko Jane D.
GADIN, Ara Mae J.
GARNACE, Leenard J.
GEULEN, Dandy Mar S.
IGARTA, Kyla A.
INCIO, Catherine D.
INTE, Lovely Joy B.
JAVILLO, Jeane Wilmae A.
LAWAGON, Jamiella R.
LOGACHO, Val B.
LOR, Geramae S.
LUMANDA, Aiah Brein N.
MADRIAGA, Charissa Mae P.
MOQUERIO, Myca T.
NICOLAS, Seth Joshua A.
NUEVO, Ellyson S.
OLACAO, Leah Isabel A.
PAJARILLO, Chrisza Mae R.
PAPA, Veronica G.
PATINGO, Iries S.
PIRANTE, Rica Jane A.
PIZANO, Dhorcei G.
RIÑA, Ma. Theresa S.
ROSARIO, Liza Mae G.
SAPERO, Mark Anthony R.
SUPERIO, Maria Theresa T.
TAN, Maryneil O.
TOYONG, Emily Mae
VANZUELA, Nimely
VELASCO, Jhosua S.
VILLAMOR, Arlene C.
YCOY, Aheya Marie Divine P.
YOG, Mae Annel
YU, Shan B.
College of Nursing
BS in Nursing
ABESIA, Shekinah Glory G.
ABUZO, Lucille Georgia C.
AGOMAA, Phoebe M.
AGUILLON, Nicole Debbie I.
AJOC, Nieca Mae O.
ALCABAZA, Irl A.
ALCARAZ, Roque Jose P.
APAO, Frances Abby H.
ARANZADO, Alven C.
AUGUIS, Edward Ivan A.
BACANI, Pristine Shane C.
BASA, Mary Kaye G.
BAUTISTA, Christine Diane I.
BIANES, Anthony Lloyd B.
BULADO, Jenilen D.
CABACABA, Marixi S.
CABANDO, Roselle Marie D.
CABANGON, Desiree Ann B.
CABRERA, Dynnielle Eloise L.
CAGABHION, Justine C.
CAINTIC, Angelle Faith N.
CAMILLO, Andrea Mae L.
CASTOLO, Truman I.
CAYANGHO, Lyka N.
CHICO, Christel Jane T.
DAHAN, Jan Andrey A.
DE GUZMAN, Yvan V.
DELOY, Minette P.
ESPANTO, Verone A.
FIRME, Jacob Amiel S.
GABLINES, Jullianne M.
GALARIO, Caludeth D.
GARCES, Carina Mae M.
GARDUCE, Sophia Cabdy Anne C.
GERPACIO, Marie Claire
GOLEZ, Trisha Belle M.
GONZALES, Hazel Ann E.
IGCALINOS, Jay Mark D.
LACABA, Andrea Jane C.
LACANDAZO, Mary Aravila P.
LARIOSA, Sheila Mae L.
LARONA, Charline G.
LIBATON, Rhuslyne Jaina C.
LIBOR, Clezyl Anne J.
LOPEZ, Thomas Angelo R.
MAGA, Abigail Trisha F.
MAGALLANES, Janissa T.
MARAPOC, Camille I.
MARCELO, Isaac David R.
MARTURILLAS, Shaneika Nicole G.
MATUTES, Ziane S.
MERIN, Charmie Anne M.
MERINO, Niel Patrick D.
NAGAL, Ruvyne Gayle A.
NAPOLES, Janine
NOPAL, Katherine Joyce B.
PALACAT, Margie R.
PALACIO, Ma. Reshel B.
PANTIN, Karelle T.
PANTOJA, Kimberly C.
PASANA, John Allan T.
POGOY, Joebeth R.
PONTEJOS, Shann Lauraze E.
PRESBITERO, Nielmae S.
PUERTULLANO, John Lester A.
PUNONGBAYAN, Zoe Aaron Nicole T.
QUINTERO, Andrea Gail A.
RACONDAY, John Ronnell A.
RIVERA, Ruel Vincent C.
RIVERA, Ristelle Louise S.
ROBLES, Christine B.
SABONG, Syoan B.
SANDE, Jemima Kezia A.
SISON, Brent Y.
SUMODLAYON, Dahne A.
TANGSO, Aaron M.
TOBE, Joemar F.
TUMULAK, Ma. Angelita L.
URETA, Jeremiah Paul C.
WILEY, Wenna T.
ZABALA, Mary Rose V.
College of Veterinary Medicine
Doctor of Veterinary Medicine
ABEJERO, Joshua Martin Q.
ABILAY, Leighnard E.
ABREA, Maria Naya P.
ALCAREZ, Kyla Jule Q.
ALVAREZ, Niña Joyce C.
ANAVISO, Ariz Clem B.
ANG, Rosamund G.
ANI, Arian Rose N.
ANO-OS, Louise M.
ARAPOC, Shekinah Lavey A.
ARCILLA, Bien Alfonse T.
ARUTA, Alexa Faye A.
BARORO, Ahsil Jix L.
BATE, Angelica Louise P.
BEJOC, Hannah Trixy S.
BENDANILLO, Jesper James G.
BLANCO, Jehu Rindge A.
BOCO, Ivy R.
BORBON, Cyleah Mae T.
BUDOMO, Mary Therese H.
BURDAS, Mae Chariz F.
CABATINGAN, Lord Theodore O.
CABILIN, Lycha Shane O.
CANALES, Jaimaica ..
CANILLAS, Zynna Mae S.
CELOCIA, Rencel B.
CELORICO, Tracy Jane M.
CERNA, Eunice J.
CESISTA, Keith Homer D.
CINCO, Elvi Kristoffer E.
COMBATE, Jane Antonette D.
CORTON, Shekinah Ruth M.
CUAS, Nikole Domeniche M.
CUSTODIO, Syrelle Florize P.
DESTACAMENTO, Kristine Jan M.
DOCONG, Marvin Yassir M.
DOINARE, Patricia Erika G.
ESPIRITU, Janelle Felise S.
FABILLAR, Jarold R.
FIEL, Kea Blair M.
GALVEZ, Kristine E.
GERENTE, Gwyneth Marie T.
GRIFFIS, Gadson Edward Ii M.
GRULLO, Ellen Mae M.
GUNHURAN, Jovhytte Beatriz L.
HIDALGO, Beverly Flor R.
JAMERO, Ashley Mae G.
LABALAN, Emilene W.
LAGANG, June Keithly U.
LASTIERRE, Lorelyn F.
LUMAPAS, Kimberly N.
MACEDA, Erica N.
MADRANGCA, Andrie C.
MAGALSO, Niña Desiree S.
MANACPO, Creynth John D.
MARTINEZ, Miriam J.
MENDOZA, Eve Charles B.
MERCADO, Jemina Mar C.
MOJADO, Clarisssa Anne C.
MORANTE, Trix Patrick T.
NGOJO, Mary Rose I.
NOGRA, Nibay B.
NUÑEZ, Hiromi E.
OBERA, Janine Heart A.
OCA, Carl Jaden Earl S.
OLMIDA, Vhian Angela C.
OMANDAM, Andrea Mae B.
OMEGA, Aldryl Marie S.
OTAZA, Danielle Lyn B.
PACAÑA, Jan Errene C.
PAGARAN, Debbie Mae B.
PAHAPAY, Hannah Grace C.
PAMAYLAON, Mary Jazmine A.
PARAN, Rex Mon J.
PELENIO, Josephen A.
PEPITO, Laika Marie E.
PIDO, Jabez Q.
PUEBLA, Fatima C.
PURISIMA, Anndee Caesar A.
PUYOS, Angelica Joy S.
RAMAYLA, Krysmael P.
RESILLA, Renzo B.
REYES, Eugine Eve F.
RICOTE, Niña Francesca A.
ROSALES, Raven Jude U.
SABORRIDO, Mikaella C.
SANGLITAN, Carina Reyzel V.
SARMIENTO, Jake Joluo S.
SARNO, Yvonne
SEARES, Rachel T.
SOL, Harold V.
SUNIEGA, Rosella Anne E.
TABAO, Ralf Andre P.
TAGAB, Sistine Joie D.
TANPIENGCO, Sheila Mae B.
TUMALA, Kezia Nathalie L.
USARAGA, Jacob Maximus L.
VALENCIA, Justin James D.
VERALLO, Samantha Vincenza Josefa L.
YUBAL, Jerry V.
ZALAVARRIA, Maria Elena T.
Program Not Indicated
These are qualifiers who were not able to indicate their desired program. They may enroll in courses with available slots.
ALDAMIA, Rica C.
ANDOS, Edwin C.
BATISTER, Jhonel B.
DUMAY, John Eric M.
PUSTANES, Maria Mae T.
UY, Godys Mae S.
Qualifiers Beyond Course Quota
These are qualifiers who were not able to make it to the quota of their desired program. They may enroll in courses with available slots.
ABREA, Annagenly A.
ABREU, Christine Marie M.
ACOGIDO, Sedney Marie B.
ADALIM, Edgardo P.
ADIZAS, Kristelle Ann P.
ADOLFO, Elgie Mae B.
AGUILAR, Sheena Marie M.
ALABE, Justine Harvey R.
ALBINA, Sharmaine Samantha I.
ALFON, Christian Jay M.
ALGARME, Scarlette Uzziel A.
ALINZUAS, Cris-Al P.
ALMENDRA, Faye Cyma S.
ALONZO, Lawrence Anthony A.
AMODIA, Francis Emman M.
ANCOG, Yna Angeline T.
ANTIDO, Rhea Eladia Mae A.
ANTIVO, Danna Mariel D.
AQUINO, Niño Pablo D.
ARCONADA, Anna Marie C.
ARESGADO, Cleofe Rose Manuel C.
ARONG, Chiexyle H.
ARPON, Eliza Mae C.
ARRADAZA, Regenel P.
ASAS, Fritzie F.
AUREO, Nigel Noel G.
AYAG, Amorell Anne B.
BAGARINAO, Jonathan A.
BAGUNA, Harly Joe E.
BAJAS, Jenn Estelle G.
BARBOSA, Divine April I.
BATOY, Angela Vera G.
BAUTISTA, Karizza A.
BAUTISTA, Judith E.
BAYDAL, Mary Jane B.
BAYO, Jay Em P.
BELARO, Blesse Jane B.
BELMORES, Mariah Jessa C.
BERTULFO, Jezil Anabel M.
BINONGO, Lera Mae M.
BODO, Cathleen Jane R.
BORJA, Princes Hannah L.
BUGHAO, Cristine Joy S.
BUHAT, Rhea Jean J.
BUMA-AT, Allaissah Jhulianna
BUNA, Roz Ann Faith C.
BUQUIL, Michael Vincent F.
BUTASTAS, Angel P.
CABIAS, Kier L.
CABOBOY, Camille I.
CADAYONA, Erica Mae O.
CADELIÑA, Lael Joy S.
CAGARA, Caryl Anne D.
CAHIYANG, Charish D.
CAILING, Ledynne C.
CALATRABA, Nicolette Zoe V.
CALVA, Joan Jane B.
CAMERO, Niña Margarette Nicole
CARDILLO, Jea Mykah Bianca B.
CAUMPOY, Carolina ..
CESAR, Michael A.
CHAVEZ, Jean C.
CIABU, Danice Jean A.
CINTO, Jamaika A.
CLAMOR, Mc Llyod Lean J.
CLAROS, Erica Mae D.
COCO, Rogelio Jr. A.
CONDRILLON, Choren G.
CORTEL, Aya Abigaile P.
DACERA, Krisha Jane A.
DADULA, Marlan Gyl V.
DAGA-ANG, Kristine Mae N.
DAGORO, Gwynevir J.
DARO, Ma. Jingky C.
DAROLE, Anne Rachell P.
DASIG, Pretzel Mae M.
DE LA PEÑA, Rose Michaela A.
DE LOS SANTOS, Alyssa Klaire P.
DEJAÑO, Charielyn I.
DELA CRUZ, Jan Claire F.
DEMETERIO, Mary Snow M.
DICOY, Perly C.
DIMASACAT, Kimberly V.
DIZON, Jullianne D.
DOBLE, Sheida Nicole D.
DOLORITO, Dailyn S.
DUMAGUIT, Aloysius M.
DUMALAN, Franz Gemoel D.
ECAP, Lymar Von D.
EGOS, Elisa Mae B.
EMPUESTO, Gilda N.
ENFERMO, Dearly L.
ESCLAMADO, Charlene B.
ESMERO, Jeff John C.
ESPERE, Angeli Alisandra R.
ESPREGANTE, Jayson B.
ESQUIBEL, Mary Ann R.
FERNANDEZ, Sherilyn P.
FERNANDEZ, Sophia Kaye M.
FLORES, Shaun Arielle L.
GAHIT, Cecille Andrea B.
GALAMITON, Gemma Rose C.
GALLONIGA, Ricele Aive P.
GALO, Joshua G.
GARCIA, Maria Rhea A.
GELIZON, Samantha Nicole S.
GERONA, Lebi John G.
GIL, Ericka Faye V.
GODITO, Inna Marie R.
GONZAGA, Christian S.
GONZALES, Trixia P.
GORIDING, Kent Ian E.
GUINIPAAN, Rez Fritz A.
GURA, Anna Rosa Isabela C.
HISARZA, Jayson M.
HOMEREZ, Trisha Anne C.
IBAÑEZ, Larce David S.
ITABLE, Mary Joy R.
JUMAMIL, Jessica R.
JUNTILLA, Paola Liza C.
LABARTINE, Shaddy Rose S.
LADICA, Angela G.
LAGUNA, Kenn Justin P.
LAGUTAN, Maxine Claire B.
LAURON, Joshua Alfred L.
LEBITA, Lyka A.
LEONA, Christian Jake V.
LEORNAS, Desiree Ann M.
LIMPIN, Patricia Krys
LINA, Analyn V.
LING, Tracy Huiann C.
LLADOC, Sabrina Nenita M.
LLANAS, Maria Danica Louise S.
LLEVADO, Lowie P.
LLEVARES, Glesh Fe
LOMOD, Josevit A.
LONGARA, Geia Martina D.
LUAR, Rio R.
LUBATON, Eugene John C.
LUCAÑAS, John Renmy C.
LUCIP, Mary Joy N.
MAAGHOP, John Aeron A.
MAGALLANES, Dessa J.
MAGLASANG, Edwyn Angel B.
MAGLASANG, Edwyn Sally B.
MALANGUIS, Kate D.
MALUBAY, Fatima S.
MAMAC, Desiree M.
MANAGBANAG, Naome C.
MANATAD, Jonah B.
MAQUILAN, Nathalie Nicole S.
MARTINEZ, Marinel B.
MEDILO, Ivy B.
MENDOZA, Angelica Marie A.
MILITANTE, Ma. Jellian O.
MONEL, Aicel M.
MONTER, Nikko
NABLO, Miguelito Jr. A.
NAMIA, Reina Lynn Feb A.
NEMEÑO, Lara James A.
NEMEÑO, Thessa Marie B.
NOCOS, Cleare P.
NUÑEZ, Jeriel P.
OCAÑA, Psyche Nitz O.
OCLARIT, Devine S.
ODILAO, Reymund T.
ORANG, Maria Paz O.
PAMOGAS, Jam Dio Jubille T.
PARDILLO, Desiree Cristina I.
PARENA, Jasper P.
PARRAS, Heart L.
PAYOT, Joyce Hope R.
PEDRERA, Marvin W.
PEÑALA, Alessandro O.
PEQUIT, Caren B.
PETILLA, Cindy Pearl D.
PLACO, Kate Florence R.
POGOY, Arsenet P.
POLO, Rudille Lou E.
POZON, Daniela C.
QUILAQUIL, Mary Queen R.
QUINOS, Renz Ivan A.
RACHO, Trisha Louella Mae L.
RAMIREZ, Dariel King S.
RAÑA, Marie Ernestine B.
RIO, Tiffany R.
ROJAS, Rose Ann D.
ROMERO, Aliyah Kaye L.
ROSALES, Jeanette A.
RUFIN, Ma. Rose Charlyn P.
SABARILLO, Ma. Divina C.
SABEJON, Adreil Kenneth B.
SABLAN, Rey Jay A.
SALIDO, Rizza Mae R.
SALONOY, Angeline D.
SALVA, Sheena Jane S.
SALVADOR, Rhona Mae E.
SAMBALOD, Janriel O.
SANCHEZ, Karen S.
SEBOLLEROS, Rosemary P.
SEDIGO, Shannen Phoebe C.
SERON, Tess Argele E.
SETENTA, Kathlyn Shyane S.
SOSMEÑA, Reynato Jr. D.
SUELLO, Mary Sunshine B.
TAGALOG, Reynaldo Jr. A.
TAMANG, Jill Caryl S.
TAN, Lyda Marie L.
TAN, Athena Cassandra G.
TAYPA, Noel D.
TENIO, Trisha Marie G.
TEVES, Eula Marie R.
TOMADA, Marianne Grace K.
TOMOL, Cherry Sandra Euna V.
TORERO, Mei Isobel Alyczis E.
TORRES, Jassen Mae E.
TORRES, Efren Jude L.
VELMONTE, Rosalie Monica G.
VERTULFO, Janna G.
VIACRUSIS, Exequiel A.
VIDAL, Samantha Grace R.
YMAS, Rickmar Jude L.
YU, Marla Tolan L.
YULAS, Jane Ann C.
VSU Component Colleges
VSU Alangalang
Bachelor of Elementary Education
ABALA, April Rose S.
ABALLA, Ma. Niña C.
ABALLAR, Alena A.
ABARCA, Justine Rose C.
ACMA, Toena A.
ADARNE, Divina V.
ADIZAS, Julie Ann B.
ADIZAS, Mariel R.
ADLAWAN, Erikka L.
AGON, Richie Mel J.
AGRES, Irish D.
AGRES, Ma. Cleofe C.
AGUDO, Whendy M.
AGUILAR, Evagin M.
AGUJA, Manilyn Q.
ALBARIDO, Anna Luriza M.
ALBARIDO, Alma G.
ALBERCA, Aljene L.
ALBERCA, Allysa Mae
ALBURO, Roimson R.
ALIMANGOHAN, Liemar P.
ALIMANGOHAN, Sol O.
ALIÑO, Ruth E.
ALSOLA, Nova Joy S.
ANIANO, Marshyll E.
APURILLO, Airene Grace S.
ARANTE, Liezle T.
ARGUILLES, Arlen G.
ARGUILLES, Happy L.
ARPON, Honey Gin V.
ASERON, Debbie Grace D.
AUSTRIA, Ellen Grace
AUTIDA, Jhericka Fhyl C.
AVENIDO, Jackielyn A.
AVILA, Ria P.
AYOP, Renalyn O.
BABIANO, Julliet L.
BABIANO, Mharjielyn
BACALE, Lyka B.
BACALE, Charmaine
BAGUE, Christian S.
BALAIS, Angelica Joy A.
BALDONADO, Vivien
BALDONADO, Gemalyn P.
BARDAJE, Mery Grace M.
BARGULA, Evangelyn E.
BARRANTES, Gelli D.
BARRAZA, Jemmalyn S.
BAUDIN, Shiela Mae L.
BELIO-AN, Jonathan
BENTOY, Kimberly G.
BEROLA, Meybell A.
BERTULFO, Jerjean Mae O.
BLANCO, Jean Anne C.
BORER, Shyrine C.
BORER, Sulamait Gwen A.
BRUSES, Diana Rose O.
BUSTILLO, Angilica C.
CABELING, Shana Faye D.
CABESAS, Rebecca An V.
CABIDOG, Anjelene A.
CABUS, Leneth G.
CABUSAS, Meliouryielle P.
CALABIA, Alexa Ivy M.
CANABE, Joanne R.
CANABE, Jessa R.
CAÑAN, Ronna Mae U.
CANDARE, Zyrene C.
CANDAZA, Christopher N.
CANONA, Marvin M.
CAONES, Aldrin
CAPATOY, Angelyn B.
CAPON, John Jushua V.
CARATAO, Ma. Teresa L.
CASALJAY, Restin Joy M.
CATINDOY, Reahlyn C.
CATINDOY, Reamay
CATINDOY, Michelle R.
CENTINO, Jessa Marie D.
CHAVARRIA, Melody M.
CONDES, Shiena Mae B.
CORPIN, Mia Jane R.
CORSANES, Ruby T.
CUARTO, Joshua L.
CUENCA, Christian Jim E.
CUESTA, Katherine B.
CUÑA, Loren P.
DAGANDAWAN, Jamaica Mae V.
DAVID, Dina C.
DELACRUZ, Merlano May B.
DEMETERIO, Jasmin T.
DESABILLE, Rachella C.
DOGUE, Ashley T.
DOLOR, Annalyn A.
DOMDOM, Jhanna Rachel L.
EBAL, Nelrose A.
EMBODO, Myra C.
ENOVISO, Joseph A.
ENRILE, Richel Y.
ENTINO, Daphnie A.
ESCANILLA, Recia P.
ESPER, Ma. Christine V.
ESPER, Clytibel Marie O.
ESPINA, Rina R.
ESQUIBEL, Justine Mae C.
ESTEMBER, Mary Janine T.
ESTRELLA, Melody C.
FLORENDO, Rizza
FLORES, Honey A.
FUERTIS, Angeline L.
GALANG, Marianne L.
GALANZA, Ma. Rechelle E.
GARCIA, Jonesa A.
GARIANDO, Pamela S.
GARIANDO, Harlene Joy B.
GARIANDO, Sheila O.
GARNACE, Sheryl
GARRIDO, Regine F.
GASPAY, Michelle R.
GASPI, Tricia
GATELA, Rubelyn C.
GERVACIO, Crisencia G.
GOLONG, Loveron Joy T.
GONZAGA, Irish Joy L.
GONZALES, Jonnaliza R.
GREGORIO, Christine A.
GUASIL, Jessa
GUASIL, Welmarie C.
HORCA, Peachess Michelle F.
INTOG, Annie M.
JOMADIAD, Christine Genie A.
JOMADIAO, Hadasa B.
JUANES, Leslie D.
JUSOS, Rona Mae S.
LABORDO, Leiralyn T.
LACANARIA, Arren Joy V.
LACBAYEN, Mary Diane O.
LACOSTA, Mary Joy O.
LAGADO, Wenylyn S.
LANTAJO, Jessa May G.
LAUS, Jenny Rose A.
LIGUTAN, Rose Ann J.
LLEMOS, Ellashanne
LODERO, John Mark B.
LONTAJO, Althea A.
MALLA, Cherry Ann
MANZANARES, Neil Angelo C.
MARCIAL, Maybelle S.
MARTINEZ, Cristine Joy
MATOBATO, Janelle C.
MATOZA, Cherry Mae M.
MAURILLO, Hernalyn
MECINA, Roy C.
MEDALLA, John Lee May D.
MENDIOLA, Hannah G.
MENDOZA, Reggielyn Mae E.
MERCADO, Joan G.
MERCADO, Sheryl G.
MERCADO, Angelica R.
MERCOLITA, Rhea Q.
MIRANDA, Ma. Krisha L.
MIRAS, Hera Jhen C.
MOLABOLA, Cristine
MONDINA, Pearly Marie A.
MORALES, Glenda D.
MURILLO, Jika B.
NABOYA, Bernadette T.
NARRIDO, Cleo Espina E.
NERI, Ruby Ann V.
NERI, Remark I.
NOVA, Crystal Jane M.
OBADO, Kimberly A.
OGATIS, Ma. Samantha Isabel A.
OLIVER, Danica D.
OLIVER, Laica D.
OMAYON, Iamelyn Q.
OPALLA, Lyka Jean O.
ORALLER, Sharmine E.
ORBONG, Wevina Luz A.
ORTIZ, Micah L.
PADILLA, Rhea S.
PALACIO, Sunshine E.
PALOMILO, Mary Rose B.
PANIS, Perry Maxine A.
PANORIL, Claris C.
PEPITO, Vanessa D.
PERALTA, Alena H.
PERALTA, Ana Sofia D.
PICO, Jayuard S.
PONTILLAS, Mary Ann L.
POSEÑA, Edilyn P.
POSOS, Genevieve C.
PULMA, Maria Belen G.
QUIÑO, Jessa
RABACIO, Mary Grace A.
RAGRAG, Rhealyn S.
RAMOS, Jea Mei R.
RAMOS, Ella Janille B.
RANES, Shamalyn D.
RANES, Angelica C.
RAYGA, Mariane
REAMILLO, Genevieve R.
REAZON, Maria Erica
REDOÑA, Shyrine C.
RELEVO, Mary Rose G.
RELEVO, Mikaella B.
REQUITILLO, Rosalyn A.
RONA, Phoebe Joy P.
ROYO, Josephine B.
ROYO, Rodny C.
ROYO, Darwin G.
SALAMIA, Jeffrey L.
SALAÑO, Jennica R.
SALCEDA, Rhey Angelo D.
SALIMBAGAT, Leah Joy D.
SAMILLANO, Teody May P.
SAMSON, Renalyn Q.
SANCHEZ, Janille R.
SANOGAL, Cheche
SANTIAGO, Johnbhel L.
SANTINO, Marvin C.
SANTOS, Byrone Lester E.
SARI, Rey Ann S.
SENILLA, Camille Angeli R.
SOLAR, Alundra Amor
SOLIBAR, Desiree T.
SONLIT, Airene M.
SUAMER, Simon David A.
SUAMER, Angelu J.
SULLA, Razel Joy P.
SY, Divina C.
TAALA, Ruby A.
TAALA, Rose Ann R.
TABUDLAN, Jose Nel
TABUYAN, Mia C.
TADO, Genalyn C.
TAÑALA, Merian C.
TANTE, Renelyn A.
TEPASE, Jerlyn S.
TIUSEN, Herleen May B.
TIZON, Mariel I.
TOGONON, Ma. Madelyn A.
TORRE, Jenny Marie L.
TRECEÑO, Roselyn G.
TRECINO, Ginalyn
TUANDO, Marie Nizza M.
VALERIANO, Joy M.
VALLEPAS, Victor Fiel C.
VALUIS, Ma. Cristine C.
VELARDE, May Flor R.
VELARDE, Bia F.
VELARDE, Maria Christine J.
VERGARA, Junrey W.
VERGARA, Rena Mae C.
VERO, Maurine A.
VILLALINO, Jane Rose C.
VILLANUEVA, Sarah Mae B.
VILLEGAS, Christine Joy E.
VILLENA, Arnold T.
WENCESLAO, Ma. Elmiabanca May V.
ZABALA, Jomar A.
Bachelor of Secondary Education
AFABLE, Tracia Mae P.
AGRES, Cherry Ann J.
AGRES, Jocelyn M.
ALBERCA, John Paul G.
ALBESA, Jenny L.
ARTOZA, Claire Anne T.
AURE, Jenia P.
BASAS, Arthur O.
BENITO, Jean
BERNAL, Meregin T.
BISCO, Niña F.
CAAYA, Lizeth Gwen Z.
CABELIN, Irish C.
CADANO, Marlo C.
CADANO, Marlon C.
CAMPOS, Kate Jazel P.
CAMPOS, James Ian G.
CAÑESO, Faul Kyshawn B.
CAÑETE, Ivan M.
CAPANGPANGAN, Mark Andrew
CASTINO, Hazel Joy C.
CATALLA, Reymark A.
CATENZA, Jennilyn M.
CATINDOY, Eugene C.
COTEJAR, Malie T.
DAROLE, Kristine Camille P.
DECHOSA, Jane T.
DEMETERIO, Christian C.
ECLEO, Leonilda G.
ELIAS, Gellian L.
EMBERSO, Darlene A.
ERIA, Reymark A.
FAT, Ramcez James L.
FIEL, Hazel Joy P.
FLORES, Shery Mae G.
GARCE, Diza
GARIANDO, Danica
GAYAS, Kyle Jeancel T.
GERNALE, Nadilyn
GUILLERA, Rhea A.
INDITA, Jolina N.
JABONERO, Jefle Vic A.
JUANILLO, Aimme Carla V.
MACAYAN, Jerome L.
MARTIJA, Kevin Jude B.
MARTILLO, Mark Warren S.
MAS, Dexter C.
MENDOZA, Dezerie B.
MERIDOR, Lewelyn F.
MORANTE, Katrina L.
NACIONAL, Shaina Ann V.
NOPIA, Sherwin S.
ONGKIT, Joshua J.
PADILLA, Abegail C.
PANIS, Arjohn L.
PETILLA, Justine Faye M.
PICO, China Marie S.
PONFERRADA, Rafonzil C.
PORES, Crismine Jun
RAMOS, Angel Mae O.
RAQUEL, Raymond
REALINO, Gustin Rey
REAZON, Ella Marie N.
REBATO, Joel Jr. F.
RELI, Liezel M.
ROJA, Jamia C.
SABELLANO, Shaina Kris A.
SALAMIA, Roxanne G.
SALAÑO, Kristine L.
SAMORANOS, Amy Jean W.
SISTER, Ma. Janna Victoria B.
SOLAR, Jamaica M.
TOBIAS, Michelle Q.
TOLOSA, Mark Lester P.
TUAZON, Gayl Rave B.
VARONA, Alexandra
VERGARA, Ronald C.
VERIN, Jessica R.
VILLAMOR, Johnnas
WACLYN, Andrea Mae C.
BS in Agriculture
ADLAWAN, Elsie L.
ADLAWAN, Allan L.
ADOR, John Lloyd R.
ADVINCULA, Sarah Mae G.
AFABLE, Aniza C.
ALCONES, Jeramie E.
ARNADO, Shiela Mae T.
ARPON, Rhealyn Q.
ASIS, Rose I.
ASIS, Alyssa
BALLESTEROS, Enrico Jr. H.
BINGCO, Jobel C.
BORERES, Mary Joy N.
BORERES, Joelan A.
BROCAL, Romalyn D.
BRUN, Emmalyn D.
CAAYA, John Rey L.
CABALLES, Angelika M.
CABOBOY, Raul Jr. D.
CAGARA, Glaiza
CAMPOSANO, Donmar B.
CAONES, Roel Mark P.
CAONES, Angelica P.
CARLOBOS, Jhan Rey M.
CORSANES, Joana Marie O.
COSME, Mark Francis R.
CUESTA, John Mike O.
DAGPIN, Leoniel M.
DALIMOCON, Necel L.
DAYLO, Jelmar A.
DECENILLA, Engelyn B.
ELISES, Joan B.
ESQUIBEL, Airon B.
FUENTES, Merlyn H.
GARCIA, Christian James J.
GARNACE, Leslie Ann V.
GATELA, Rosabel R.
GEREZ, Karen V.
GOMEZ, Rica May B.
GOZA, Josue B.
HORCA, Marvin S.
IGCASAN, Ricky
LACABE, Analyn
LADEZA, Ralph Anthony A.
LAGADO, Arman
LEDESMA, Reynaldo B.
LIPORADA, Alexandra
LLANITA, Judah M.
LUMPAY, Ivy S.
LUPAZ, Ramcees B.
MACALALAG, Erian S.
MACAYAN, Diether Angelo N.
MONDINA, Edcryrene E.
MONTEL, Joan B.
NESUS, Lea
NOBLE, Joylyn D.
OLBIRON, Oliver A.
OMEGA, Niño N.
PALCON, Renan S.
PAMANIAN, Glaiza C.
PORE, Agnes S.
QUIÑONES, Mycah B.
RANCE, Mariel B.
REGARDE, Rosenda L.
ROYO, Leonil A.
RUIZ, Jenny Ann
SALAZAR, Bryan Jake R.
SALGADO, Alvin C.
SALIMBAGAT, Edmer B.
SALVATIERRA, Misael L.
SAYSON, Sarah Jane S.
SOLDAO, Dioclesio Jr. E.
SUELA, Porferio Jr. N.
TAMAYO, Erika Joy J.
TAÑALA, Julie Ann
TAÑALA, Edwin L.
TAPITAN, Ma. Rosalina M.
TORRES, Jomar D.
VARONA, Jessa I.
VELARDE, Kenneth Louise T.
VELARDE, Limuel R.
VILLAFUERTE, Claire Eda P.
BS in Environmental Science
ALBAO, Louie Lyn G.
ALBARIDO, Remmalyn S.
ALCONES, Ronald E.
ALMERIA, Jevan E.
APOSTOL, Kylamarie T.
ARGUELLES, Ralph N.
ARUTA, Allien Christian B.
ARUTA, Reygielyn A.
ARUTA, Jessa C.
BALIDA, Gerwin L.
BANADO, Francis Ian C.
BARCIAL, Anna Mae D.
BARRANTES, Janle H.
BATUCAN, Andrea B.
BOHOL, Geliane Mae F.
BOYANO, Nimfa G.
BUSTILLO, Angelika R.
CABALONA, Jessica T.
CABIDOG, Janwel Joyce P.
CADORNA, Sherica V.
CADORNA, Julielate A.
CADORNA, Lailane B.
CADUHAY, Michelle C.
CAIGOY, Mea Joy
CAONES, Abadiano A.
CASTIL, Jessabel C.
CORSANES, Myra P.
DACUYAN, Kheene Mae S.
DE GUIA, Mariel A.
DORADO, Erika Mae V.
DURANA, Riza D.
FRANCISCO, Rochelle R.
GAJE, Joyce D.
GONZAGA, Marjon M.
GUILLANO, Sheinah Camille L.
GUIMONG, Alyssa Mae G.
HORQUITA, Mayline C.
INALISAN, Jessa S.
JOMAO-AS, Jed B.
LABACLADO, Charles G.
LABORDO, Dessa
LACABE, Renier P.
LESIGUES, Prescilla Anne Rose S.
LLOSE, Lyssa L.
MACAPANAS, Joan Marie E.
MACAYAN, Hazel R.
MARAYA, Maricris
MIRALLES, Alykka Mae A.
MONTAÑO, Aaron Kim P.
NARES, Mary Jane
NARIDO, Missy T.
OBADO, Elrick G.
OPINIANO, Kaye M.
PEDRERA, Frel Mark G.
POCONG, Jehl C.
PRUDENTE, Robert Henry
PUERTULLANO, Abelyn L.
RAAGAS, Argie F.
RAYGA, Randy C.
REANDINO, Dolly Ann E.
RELEVO, Mark Niño N.
SABANAL, Noimelyn L.
SALAZAR, Joel R.
SANGCAHO, Angeline L.
SARDA, Caryl B.
SEVILLA, Lea A.
SORIMA, Margie
TABORADA, Eleonor G.
TAÑADA, Michaella G.
TOLEDO, Caryl Ann I.
TUANDO, Jevy S.
VARONA, John Justin C.
VERO, Mark Dave
VICTORIA, Erikka O.
VICUÑA, John Kenneth P.
Program not indicated
ALBESA, Juvy Ann L.
HAMTIG, Frans Niño M.
PARILLA, Alexis T.
RIVERA JR., Oliver L.
SENECIO, Abeth M.
TAMAYO, Joelean A.
VSU Isabel
BS in Agribusiness
ABAJON, Shannen Lou Carthley P.
ABAJON, Kier G.
AMISTOSO, Isabelita Y.
ANTIG, Sedrick A.
ARAÑO, Angelica I.
ARROFO, Niño Lyko T.
ASTELLERO, Jessa Mae B.
AUTIDA, Christian B.
AUTIDA, Mikhaela L.
BITOON, May S.
BOHOL, Harvie A.
CANDO, Stefhanie Mae P.
CAÑOPA, Apple M.
CASAMIRO, Joana Marie B.
CASICAS, Maria Lourdes B.
CATAROS, Angelica G.
COMBATE, Charisse B.
COMPAYAN, Melanie M.
COMPRADO, Christine E.
CORDEÑO, Jolina
CUAN, Edwina Mae A.
DACAL, Jomaica O.
DAGSAAN, Jessa S.
DAGSAAN, Jessa Mae G.
DELALAMON, John Erick S.
DONDOYANO, Regine A.
DOSDOS, Jessa Mae M.
DU, Clinton John S.
FLORENTINO, Mylene M.
FUENTES, Aidiel Mae
LAURENTE, Fritzie Marie D.
LAURENTE, Joanna Marie L.
MADELO, Maria Annaliza V.
MARTIN, Bernalyn C.
MORALES, Maria Kimberly R.
MOSQUITE, Wen Ann J.
OBA-OB, Shaina Rose M.
PACALDO, Elenemie M.
PEDARIA, Jan Christine G.
PELIN, Evelyn P.
PELOSTRATOS, Jeah Lyn A.
PEREZ, Tzarie P.
PONTALBA, Lhea T.
RAMIREZ, Janice A.
ROSOS, Sammy John D.
RUFIN, Sharalyn Mae D.
SARZONA, Shiela Mae H.
TABILIRAN, Richmond C.
TANEO, Cybil A.
TAPALES, Gerlyn A.
YU, Kielshey A.
BS in Industrial Education
ABABAT, Harold B.
ABRENCIA, Nicole C.
ARINGOY, Lady Mae L.
BAJENTING, Ian James A.
BALLERA, Maika Mae L.
BEROLLA, Jairah Mae D.
BOHOL, Jayrald E.
BREGILDO, Roberto Jr. L.
BRIGOLI, Trishia Bianca R.
BRILLANTES, Michelle Ann R.
CALVENTOS, Jenette B.
CARILLO, Izzy Chrub P.
CENTINO, Jhoyah Lyhn M.
DACULA, Shiney Rhet R.
DELIMA, Jeremiah A.
ELECHO, Darvy O.
ERPILO, Kazuki Seiji L.
EVARDONE, John Lorenz T.
GABAY, Bea P.
IGNACIO, Jack Mores P.
LIAZ, Jay Israel E.
MANRIQUEZ, Anya S.
MARZON, Genara Mae B.
MATAMBONOY, Mariel E.
MAURILLO, Charlaine V.
MAURILLO, Rayname N.
NARBAY, Ian John L.
PAGAD, Anthony M.
PELOSTRATOS, Russel C.
PEÑA, Kevin S.
PEROS, Resa May E.
POGOY, Joseph Lee B.
SARAUGA, Jesame C.
SAYANGCO, Genelou L.
BS in Information Technology
ALBERO, Justine D.
APOLINAR, Glecerio S.
BALAIS, Jhovie
BALANSAG, Sheloven P.
BELARO, John Cyril B.
CAAYA, Elder A.
CAÑON, Rian James A.
CLAVE, John Carlo C.
CORMANES, Caryl Jean K.
DEGORIO, Genebeb A.
DELA PEÑA, Beverly A.
ERPILO, Kazumi Reika L.
LANORIAS, Harper D.
LAUGO, Louyd John M.
LIBRES, Reymart Jay V.
MARTINITO, Cristine Jane
MOJADO, Jeann A.
NODALO, Joylyn P.
OLMELLA, Geselle M.
ONDE, Shery Mae C.
PALIMA, Carl Jayrico Y.
PEPITO, Lady Ann D.
POLO, Jessa Marie M.
ROCHE, Rhea Mae
SOLERMO, Daizy Lou R.
TORINO, Jayloren S.
TUMILAP, Reyna R.
VALLESCAS, Gina C.
VILLACORA, Athea R.
ZAFRA, Eldren C.
BS in Mechanical Engineering
ABE, Mhitz Krystal Aln N.
ADOLFO, Daryl Wayne O.
ALAYON, Fathima M.
ALBURO, Junebeth A.
AMANCIO, Jonas S.
ANDOJAR, Jamaica T.
ANOYA, Jefferson R.
BATAS, Jayvee C.
BAUTISTA, Aldriano Joseph V.
BAYRON, Humphrey Lionel D.
BELIC, Erjhon D.
BENTOY, Crisanto M.
BOOC, Reymart C.
BREGENTE, Ranel Jay A.
CAPILITAN, Dave M.
CASAS, Renel A.
CASTELLANO, Criskyle G.
COVERO, Niñolito R.
CUBICO, Renelio C.
DAMILES, Justine Lloyd N.
DAWAL, Shelo Mae M.
DAYANDAYAN, Christian G.
DECLAROS, Jay B.
DEMETERIO, Jey Mar A.
DIOSANA, John Lloyd D.
ELEY, Faith M.
EMBATE, Brendo Jr. B.
ESPERON, Honey P.
ESPINOSA, Justinel E.
ESTOY, John Carlo O.
GABRIEL, Junrey B.
GALLARDO, Khey G.
GONZALES, Claudine S.
GUADALQUIVER, Johna C.
GUBALANE, John Mark A.
HERONGGAY, Lynel D.
HIMAYA, Liezl Rhien
HITGANO, Jennifer J.
LAWAS, Romel C.
LIMOSNERO, Kyle Lester S.
LUMABAS, Fitz Micco M.
MANINGO, Chariza Mae B.
MARAVELES, Edward P.
MARTINEZ, Mcjian
MATARLO, Jopeter F.
MATRIANO, Joshua Dave W.
MESI, Daniel John S.
MONTE, Clyde R.
NAVARRO, Bejay L.
NIM, Jillyn Joy A.
OBQUIA, Jessa Jane V.
OTADOY, Genica D.
PADEROG, Rhea Rose
PAJULAS, Michael E.
PAMOR, Nico M.
PASOJIL, Kj M.
PEREZ, Kim M.
PEROSO, Ian B.
PINOTE, Emro Gyle G.
POLANCOS, Johncyrell G.
PUENLIONA, Kevin R.
ROJAS, Cleford D.
ROSAL, Colton E.
ROSALES, Francis Jay C.
SABELLANO, Isaiah Jeem D.
SALVADOR, Analiza C.
SARMIENTO, Mark Joseph M.
SEPTIMO, Jonard N.
SOMBILON, Leighmar A.
SURIGAO, Izzy V.
TAGHOY, Ianamae B.
TERO, Bryan Earl B.
VALENZONA, Gomersendo Jr. G.
VILLABER, Harold W.
VILLABER, Paul Barry A.
VILLACORTE, Justin
VILLARAMA, Jay D.
VIOVICENTE, Felix Jr. H.
WAMINAL, Lloyd Rhinzel L.
YBAÑEZ, Jay S.
ZAMORA, John Ace M.
Diploma in Associate in Computer Technology
ARAS, Jocelyn B.
BIGTASIN, Cheryl C.
TABLATE, Rubie Jane G.
Bachelor of Elementary Education
ABELLA, Aiza M.
ACABAL, Neil A.
ADORCO, Clea B.
ALBURO, Jecel M.
ALMIA, Gemma R.
ARAÑO, John Carlo S.
ASTACA-AN, Zion R.
BAJARIAS, Lovely Joy P.
BALITAO, Jay-An C.
BALORO, Rina A.
BALORO, Rhea A.
BASILIOS, Ajah G.
BASUBAS, Ailen B.
BATUCAN, Reziel G.
BAUTISTA, Alvin Jay V.
BONCALES, Ariel Jay S.
CABANDOG, Yna May A.
CALARION, Lovely
CAMUNGGAY, Juvelyn B.
CANILLO, Joyce R.
CAPULAC, Gwyneth Jane L.
CARILLO, Geraldine P.
CARILLO, Rovelyn Y.
CASINILLO, Rhojane S.
COLARTE, Zyrah Mae T.
CONSING, Kayla L.
CORCELLES, Julie Mae C.
CORDEÑO, Mary Joy C.
CORPUZ, Sarah Mae
CUYAG, Don Jerico A.
DECLAROS, Chariden L.
DELALAMON, Dayci R.
DELALAMON, Jenie B.
DELFIN, Julia Angela S.
DELIMA, Jennelyn D.
DESCALSOTA, Althea B.
DESTACAMENTO, Zsakirah Mae L.
DIAMSE, April Jane R.
DINOY, Angel Mae D.
EBONALO, Yansie S.
ELI, Hazel Jeane C.
ELIDEROS, Rhea Mae G.
EMPIMO, Krizza Mae L.
ENICUELA, Ivy B.
ESNARDO, Mercy V.
ETULLE, Emie Jane B.
FUENTES, Jhia S.
GIGANTONE, Anadyn V.
JUDILLA, Maria Rizza Wella G.
LAMOSTE, Ernelyn G.
LAURIA, Jelly Kem S.
LESTINO, Kristialyn E.
MAAG, Halliel C.
MACAYAN, Janet T.
MANZANAS, May Ann P.
MEGABON, Zsaniel Ann M.
MENDEZ, Shiela Mae B.
MERCIO, Sheila Mae M.
MIRAMONTE, Cristine N.
MONARES, Rowel P.
NODALO, Joecel A.
OLIVA, Anna Marie C.
ONTUCA, Catherine S.
PACABIS, Kinth Vincent O.
PASADAS, Sheila Mae N.
PELIN, Paul James M.
PELOSTRATOS, Nike Nyka S.
PENING, Lizamae B.
RABANES, Mebeth B.
REGAJAL, Apple Rose C.
RIOS, Jessa Mae T.
ROCHE, Jane Caren S.
ROSALEJOS, Irish Rose
SADOMIA, Karen Joy S.
SEQUITO, Lianne Faith P.
SILAWAN, Erche I.
SUMILAC, Shenica P.
VERANO, Joymie L.
VERSOZA, Ferlene S.
YBAÑEZ, Rosalie E.
Bachelor of Physical Education
ANOCOP, Felmer R.
AQUINO, Devine D.
ARGOS, Rovie M.
AUTIDA, Javie I.
BALONES, Jessa Babe R.
BANAGUDOS, Christian Paul E.
BELTRAN, Apple Joy E.
CANILLO, Pia Manelle M.
CASIMERO, John Christian D.
CASTRO, Lovely Jane T.
CELLAR, Maricris
CENTINO, Vincent D.
CENTINO, Tricia Hob R.
CONCILLADO, Mitch C.
CRIZ, Charmee B.
DECIO, Maria Sandra
DELA CRUZ, Jella Mae S.
DELA SERNA, Mark Daryl L.
DUJA, Chelgie S.
ENDEREZ, Criszia Mae T.
ESTRELLA, Lea Jane
FLORES, Bernalyn N.
FORTUITO, Jenessa Mae A.
FRANCISCO, Elaine
GALAN, Gilly M.
GEORFO, Gerbie T.
GRACIANO, Jediemar G.
GUMBA, Jezil B.
HONTANOSAS, Kristine Joyce L.
IGNACIO, Mary Cristine Abigael L.
ILAGAN, Gelyn G.
JORDAN, Jenilyn
JORDAN, Jessa Y.
LABADORIAL, Theresa Mae P.
LABAY, Lovely V.
LAWAS, Monica R.
LAZO, Eljean May H.
LEBORES, Rinalyn D.
LIMPANGOG, Novelita U.
LISBE, Rhea Joy D.
LLANO, Raizame A.
LUBIANO, Lovely R.
MAINIT, Myreen B.
MANTUA, Karen P.
MARQUEZ, Micah P.
MAURICIO, Norvelyn T.
MIRAMONTE, Jayrahmae D.
NODALO, Wen Ann Kyla C.
NODALO, Chane Anne B.
NOLLA, Joymark B.
PACALDO, John Ford Y.
PADEN, Mark Kevin A.
PAJARON, Shaina Mae B.
PARILLA, Jungie V.
PATALINGHUG, Richel Mariz M.
PAYO, Whenan Faith O.
PELAYO, Emelyn M.
PELAYO, Roel Jane M.
PENING, Rustom L.
POLMENTIRA, Shannen Mae C.
PREGONER, Francis B.
QUINTE, Jinny Rose P.
RAMONES, Angelica P.
RASTICA, Nerilyn B.
RUTA, Clint P.
SACAY, Brailyn R.
SANTANA, Jennifer G.
SENO, Ella L.
SEREÑO, Lady Jane C.
SIDAYA, Monica A.
SILVANO, Jenesa A.
SINGSON, Arcel G.
SINGSON, Jiger Jr. R.
SINGZON, Mitzi G.
SUAREZ, Hazel C.
TABON, Queenny Jean G.
TOLEDO, Jose Julius U.
TOLEDO, Mae M.
TORING, Freddilyn S.
WENCESLAO, Kristelle Margaux A.
Bachelor of Secondary Education
ABAJON, Karleslie Jane G.
ABORDO, Kyla B.
ALCANTARA, Pinky G.
ARBELO, Mary Jane A.
ATUPAN, Princess Shassi Y.
BALEGIO, Krisa May N.
BASUBAS, Darmy M.
BASUBAS, Kimberly P.
BECOLERO, Angelo Jake D.
BELACHO, Lari Jane E.
BELIC, Renelyn A.
BORJA, Karyll Kaye D.
BULACAN, Sheila May M.
CAAYA, Rovejama L.
CALAMBO, Ronjie D.
CALUMPAG, Johnnilyn M.
CAPULAC, Joel D.
CARALE, Dave Mae P.
CARCASONA, Merielle G.
COLON, Erika Jane B.
CON-UI, Rhea Jane A.
CONCHA, Chenika A.
DALUMPINES, Rodelo M.
DALUMPINES, Mayden P.
DAYANDAYAN, Roselyn S.
DOMAEL, Jamica D.
DUALLO, Eril Rose N.
DURANO, Jhendy L.
ELE, Laica Mae B.
ENGHUG, Missy D.
ENGUITO, Joan Mae E.
EREDEROS, Bhea Mae B.
ETOMAY, Jezamie B.
EVANGELISTA, Brigette Anne B.
FEROLINO, Ivie Mae S.
FUENTES, Rhey Ann Marie P.
GALLO, Jay D.
GARAY, Anna Marie T.
GERMAN, Jessa S.
GICA, Gea Lin D.
GUBALANE, Raizame A.
GUIANAN, Cristy C.
GUMBA, Vealyn C.
INOCELLAS, Aime C.
LACBAYO, Isidro G.
LAGARE, Cherrielyn S.
LAMOSTE, Gerlie N.
LATOY, Jackelyn P.
LISTENO, Jenny Perl C.
MARTIN, Robert L.
MAURECIO, Mevelyn D.
MENDOZA, Maila
MERCADAL, Ena C.
MOCINO, Ronalyn C.
ONDE, Gliceldo A.
PADILLA, Virgilio Iii B.
PALADA, Vivian A.
PAÑARES, Daylene S.
PASEO, Sgerwin M.
PELIN, Shelvy Coulline C.
PEROS, Farah N.
PEROSO, Dennis C.
POGOY, Danica
PORLAS, Jessica A.
RELENTE, Karen E.
ROCHE, Jodelyn Ann A.
ROCHE, Almira R.
ROQUE, Eunice V.
RUBILLOS, Hazel Mitz J.
RUIZ, Riza Mae B.
SALINAS, Yves Mae B.
SANCHEZ, Shien Mae R.
SANICO, Ryan Jay L.
SANOPAO, Rica Jane T.
SEREÑO, Dexie N.
SINDAY, Cherry Mae D.
SINGCO, Jecksy E.
SINGSON, Rachel N.
SORIA, Fiona S.
TOLEDO, Roland Angelou M.
VALLE, Jonelyn L.
YLAYA, Gerardane
Program not indicated
AGAPAY, Michael V.
ANDOY, Samantha R.
ARAÑO, Benjie L.
DECLAROS, Chilla Mea L.
DELIMA, Baby Jean
FABROA, Nissin C.
JUARIO, Chenie S.
JUNGCO, James Aiber L.
RUFINO, Jeslyn D.
SUAREZ, Diether Arthur,Jr. R.
VILLEGAS, Lovelygen M.
VSU Tolosa
BS in Criminology
ABAÑO, Robelita D.
ABATIAS, Assyl Mae G.
ABENIO, Lyca B.
ABISTANO, Mary Charles T.
ACEBEDO, Roderick
ADARNE, John Kyle L.
ADONIS, Khem Paolo B.
ADONIS, Lenille T.
ADOR, Raul Jr. C.
ADVINCULA, Ismael O.
AGABE, Jay Russell A.
AGRES, Joan E.
AGUILAR, Shenalyn T.
AGULLO, Jamar P.
ALAGAO, Franz Rochelle M.
ALBERCA, Hanna Mae C.
ALBINA, John Paul
ALCOBER, Cristina I.
ALFORTE, Ralph Warren
ALICANDO, Emman Rey C.
ALIRE, Angelene M.
ALLEGADO, Jhun Mark H.
ALMADEN, Cherelie C.
ALMADEN, Promise Joy L.
ALMARINES, Monica Marielle T.
ALMERIA, Edmar Jr. E.
ALVAREZ, Pia Pynie B.
AMANTE, Anthony Ivan B.
AMOLO, Crisvie M.
ANGELES, Jefferson N.
ANIANO, Gescil C.
ANIMOS, Ronalyn P.
ANIMOS, Angelo G.
ANOYA, Airron James C.
APORTO, Romel B.
ARCOLES, Joshua B.
ARGUELLES, Alexis Jay T.
ARGUTA, Aj Mark L.
ARITZO, John Mark
ARMADA, Merra Mae S.
ARPON, Janus Kyle S.
ASPA, Harold M.
AUTENTICO, Krisha Shane C.
AVECILLA, Marlon Jr. R.
AVESTRUZ, Deo A.
BADANA, Regine A.
BADE, Ryan R.
BADILLA, Jenica S.
BADILLA, Benjie B.
BALAGA, Beaver Anthony R.
BALANE, Darence Bave V.
BALATAZAR, Ahron
BALISTISTA, Jowela S.
BALLENTES, Rica L.
BALLON, Mathew Jose L.
BARBOSA, Mike Laurence T.
BARBOSA, Melanie T.
BARBOSA, Kyle Dominica C.
BARILI, Aleth Jr.
BARTOLOME, Rey Vincent H.
BATUCAN, Nicole S.
BAUTISTA, Jessica R.
BAYONA, Jackyline L.
BEATO, April Joy C.
BENTULAN, Marc Eric N.
BENUSA, Bonn Marl Neil C.
BERNAL, Riza Mae Jane B.
BERTULFO, Kate Angelie G.
BETASOLO, John Rey M.
BIDUA, Dannilyn
BINDOY, Melvin C.
BOHOL, Sheenna Joy D.
BOLALIN, James Daniel D.
BRIONES, Mharon G.
BRUN, Joven O.
CAADAN, John Mark L.
CAALIM, Glomy Rose J.
CAAMIC, John Jerry
CABALTERA, Cecil
CABELLO, Jasper James L.
CABIDOY, Jonalyn D.
CABUDOC, Ruby Ann
CABUGUANG, Patricia May C.
CADORNA, Esgina
CADUCIO, Niña A.
CADUHAY, Mark Welson
CAINDOY, Benigno Iii C.
CAJEFE, Jocton S.
CALUBERAN, Darrel Anne E.
CALUPAZ, Vanissa G.
CAMANGIAN, Rante
CAMPOS, Rhea Anne B.
CAMPOSANO, Lloyd O.
CAMPOSANO, Reyca Mae H.
CANACIO, Benzon Jr. C.
CANADA, Mel Vincent R.
CANGAS, Rhea Cassandra B.
CANONCE, Richard Jr.
CAORES, Jedweyn Richael R.
CAPACIO, Cindy E.
CAPATOY, Allan Rex M.
CAPILA, Abby Kaye P.
CARROZO, Alleah Jean D.
CASTAÑEDA, John Ian P.
CASTIL, Jea B.
CASTILLANO, Abegail O.
CASTILLON, Alyssa N.
CATA-AG, Chirstina P.
CATALON, Noime C.
CATANTAN, Marly S.
CATINDOY, Vincent C.
CAUBALEJO, Juliebeth G.
CAUNTE, Marlos S.
CAYOBIT, Regine B.
CAYOBIT, Wenalyn P.
CAYUBIT, Jet M.
CINCO, Brylle S.
CINCO, Justmin B.
CINCO, John Paul C.
CINCO, Marco Jay F.
CINCO, Maria Amor V.
CINCO, Vhan Lester Y.
CLARO, Mary Rose B.
CLAROS, Mary Jane L.
COLARTE, Jolina A.
COMORA, Gina D.
COPINO, John Lloyd
CORAÑES, Janeth L.
COSIPE, Mark Angel M.
COSTIMIANO, Melissa A.
COSTIN, Maricris
COSTOB, Randolf A.
COTONER, Ezekiel James B.
CUBILLA, Aaron James V.
CUENZA, Ma. Kryzel A.
CUENZA, Jhopert B.
CUESTA, Via A.
DAGA, John Mark R.
DAISOG, Analyn N.
DALORA, John P.
DAYLO, Ryan B.
DE LA CRUZ, Chester C.
DE LA CRUZ, Gervyn T.
DE LA CRUZ, Charinna Gracia T.
DELA CRUZ, Shara Mae E.
DELA TORRE, Martin Dino S.
DELFIN, Precious C.
DELLEVA, Vladimir Lenos G.
DERI-ON, Gellie Pearl C.
DEVARAS, Reindhel Claire P.
DIAZ, Analyn B.
DIAZ, Joan E.
DIRAS, Justine G.
DOLO, Edrian P.
DOTADO, Marjorie P.
ECLARINAL, Michelle Ann B.
EFREN, Jhon Rocky P.
ELABA, Edrian M.
ELARDO, Clarence G.
ELIAS, Gellian L.
ENDING, Mary Rose A.
ENDING, Reina Lyn E.
ENRILE, April Jane R.
ESLERA, Maria Ela A.
ESPELITA, Charlene A.
ESPISO, Jessel S.
ESTORICO, Jules A.
ESTUDILLO, Christopher John B.
EVALO, Charles Anthony L.
FLORES, Brent Jeff I.
FUENTES, Leonel D.
FUMAR, Liezel P.
GABRIELES, Rica Mae D.
GACUS, Alex Jr. G.
GADIANDO, Ma. Ueronica E.
GALBAN, Daniela Marie M.
GALLO, Ron Ron C.
GAMEZ, Aimar R.
GAMEZ, Gerald Fred G.
GARA, Ina Jamica M.
GARCIA, Karen N.
GARCIA, Sheena May L.
GARCIA, Alfred V.
GASPAY, Lyka Charmine D.
GASTARDO, Angelica B.
GATELA, Kent Aidyn P.
GERILLA, Divine Grace L.
GERONES, Julius V.
GIL, John Earl O.
GOMEZ, Shetryl I.
GONZAGA, Danica Ann R.
GRACELA, Marichu J.
GUILLERA, Jonna Mae B.
GUIRON, Ryan M.
GULA, Cindy D.
GUYJOCO, Jane Marie B.
HOMEREZ, Nicolette Elyse O.
IGLESIAS, Mark Evans G.
INABANGAN, Biebesse Au R.
INCISO, Enalyn T.
IRINGAN, Jersah Mae A.
ISAIAS, Karl Mathew S.
JARDIN, Katrina R.
JARDIN, Von Miguel R.
JOCSON, Wendly Jake P.
JOCSON, Darryl Dave M.
JUMAYA, Rona Angel Rose
KAHANO, Kyle Dennise
KIERULF, Vivien Hillary E.
LACABA, Vernon M.
LAGAHIT, Michaela R.
LAGUNZAD, Brixel Jhel C.
LAGUNZAD, Ma. Teresa O.
LAGUNZAD, Pyke I.
LAGUNZAD, Cristel Mae O.
LAÑADA, Arnel Jr. S.
LANSANG, Mary Jane R.
LANUGAN, John Lloyd P.
LASTIMADO, Aaron Ken G.
LATINA, Cindy
LAUSIN, Jessa Jane A.
LAUZON, Mark Julius M.
LEBRIA, Trixie
LERIOS, Erica S.
LICAME, Jem Elgerve C.
LINDE, Jimson A.
LIPORADA, Corina S.
LLAUDERES, Crystal Ivy R.
LLENA, Lovely R.
LOBRES, Christine Mae Jane A.
LOGROSA, Neil Iversone S.
LONGASA, Alena M.
LORENO, Edzel C.
MAAT, Jerleen S.
MAAT, John Mark T.
MAAT, John Kenneth A.
MABINI, Franceline M.
MACAPANAS, Christina Mae J.
MACAPANAS, Franco V.
MACEDA, Kaye Catherine E.
MANATAD, Victor Jr. M.
MAQUILAN, Karen Rose S.
MAQUINCIO, Mary Jane S.
MARA, Clint Jake A.
MARCILLANO, Linet V.
MARMITA, Romaelene G.
MARTIJA, Clintford M.
MARTIN, Lea Marie A.
MATUTES, Jerelyn Kaye G.
MEDINO, Janil L.
MEJARES, Allysa Jane T.
MENDEZ, Gerald James B.
MENDEZ, John Anthony O.
MENDIOLA, Maybelle P.
MENDOVA, Erica C.
MERCADER, Rovilyn A.
MIANO, Roldan R.
MIRANDA, Allen Paul L.
MIRANDA, Rogelio,Jr. G.
MODESTO, Deaniel T.
MONGE, Mary Grace F.
MONTENEGRO, Harbin S.
MONTILLA, Arlyn G.
MONTOLO, Rhoda M.
MORA, Jessalyn M.
MORADOS, Kristel Ann M.
MORALES, Franz C.
MORFE, Frances Mae G.
MOVILLA, Clea Mae Christine T.
MUÑEZ, Francis Louie L.
MURILLO, Charliz Mae T.
MURILLO, John Guiller A.
NARIDO, Syra Z.
NAVARRA, Divine Grace H.
NERJA, Celestino Iii A.
NOBLEJAS, Trixie Joy B.
NOVIO, Clargie Dale Eman G.
OBIO, Marlon
OCAÑA, Rafael Charles Z.
OCAÑA, Ralph Chester
OCENA, Joel,Jr. C.
OGARO, Ellah Mae T.
OHAGAN, Renel Ivan G.
OLINDAN, Ralph Justine A.
OLIVA, Bienve M.
OLMO, Roxanne M.
OÑATE, Jerick M.
OPENIANO, Jane Coleen K.
OPENIANO, John Denver S.
ORIAS, Jason Jerome M.
ORONCILLO, Laurence
ORONOS, Raven Christian M.
ORONOS, Kian Michael
PABRO, Alexis Diane B.
PACHECO, Bryan R.
PADILLO, Apolinario
PADUAL, Ronalyn N.
PAIMALAN, Danissa T.
PAJARES, Jouiann M.
PALACIO, Mecaela C.
PALAGINOG, Mary Joy B.
PALCON, Rowela A.
PAMEN, Ma. Angelica L.
PANIS, Arjohn L.
PATANAO, John Marl D.
PEDRERO, Allyana O.
PEDROSA, Kim Andrew S.
PELICANO, Norleighn Venus B.
PEÑALOSA, Nilyn C.
PEÑEDA, Albert R.
PEREZ, Alniel Justin D.
PICO, Christine Mae P.
PICO, John Michael E.
PINDOT, Genevieve L.
PINGOL, Jhona Mae P.
PISTA, Jan Marc D.
PONCE, Cherry Joy T.
PORE, Mark Anthony J.
PRIMA, Helen O.
PULGA, Angelo G.
PUNDAVELA, Aldren R.
PUNDAVELA, James B.
RAAGAS, Justine Rhoda L.
RAAGAS, Jude Kim Adrielle A.
RAAGAS, Jim Rolf Klede O.
RABOY, Clyde C.
RAMIREZ, Irish F.
RAMIREZ, Ma. Analyn
REBUSE, Jervin B.
REDONDO, Apple Rose C.
REDUBLA, Wenn Andrew A.
REFUERZO, Francis Gabriel L.
REFUERZO, Johnroe A.
REFULLE, Anthony A.
RELOBAN, Jovelyn P.
REPALDA, Jaza B.
REQUIEZ, Bryanneth Ann F.
REYES, Melvin R.
RIATAZA, Gerlad C.
RICAFORT, Jhunmar O.
RIPALDA, Shaira A.
RITO, Machelle A.
RODIO, Marvin O.
ROMAWAC, Renadel A.
ROSOS, Gabriel Bush G.
SABILA, Sharmaine L.
SABILAO, Clarissa
SACLAY, Angielyn C.
SACRAMENTO, Paulene G.
SALDAÑA, Rayniel N.
SANGCAJO, Danisa Mae A.
SANICO, Lucky P.
SAPRA, Liza N.
SEÑORITA, Jay B.
SEQUITO, Albert R.
SERVAÑA, Khimerie M.
SETOSTA, Kaye Ann C.
SILVANO, Brix A.
SONGALIA, Mary Cheanelle S.
SORILA, Aljon C.
SOSING, Edizer A.
SULTAN, Jalal D.
SUNGCADOS, Mark Llyod S.
SUPITRAN, Marjorie B.
SUSAYA, Nestor Jr. G.
SUYAT, Lorielle J.
SUYOM, Jotham Viktor T.
SUYOM, Vaniza B.
TAALA, Rose Ann R.
TABORADA, Eleonor G.
TALABO, Jerry B.
TALACAY, John Bernard A.
TAN, Anafe G.
TAN, Ronald M.
TAÑOLA, Ronald P.
TENASAS, Lance C.
TERAZA JR., Romeo E.
TIAUZON, Monica C.
TIAUZON, Tim Eduard D.
TINAYA, Jose Miguel A.
TIZON, Jhonwyn M.
TOBILLA, Ma. Crisanta D.
TONIDO, Lucky V.
TORIANO, Khalehla M.
TORIBIO, Christian Kyle N.
TUPAZ, Matt Vincent I.
TURALBA, Mark Jufith L.
URIBE, Marjorie F.
VALLE, Cate Jonnel V.
VELARDE, Catherine C.
VELARGA, Rikkalyn Shine C.
VENIGAS, Charlene D.
VERONA, Regie Boy R.
VILLAGOMEZA, Giullana
VILLAGRACIA, Earl T.
VILLASIN, Kianna Joyce D.
VIÑAS, Mariane V.
VIRTUDAZO, Bhen Brian Y.
WONG, Develyn V.
ZABALA, Trixia Jane B.
ZETA, Lavenia Angeline P.
BS in Fisheries
ABILAR, Jasmin Joy A.
ABUD, Alma Marie C.
ABUYABOR, Arjaynald L.
ACALA, Kylene Clarisse T.
ACEDO, Filmar T.
ADVINCULA, Jadine T.
ALVAREZ, Erwin E.
AMAZONA, Jenia V.
AÑOVER, Edrei Moe N.
AQUINO, Erika Mae I.
AVILA, Christian R.
BALAGBIS, Jim Vincent L.
BERDAN, Jeane Rose M.
BERINGUEL, John Mac Henry
BOYRAS, Dexter A.
BOYRAS, Dexter A.
BUENO, Bernadette L.
CABANGISAN, Eldelito S.
CABERO, Jane Abigael A.
CABILOS, Wilson M.
CAINDOY, Mark Jojo C.
CAMASIN, Carly Jhon T.
CAMPOSANO, Alma S.
CAÑEDA, Mae D.
CANONIGO, Maria Thalia R.
CAORES, Ullyses T.
CAPILOS, Argene A.
CINCO, John Errol T.
CINCO, Jessica D.
CINCO, Christian M.
CORREGIDOR, Noime A.
DE PAZ, Icon A.
DE PAZ, Jericho C.
DIVINO, Jonh Benedick P.
DOBLE, Mark Angelo T.
DOGUITOM, Riva E.
DUQUE, John Mark R.
ENERO, Marielle A.
ESPINA, Prencess Faye D.
FERRERAS, Khailla Marie M.
GACUTAN, Paul Vincent L.
GALLANO, Efren Jr. M.
GAMUS, Jan Roland R.
GARCIA, Mariel M.
GAUSIN, Arnel Jr. J.
LACABA, Lanie G.
LACOSTA, Mary Joy O.
LAMATA, Kristian Wen Y.
LASTIMADO, Claire D.
LAURENTE, Jean O.
LOBRES, Elyssa F.
LUCINO, Kylene Mae M.
LUMACTUD, Rosalyn H.
LUZ, Nzcoh T.
MACEDA, Dennis Dave S.
MALATE, Kent Jayneil R.
MANABA, Marjorie Nicole C.
MANILAG, Manolito Jr. P.
MANITO, Yna N.
MAQUINCIO, May K.
MARAY, Cristine Joy B.
MARTINEZ, Gilbert G.
MIANO, Bryan Carlo P.
MONTILLANO, Jander B.
MORABE, Stephanie D.
MOSTAJO, Iaron
MOYA, Regine M.
MUÑEZ, Sharmine M.
NAZARETH, Rochell M.
OLEDAN, Remiel P.
ORAL, Lalaine Rochee L.
PACHECO, Erica P.
PAJANOSTAN, Daina Lec L.
PAJERLAN, Hanz Khinge C.
PALACID, Angelyn V.
PALAÑA, Hannah Krista A.
PALAÑA, Mamerto Ii U.
PATREMONIO, Erika Anne E.
PELICANO, Ka-Ila T.
PEQUE, Xavier
PICA, Francis Emmanuel M.
QUIZOL, Phoemela Gaea B.
RAAGAS, Archie Q.
RAMILO, Maria Abigail T.
RAYA, Jessica D.
RIPALDA, Emerald Ann A.
ROBLES, Robemil
RODRIGUEZ, Karen B.
SAYSON, Angelica Joy L.
SOLEDAD, Ma. Isabel G.
TIZON, Myla A.
TONDO, Jonalyn A.
TOPIA, Gil June
TRENCHERA, Fernando Jr.
UMPAD, Benneth L.
UY, Nicole P.
VALLECER, Ma Ann Coreli A.
VALORA, Noemi A.
VIERRAS, Raymund C.
VILLARIN, Loramae B.
Bachelor in Elementary Education
ABOCEJO, Shery Nn C.
ABRENIO, Marjorie S.
ABRERA, Mark Anthony C.
ADVINCULA, Angelica S.
AGDA, Winna Mae R.
AGUSTO, Monica C.
ALBARIDO, Maxine Joy S.
ALICANDO, Reymar N.
AMANTE, Julien T.
AMOROTO, Laica B.
ARCE, John Carl R.
ARCEO, Camille D.
ARGUTA, Florence O.
BABANTE, Althea C.
BALIONG, Rona Mea S.
BALMES, Giselle S.
BARBASA, Michael Jeffrey
BATIS, Angel Joy Q.
BATOON, Rochelle Mae B.
BAUTISTA, Rembert A.
BAYOBO, Maria Reazh M.
BERTES, Elsa Mae
BESA, Grace E.
BILLONES, Angelie
BROCAL, Romalyn D.
BUENO, Jacquelyn B.
CABIAS, Jane C.
CADALIN, Iris R.
CADAYINGGAN, Marie Joyce L.
CAIMOY, Jeshel
CAJANO, Cristina D.
CAJUSTIN, Vanesa P.
CALAMAYA, Abigail M.
CALDA, Chelsea B.
CALUPAZ, Aljin I.
CAMITOC, Leopoldo Ii C.
CANDELA, Arlene A.
CAÑEDA, Jezza P.
CAORES, Richelle Jane U.
CASTIL, Zaldy R.
CESAR, Reynalyn E.
CINCO, Ma. Ursola R.
CINCO, Maria Adelina R.
CINCO, Rodelio Jr. N.
CINCO, Christin Joy R.
CLEMENCIO, Ivy C.
COLOBONG, Lovely E.
COMORA, Sheryll Ann R.
COSTEMIANO, Cristine D.
CRUZ, Monique A.
CUMPIO, Realyn
CUTAB, Trisha Mae
DAGAMI, Andrea M.
DAGAÑO, Ana Marie G.
DELA CRUZ, Karen
DIOLA, Maryknol C.
DUMAS, Nicole Chenie R.
ECLEO, Eden M.
ELACION, Jessica W.
ESPADA, Sherwin M.
ESTUARAS, Krizza May S.
FIEL, Carol Mae T.
FORNILLOS, Ruth P.
GADAINGAN, Edryl Mae M.
GALLANO, Clarice Ann L.
GARRIDO, Jean S.
GOBANGCO, Jonamae C.
KEMPIS, Danica C.
LAGUNZAD, Arielle A.
LAUZON, Ronalyn D.
LAZARTE, Franz Oliver
LIRIOS, April Unice R.
MACALALAG, Shania Mae S.
MAGOS, Realyn P.
MAGRAMO, Kylen Joyce R.
MAGUBAY, Matt C.
MALATE, Norecille Faye A.
MALATE, Merian A.
MALATE, Patricia Lyn M.
MATO, Criselda A.
MEDINO, Marise L.
MELO, Brillan T.
MENDIGO, Malyn M.
MERCADO, Mariebel R.
MIL, Micar C.
MINALABAG, Rojen A.
NAVIDAD, Janice E.
NAZARETH, Maria Kristine L.
NEGRADAS, Ma. Erica
NITIVIDAD, Kristine Joy J.
NODALO, Sharmine M.
OBEJAS, Michaela D.
OBIAS, Ronalyn M.
ODEVILAS, Treena Kaye A.
OGRIMEN, Cathlyn Jo E.
OLENDAN, Joana S.
OLIMBERIO, Jollie A.
ORTILLO, Barbara C.
PAHIMNAYAN, Keith R.
PALAMOS, Robisa D.
PALANA, Ronalyn P.
PALAÑA, Rhea M.
PALEJARO, Gienel B.
PANCHO, Rowena Y.
PANERIO, Lopelyn P.
PAYOD, Joana Mae D.
PELIÑO, Marian C.
PEÑEDA, Jekyliegail Diren E.
PENISTAN, Jasiel Anne G.
POLIDARIO, Ailyn B.
QUIÑONES, Maria Lourdes C.
RAAGAS, Melani F.
RAEL, Ma. Gelean D.
REDUBAN, Jonna Mae V.
REMANDABAN, Pia B.
RESMA, Geo Angelo C.
RIAS, Maria Antonette B.
ROCA, Rica F.
SABALLE, Analyn O.
SABALZA, Cleia M.
SALCEDA, Gina O.
SANTO, Dave Laurence T.
SANTOS, Nhemfa Joby P.
SILVANO, Hannah Mae M.
SILVANO, Rizalyn K.
SILVANO, Rona France
SILVIO, Glana Daisery G.
SIMBORIO, Chyril D.
SIVANO, Phobie Kaye M.
SUMAYOD, Jane Abegail D.
SUYOM, Marianne Mae D.
TABULOC, Shane Zyra G.
TAMAYO, Janella Marie C.
TANQUI-ON, Stefane B.
TATOY, Angelica N F.
TEPOSO, Mileen M.
TERADO, Cherrybel D.
TIOZON, Leslie Ann T.
TIOZON, Jorissa M.
TISMO, Gwyneth I.
TOBIAS, Maria Crisanta P.
TRENCHERA, Gellian A.
TUPAZ, Kylo E.
UNTALASCO, Christine Joy C.
VACAL, Tsina B.
VENCIO, Jover C.
VERECIO, Romelyn M.
VERGARA, Marjean Joy Y.
VERTUDES, Meladine B.
VERTULFO, May
VIÑAS, Noime A.
Bachelor in Secondary Education
ABALOS, Rudylyn E.
ABASOLA, Angelo M.
ABORD0, Wengie Mae A.
ABREMATEA, Mary Ann P.
ABREMATEA, Xyramae
ABREMATEA, Nica Ann
ABRERA, Jelly Ann C.
ADONIS, John Greg P.
ADVINCULA, Christine Joy
ADVINCULA, Aira O.
ADVINCULA, Joanna Andrea V.
AGDILLA, Jhanine R.
AGUIPO, Yvone Mae A.
ANTOC, Rene Mae P.
AQUINO, Claire B.
BALDERIAN, Raymond T.
BANADO, Shyrine Mae J.
BANDOY, Angelita
BANTULA, Giselle L.
BAUTISTA, Ana Mae
BERINO, Kryne Aycel C.
BIBAR, Rose Ann R.
CADION, Rowena
CAGARA, Lovely Heart T.
CAING, Ashley Mae
CAINO, Reynon C.
CALINGYAO, May-Ann A.
CALUBAY, Myma Jade L.
CAMILON, Archie D.
CAMINONG, Jericho V.
CANNANES, Donna Marie
CANONIGO, Ron-Ron A.
CAPONGCOL, Joel Jr. A.
CERON, Rose Ann A.
COBACHA, Axelrose G.
CONSTINIANO, Lyndon C.
CUAYZON, Imme Jane B.
CUSTODIO, Liezl Ann E.
DAGA, Ma. Laica O.
DAGAMI, Jaouelyn J.
DAZO, Ivan B.
DE PAZ, Fate Abby Gael L.
DE PAZ, Angeline L.
DELFIN, Aubrey Jane
DEVARAS, Giraclio L.
DIAZ, Ejei Mae M.
DUMASIG, Christine B.
EGAY, Marbeth B.
ENDING, Jhovilyn V.
ESMALE, Claudine R.
ESTRELLA, Antonette L.
FLORENDO, Jean
FLORES, Shaina Mae M.
FORNILLOS, Ian Marc
FUA, Ciara Mae L.
GOPO, Lee Anne M.
GUIRON, Robi Ann C.
INDIC, Beverly Jane M.
KALAQUE, Gervie James L.
KIMPANO, Laarnie M.
LAGARTO, Dye T.
LANTAJO, Roselyn R.
LAURINO, April Rose
LAVARES, Cruzel H.
LUBANG, Sherwin C.
MABULAC, Angeline
MACADAT, Angel Mae M.
MACOL, Marivel G.
MALAZA, Welmer R.
MENDIOLA, Amy S.
MINA, Michelle S.
MORANO, Lea N.
MOSTALES, Arabella R.
NAULA, Karen Joyce G.
NUEVAS, Annica Marie E.
OCASLA, Elisa Joy
OLILA, Mary Joyce S.
ORGUINO, Marilie S.
PABRO, Martin Jacob S.
PASAGUI, Jovencio A.
PERMEJO, John Lester G.
PERMEJO, Abegail R.
QUILLA, Kimberly O.
ROCA, Rachelle Mae A.
ROSAL, Merry Rose
SABAULAN, Rovelyn T.
SALAO, Janella Marie
SALAS, Geleth D.
SETOSTA, Realyn M.
SILVANO, Jencil V.
SUMAYOD, Jaycel Ann C.
TAMPUS, Liezele Mae
TEDIOS, Marvi Joy
TILANA, Mary Jackilyn C.
TUPAZ, Leslie S.
UDTOHAN, Ramelyn Mae
VENTURADO, Joan Mae L.
VERECIO, Lalaine M.
VERTULFO, Centina Kyle A.
YU, Tisha Nathalie D.
Program not indicated
ADRALES, Jomar A.
ALIS, Lemuel P.
AMPO, Jhun Roy O.
ARABIANA, James Jethro
AZCARRAGA, Patty Mae T.
BALACAN, Jenny Rose C.
BORJA, Kent Lorenz L.
CADORNA, Roque M.
CAÑA, Ednalyn D.
CARIBO, Carl Gypzy P.
CEBU, Christine Dianne L.
COSTA, Julie Ann C.
CUEVA, Benjo S.
ESMADE, Janele M.
ESPEÑO, Rec A.
GOLIN, Archie M.
LANTAJO, John Raymart C.
LARITA, Mary Grace T.
MACALALAD, Kenth A.
MADEJA, Hannah Mae D.
MALVAS, Ruffa Mae C.
MAQUINO, Jastine Charles B.
MERCADO, Timothy John
MERCOLITA, Jaypee C.
OBEJA, Jerecho C.
ODULLO, Keneth R.
POBAR, Camila Jane A.
PUMICPIC, Wayne C.
RAMA, Arman Jake V.
ROLDAN, Lorenz R.
TRINIDAD, Harris C.
VILLEGAS, Dan Arthur V.
YEPES, Lucky C.
ZAMORA, Harold A.
VSU Villaba
BS in Agriculture
ARNADO, Kienth Francis E.
ARNADO, Margie E.
ARRIESGADO, Cathy Jane M.
ARSENAL, Roel Jr. E.
BAQUERO, Jolina E.
BAQUERO, Alice D.
BARING, Jonelyn A.
BELTRAN, Joefei R.
BRIGILDO, Kevin O.
BULAHAN, Margie D.
BUSCAGANA, Sheila Mae M.
CAÑETE, Mylene P.
CANOY, Daniel M.
CARVAJAL, Michael A.
CATADMAN, Aljunere A.
CATAMORA, Ariel L.
CONSON, Rommel P.
DAGSAAN, Nico A.
DAIGAN, Kent R.
DALOT, Neldo
DAROY, Christian S.
DAROY, Rene Jr. B.
DE LOS SANTOS, Jayson Anre R.
DEVOCION, Jaymar P.
DIACOMA, Mia Isabel Marie L.
DIGNOS, Raymart S.
DUAZO, Pio Jr. D.
EGUIO, Jefferson B.
EREJER, Mary Erica Amor L.
ESCO, Jonas A.
ESPINOSA, Rinch Jay
FRANCISCO, Kaye Celine V.
GEROMALA, Aldrin D.
GILOS, Cresty
GOCELA, Ailene M.
GUEREBA, Resty D.
GUISANDO, Cristituto Jr. G.
LABISTE, Michael Jay D.
LINA, Via Carmela L.
LUMIJOC, Joeven C.
LUMIJOC, Angie C.
MANAOG, Joshua S.
MANGAS, Jovelito S.
MANULAT, Jomar
MESTERIO, Elmar Aien A.
MONTECILLO, Rofamie I.
MONTEROYO, Normita M.
MONTESCLAROS, Janel C.
MONTESCLAROS, Jewel C.
ORIAS, Clifford Jay N.
ORINDO, Chanelyn I.
OTADORA, Alvin
PABADORA, Jesie A.
PALACIO, Jonas R.
PALAD, Jessa Mae D.
PAUJANA, Wilma D.
PETILUNA, Aldrin A.
PILAPIL, Garry O.
PLAJOS, Ruby C.
POTOT, Regie
PRIOL, Louiejie S.
REUBAL, Justine R.
ROCHE, Christian Michael D.
RODRIGO, Rix-Jay R.
ROSEL, Carena S.
RUBAS, Marven C.
RUIZ, Ruby C.
TAGALOG, Aneto T.
TEJERO, Anabeth D.
TEJERO, Eliton D.
TEVES, Bernard T.
TOGAO, Markem A.
TORLAO, Ronald T.
URSAL, Francisco C.
VALIENTE, Lj
VILLORDON, Ronelo L.
YANGAN, Philip D.
YOCTE, John Anjo C.
YTANG, Jessa R.
ZURBITO, Ginalyn P.
Bachelor of Elementary Education
ABALLE, Maylene A.
ANCAJAS, Rachel S.
ANCERO, Karen S.
ARABIZ, Babygen P.
ARELLANO, Belen I.
ARGANZA, Shan Darlin M.
ARIS, Marlou Jade N.
ASEO, Mary Grace
BAGUIO, Rose Kate Marie B.
BALAONG, Marian Mae L.
BALLENO, Aida S.
BAQUERO, Erica D.
BARONDA, Jhames M.
BIHAG, Michelle A.
BOHOL, Jason A.
BUNGHANOY, Joseph O.
CABAHUG, Divina V.
CAQUILALA, Jessil I.
CARTAGENAS, Ma. Gesele M.
COMACAO, Edgar C.
CONDES, Lovely N.
COSTANILLA, Karen A.
CUNA, Jeffrey P.
CUYOS, Joy Jean B.
DACLITAN, Baby Jasmine T.
DAÑO, Marjorie Q.
DE GUIA, Vanessa R.
DE JUAN, Shera Mae L.
DELA PIEZA, Marycris R.
DELA PIEZA, Mailyn T.
EMPIMO, Ana Marie M.
EPE, Jessa Mae P.
GAVION, Gracela
GRIPO, Jecel R.
GUBALANE, Angelina T.
GUMBA, Manelyn O.
HARINA, Lloyd Josef O.
HORTISANO, Jerlito M.
JORDAN, Angel May V.
LABASTIDA, Jocelle O.
LAMBUJON, Danilo Jr. B.
LAUSE, Vanessa D.
LIBORES, Mira Flor S.
LIRASAN, Alnie N.
LUBIANO, Reynaldo Jr. B.
MACABENTA, Joan M.
MAINIT, Hannie C.
MECA, Ella Mae B.
MECARES, Cristy M.
MENOR, Jenifer M.
MONARES, Christine A.
NUÑEZ, Ruby Jane A.
NUÑEZ, Rosette C.
OBANDO, Sheila Marie L.
OLIMBA, Neresa
OLIVERIO, Kimberly M.
PANAL, Rechel Mae P.
PERIN, Kim
PICULADOS, Divina B.
RAGURO, Darwin D.
RAMOS, Chuna Mie I.
REGALA, Rheme Mia P.
RODRIGO, Christine L.
ROJAS, Merey Joy A.
ROJAS, Jomar E.
ROQUE, Nileza I.
RUBILLOS, Via Carmela J.
RUELAN, Michelle S.
RUFIN, Luei C.
SACAY, Brailyn R.
SALIDAGA, Joey C.
SANGLITAN, Ma. Kristel M.
TALLE, Jonel F.
TANO, Renaliza C.
TASAN, Diana Q.
TERO, Frezlyn S.
TERRANO, Glenda G.
TORALBA, Rissa C.
TUMAMAK, Lea Mae E.
UROT, Ira Chen E.
Bachelor of Secondary Education
ABARAO, Dhan Deavid T.
ABAYATA, Ma. Mae M.
ABENIO, Gracelyn S.
ALCALA, Junadelle
ALDIANO, Regelyn E.
ALENSOLOREN, Melane S.
AMISTOSO, Erwin A.
AMISTOSO, Jomaica Rose D.
AMIT, Marialyn C.
ANCERO, Rhea Mae
ANCERO, Anna Mae F.
ANGCAJAS, Melvin B.
APAO, Elviemae C.
ARABES, Ronalyn R.
ARABIS, Legil N.
AREVALO, June Cris I.
AUMAN, Rymaline A.
BALLACAR, Reynell
BALTAZAR, Caroline C.
BARRO, Mariel C.
BATIS, Mardin S.
BOLALA, James N.
BOSTRILLO, Mark Gil O.
BRAGA, Angelo B.
BROCOY, Simeon Ii Delfonso A.
BRON, Jessica D.
BRONIA, Ailyn C.
BUSTRILLO, Wendelyn M.
CABAGTI, Lujimar P.
CABAHUG, Ann Marie N.
CABALEJO, Ivy D.
CABALLES, Jessa Mae M.
CABESEÑO, Daryl C.
CABILLAN, Jose R.
CAMPOMAYOR, Daisy A.
CASAS, Joberth R.
CASAS, Richel T.
CASINAY, Mery Cris C.
COMENDADOR, Jinelyn P.
COPIO, Rosalinda
COYOS, Rose Mae C.
DACLITAN, Rena T.
DAGSA-AN, Rea S.
DAGUIL, Catherine C.
DAGUIL, Rofffil S.
DAGUINOT, Elaine Grace P.
DAMAYO, Judy Ann L.
DAÑO, Julianne P.
DAROY, Rhea Nereen C.
DE ASIS, Annacel M.
DE JUAN, Jeah L.
DE LOS SANTOS, Lera Mae E.
DELA CERNA, Rejie O.
DELA PEÑA, Richelle L.
DELA RAMA, Xenia Jean B.
DELIMA, Richa Mae S.
DEMETERIO, Nelmark A.
DOLLER, Anna Cris C.
DUGANG, Reymark
ENOCILLAS, Christine M.
EPE, Melboy C.
EREJER, Rose Ann N.
FERNAN, Jerome D.
FERNANDO, Melanie E.
FLORES, Mecky N.
FORMENTERA, Jorilyn A.
GABINI, Florelyn P.
GABUMPA, Alberto Jr. A.
GONZALES, Mary Grace B.
GUYADA, Mylene C.
HITIO, Sunny Boy
HORTESANO, Thresia Mea
HORTESANO, Cheremy A.
INITAN, De-Ann E.
INSO, Mary Rose P.
LAPARAN, Jessa Mae
LARRAGA, Joyce Meyer V.
LASDOCE, Marissa A.
LAURON, Andrea I.
LAURON, Angelica H.
LAURON, Natasha Z.
LAURON, Rema-Jane A.
LEBOLORA, Jomiel C.
LEQUIN, Mary An P.
LORDAN, Elgenia U.
LORO, Janine L.
LUCAYLUCAY, Lea A.
LUCERO, Rica L.
MABUTE, Regie N.
MALAMDAG, Wawy T.
MALAYAN, Clarisa G.
MALINAO, Crestie B.
MANANGUITE, Cybelle A.
MANATAD, Joan R.
MATA, Jennifer A.
MECARES, Arabela B.
MENDIOLA, Godffrey V.
MONSANTO, Jean R.
MONTECILLO, Judean My D.
MONTIBON, Monaliza C.
MONTIBON, Mebel R.
MONTUERTO, Sarah Jane B.
MORALDE, Mary Jane T.
MORALES, Wilma C.
MORALES, Janice D.
NAVARES, Pamela A.
NAVARRO, Geralyn P.
NERI, Jiven N.
NOVELA, Beboy A.
OMBAJEN, Angelyn D.
ORONGAN, Reina Mae M.
ORONGAN, Jhon Carlo G.
PACAURO, Jonna I.
PALAD, Rogelyn U.
PAMAS, Rhena B.
PANIS, Angelica W.
PAQUIBO, Marilyn S.
PARCON, Bombe L.
PASCULADO, Shiela Mae L.
PAUHANA, Mary Anjely R.
PEDAZO, Farah Mae R.
PEPITO, Rhea A.
PEVIDA, Catherine P.
PISO, Jea Mariel D.
PRESILDA, Rosaly E.
PULOD, Jessie P.
ROA, Neilbert L.
ROSELL, Carl L.
RUBAS, Rianne
RUÑA, Maybelyn A.
RUSIANO, Hannah
SABANGAN, Jastine G.
SACAY, Jun Mar A.
SALES, Maria Cristy O.
SANCHEZ, John Miguel A.
SEPTIMO, Jay-Ann S.
SERDONCILLO, Joan L.
SULTAN, Batseba T.
SUMALJAG, Roxan C.
TANEO, Lloyd Nicole Y.
TEVES, Patricia Mae C.
TORTOSA, Ellyssa Mae M.
TUMAMAK, Heidee P.
TUMAMPO, Danica M.
TUTOR, Marjorie E.
URSAL, Berliza G.
VALIENTE, Jessah Mae L.
VANGUARDIA, John Angelo
VILLEGAS, Marra Marie V.
VILLENA, Virgilio Jr. E.
YBAÑEZ, Alistair Jr. O.
Program not indicated
HOYOHOY, Rica B.