PCAARRD accords Pantas Award to VSU's VP for Research and Extension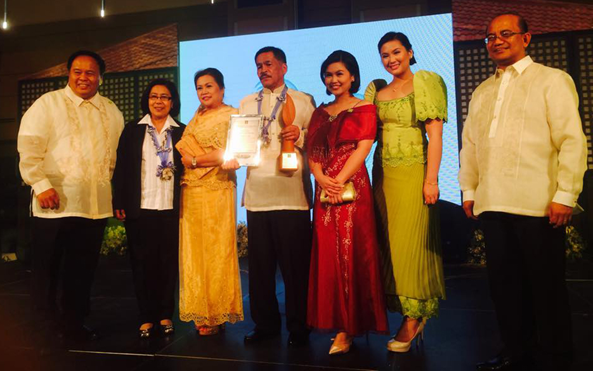 Dr. Capuno was accompanied by VSU President Jose L. Bacusmo (a Pantas Awardee for Outstanding Research Administrator in 2010), together with his family—Ruffa, Charmagne Faith and Christelle Venus, in receiving the award. A number of VSU personnel and from ViCARP-RRDEN were also present during the awarding ceremony.
In his acceptance speech, Dr. Capuno expressed his happiness to the External Screening Committee chaired by PCAARRD Executive Director Ebora for endorsing his nomination to the PCAARRD Governing Council who finally confirmed his award. He also acknowledged and thanked Dr. Bacusmo for his assistance and recommendation during the nomination process. Likewise, Dr. Capuno mentioned the immeasurable support extended to him by the VSU factulty and staff, the Visayas Consortium for Agriculture and Resources Program (ViCARP), and the Regional Research and Development/Extension Network (RRDEN).
The award cited Dr. Capuno as this year's Pantas for Outstanding Research Administrator awardee "In recognition of his leadership in research, development, and extension (RDE) at VSU and the Visayas Consortium for Agriculture and Resources Program (ViCARP) towards the development of agriculture and natural resources in Region 8. As the Vice President for Research and Extension, his unwavering commitment to the region's development through R&D programs has led him to develop, manage, and maintain an innovative RDE system with 185 strong research programs/projects on rootcrops, abaca, coconut, fruits, vegetables, rice, corn, forestry, and fisheries, among others. Under his tenure, VSU generated several knowledge products, and submitted research technologies for IP protection/patenting. As the Director of ViCARP, he continued to strengthen the strategic alliance between ViCARP and the Regional RDE Network, enhancing the collaboration and cooperation between VSU and DA-RFU 8."
The Selection Committee of this year's Pantas Award for Most Outstanding Research Administrator was guided with the following criteria: Resources generated and mobilized for R&D for the past five years (2010 to present) – 15 points; Agency output generated for the past five years (2010 to present) – 30 points; Linkages forged through memorandum of agreements – 10 points; Trainings/workshops conducted/organized for the past five years (2010 to present) – 5 points; Human resource development and management – 10 points; Innovations and new systems/initiatives introduced that enhanced the effectiveness of the agency – 20 points; Awards received as administrator – 5 points; and Length of service as administrator – 5 points. JFMBaldos