VSU confers certificates to pioneering batch of BS Nursing graduates, 2 with latin honors
The conferment of the 80 graduates, of whom 65 are female and 15 are male, was delayed for they were required to complete their Operating Room (OR) and Delivery Room (DR) exposures in the different hospitals in Region 8 within the month of May 2011. The students were unable to complete their OR and DR exposures in time for the regular University graduation last April 5, 2011 because of the "tight placement situation" in various hospitals in Regions 7 and 8. Many BSN students were requesting for "OR/DR exposure" in compliance with CHED Memorandum Order No. 30, s. 2001 and CMO No. 14, s. 2009.
In the same occasion, Christian Vie P. Baldonado and Eleazar B. Libres also received their Cum laude medals from VSU and the certificates of civil service eligibility from the Civil Service Commission.
The historical graduation ceremony was graced by Dr. Libertad P. Garcia, Director of the Commission on Higher Education of Region 8 (CHED-8), as commencement speaker. In her message, Dr. Garcia lauded the parents of the graduates for despite the rising cost of education they were able to send their children to school with a good quality education and have a better chance for employment and enjoying a good life. The director further revealed that the industry needs quality graduates who can be hired for a specific job and ready to serve the country as well. "The quality of health care providers should be equipped not only with the skills and knowledge but also armed with the right values and attitude especially for the nursing graduates since you will be serving people," the CHED Regional director said. Dr. Garcia acknowledged the vital role played by VSU in supplying graduates with good quality of education not only in Region 8 but in the country as well. She also encouraged the new graduates who just earned their education at a lesser cost being government scholars to plough back the benefits and blessings they received from their profession by serving the country.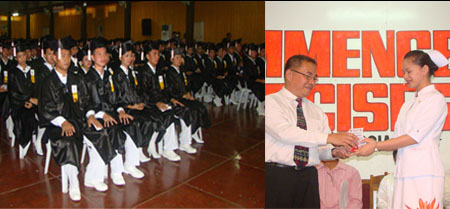 Nursing GraduatesThe speaker also implored for confidence among the graduates and to embrace the responsibility in whatever they can do to promote the image of their chosen profession. "Uphold your chosen field of studies by becoming the best of what you can be and be a living example to other students of the nursing program," Dr. Garcia stressed.
Right after the graduation ceremony, the nursing pinning ceremony for Batch Amethyst 2011 immediately followed. During the program, special awards were bestowed to some new BS Nursing graduates. These were: Leadership Award – Jhemelyn B. Braga; Best in Clinical Performance Award – Christian Vie P. Baldonado, Best in Community Nursing Practice Award – Eleazar B. Libres and Venie Jay O. Montalban; Best in Nursing Research Award – Gino C. Fiel, May Ann M. Amihan, Pearl Kathlyn C. Edosma, Mariz B. Gregori; and Plaque of Recognition for artistic ability in coming up with the nursing logo – Ma. Kristine May A. Ternura.
Likewise, the graduates offered roses to their beloved parents as they sang their class song "Go the Distance."