DOE Secretary to speak in VSU's 62nd Commencement Exercises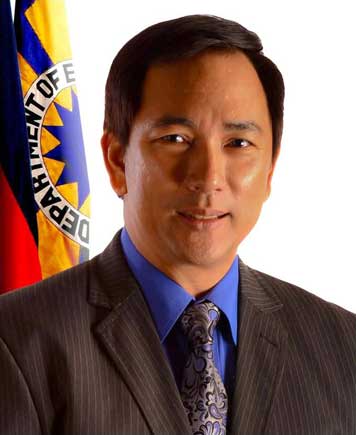 It is quite obvious that Secretary Petilla is one of the favorite and most sought after speakers of the University in big occasions such as this. He was also the guest of honor and speaker during the 2012 VSU Commencement Exercises while he was then the Governor of the Province of Leyte.
Secretary Petilla had been very supportive to VSU's program while he was still the governor of Leyte. He was instrumental in the construction of the Olympic-size VSU Oval located at the Upper Campus of the University. He also continuously sponsors the Gov. Carlos Jericho L. Petilla Award for Most Outstanding Student of VSU competed in by the graduating students with leadership potentials and who do well in their academics and co-curricular activities in the undergraduate level.
His effective governance during his term made him a Local Economic Development Champion and earned awards for Leyte, such as: "The Seal of Good Housekeeping" (October 2011) and the "Gawad Pamana ng Lahi Award" (October 2011) from the Department of Interior and Local Government; "Most Business Friendly LGU Award (2011, 2010, 2008) from the Philippine Filipino-Chinese Chamber of Commerce and Industry; and the "Hall of Fame – The Hospital Enhancement for Leyte's Progress Project" (2011), and "Hall of Fame – Presidential Award for Outstanding Leadership in Providing Quality Health Service to his Constituents from 2006-2010" (2010) from the Philippine Hospital Association.
As an excellent manager, Sec. Petilla was also given the task to head two key positions in the regional councils in Region 8: as chairman of the Regional Development Council (RDC), the primary institution in the region which sets the direction of economic and social development of the region and through which regional development efforts are coordinated; and as head of the Regional Peace and Order Council (RPOC), a body that formulates plans and recommends such measures that will improve or enhance the peace and order and public safety in the region in his stint as governor.
Petilla also supported The Philippine Economic Zone Authority in approving the application of the Province of Leyte to convert the 6.9 hectares lot at Barangay Pawing, Palo, Leyte, where the developed and ready for operation Leyte Academic Center is located, into the Leyte Information and Communication Technology Park.
Sec. Petilla earned his Bachelor of Science in Management Engineering at the Ateneo de Manila University where he also finished his secondary level, and had his first experience as an academician serving as a professor for a number of years after he graduated from college. He is a son of the former Governor of Leyte Leopoldo E. Petilla of Palo and former Leyte Governor and Leyte 1st District Representative Remedios L. Petilla of Baybay City, Leyte.
Sec. Petilla is married to Frances Ann Regis Basilio of Cebu City with whom he has five children—Carlos Anthony, Nicola Marie, Jose Lorenzo, Frances Mikayla and Danika Pilar. JFMBaldos