Axel Kleinschumacher of Lufthansa-Help Alliance visits VSU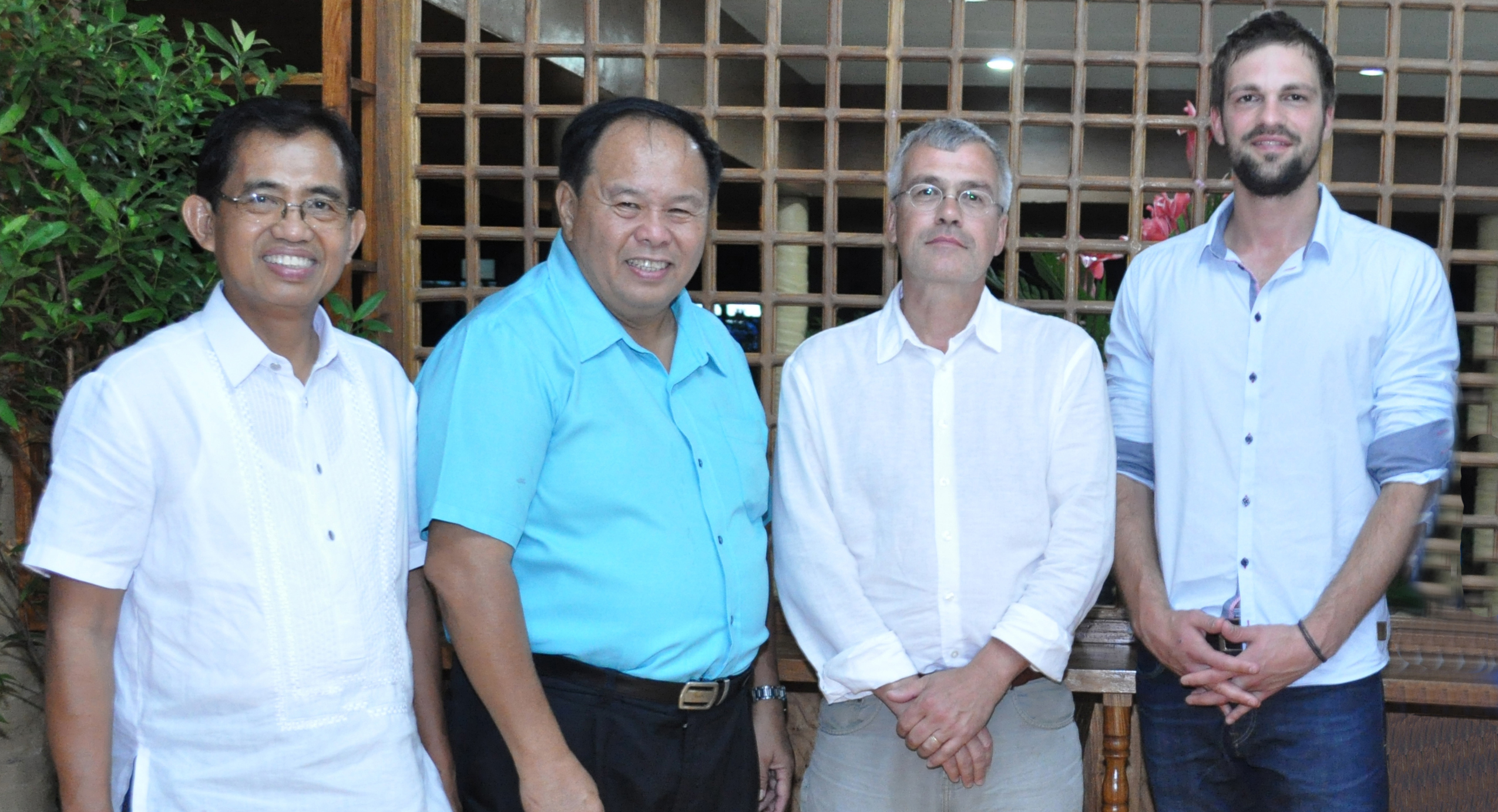 Mr. Kleinschumacher and his son were met by Dr. Jose L. Bacumso, VSU President, at the Daniel Z. Romualdez Airport in Tacloban City on June 4 before they came to VSU the following day.
Prior to their coming to VSU, Dr. (H.C.) Claus-Peter Hutter, President of NatureLife-International based in Germany who has a strong and long-term partnership with VSU, sent an introductory letter to Dr. Bacusmo about the visit. In his letter, Dr. Hutter informed Dr. Bacusmo the possibility of how Help Alliance could possibly assist VSU and the Baybay Rainforestation Foundation after the terrible typhoon Haiyan/Yolanda.
A major component of Mr. Kleinschumacher's VSU visit was the monitoring of the on-going project on "Super Typhoon Yolanda Rehabilitation Project in Selected School and University Buildings in Leyte, Philippines" with Dr. Roberto C. Guarte as the Project Leader, and the Rainforestation Project. Both projects are funded by the Help Alliance of Lufthansa and NatureLife-International as principal donors.
Help Alliance is Lufthansa's aid initiative founded in 1999 by employees from all parts of the Lufthansa Group. The organization supports projects in developing countries which have the objective of securing the people lead an independent life. The focal points of the humanitarian activities are food and health programmes, schools, training centers, business start-ups, and street children projects. In addition, the organization also provides disaster relief.
While at VSU, the visitors were toured around the campus by Prof. Alan B. Loreto, Executive Officer, and had an overview about the University and a glimpse of the different offices, departments, colleges, and research centers which underwent major repairs after the wrath of Super Typhoon Yolanda on November 8, 2013.
In the evening, the guests had a dinner at the VSU Guesthouse together with Dr. Bacusmo and Dr. Roberto C. Guarte, VP for Administration and Finance, and talked about the different initiatives undertaken by the University with financial support from the Lufthansa-Help Alliance. The plan for the next two days project sites visitation was also finalized.
During the first day on-site visit, the guests were accompanied by Dr. Guarte and Dr. Paciencia P. Milan, former VSU President, to six (6) out of 18 recipient elementary schools in Albuera, Leyte in the morning, and four (4) out of 14 recipient elementary schools in Baybay City in the afternoon that were repaired by the project after the schools were destroyed by the Super Typhoon Yolanda.
In the second day on-site project visit, Dr. Milan accompanied the guests to two (2) rainforestation sites in Palo, Leyte—one in Sitio Kauswagan with Lufthansa as the principal donor, and one in Barangay Barayong with Allianz as the principal donor.
Mr. Kleinschumacher's visit to VSU also paved the way for further rainforestation activities between VSU and Lufthansa to support livelihood improvement, climate protection, poverty prevention and nature conservation in cooperation with NatureLife-International.
The guest left for Cebu City via Ormoc City in the afternoon for their early morning flight back to Germany on June 8, 2015.JFMBaldos