VSU alumna avails of USAID-STRIDE scholarship for master's degree in US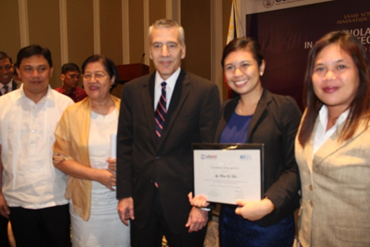 Miss Joji Marie Y. Teves, a 2014 BS Biotechnology graduate of VSU, is one of the 2015 recipients in the prestigious Professional Science Masters (PSM) scholarship from the United States Agency for International Development (USAID). The award is under the Science, Technology, Research and Innovation for Development (STRIDE) program which granted a total of 15 PSM scholars, 1 Post- doctoral grantee, and 14 research grantees. The U.S. Ambassador Philip S. Goldberg was assisted by Dr. David Hall, STRIDE Chief of Party, in awarding the scholars in a ceremony. The program aims to foster inclusive economic growth in the Philippines by supporting researchers and scientists in the field of science and technology.
Miss Teves will study Cell and Molecular Biology at the University of Arizona College of Medicine and Public Health towards a Professional Science Master's degree. The PSM curriculum is designed to advance students in the core field of study and at the same time train them professionally in management, leadership and business. She arrived in Arizona on August 10, 2015. Classes start on August 24, 2015.
The STRIDE grant is a five-year program that sponsors Filipinos with a passion for science and research under a PSM, Ph.D. "Sandwich" or Post-Doctoral Research study track in US universities. Research grant opportunities are also available for eligible Filipino scientists and institutions under the Collaborative Applied Research with Industry Grant (CARWIN) and the Philippine-US Research and Exchange Grant (PURE). For more information about STRIDE scholarship, visit their website: http://www.stride.org.ph/. Candelario L. Calibo/DoPAC