[FULL LIST] 2019 VSU College Admission Test - Additional Qualifiers - Branch Campuses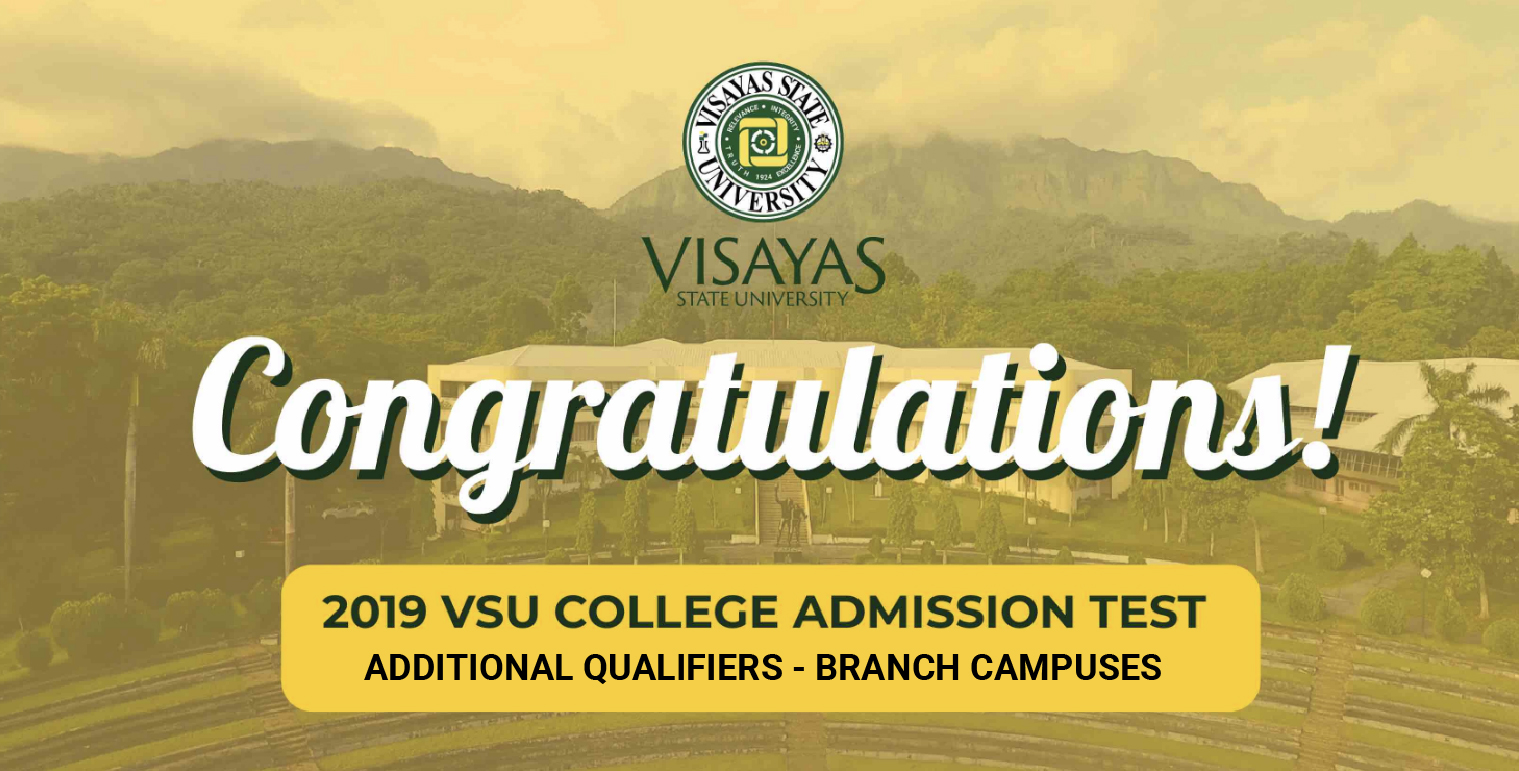 For more information, contact the Admissions Office or the Registrar for the respective campuses.
---
Alangalang
ABAD, JANE DE PAZ
ABADINES, JANREY PERMITO
ABADINGO, MARIELLE RESANO
ABALA, MAYRYL OREHUECA
ABELA, CHERRY ANN S.
ABOGADO, RUBEN TORBIO
ABOGADO, TWEIN JOH-CHELL BALAIS
ADIZAS, DENNIS ARPON
ADLAWAN, FHELMAR
AGUILAR, JULIE ANN D
AGUT, CRISTEL D
ALBERCA, JOVY G
ALBESA, RENALYN E
ALLE, JOHN LLOYD PONTILLAS
ALMERINO, MARILYN B.
AMIDO, MARVIN CUENCIO
APURILLO, JAZZPER JAFF C
ARBOSO, ALTON
ARGUILLES, ROSELYN C
ARUTA, REY ACEBEDO
ASIS, ROMAR B
AVILA, JINEVIBS MALATE
BACALE, JOIE D
BACULBAS, JOYLYN B
BADILLA, DARIEL GIE COSPADA
BAGUINON, KRISTEL ANN MARIE OGARDO
BALASANAS, ROSEMARIE BULANTE
BALDESCO, LIDA JOY B.
BALDONADO, BERNARD C
BALLENTES, JESUS B
BALLENTES, PEDRO G
BARSAZA, CHRISTINE ENALES
BELTRAN, JOHN REY TULPO
BERTO , JOHN REY MAGALLANES
BOLLICER, MAE JOY BADEO
BONDOS, CLYDE T
BREVA, JENDEL MARK SONGALIA
BRIMON, JAIRAH MANRIQUEZ
BRUSES, EIZEL LABESIG
BUO, ANGIE TUANDO
CABELIN, VICTOR FRANZ C
CABIDOG, MARICRIS PIJA
CABOJOC, JENALYN YACAP
CADIENTE, PAUL EDMON TUALLA
CALUBIRAN, KRISHANNEL C
CAMASIN, JOVELYN S.
CAÑAS, JEFFREY R
CANDARE, MARLO SORIMA
CAÑEDA, CRYSTAL SHEINA P
CAONES, QUENNIE GWEEN B
CAPACIO, JULIA MARIELLE APURILLO
CAPISTRANO, JESSA MAE BERDANDINO
CAROLINO, RAYMOND A
CATINDOY, LORLITA AVILA
CATIVO, LICIL P
CORICOR, DESSA L
CORNISTA, GLYDEL C
DE PAZ, MELVIN D
DELA CRUZ , MARIA ELENA PEDROSA
DEMAIN, MA. ISABEL BAROY
DEMETERIO, JANET T
DENALO, NMARVIN R
DINOYO, ARLYN
DOINOG, JELYN MACASO
DUPA, EJOREEN
ENALISAN, GLADYS P
ENRILE, MARY GRACE E
EPIL, ROSALENE A.
ERANDIO, MARY ROSE C
ESPIÑO, REALYN ROA
ESPINOLA, MARIA ISA ABALOS
ESRAEL, LYKA B
ESTRADA, CHERRY ANN L.
GAMBA, KIMBERLY ASIS
GAMBA, RONELYN EBAL
GARIANDO, JOHN DEXTER MONTIANO
GARRIDO, DIANA LYN MONDINA
GATELA, GINO REYANIT
GAYAS, LEA C
GEAGONIA, PEARL ANN M
GERVACIO, JONARD BERNALES
GRESOLA, DENNIS P
GUASIL, JOSHUA C.
HORE, GENEVIEVE S
JORDAN, AINAH PAMELA AYING
JORDIAS, ROSE MAY ANADE
JUDIT, OLIVER CATINDOY
JUMADIAO, JOHNRICK R
JUNTILA, LYKA MAE CABORNIDA
JUNTILA, RINALYN B.
LABACLADO, FERMIN CABUG.OS
LABADO, FEVELYN
LABARDA, LEZEL BERGULA
LABARRETE, BRENDA LYN L
LACABA, CAREN
LAMAYO, MARY GRACE REGIS
LATOJA, JANE GLORE
LINGAOLINGAO, FELITO P
LLAGAS, JESSICA M
LLANETA, GERALDINE C
LLANITA, NORMAN HORCA
LONTAJO, AHMEERA DINOLA
MACAYAN, RINAH B.
MADRIGAL, ASUNCION O
MANANGUITE, AMELITO, JR C
MANINGO , SHIELA M
MANLANGIT, JOHN MICHAEL N
MARAŇON, JOHN MICHAEL LIANZA
MARAYA, KAREN R
MARGALLO, ROXANNE ATENTA
MARTIJA, ELVIRA CORRO
MENIL, JAQUILYN ADOLFO
MERACADO, JANNA BEL JANE A
MESA , MARIA LOURDES OLAYA
MOLDES, FRANK EUGINE DAPUNAN
MOLDES, TERRY CRIS B
NATULLA, SHERLY DELA CRUZ
NAVIDA, MARJORIE P
NERI, BERNADETH PIANO
NOVILLA, CHESTER JAY C
NOVILLA, RIZZA
OBALAN, BIANCA LUZ DARNAYLA
OBALAN, CHARY MAE A
ORFINADA, CAROL ANN .
PACE, KLINT JAHZRYL L
PACHECO, GRACE ASHER G
PADERO, NIÑA ERICA D
PAJOD, JESSA MAY
PALCON, RUBY ANNE PRILLA
PANTILLAS, MARY ANN L
PASAGUE, MARY LYN C
PEDRERA, MARIELLE CERA
PEÑARANDA, ERICA C
PIDO, JUDILYN R
PIDO, WILFREDO D
PIJA, NEIL MARK FURIO
PLATILLA, ANGELINE Q
PLIMACO, CYREL FETH COTEJAR
PORE, JUSTIN
PORTOGUESA, MA. THERESA F
POTO, JALEN ROSE F
PRESNILLO, JAMAICA LYN BABOR
QUINTANA, JERWIN B
QUINTANA, LORNA LANDRITO
RAEL, ALJON
RAGANIT, ZWITCEL R
REGACHO, FREA LUZ
ROCABERTE, HANNAH JOYCE BLANCA
ROLDAN, ERICKA C.
ROYO, JOHN REY OLEDEAN
RUTOR, ROSELYN NABELGAS
SAGADRACA, LOREN R
SALENTIS, LADY MIE C.
SALGADO, NOEMI C
SALVACION, MYKA ANGELIE DAVOCOL
SALVAGO, RISHEL OPINIANO
SARBIDO, CRISTINE JOY CATINDOY
SAYSON, CASSANDRA JANE BALDONADO
SOTTO, JINKY G.
SURILA, ALLYSSA MAE BOLECHE
TABORADA, VANESSA CORSANES
TAMAYO, ERIKA JOY JAVELLOSA
TAÑOLA, JENNIFER ROCA
TAÑOLA, JOVELYN A
TANTE, EDCHON RAGIL
TERCEÑO, VANESSA R
TERORA, EVE E
TERRADO, VINA Q.
VENDIVIL, KATHLYN M
VILLABLANCA, RIZZA B
VILLONES, NOEL S
VIÑAS, JERALD PASAGUE
ZABALA, APRIL MARRY A.
---
Isabel
AMANCIO, ARRIEL P
AMORES, APRIL ARGALLON
BENDOY, ERICA G
BENITEZ, JOHN KARL M.
BIORE, NIKKIE COMPRADO
BORLASA, JUDELYN MAURICIO
BORLASA, REYNANDO Q.
CABATUAN, ANNABEL ORAPA
CABINTOY, MARIA CHRISTINE LUCERO
CALVEZ, MARK DAVE TERO
CANOY, ERIKA MANOSA
CARBON, MIRALEA WENCESLAO
CASALLAS, MARK NOEL AQULLES
CORCELLES, CANDYLYN ELLOFRANGO
CORMANES, DARL JEAN QUEBEC
CUSTUSIO, ELAIZA R
DAMELIS, CHRISTIALIE BALORO
DAMILES, RINA MAY B
DAYANDAYAN, ALVIN A
DECLAROS, AIRA MARIA MOAÑA
DECLAROS, CENDY RAMAS
DELALAMON, MARY JANE CARCASONA
DOǸA, JOHN BEE LINES
DUMARAN, DISABEL LIPORADA
FALLORE, REMMA PERLIDA
FORTUNA, JHEA MAE EDAD
FRANCISCO, JASHTINE MAE R
GUIWANON, SHENNIE M.
IGNACIO, MARK LEO OLINGAY
JURIAL, MARIE JUNE A.
LARAGA, RUBIEJON NUÑEZ
LAZO, CHERELYN N.
LESTINO, JAY G.
LIBRES, APRIL DHEAM C
LIMPANGOG, ELVIE CARDILLO
LUSARES, AIRA G
MAJADAS, GERALD L.
MARTINEZ, JASCHA FAITH A.
MEDILO, ALBRIX M.
MEROY, ART C.
MIRAMONTE, CHRISTIAN NIERVES
MORE, GEO BORLASA
NUEVO, MECHELLE RAMOS
OBLENA, JOANA MARIE MARAVELES
OLORVIDA, JAY ANN A
ONDE, GLICELDO A.
ORIT, ROSELYN GICA
OYANIB, GLENN P
PACALDO, CHRISTIAN NICOLE MANAYON
PADILLA, RICA FUENTES
PALMITOS, SOFIA NAPOLES
PELAYO, HARVEY OMEGA
PELIN, RHEYNA JANE S
PELOSTRATOS, ARMAND JAY V.
POGOY, RITCHELLE OTERO
PRIAS, JHAPITH PONTALBA
RIGALA, RODGER PENSERGA
ROCHE, CHARMAIRE BACAYO
ROJAS, REY ACOMPANIADO
ROSELL, CARL LAGO
ROSTE, BERNARD III MANDIN
RUTA, ELLA MARIE ARIQUE
SARABIA, JOSE ROY FORMENTERA
SARNO, AUBREY LAVESORES
SAUL, ZHAREGEL A
SELEBRAN, JASON L
SETINTA, KIMBERT BREGILDO
SOLANO, ROSANA MAE C.
TAPAYA, ROBERTO ANCERO
TOLERO, KENT YARE
TOREFFRANCA, JULIE ANN MALINGIN
TORRES, SHERWIN IGNACIO
TUMAMAK, JONAH MICAH MECA
UBAY, JESSA BAUTISTA
---
Tolosa
ABAL, TERESA VERZOSA
ABELGOS, MARY GRACE
ABENOJAR, SHIELA FLAVIANO
ABING, MARICAR GERCIN
ABRAHAN, EMEROSE MELENDRES
ABRERA, CHERIDEL GUTIERES
ADONA, SAMMY E
ADONIS, MARY KLENK C
ADUANA, JEROME REYES
AFABLE, ARCHIELYN JOY GERALDO
AGOTE, ALFRED CULATA
AGRAVA, JECCA C
AGUIJON, ARIEL NUEVAS
AGUIPO, FRANCISCA POBLAR
AGUJA, BUNNY S
ALBAO, KRISIA BASAS
ALBERCA, RHEA MAE G
ALCAIN, APRILYN MARDAN
ALICANDO, REY NARIO
ALMADEN, ANA PIE MAGNOLIA REGALA
ALMIANO, ANDRE C.
ALTAQUE, ARMAN CABUJAT
AMANDORON, MARVIN OCAMPO
AMIT, SHIERAMAE CINCO
ANICETO, WINSTON C
ANIMOS, JIEME ROXAN DELOS REYES
AÑOVER, JEANFLOR ERLANDEZ
ANTIVO, GIELIE
APOLINAR, ANA-GEM B
ARENZA, HANNAH MARIE BEJOC
ARGA, ANGEL MAE DEMETERIO
ARPON, ANGIE BERJA
ARROZADO, CRISPIN
ARROZADO, IVIE A
ARTUGUE, MARILOU
ASERON, JONATHAN JR. ESLABAN
ASIS, JERICHO GIL T.
ASTRANDE, NICA TABON
AVILA, KIAN JOHN PARUNGAO
AVILLA, PRECY MAE D
AVORQUE, SALLY DANE
AYO, JOEL EGANA
BACAY, JAMIELLE AGUILOS
BACLEAAN, JOHN MARK R
BADANOY, ED XYMON BACONAWA
BADION, ANALYN DUMASIG
BADION, MARK JOSEPH FELICIDARIO
BADION, REY L.
BALABA, MIKAELA JOY
BALANO, KYRSTEN GRACE V
BALDERIAN, JELAMYN JOYCE TABLAO
BALDESCO, JESSALYN R
BALDOS, ALLYSON MANIGO
BALLENA, GEMMA
BARBASA, ELLA A
BARBOSA, KIMBERLY YVONNE S
BATIS, KARL JAMES MINDOL
BAULA, JOHN PAUL CALIXTRO
BAUTISTA, ERMIE PEQUE
BAUTISTA, ROSEMARIE CORATE
BELCHES, KASSANDRA CRESTIL
BENGIL, FATIMA ATHENA REFUERZO
BERCERO, MYRA GARNACE
BERIALES, DESIRA T
BERINGUEL, DAISY MAY OLENDAN
BERMUDO, ADEL ADVINCULA
BERONES, JILLIANE CAMILLE P.
BIBAR, MEL ANTHONY TINDOY
BIBAR, RENNA MAE G
BIGNOTEA, JERALYN PULON
BLASÉ, JEMUEL ABAÑO
BOCADE, FRANCIS GUIZA
BOCO, CHRISTIAN SUPERABLE
BONDOS, GERALD MAGAYONES
BONGCALES, JERADITES DE JESUS
BONINA, SHIELA LOYAGA
BORER, MICA ELA A.
BORREGA, ROLAND ALLEN T
BRAZIL, EMELYN TORRON
BRECIO, HARVEY GENE SANTOS
BRECIO, MAY JOY G.
BRIONES, MC BYRON JAIME
BRIOSO, CHARLES ROBIN V
BRITON, DANILO JR C
BUENDIA, JOSEPHINE BIGOY
BULFANGO, JAYSON S
BURAWIS, NENETH AGRABA
BURLASA, MERRY ANN ARENAS
BUSANTE, VINA JOY NERJA
CABALLA, MARJON NADONZA
CABANATAN, BERNICE CADINONG
CABANATAN, SARAH MAE TERAZA
CABARRUBIAS, JARED CORAL
CABELIN, JESSA MAE V
CABIAS, GLADYS JOYCE VILLANUEVA
CABILING, ZAIRIL PAMINIANO
CACEREZ, MA. MITCHE BOLDO
CACHARRO, CHARLIE JASMIN
CADIENTE, JHONALEN C
CAGARA, PATRICK L.
CAGASAN, ROSELLE C
CAHAYAG, HANNAH T
CAHINDE, JAYLO M
CAHIPE, BIENVENIDO, JR. ESTRADA
CAHUTAY, ARNE JHUN REGAL
CAIBIO, JOSELITO CEASAR FARON
CAICDOY, GERALDINE T
CAIMOY, MARLOU ABAC
CAING, WELBERT M
CAJARA, CECILIA SUDARIO
CAJIPE, ROSELLE NABONG
CALCETA, JOCELYN A
CALIBO, JESSA JOY TOLIBAS
CALUB, CARMINA MAGBUHOS
CALUB, ZACARIAS MORANO
CAMAOY, KIRK GABRIEL P.
CAMARILLO, SARMIL B
CAMENO, JOVEL A
CAMPO, CHRISTINE MAY MEN
CAMPOSANO, ABRAHAM, JR. LOBRIGO
CAMPOSANO, CHARLES N.
CAMPOSANO, CLARENCE .
CAMPOSANO, JOYCE PAYOT
CAMPOSANO, RINA LEONIDO
CANALEJA, MARJORIE CENTINO
CANALES, AARON VILLAMOR
CANALES, BERNADETH
CANALES, CLINT KENNETH P
CAÑANES, JOY T.
CANCILLER, JOSEPH ALEH L.
CANCILLER, LYZA BARBARA D
CANILLAS, JERIMIAS DALAMPASIG
CANONIGO, RICA C
CAONES, ANALYN P
CAONES, DOMISHANE P
CAONTE, KAREN REYES
CAORES, REYMARK VILLAMOR
CAPAYCAPAY, JOVELYN SECORATA
CAPIDOS, PRECIOUS ANN AURES
CAPOR, MAY ANN ESOY
CARBA, JAYNE PETRECIA NIDERA
CARIÑA, MA. SHARRAH VEI JUANICO
CARMENOTES, VIRGIE G
CAROLA, NIL JEAN MOLON
CARREON, MIGUEL OBUSA
CASILA, RAFFY B
CASTIL, STEPHEN JAKE SEROFIA
CASTINIANO, NICOLE V
CASTRO, ANGEL ULBATA
CATALOGO, JOCELYN VEBORA
CATAM-ISAN, ANDREA MAE JABOYA
CATINDOY, JAMES MICHAEL TINAMBACON
CATUDAY, ALTHEA CAÑAS
CAUNTE, JELINE P.
CAYA, ERIKA PALAÑA
CAYACO, NOLI RECABORDA
CAYOBIT, JEAN PAUL MALIBAGO
CAYOSA, PAUL CEDRIC AGULLO
CEDEÑO, JOHN PAUL L
CENTERO, JENNIFER TANUAN
CERRO, MAEFLOR SALVACION GERALDINE VIVERO
CHING, JERICK AERON S
CINCO, ERICA MESIAS
CINCO, JOCELLE SABLAY
CLEOTES, ADRIAN B.
COLONA, CHESKA MAE C
COMENDADOR, KRISTINE MELODY A
CORDA, ALISA MAE REDOÑA
CORDERO, LEYMAR UDTOHAN
CORDOVIS, JONIEL VERZOSA
CORNEJO, MACARIO, JR. R
CORNISTA, MARICAR E
CORONADO, ALYANA PULGAR
CORONADO, RODEL S
CORRALES, SHERRY MAE BRIMON
CORSANES, SYRENE TAGABE
COSEP, KIMUEL L
COTEJAR, APRIL TUALA
CROTO, RAQUESA FRANCISCO
CUE KIM DIT, SHANEE SABULAO
CUEVAS, JHUNJIE CORONADO
CULABAN, LORY LIZA CABUDOC
CULAS, QUENNIE CAPOR
CUSTODIO, LUPERIGNO III BALIDIO
DACLIZON, LEONARD JAYVIC REY LOMTONG
DACOCO, JASON MASUBAY
DAGAMAS, RICA SABALZA
DAGAMI, ANTHONY ANDREW LIPORDA
DAGOHOY, ELLE MARIE JANE
DANDAN, CASEY T
DAPURAN, MA. SHILOU V
DAYA, DHAPH RHEX FAE A
DAYLO, CHRISTINE V
DE LA CRUZ, GERALD CABANERO
DE PAZ, JAMAICA ABENOJAR
DE PAZ, JASSY MAE .
DE RAMOS, JEXON REY CAMPOSANO
DE SAN MIGUEL, CHIMBER BUENO
DE VEYRA, MARGIE SILVANO
DE VEYRA, MARIFER SILVANO
DEJARESCO, KEANO B.
DELA CRUZ, JENNEFER H
DELA PEÑA, JHOVELYN TEMPLADO
DELIMA, ERICA ARCIPE
DELOS SANTOS, KENT M
DESTRAJO, RONEL TAGANNA
DEVARAS, FHEL GRACE
DIANITO, KAREN LOPEZ
DIANO, JAKHAR HINLO
DIAZ, JASMIN MAY SABAS
DIAZ, RENN P
DIOLA, CHARWIN MENDOZA
DIOLA, MERRY FLOR T
DIONGCO, JUDYLYN RICAFORT
DIOSO, ALIANA JUSTINE ORETOLA
DOLOR, MA. CIELO CABIDOG
DUMAS, ROLIN MORON
DUQUE, MAY ANTONETTE TAYOBONG
DUQUESA, VIANCA ABRERA
ELERA, JOSHUA
ELESIO, GIELEAN D.
ELONA, JOHN GODWEN LABRO
ENAD, ANGIELA R
ENDING, BRIAN C
ENEREZ, MARNEL BOLOTAOLO
ESCANILLA, ALDRIN P
ESCARLAN, EMMANUEL ADVINCULA
ESLABAN, JILLIE ANNE D.
ESPANTA, ERICA VIÑAS
ESPENILLA, RINABELLE L
ESPINA, SOFIA ANNE
ESPINA, ULYSISS FABILLO
ESPINOSA, LAURENCE IVAN BOHOL
ESPINOSA, MARVIN DABAN
ESPINOSA, RAFAEL TAMAYO
ESQUIERDO, CHRISALYN D.
ESTEMBER, ROCHELLE ANNE
ESTIL, JOBERT VILLEGAS
ESTORICO, PHELANI R
ESTRELLA, JOHN LEO PETAILAN
ESTRELLA, SHAIRA D
FACTURAN, HERTZ LACAY
FALLORINA, MARILOU .
FARON, MINARD GOLES
FERNANDEZ, PRINCESS WYN OMOY
FIGUEROA, JOHN JOSHUA TEBRERO
FRANCISCO, AILYN JOY LUZADA
FUERTE, JONEL L.
GABRIOLA, JHON LLOYD DEVORAS
GADAINGAN, THALIA COLMINAR
GADIZ, KENTH G
GAHATOR, JULIE ANN LAGAHIT
GALANGUE, MARK NIEL L
GALLARDO, BON RYAN A
GALLARON, CHERRY MAE RAGASA
GALVEZ, JEROME CALIMPAY
GARCIANO, IAN SALVADOR M
GARDUCE, MA. EMMA BULAWAN
GAUSIN, NIÑA JULAICA M
GEMPIS, JOHN PAUL P
GEREHID, KATRINE DALE ADVINCULA
GEREHID, LESTER INDIC
GERILLA, ANGEL C
GERILLA, WARIN Q
GERMANES, GIA MAE BANTACULO
GO , GLEN ALEXIS MURILLO
GOMEZ, ROBBIN ASHLEY S.
GONZAGA, ZYRA MAE
GONZALES, ALDRIN J.
GONZALES, ERICA OMALOAS
GONZALES, JOSHUA NOEL MORENO
GONZALES, MARLOURINCE SAMSON
GONZALES, WERNHER VON PAMA
GRESIEL, JHON FRANCISCO MIǸOSA
GUEVARA, JOE RACCO, JR. CABAOBAO
GUILLERA, SHARLY I
GUIRON, ANNA ROSE QUIDAVER
GULAR, JAKE BRYAN BALUYOT
HANLEY, KEN JEFFERSON P.
HOLASCA, JOSHUA LAZARTE
HORCA, COULIN ADVINCULA
HORCA, KENTH JETHRO FERNANDEZ
IBAÑEZ, SANDRA G
INABANGAN, MARCHIE L.
INCISO, ELIZABETH TUPAZ
JABAGAT, KIM CABILES
JACINTO, JELLAMEA G
JERUSALEM, MA. JANE KYLA LLEGUE
JOQUIÑO, RYAN B
JUNTILA, JANICE P
JUSTIZA, WILMAR HORE
KEMPIS, KRISTAL JAEN ADONIS
LACHICA, JULITO, JR. M.
LACSON, LHI LANIE ROSE SILVIO
LADRERA, GAIL JOHN NAZARETE
LAGADO, GEMMA GIL
LAGARDE, JOENIL D
LAGARTOS, MICHELLE S
LAGERA, GERALDINE DACUME
LAGO, JIM MACACANDO
LAMOSTE, MELODY ROBEDILLO
LANTAJO, AARON ESPERE
LANTO, MARISOL
LANZA, DONNA MAE LAGUTAN
LARGORES, JELL MARIE TRINCHERA
LARIOSA, WENSTON A
LAUZON, ZYBHELL MAE ULBATA
LEQUIN , VICTORICO BAYON-ON
LERIOS, IRISH JOY ANFEL SUAREZ
LIANES, ERON DONAIRE
LINDE, ABEGAIL VARONA
LLENA, GLAIZA BADILLA
LOBRIGO, EDELYN FIEL
LOBRIGO, JENNYLYN AMARGO
LONGAYAN, ESTELLA MARIE GUYA
LORA, KENNETH GODWIN SAÑAGAN
LOTEYRO, REY MARK L
LOYAGA, RHEA ANN CAŇEDA
LUANGCO, GERLIE MONTERAS
LUANGCO, MICHAEL GAUSIN
LUBAN, SHUVIE ANN BESA
LUMBAO, JOHN HENRY D
LUMEN, ROSE AURA EVALO
LUMPAS, HONEY JANE
LUMPAS, MAE ANN B.
MACA, ROLITO TERRORA
MACAPANAS, LEZIEL PEDROSA
MACASIL, FRANCIS CLETO B
MACASUSI, JOHN PHILIP A
MACATALAD, CHRISTINE C
MACAYAN, CRISTINE CANDARE
MACEDA, CHABELETA L.
MACEDA, CRISTY JANE M.
MACEDA, JERICHO ALMADEN
MADALINA, LYKA MAE BARAYOGA
MADRIGAL, JOHN PAUL LACANDAZO
MAHINAY, JAYSON P
MALABA, BJ BRYAN TOBILLA
MALATE, HONEY GRACE
MALATE, JOCELYN T
MALATE, JOHN PAUL PARONE
MALBAS, JOAN MAY PARADO
MANGANTILAO, FARONIA MANILAG
MANITO, CHRISTOPHER D
MANITO, IRENE LAGARTO
MAÑOSA, TRECEL C
MARAYA, ROMENA ELONA
MARMITA, JELLIAN A.
MARTINEZ, MA. SOCORRO ESCAUSO
MAS, MARIBEL S
MAS, REMEGIO, JR. A.
MASANGCAP, JOHN CESAR DALOSO
MASANO, SHERRY MAE REDUBAN
MATARO, JOSUA LELIS
MELO, HANNY ALMO
MENDAZA, ANTONIO, JR. T.
MENDEZ, CARL VINCENT T.
MENDEZ, JOHN VINCENT TRECEÑE
MENDIGO, KHAREN TAÑA
MENIANO, ANGEL TONIDO
MENIANO, LEA T
MERCADO, CATHERINE CERON
MERILO, NICOLE ANN MOSCA
METRAN, BENJIE TORRES
MIDRANO, CHABELITA LAGARTO
MIJARES, FERNANDO JOSE L
MILITANTE, RAYMOND MORANO
MINA, MARIE CARR VALERA
MIRALLES, MAE ROSE PIAD
MOLINA, PRINCES MAE RAQUIZA
MOLINO, ETHEL C
MONGE, MARK ALJON F
MOQUIA, JOMARIE Y
MORA, HONEYLYN MENDOZA
MORA, MA. ELLAH PINCA
MORABE, DENMARK MADERA
MORANO, ELLEN MAE
MORANTE, LEAH LYN G.
MORBOS, ANGIERICA CAIDIC
MOSCA, GERALD LACABA
MOSTASESA, JONARD PAUL CATALON
MUÑEZ, SHINA DURANA
MURILLO, JAE ANN NOLLAS
MURILLO, JANDEL NOLLAS
MURILLO, MARIELLE PALLE
NACINOPA, IRIES MHE GUBALANO
NARBAY, MIKE VINJO ARAÑEZ
NATANO, ROY REGIS
NAVAROSA, JOHN ROMEO B
NIRZA, JACKYLYN CORAL
NOMIO, DOMINIC C
NOMIO, PAOLO ALMERIA
NOVIO, KIMBERLY H
NOYA, JESUS, JR. V
NUEVA, JENARD VINCE A
NUEVAREZ, RONNEL PAME
OCTA, JEFFREY BALBADA
ODAL, JOHN WILFRED OCOP
OLAHAY, MA. THERESA MESIAS
OLAYA, HAZEL MAE CATAPAL
OLBERON, JOY LADAN
OLIVEROS, STEPHANE JEAN C.
OLMILLO, CHARLENE NADINE PABRO
OPENIANO, MARK JOSEPH MAGPILI
ORAZA, JEFFERSON B.
ORCULLO, AL JHON LOPEZ
ORE, JAYMARK PASCUAL
OREBIA, JEREMAE R
ORIBE, MA. JANNEL
ORONOS, HUMBERT RAY ADVINCULA
OSMEÑA, ERROL LIBERATO
OUANO, KEITH JOHN M
PACE, PAMELA L
PACE, ROQUE VICLINA
PACHECO, LOVELY JOY P
PADUA, ARIEL TONDO
PADUAL, RICHIENO LAUZON
PAGHILIGAN, PRINCE LOUEL LIPATA
PALANA, MARY JEAN
PALCON , MARVIN OLINO
PALEJARO, EULALIA A.
PALEJO, JOHN LESTER
PALELIO, JUSTINE CLAIRE SERVAÑA
PAMPLONA, JOLINA LOS BAÑOS
PANUBIO, EMBIEN QUILAQUIL
PEDERE, REYL MAGAYONES
PEDRERA, KIM ANTHONY LEBRIA
PEDRIGAL, ARIANE MAE T
PELICANO, MAECAELA O
PELIGRO, RYCEL MAQUILING
PENSONA, VANESSA M
PEREZ, JIERO ALDE
PERMEJO, JONATHAN DELA CRUZ
PERMEJO, MA. KRISTINE JOY A
PETRONIO, JOYCE IRISH C
PIAD, DESIREE N
PIAMONTE, ROVELYN
PICA, MARK M
PIDO, GERALD P
PIDO, JETHRO J
PINEDA, FRANCE MARVIN PEÑAFLOR
PLANAS, ALTHEA FAYE GARADO
PLAZUELA, ERICKA JANE MANUEL
PLIMACO, KIMBERLY MOTRIL
PO, ZANDRA GALLO
POBLETE, ROSVIE ABONG
POMPAC, ROSABEL FALLERA
PUABIN, JAYSON R.
QUARTELA, SHEENA ANN VILLAMOR
QUILLOTES, JESSALYN PALAÑA
QUIMBO, MELJUN BERNASOL
QUINTANA, JUSTENE MAE M
RAAGAS, CRISTYL ANN CAYADONG
RAAGAS, MARIANE TABUYAN
RABINO, ELOISA MARIE CABOSURA
RADAM, REGAN JUDE A
RADAZA, MELINDA MARIACA
RAEL, MAE ANN ABAC
RAMILO, MARY ANN TRINCHERA
RANALAN, OSCAR, JR. BOLLENA
RAQUIZA, RICO A
RAYNADA, NELO M
REDOŇA, LEE ANN
REDOSAR, JOYCE ROSE BALLENA
REDUBAN, GLAYZA MAE REBUSE
REDUBLA, CHARRY MAY MALATE
REFORZADO, HENRY, JR. MANAGBANAG
REGIS, JUVANY TAÑALA
RELLONA, JASSEL M
REMANDABAN, ROBERTO ROTA
REQUIZ, MAY JOY C.
REVANO, JOY ANN PALAÑA
REYES, CATHERINE JOY FUENTES
RIEL, BABE MAE COLUMBRILLO
RIPALDA, JOSHUA JAKE LAUZON
RIVAS, KIMBERLY MAGAYONES
ROA, JENELYN ADUANA
ROBEDILLO, ANJELYN CALDERON
ROBEDILLO, BABY JANE REVANO
ROBEDILLO, DEVINE GRACE PALAÑA
ROQUIÑO, VIC JOHNS G
ROSERO, MARIA RICA LETRODO
ROVERO, RIZZAH MAE C
RUEL, MARK JIM RIVAS
SABIT, JESSNIEL ANN CAÑEZAL
SALARDA, MA. ALONDRA CACEREZ
SALCEDA, SILVER RYAN C.
SALES, NAISA JEN C
SALIWAN, ANALIZA DOLINA
SALIWAN, ROSE JEAN D
SAMSON, CINDY OMELA
SAMSON, JOHN WINSTON SUSAYA
SANCHEZ, MIRASOL L
SANITA, AARON MARK V
SAÑO, RONA D
SANTIZO, MARIEL C
SEMENIANO, LOVELY VERGARA
SENADOS, NARISSA JEAN
SERABIA, CHRISTIAN MOLERO
SEROHIJOS, JOANNA MARIE MESIAS
SERVAÑA, KHIMERIE M
SIBLE, NELSA M
SIGUAN, JOSHUA REY BERTES
SILVANO, ANGELICA C
SILVANO, KATE A
SIMANGAN, REYNAN JAKE CESAR
SIMON, MEL HSIEN KRISHA R
SIUAGAN, MARK JOHN ALEXIS CANALES
SIUAGAN, MAY ANN CANALES
SOLANO, DANIEL MANACPO
SOLAR, CZARINAH JULES D.
SONIT, LYKA ANN MILLANO
SORIANO, ADELAIDA D
SORIYAO, GLADEZ IDARA
SORIYAO, GLAIZA IDARA
SOYOSA, ROMNICK FERNANDEZ
SUÑIR, PATRICK JADE PANZO
TAGABI, MARY ANN ARANDIA
TANGPUZ, CHERRYLYN DE GUZMAN
TANTE, ROBERT M.
TAOL, AARON LAEI PALANA
TEMBLACO, SHIELA MAE SILVANO
TINGOY, JUSTINE CELMAR
TIOZON, ANGELICA TAFALLA
TIRONA, JESIL EMBOG
TISTON, APRIL ROSE NIEGAS
TOBIAS, MICHAILA DENEYS A
TOBILLA, BERNADETTE EUNICE LAVARES
TOLIBAS, DARYL DUGUESA
TOLIBAS, KENT LANCE POCPOC
TOLIBAS, VINCENT BAYAS
TONDO, DAN MAR
TONDO, MARIFE CORONADO
TONDO, MARITHEL VICERRO
TRINCHERA, CHRISTINE JOY P
TUPAZ, RENATO VERECIO
UYVICO, LOREVIE G
VACAL, JAEN ROSE ALICANDO
VALLE, JERIC C
VARONA, JAMESONN L
VELARDE, ARJAY CAONES
VELARDE, EPHZEL MARIS B
VELASCO, JAMAICA TAPAYA
VELASCO, JOY MAY ANN JOSEPH
VELASCO, RAFAEL SIMON MAJADILLAS
VENEZUELA, RAYMART C.
VENIGAS, RICHARD CABIAS
VERO, BELL RYAN B
VIBAR, AIZA LAGAHIT
VILLA, FEBBIE JANE CAÑA
VILLACORTE, NILO L.
VILLAGRACIA, CRISTINA REÑOSA
VILLALINA, ROGELIO .
VILLALINO, DARRYL STEVE ADVINCULA
VILLAS, EDCEL LINOY
VIÑAS, AUDESSA JEAN PABALAAN
YU, KRIZIA MAE ENABORE
ZACARIAS, JESSIE ALBAY
ZACARIAS, KRIS M
ZARSUELA, MARK ANTHONY MARGALLO
---
Villaba
ALUMRO, JHON DENVER F
AMABAO, JIMMY, JR. BACORO
AQUILES, TUMMY M
AQUINO, JERAHL FRED SUMICAD
ARNEJO, MARK ANTHONY CORAL
AUNZO, EDUARDO ESTELLERA
BALLERMO, MARY JANE NUÑEZ
CABATINGAN, DIANA JEAN PABIO
COMACAO, JOVELYN LUCAÑAS
CONAG, ERSON
CUBIAN, RHEA ROSELYN ROSALEJOS
DAGSAAN, ANGELICA BRIGALDO
DEJELLO, GIRLIE
ETREMOS, RAZIEL YBAÑEZ
HERRA, REYMART ORBISO
LOBATO, JERALYN ESTORBA
LUBIANO, DENNIS ARSENAI
LUMANTAO, KEVIN NEIL CORTEZ
LUNA, JESSIE AMEN
MONARES, MARK ANGELO CATAMPATAN
MONSANTO, JERALDINE
MORALES , ROSALIE S
NODALO, ANGEL B
NODALO , ADOR BADINAS
SENOY, KRISTINE KAYE BALMORIA
SUERTE, JENNALOU OROGAN
UBALDO, JHONRIC S