2020 VSU College Admission Test Additional Qualifiers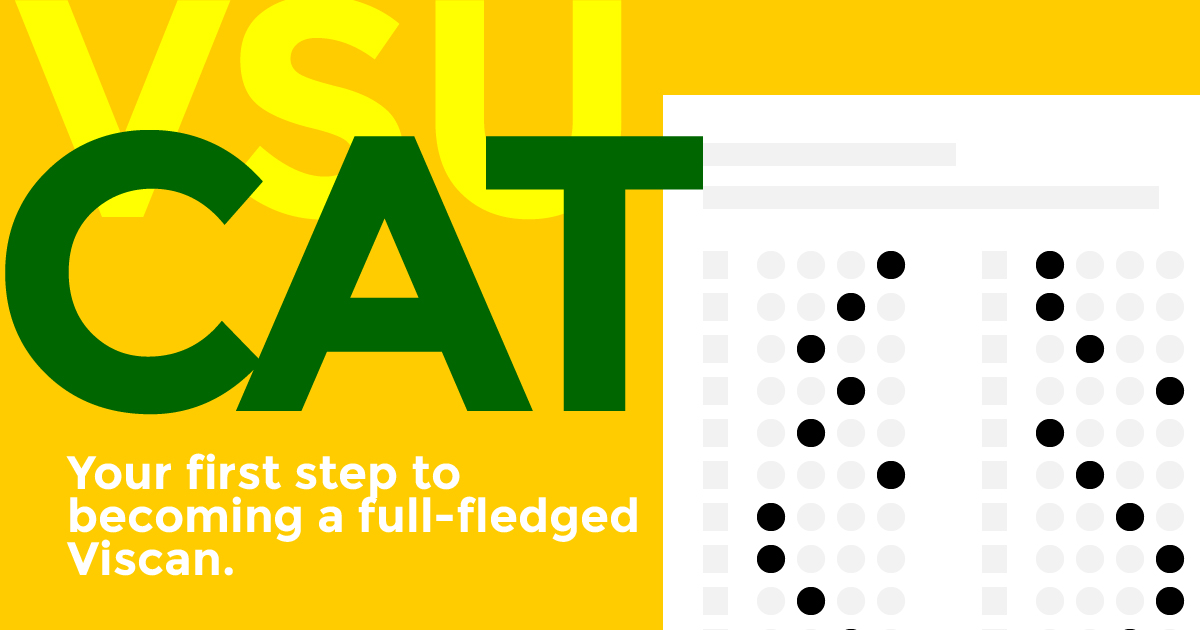 [UPDATED] Visayas State University is happy to announce 1,221 additional qualifiers of the 2020 VSU College Admission Test (CAT), and these people can enroll at the VSU main campus for 1st Semester SY 2020-2021.
The lists below are divided into two:
94 Qualifiers who are accepted into the BS in Civil Engineering, BS in Nursing, and Doctor of Veterinary Medicine programs as their preferred degree program indicated during the CAT; and
1127 Qualifiers who are eligible to enroll in the remaining available slots in the other programs.
Please take note of the following enrollment policies:
Enrollment of additional qualifiers will be open starting August 5, 2020, at 12:00 AM and will close at exactly August 8, 2020, 11:59 PM.
Slots are available on a first-come, first-served basis only. Almost all undergraduate programs have available slots, except for BSCE, BSN, and DVM.
Follow the online enrollment procedure and policies for incoming first-year students as outlined in our 2020 Enrollment announcement.
Qualifiers accepted to the three programs mentioned above (BSCE, BSN, and DVM) may only enroll in that particular program.
This is the first and last list of additional 2020 CAT qualifiers that VSU will announce. Congratulations and welcome to Visayas State University!
For those additional qualifiers who are yet to secure their ECN, please message us at https://www.messenger.com/t/enrollatvsu. Otherwise, you may enroll directly at my.vsu.edu.ph.
---
Available slots as of August 4, 2020
| Course | Slots |
| --- | --- |
| ABELS | 34 |
| BCAEd | 8 |
| BECEd | 14 |
| BEEd | 22 |
| BPEd | 16 |
| BSA | 87 |
| BSAB | 51 |
| BSABE | 35 |
| BSBio | 24 |
| BSBiotech | 24 |
| BSCE | FULL |
| BSChem | 30 |
| BSCS | 44 |
| BSDC | 38 |
| BSEcon | 24 |
| BSEd | 52 |
| BSES | 21 |
| BSF | 42 |
| BSFT | 53 |
| BSGE | 36 |
| BSHM | 48 |
| BSMB | 13 |
| BSME | 48 |
| BSMet | 19 |
| BSN | FULL |
| BSS | 11 |
| BSTM | 23 |
| DVM | FULL |
---
Qualifiers accepted to their preferred degree program
The following takers have been accepted to and can only enroll in their preferred degree program
BS in Civil Engineering
ABENOJA, Ma. Daisy Ann
BARRIENTOS, Avigael
CAUBE, Christian James
DURANTE, Emman Patrick
EAMIGUEL, Faye
GABALLO, Daniel
GALANG, Rowella
GUBALANE, Crizhea Ame
LAUDE, Sheenielyn
LOPEZ, Mary Loreville
MACARAY, Kate Charity
MARTINEZ, Jethro
MONTAJES, Mark Jade
MONTAÑO, Pamela
NAMA, Christian Cesario
OMAS, Cherry Mae
PAYAWAL, Winnona Jasmin
SAGURAN, Rhea Angelie
SURALTA, Jeunesse Kate
VILLARTA, Ylise Jan Marie
BS in Nursing
ABELLA, Bil Aubrey
ABUD, Micaela
AGUILON, Kenjel Marie
ALLERITE, Janvey
BAGUIO, Wally
BALUCA, Margie
BARGAYO, Emilyn Catherine
BARIL, Lyan
BUYAN, Babylyn
COMORA, Robie Rose
DARRIGUEZ, Yuriko Mae Francious Therese
DEMAIN, Joshua
FUENTES, Leifa Mae
GARCIA, Khir Vincent
GENDOY, May Ann
ILAN, Cristen Joy
JUDAYA, Jundel
LLANAS, Maria Erica Venice
LUPIO, Mia Juliet
MARTIN, Eds Allyson Therese
MORETE, Bian Angelo
NAPOLES, Conie
NIONES, Jean
PAROJINOG, Jhessa
PARONE, Elaiza
PARTULAN, Fritzie Jane
PONTILLAS, Arauela
ROSALEM, Julia Anne
SALINO, Zelthean Mitz Dane
SLIEDRECHT, Janneke Dina Willemina
TENDIDO, Lourence
VELARDE, Abegail
VERDIJO, Irish Joy
Doctor of Veterinary Medicine
ALBOR, Allyanna Narie
ANCOG, Angelo
ANIÑON, Kate Avril
ASUCAN, Julie Amor
BABON, Bryll
BERNALES, April Zane
BULI, John Richard
CAMPUGAN, Keith Elfred
CARBO, Abegiel
COLON, Jenny Lou
CRUEL, Monica
CUDERA, Joy Marie Antonet
CUEVAS, Shaina Lee
CUIZON, Phoebe
DIADULA, John Clyde
DUGOS, Ivy Gail
DURBAN, Leah
ENCINAS, Cindylyn
GALLARDO, Ma. Franchesca Allyson
GARCIANO, May Arabella
HERIDA, Janine
LUMAIN, Joanne Alice
MAIKE, Analie
MALICAY, Cristina
MARAYA, Joefer Gabriel
MILEZA, Tricia Mae
MULIG, Alliah Mae
OJA, Lieth
PAA, Kathy Mae
PEDONG, Maynard
PIALA, Alliza
PILLEJERA, Andre Jay
QUIANO, Rhea Emily
SAGA, Vanessa May
SALIPURAN, Jurgen
SAMSON, Kisha Klye
SENO, Jake Allen
SEREÑO, Menchie
TAN, Jamiera Ann
TUTOR, Francis Theodore
YBAÑEZ, Yenisei Jesusssa Mitzi
---
Qualifiers Eligible to Enroll in Programs with Available Slots
ABADIEZ, Sheena
ABALO, Nica
ABALOS, Ryan
ABANTAO, Hanna Leonila
ABAPO, Jearl Marie
ABASTAS, Trixie Mae
ABAY-ABAY, Kyna Kim
ABEAR, Melm Twinn Jeah
ABENOJA, Joyce France
ABENOJA, Jemark
ABERILLA, Shyrelle Rose
ABITONA, Joan
ABUCAY, John Roman
ABUNDO, Princess Ann
ABUNDO, Sheila Marie
ABUNGAN, Cyrelle Faith
ACAIN, February Jane
ACALA, Mark Jim
ACEBEBO, Oliver
ACENAS, Faith
ADALID, Jiselle
ADORZA, Angielyn Pearl
ADORZA, Kevin
ADRALES, Shaina
AGCANG, Jonahbie
AGNES, Christine Mae
AGUINSATAN, Arnel
AGUIRRE, Antolin Jr.
AGUNDAY, Christian Mark
AISARES, Amor
AJOC, Mariell
ALA, Daniella Mae
ALANO, Cris Ann
ALAO, Van Andrew
ALAO, Rounileth Marie
ALAYON, Marvi
ALBARICO, Sherilyn Ann
ALBERO, Jericho
ALBIOS, Hannie Mae
ALBOROTO, Melanne
ALBOS, Leona Victoria Joy
ALCOBER, Kyle Claire
ALFANTA, Andrei Gyle
ALFANTE, Harold Ian
ALIBANGBANG, Aisley Jean
ALMADEN, Lloyd Philip Vince
ALMEDILLA, Cheilane
ALUDO, John Gabriel
ALVAREZ, Anna Mae
AMAGA, Apple Pie
AMBALONG, Vern Jr.
AMORES, Henry
AMPER, Jessah
AMPIT, Jella
ANADIA, Windel
AÑANO, Aira Roxanne
ANDUYAN, Samantha Trisha
ANGELES, Matthew
ANGUB, Jyrelle
ANGURING, Honey Grace
ANICETO, Arriane Monique
ANICOY, Emelyn
ANINIPOT, Peron Hyeven
ANISCAL, Mark Ariel
AÑOVER, Louielyn
ANTIVO, Jonel
ANTOC, Ella Nicole
ANUNCIADO, Carl Marvin
APA, Patricia Marie
APALE, Ralph Glenn
APIAG, Analie
APO, Kris Mia Erllona
APOSTOL, Teresita
AQUINO, Andrea Paula
ARAGON, Irah Nielsen
ARAGON, Lovely Shane
ARANETA, Vince Harold
ARAÑEZ, Jylle Yrica
ARCA, Jordan
ARCAMO, Ma. Arvy Rezzel
ARCENA, Kimberly Ann
ARCEÑO, Johannes Keith
ARCILLAS, Shaina
ARCILLAS, Marmel
ARELLANO, Quennie
ARELLANO, Maria Kayla Marich
AREÑA, Johanne Kenth
ARGALLON, Riclyn
ARGANZA, Maybilyn
ARGUILLO, Erlyn Grace
ARIAP, Mikee
ARLIGUE, Jomaira
ARMENTEROS, Joyce
ARNAIZ, Mary Clarence Joy
ARREGLADO, Endrie
ARREGLO, Ces
ARSENIO, Phoebe
ARTATES, Gindiel Dane
ARTES, Andrea Claire
ARTIAGA, Mennard Brille
ASENJO, Janine Trisha
ASUAL, Florante
ASUNTO, Melvin
ASUNTO, Jureybel
AUGUIS, Julie Ann
AUREO, Willie
AURILLA, Greta
AWA, Christian
AWA-AO, Kathleen Pearl
AYUSTE, Francis Algel
BABALCON, Rincelle
BACABAC, Joan
BACALSO, Rod Mar
BACANTE, Eugene
BACARIZA, Rheyno
BACAT, Mariel
BACUSMO, Karl Vincent
BAG-AO, Cara Jevah
BAGARINAO, Lyka
BAGAS, Antonia Mikaela
BAGSOLING, Jake
BAGUINON, Jerickson
BAGUIO, Justine Grace
BAHINTING, Julius
BAJA, Maria Miguela
BAJA, Erica
BAJE, Ruby Faith
BALABA, Shemesh Reign
BALABAT, Valentino Jr.
BALAGAO, Honeylyn
BALAGON, Dina - Flor
BALANO, Allana Mae
BALBARINO, Maricel
BALBUENA, Virgilyn
BALDAPAN, Jino
BALDESCO, Janine Grace
BALDEVIA, Klarence Lowell
BALEÑA, Mayrelle Nicole
BALERMO, Bern Vein
BALILI, Hazel
BALLERAS, Jonah Kesia
BANAYAG, Alberto
BANDE, Rod James
BANDIBAS, Justinne
BANGCORE, Janiel Kyle
BAÑOC, Kyle Anthony
BAQUEROS, Marienold
BARATAS, Joshua Brylle
BAROCA, Angelicka Dell
BARTOLORE, Kheng Lee
BASACA, Mark Joseph
BASANEZ, Nina Mariane
BASILISCO, Melba Jean
BASIO, Roz Marcaux
BASONG, Althea Niña Venus
BATAS, Renato Jr.
BATO, Cyke
BAUTISTA, Zendy
BAYARONG, Milliceni Gaile
BEDUYA, Gea
BELLISTA, Dionelyn Ann
BELMONTE, Carlo Cesar
BELMORES, Genia
BELONIO, Jo Franz Mitchell
BELTRAN, Angelica
BENCIO, Kyla Catherine
BENTULAN, Felicity Ruth
BENTULAN, Hazel Kaye
BENZON, Rheylane Kim
BERCERO, Shaina Romelyn Love
BERNABE, Lope Miguel
BERNANTE, Louisse Marie
BESA, Janet
BETONIO, Elsie
BIAGO, Rachele
BIGCAL, Janrey
BIJAG, Eliza
BISNAR, Bienrica Ann
BITANG, Justine
BLONES, Prcious Jannelle
BODIONGAN, Joseph Edisson
BOLECHE, Van Vianen
BONA, Chazzy Esah
BONAL, John Lou
BONGAS, Evan Clare
BONGATO, Joanne Marie
BONGATO, Judelyn
BORAL, Marilyn
BOREGON, Flordelyn
BORGUETA, Lyka
BORINAGA, Anne Nicole
BORJA, Ma. Antoniette
BORJA, Jamaica
BORJA, Fritz Ian
BORLAS, Charlene
BORRES, Mareykris
BRAÑA, John Ivan
BRAVO, Jielou
BRAZOS, Renna
BRINA, Mark Angelo
BRIONES, Ronalyn
BRIONES, Caimar
BUGAL, Rico Ivan
BUGTAI, Justine
BULABOS, Angel Ann
BUNANI, Kalanie Pearl Joy
BURANDAY, Alexander John
BURDEOS, Jonnah Mae
CAAYAO, Dia Mecca
CAAYOHAN, Dence
CABAHUG, Camila Jane
CABALEJO, Ma. Hannah
CABALLERO, Michael Ivan
CABALLES, Karla Mariel
CABALTERA, Ma. Glesilda
CABAÑERO, Reymart
CABANIG, Leofila Jane
CABARRUBIAS, Garyl
CABARUBIAS, Jasper
CABERO, Mary Ann
CABEZADA, John Cleo
CABUNILAS, Cynle
CACANOG, Bert Matthew
CADELIÑA, Pamela
CAFÉ, Angelyn
CAFRANCA, Kazandra
CAGA-ANAN, Jan Harlo
CAGAMPANG, Jessa Mae
CAGULADA, Feil Angelie
CAGUROL, Melanie
CAHOTOC, Mark Joseph
CAILING, Cherrylou
CAINTIC, Cherry Ann
CAINTOY, Marjorie
CALA, Christian Paul
CALA, Stefanie
CALABDAN, Chabelita
CALABIA, Dan Patrick
CALABIA, Samantha Gen
CALAPRE, Erica Marie
CALATRABA, Mare Joy
CALIPAY, Jessica
CALONIA, Dianne
CALUBA, Justine Angel
CALUNSAG, Chezka Jell
CALVAR, Jason Patrick
CALVENTOS, Jonathan
CAMPECIÑO, Eusil
CAMPO, Viances
CAMPOS, Jhon Carlo
CANENCIA, Rechel
CAÑETE, Joana Lyn
CANILLAS, Neña
CAÑON, Amea Camille
CANTONEROS, Yvonne Lucille
CAONES, Harris Eds Angel
CAORTE, Jude Niño
CAPECENCIO, Ayen Clarisse
CAPILI, Natasha Mae
CAPUA, Dianna
CAPUY, Allysa Zoya
CARLOMAN, Rowegin
CARMACETE, Shane
CARSOLA, Nikko Cristine May
CASANE, Harold
CASAS, Janelle
CASTAÑARES, Kayelorenz
CASTANTE, Josie Ann
CASTULO, Lyza Marie
CATAN, Carmel Petronila
CATAYAS, Mary Russel
CATENA, R-J
CATIIL, Janelle Mirene
CATILLO, Shaina Mae
CATINGUB, Lei Ann Lyn
CATORCE, Mary Joy
CATUBAO, Wilson
CELEBRADO, Gabriel Paolo
CELERIAN, Jhon Nedrick
CENABRE, April Aisa
CENIZA, Cleo Devine
CENTINO, Jhoyah Lyhn
CHANDRADATTA, Twinkle Tishna
CHAVEZ, Ma. Zweville Niña
CINCO, Ma. Dawndree Clau
CINCO, Maria Juliana
CINCO, Lindie Eve
CIRUJALES, Ted Antoine
CLARIN, Pia Jane
CO, Khrezcia Mae
COBACHA, Jemmalyn Joy
COCA, Joenil Vincent
COLLAMAT, Tatyanahmichaellah
COLON, Christine May
COÑADO, Josue Jr.
CONCHAS, Jerecho
CONDENA, John Mark
CONISE, Karen Mae
CONOS, Daniel Jr.
CORAZA, Arron Renzo
CORCINO, Princess Jhoana
CORETICO, Lady May
CORNEL, Livelyn
CORNELL, Exequiele
CORONA, Lelette Lyle
CORSANES, Angel Mae
CORTEZO, Bibiano Iii
COSME, Gabriel
CRESTINES, Lelian Mae
CRISTINO, Sheila
CROMENTE, Khamela Rae
CRUDA, Khristine June
CUADRA, Mary Sheen
CUARESMA, Kieth Janray
CUBELO, Theodore Dominic
CUBIAN, Christine Grace
CUBRADO, Gwynethlynn
CURAY, Kristine Grace
DACERA, Arseno Ii
DADIOS, Lonelle Alexandra
DAGAMI, Israela Joy
DAGANDAN, Devon Lee
DAGASDAS, Kaye
DAGUPLO, Hazel
DAGWAN, Mary Joy
DAIGAN, Lope Demetri
DALANON, Arthur Lyle
DALANON, Jeamar Edrelle
DANDAN, Angela Drick
DANIEL, Janiela Ritchel
DANILA, Rogimie
DARADAL, John Jericho
DARAGANTES, Melaine Aaliyah Leonabelle
DAVIN, Vince Chrysler
DAVIRAO, Mhelanie
DAYOLA, Aiza
DE ASIS, Fortia Mae
DE ASIS, Garyl Dain
DE LA CRUZ, Von Diosequim
DE LOS REYES, Jezrael
DE VEYRA, Piolo Mark
DEALAGDON, Chris Ian
DEBIL, Eijay
DECENILLA, Gideon Del
DECIO, Jennifer
DECLARO, Gwyneth
DEDACE, Rhea Antonette
DEGUITO, Maria Syrill
DEJON, Dave
DEKIT, Louise Diane
DEL SOCORRO, Mary Grace
DELA CRUZ, Jessica
DELA PEÑA, Althea Roleen
DELAGENTE, Frederick
DELIGERO, Archelle Nova
DELIGOS, Jeamaica
DELLERA, Daniel
DELOAG, Sophia Juliem
DELORINO, Eillah Angela
DEMETERIO, Axl Carlo
DENEROS, Crimson John
DEQUINCO, Erin Juliea
DERECHO, Katherine
DESTREZA, Joy Rc
DIAZ, Jenya Marie
DICON, Dennesse Marie
DILAO, Rio Pauline Jake
DIOCTON, Angela Mae
DIOLA, Neil Goeffrey
DIOLA, Shannen
DOGUILES, Alexandra Rina
DOMANGAS, Alben
DOMINGUETO, Hazel
DONAYRE, Peterson
DONAYRE, Paolo
DONOR, Mathew
DOROJA, Arianne
DOROON, Ellaine Kyle
DOSDOS, Asther Mae
DUALLO, Victoria Marie
DUARTE, Yuan Bhenlyn
DUMANDAN, Pamela
DUMPA, Sarah
DUPAL, Nesylvie
DUQUE, Davedzzon
EBIO, John Mathew
ELAIRON, Cathleen Joy
ELISEO, Francesca Mae
EMBODO, Rustle King
ENCIENZO, Lawrence
ENGALAN, Kyle
ENGLE, Zenie Luz
ENOPIA, Jezza Mae
ENTRADA, Kristel
EPONDULAN, Adel
ERALINO, Clarence
EREJER, Athea Ville
ESCABAL, Edmel Jay
ESCOTOTO, Chamberlain
ESPEJO, Madelyn
ESPINA, Chellu
ESPINA, Von Jeremiah
ESPINA, Arcie
ESPINAS, Aerel Renz
ESPINO, Andrea Nicole
ESPLAGO, Lovely Apple
ESTANDARTE, Quicel Anne
ESTELA, Kimberly
ESTOMATA, Nick Zyrille
ESTOPA, Rey Ann
ESTRERA, Alexa Kryzianne
EVANGELIO, Carl Patrick
EVANGELISTA, Earl Andrei
FAJARDO, Brent
FALCONE, Threxzy
FELISAN, Margaret
FELISILDA, Daryl Jay
FERNANDEZ, Jonita Mae
FERNANDEZ, John Rey
FERNANDEZ, Dona Mae
FERNANDEZ, Shania
FIEL, Dominic Jhon
FLORES, Johannamarie Kay
FLORES, Rubrie Rose
FLORES, Jumarie
FLORITO, Chenn
FLORO, Ester
FORNILLOS, John Oliver
FORTALIZA, Khristal Claire
FRANCIS, Khristina Mae
FRANCISCO, Trixie
FRANCISCO, Michael
FRANCISCO, Kaye Celine
FRELICKI, Louis Jr.
FUENTES, Xavier Paul
FULACHE, Richmond Zent
FUNDA, Sheena
GABAS, Jaynnie May
GABI, Hanah Jane
GADAYAN, Yssah Marie
GADO, John Emmanuel
GAID, Ira
GALANO, Franz Heart
GALBO, Marie Angeline
GALLANO, Vanessa
GALO, Frances Paula Marie
GALOLO, Ruel Ricardo
GALOS, Melissa
GALOS, Edciel Jay Gregory
GALVEZ, Leila Amore
GALZOTE, Erwin Matthew
GAMANA, Jemar
GANAR, Joshua
GANDIA, Maranatha
GANZON, Mark King
GARAÑA, Job
GARAYAN, Jeralyn Era
GARCES, Joana Vi
GARCIA, Patrick
GARCIA, Kaye
GARCIA, Ma. Stephanie
GARCIA, Roselyn
GARCIA, Harold Van
GARCIA, Martin
GAROT, Mikka Bernadette
GASACAO, Jean Lindsly
GASATAN, Rejane
GATELA, Bea Bianca
GATELA, Nico Jhon
GAUDICOS, Angeli Mae
GAY, Jhonel
GAYO, Ann Fritzie
GEALON, Sheen Lerry
GEMINA, Nikka Jane
GENERALE, Lean Dave
GENGOYON, Angeline
GERALDO, Nichaela
GEREZ, Mark Angelo
GERMONES, Renadith Joy
GERONA, Mark Jay
GERONIMO, Karylle
GERVACIO, Kirwen Kim
GERVAS, Arian Fearl
GESOYOT, Niña Rose
GIANAN, Rizza Mae
GILO, Jomari James
GINGO, Emmanuel
GLIMADA, Jesus Niño
GLORIA, Jesebel Ann
GLORIA, Jared Angelu
GLORIA, Miraniell
GO, Jebrielle Von Nathaniel
GO, Shane Lyka
GODES, Rhejane
GOFF, Garret Maximilian
GOLO, Clarizze
GOMEZ, Lloyd Egypt
GOMEZ, Kara Audrey
GONTIÑAS, Jessame
GONZAGA, John Clark
GONZALES, Christine Grace
GONZALES, Sigmund Art
GONZALES, Jonalyn
GONZALO, Ivy
GORGONIO, Psalm Given
GORGONIO, Marieneil Joyce
GOZO, Christine
GRAFE, Don Gleanne
GRANADA, Klyne
GRISOLA, Reya Vil Bienita
GUBA, Deesiree Ann
GUHIL, Junrel
GUILLANO, Dessa
GUILLANO, Jocel
GUINOCOR, James Eduard
GUIRITAN, Regielyn
GUIRON, Mery Joy
GUISALTA, Fatima Rose
GULLENA, Kevin
GUMOP-AS, Princess Mae Ann
GUY, Charlene
GUY, Lyca
GUYA, Aljun
HERBOLINGO, Smith
HEREDIA, Athea
HERMOSO, Chyrel
HERMOSO, Daphne
HINACAY, Krishia Faye
HINOLAN, Marlo
HONRADA, Steven
HORTELANO, Vincent Marc
HUERTA, Mherry Jaz
HUERTA, Glaiza Mae
HUERTE, Janekolen
IBAÑEZ, Joshua
IBAÑEZ, Monica
IDOY, Rexby
ILIGAN, Jeremaicha Elijah
IMPAS, Eva Rose
IMPUESTO, Nicolle
INOT, Racee Angelo
INTING, Sally Marie
INTOC, Kent
ISRAEL, Johann Angelo
ITCHON, Raul Jr.
IYOY, Clarys
JABILLO, Cindy Joy
JADOC, Jude Michael
JAJALLA, Ysmael John
JAMERO, Claire Ann
JAMORA, Arianne Marie
JAMORA, Kristel
JANDUMON, Ian Cesar
JANSON, Dina
JAVIER, Kharyle
JAYAG, Salve Mea
JEMINOS, Xantia Aira
JEVE, Myleen
JIMENEZ, Marifel
JOHNSON, Eileen Jayne
JOSAIN, Edlyn
JOSOL, Lephel Loyd
JOYOHOY, Kyla Joyce
JUARE, Maxine Joy
JUGAR, Cathleen Jaim
JULIAN, Erika
JUMAPAO, Kristine Joy
JUMAWAN, Sophia
JUPIA, Precian
JUSAY, Joriza Anne
JUSON, John Kinneth
KIAMCO, Ian Kelly
KILARIO, Wayne Eudenver
KIRONG, Christian Donielle
KUIZON, Ella Marie
LABADO, Dhelcianne Mae
LABAJO, Emma
LABATIAO, Arvin Jake
LABIDES, Lendcy Jean
LABITIGAN, Nice Erica
LABONG, Kenneth Bryan
LACBAYO, Leya Mae
LACOSTA, Christian Dave
LADOR, Mary Rose
LAFUENTE, Janine
LAGA, Ma. Pamela
LAGAHIT, Argelyn
LAGALA, Joseph
LAGARDE, Ma. Anselma
LAGARDE, Robel Ann
LAMAYO, Chester Brian
LAMBERTE, Maria Emma
LAMBINO, Vera Maureen
LAPINID, Grace Christine
LAPUT, April Joy
LASACA, Ashliemae Judd
LASTIMADO, Leslie
LAUDE, Jay
LAUDERES, Jeselle
LAURENTE, Robert
LAWAG, Angel
LAYAO, Joanna Joy
LAYOSA, Emmanuel
LEBOLORA, Annalyn
LEONOR, Jhovie Marie
LESIGUES, Raymund
LIBATIQUE, Jaymre Moises
LIBATOG, Marifer
LICAÑA, Aljun
LICAÑA, Alger
LIGTAS, Mitchelle
LIGUTAN, Rasta Mhae
LIM, Kamille Elizah
LINGATONG, Ronan
LINGGAS, Karla Mae
LINGO, Ian Brix
LIPARDO, Albert
LLOREN, Melvin
LLOREN, Jessa Betty
LOGRONIO, Kyla Lyr
LOGROÑO, Ivy
LOPEZ, Hanzel
LOQUEÑO, Ahl Francis
LOREJAS, German Iii
LORETO, Noel
LORETO, Kris Marie
LORETO, Rose Ave
LOTARDO, Ryu
LOVITOS, Maria Ellen
LUCAÑAS, Criselle Ann
LUCAÑAS, Miche Mari
LUCAÑAS, Mark Jay
LUCEÑOS, Niña Vanessa
LUCHAVEZ, Beverly Anne
LUMAAD, Elloisa
LUMANTA, Lea Mae
LUMANTAO, Dave
LUMEN, Ma. Isabel
LUNTAYAO, Rhonnah Lywn
LUNZAGA, Rheian
LUPERAS, Nohvei Rose
LUPINA, Christine Mae
LUTO, Hannah Mae
MABINI, Rommel Jr.
MACAHIG, Carr
MACALDO, Jeanette
MACEDA, Pamela Rose
MACION, Aldren Jr.
MACO, John Peter Alan
MADAYA, Norjana
MADELO, Zaira
MADIS, Luigi
MAGDAYO, Joyce
MAGTUBA, Angel Shyne
MAGUNOT, Beverley
MAHINAY, Charlene
MAINIT, Rhamcisly
MALDA, Angelie
MALTE, Dorothy Jane
MALUBAY, Rylene Joy
MALUBAY, Harcefull Grace
MAMOLO, Mark James
MANABAT, Sean Christian
MANANGIT, Francis Miko
MANATAD, Adrian
MANATAD, Sheena
MANAUG, Lyka
MANDIA, Senen Jude
MANGUBAT, Ruffa Mae
MANGUILIMOTAN, Shamel
MANIDLANGAN, Michael Jr.
MANING, Edryck Lhoid
MANINGO, Jomari
MANSING, Edriane Mark
MANUNGAS, Jade Mardell
MAPUTE, Trina Mei
MAQUISO, Jerra
MARA, Jona Mae
MARAVELES, Deborah Joy
MARAY, Rossmae Quinzelle
MARAYA, Rushiel
MARCOJOS, Ma. Aldonnabelle
MARGALLO, Jamil Joy
MARITAN, Dennis Bryan
MARTINITO, Melven
MASAGCA, Danielle Marie
MASBANG, Cyril John
MASCARIÑAS, Ruvy Jane
MATA, Maybelle
MATA, Analene
MATAGANAS, Nickul John
MATELA, Ma. Glecy
MATIGA, Bengie
MATUGUINA, Jehu
MATURAN, Chavelita
MAUSISA, Divina
MAXINO, Nephreteri Mae
MAYOR, Shericka
MAYOR, Alodia Marianne
MEDILO, Alfia Jean
MEDIONA, Jona Mae
MELENDRES, Alexander
MELLANG, Justine Claire
MELLEZA, Ricardo
MENDOZA, Karleigh Keisha
MENDOZA, Iris
MENIANO, Loura Mae
MENIL, Mary Ann
MERIN, Cristina
MIER, Shyra Hope
MILANO, Jesse
MILLANES, Carl Irven Nykuluz
MILLORIA, Godfrey
MILLOS, Kathy
MISA, Fergel Lee
MISTOLA, Zedrick
MODESTO, Yasmine
MODINA, Justin Kays
MOLINA, John Michael
MONDIA, Justin
MONIEZA, Yvonne Mae
MONTAJES, Leslie Marie
MONTALBAN, Nicole
MONTE, Dana Gre
MONTEJO, Ria Angela
MONTES, Janine Aira
MONTEZA, Rodel
MORALDE, Cherry Ann
MORALES, Shaira Mae
MORALES, Roel Victor
MORALES, Majella Dorothy
MORALES, Justine Jacob
MORALES, Shekainah Rose
MORAÑA, Roxanne Joy
MORERA, Shyra Mae
MOSQUITO, Hanna Patricia
MUERTEGUI, Kimberly Jane
MUJAR, Emerly
MULIG, Jadheth
MUNALEM, Mary Isabelle
MUÑOZ, Jyreen Mae
NABLE, Dynia Luizl
NALUPA, Sarah Mae
NAMOC, Jessa Mae
NAMOCO, Albert Iverson
NAPA, Danika
NAPIERE, Rico Jomer
NAPUTO, Katte Norimel
NARRA, Glaiza
NARRAGA, Cristine Danna
NAVAROSA, Mary Rose
NAVARRO, Flor Marrionnette
NAVIA, Niña Reyna
NAZARENO, Janica
NEVADO, Kenner John
NIERE, Marry Luchie
NIEZ, Mary Joy
NIONES, Ronilyn
NISTAL, Dan Christian
NODALO, Jessel
NOGAL, Russel Keith
NOPAL, Jenifer
NOVAL, Rosemin
NUEZ, Marjorie Mae
NUÑEZ, Charitel
OBANDO, Karylle
OBLIGADO, Trisha Mae
OCASIONES, Erica
OCHEA, Shane Marie
OGARIO, Zykki Belle
OLAZO, Meryl
OLEDAN, Jules Bradly
OLGUERA, Sairyl
OLIGAN, Jefferson
OLIVAR, Geric John
OLIVER, Mark David
OMBAL, Jiselle
OMEGA, Rae Joanne
OMEGA, Evan Gelie
OMPOY, Jireh Niña
OPELINA, Ailene Grace
OPERIO, Quennie
ORAPA, Margerie Joy
ORIAS, Evelyn
ORILLA, Joyce Andrea
ORIONDO, Ysabelle Althea
ORNOPIA, Michelle
OROCAY, Caren Joy
ORONGAN, Zhianne Gail
ORTIZ, Romel
OTAR, Crest Justine
OVERO, Jinace Diajufin
OWAPIN, Christy Mae
PABELLO, Jean
PACAANAS, Diane Jane
PACANAN, Rymel
PACIENTE, Angelie
PACLIAN, Jasmin
PADEROG, Rhea Rose
PADES, Janette
PAGALAN, Odyssa Jane
PAGATPATAN, Krizia Anne
PAGPAGUITAN, Desiree
PAGPAGUITAN, Edgar Jr.
PALACIO, Gwyneth Adrielle
PALAPAR, Christine Jade
PALEN, John Matthew
PALER, Rachelle Anne
PALER, Erica Mae
PALER, Karren
PALERO, Doviree Andrew
PALOGUER, May Annn
PALOMA, Dianah Faye
PALOMAR, James Cleford
PAMANIAN, Jane Glyshell
PAMAUS, Revin
PAMUGAS, Adrian
PANLUBASAN, Jocelyn
PANTUJAN, Novah Mae
PAQUIBOT, Eulah Gael
PARAON, Cristobal
PAROJINOG, Nicole
PASAYLOON, Mhea
PASCUAL, Ruth
PASILABAN, Nicholl James
PASQUEL, Angelo
PASTORIL, Niña Rainiel
PATALINGHUG, Adrian Jeff
PEJOTO, Rhea
PEJOTO, Anvines
PELIMER, James
PELIÑO, Zenneth Celeste
PELOSTRATOS, Mayvhin Faye
PELOSTRATOS, Ghay Ann
PEÑA, Rika
PEÑAFIEL, Ijay
PEPITO, Justine Mae
PEPITO, Maria Theresa
PEPITO, Reynalyn Rose
PERALTA, Kaycee
PERMEJO, Bernadeth
PERO, Bernie
PERPINOSA, Vallerie Marie
PETEROS, Sofia Carla
PIA, Amjelyn
PIALAGO, Yumi Kyla
PIALAGO, Yuka Kyra
PIEZA, Ara Mae
PIL, Jesca
PILOTON, Keziah
PIQUERO, May Adith
PISCOS, Kia Marie
PITOGO, Jezekiah
PLATINO, Jashlyn Mae
PLAZA, Mark Angelo
POBADORA, Elgie
POGOY, Jean Caroll
POGOY, Edwin
POGOY, Dawn Erica
POL, Ed Marty
POLIDO, Maria May
POLINAR, Romel
POLIQUIT, Alexis
PONTE, April Lyn
PORLACIN, Maricar
POSADA, Ma. Thia May
POSAS, Rochelle
POTOT, Elle Marienel
PRACULLOS, Zamierah Grace
PRESAS, Joanna Therese
PRIETOS, Fiona Maritha
PUNAY, Dunaliza
PUNDAVELA, Rei Victor
PUTAN, Erik John
PUTOL, Karen
PUZON, Allen
QUEIPO, Neil Denzel
QUEZON, Hannah
QUIAL, Jabez Aijalon
QUIAMCO, Romela Marie
QUILAQUIL, Rosevie
QUIMPAN, Han Christian
QUINALAYO, Neil
QUINANTE, Jake
QUINGCO, Alpha May
QUIRINO, Diana Jane
QUITORIO, Mariane Mae
RABADON, Fatima Grace
RABAÑO, Richelle Mae
RALLOS, Lemuel
RAMIREZ, Remelyn
RAMIREZ, Lenard Lester
RAMIREZ, John Paul
RAMOS, Mary Apple
RAMOS, Earl Anthony
RAÑOLA, Kyla Jane
RAPIÑAN, Nathaniel Jay
REAS, Junahbie
REBOLLOS, Rose Angel
REBOTICA, Micah Ella
RECTA, Zyrel Rose
REDOÑA, Via
REGIS, Clarisse
REGIS, Bernadette Aisle
REGONIOS, Cristene
REMOROZA, Juressa
RENDORA, Tonnelyn
RENDORA, Lorenz Rio
REPOLLO, Jeneil Khristy Jade
RESMA, Miles Adrian
RESUS, Romilyn
REVILLA, Mardie
REYES, Rafael Reino
RIN, Riecy
RIVERA, Jon Bryan
RIVERA, Ma. Christy
RIVERA, Judie Marie
RIVERA, Ralph Joseph
RODA, Jhona
RODRIGUEZ, Joshua Jay
ROLA, Justin John
ROLLORATA, Abbygail
ROM, Grizchie
ROMA, Apprille Ann
ROMERO, Christine Anne
ROMERO, Charles Lemuel
ROSAL, Sheila Mae
ROSALEM, Julie Anne
ROSALES, Crystal Mae
ROSITE, Maria Kristina
ROSLINDA, Leah
RUBA, Angel Grace
RUBILLOS, Jademark
RUBIO, Shiela Mae
RUBIO, Cynreb
RUIZ, Stephany Gen
RUIZ, Jereco
RUIZ, Charity Ann
RUIZO, Wiah Shiry
SA-AN, Steven John
SAAVEDRA, Jhorwen
SABALZA, Mark Gil
SABANAL, Twila
SABANDO, Ruen
SABELLA, Mylen
SABLAD, Isabelo
SAGUBAN, Mac Warnier
SALA, Clyde Aaron
SALABAO, Rupert Scott
SALADORES, Ryan
SALAZAR, Minette Coleen
SALCEDO, Temelyn
SALCEDO, Jenelyn
SALGADO, Jhun Mark Joefill
SALON, Kyla Isabelle
SALUDAGA, Christian Rey
SALUDO, Rudelyn
SALUDO, April Mae Aidenry
SALVADOR, Katha Ghyl
SALVAÑA, Evelyn
SAMONTE, Ella Nicole
SAMPILO, Leo Ben
SAMSON, Dallin Antonn
SAMSON, Klyde Crazly
SANCHEZ, Mickie
SANCHEZ, Christine Ofelia
SANDULAN, Stephanie Clarisse
SANGALANG, Jairon
SANILO, Marie Lhuz
SANO, Daniel Joseph
SAÑOZA, Ma. Christian Lyn
SANTOS, Philippe Andrew
SARMIENTO, Rhona Mae
SARMIENTO, Cherisma
SARSALEJO, Charisse Erika May
SASING, Nicole Ingrid
SECUYA, Pamela Jean
SELLAVE, Nobelyn
SERATO, Angelo
SERRANO, Honey
SEVILLA, Ariel Arl Mari
SIBAY, Danica Marie
SIGA, Marve Jane
SILVANO, Vivian
SIMAN, Donna M Arie
SINDAY, France Joseph
SINDO, Rica Mae
SINGZON, Ivy Mae
SIPACO, Ciara Rose
SISON, Dymphna Marie
SOBERE, Marjore
SOBRIO, Rubelyn
SOLON, Marie Can
SOMBITO, Patrecia Ceelyn
SOMBREO, Hannah Pamela
SOPA, William Arthur
SORIA, Kea
SORIANO, Patricia Laine
SORRILLA, Mary Rose
SOYUSA, Bia
STA. IGLESIA, Anthony Ivan
SUAREZ, Kyl Cheira
SUAYBAGUIO, Bernadette
SUBAAN, Richard
SUCO, Heinrich Drexler
SUGANOB, Farah Paula
SUMAJAG, Zyrel Mcbert
SUMILI, Geramae
SURALTA, Hanna Mae
SURDANO, Shiela Mae
TAALA, Anne Cyrell
TABAO, Stephanie Jene
TABASA, Lynette
TABIOLO, Maricar Ann
TABLATE, Dimple
TABLATE, Brent Louen
TABORADA, Cheizer
TAGAB, Angeline
TAGANAS, Arvin Jehiel Rei
TAGOLINO, Maria Patricia
TAGON, Ma. Crisha
TAGUD, Rizzamae
TALABOC, Julia Mae
TAMPIPI, Letecia
TAMPOS, Maria Charibel
TAMPOY, Kieden Roy
TAMPUS, Erica
TAN, Rhea Mae
TAN, Jacques Phoebus
TANDAYAG, Kenrick Nial
TARCULAS, Francisco
TARIPE, Angeline
TAYUM, Juliane Mae
TECSON, Lean Jed
TEJARES, Jriel
TEJARES, Dangel
TELIN, China
TELMO, Niña Derelia
TEMEÑA, Cyrel Mae
TERADO, Maria Patricia
TERANA, Leonard
TESADO, Jeremy Louise
TIEMPO, Kristine Joy
TIONGSON, Vince Brydon
TISTON, Isaiac Jayson
TOLEDO, Erica Mae
TOLIBAS, Wannadel
TOMAUB, Marian
TORENO, Blondelle Hearth
TORIDA, Jhon Mark
TORREJANO, Nikki
TORREON, Carla Joy
TORREON, Jear
TORRES, Joshua Ramon
TRABAJO, Krissa Noelle
TRAZO, Pauleen Rose
TRISTE, Queen
TULAGAN, Arlyn Mae
TULOD, Lanscile Clair
TUMALA, Ma. Luz
TURAN, Vince Rhey
TURLA, Arvin Anthony
TURNUAS, Paul John Melbrend
TURRION, Liezel Joy
TUSOY, Alyssa Cyrill
TUSOY, Kelly Rose
UBAY, Aike
UCHIYAMA, Miyuki
ULTADO, Rochelle
UNAT, Devine Grace
UNDAY, Jee Marie
URBONA, Renna Mae
URDANETA, Abegail Angilou
UROSRA, Junester Ii
VALENTE, Jayve
VALLES, John Rio
VAN STEENHUYSE, Arthur Jason
VANZUELA, Ana May
VEGA, Mary Cris
VEGA, Jolina
VELARDE, Aime
VELOS, Phoebe Geraldine
VERANO, Kyla
VERDIJO, Evangelyn
VERIL, Daryl Jay
VERIL, Algene John
VERO, Mineheart
VIDAL, Kylene Kendra
VILLACAMPA, Ruth Louise
VILLACERAN, Lilibeth
VILLADORES, Daryn Vincent
VILLAFAÑE, Marrie Jean
VILLAJUAN, Karen
VILLALINO, Shannen Grace
VILLALINO, Ryanne Isabelle
VILLAMOR, Leila Rose
VILLARAMA, Hamilie Grace
VILLARIAS, Elmarie
VILLARMINO, Jumer Ian Franz
VILLASIN, Shahanna
VILLEGAS, Al Randolph
VILLOCINO, Mari Faustina
VILLOCINO, Love Joy
VILLOCINO, Ma. Victoria Yan
VILLONES, Cherry Mae
VILLOTE, Rose Ann
VINCULADO, Jesiwen
VISABELLA, Goerge
VISCA, Ronnie
WANIWAN, Baby Jeal
WHELESS, Maximillion
YANO, John Mark
YBAÑEZ, Francis Dianna
YECYEC, Jan Antonette
YGAÑA, Emily
YGOT, Nescel
YGOT, Gemmarose
YLAGAN, Gio
YODICO, Luisa Mhay
YU, Camile
YUSON, Fidel Jr.
YUSOY, Khyla Grace
ZABALA, Angelli
ZABALA, Angeline
ZAMORA, Jhahara Jane
ZAMORA, John Kent
ZUELA, Neña Khristine