Deadline | Submission of Admission Requirements for Freshmen and Transferees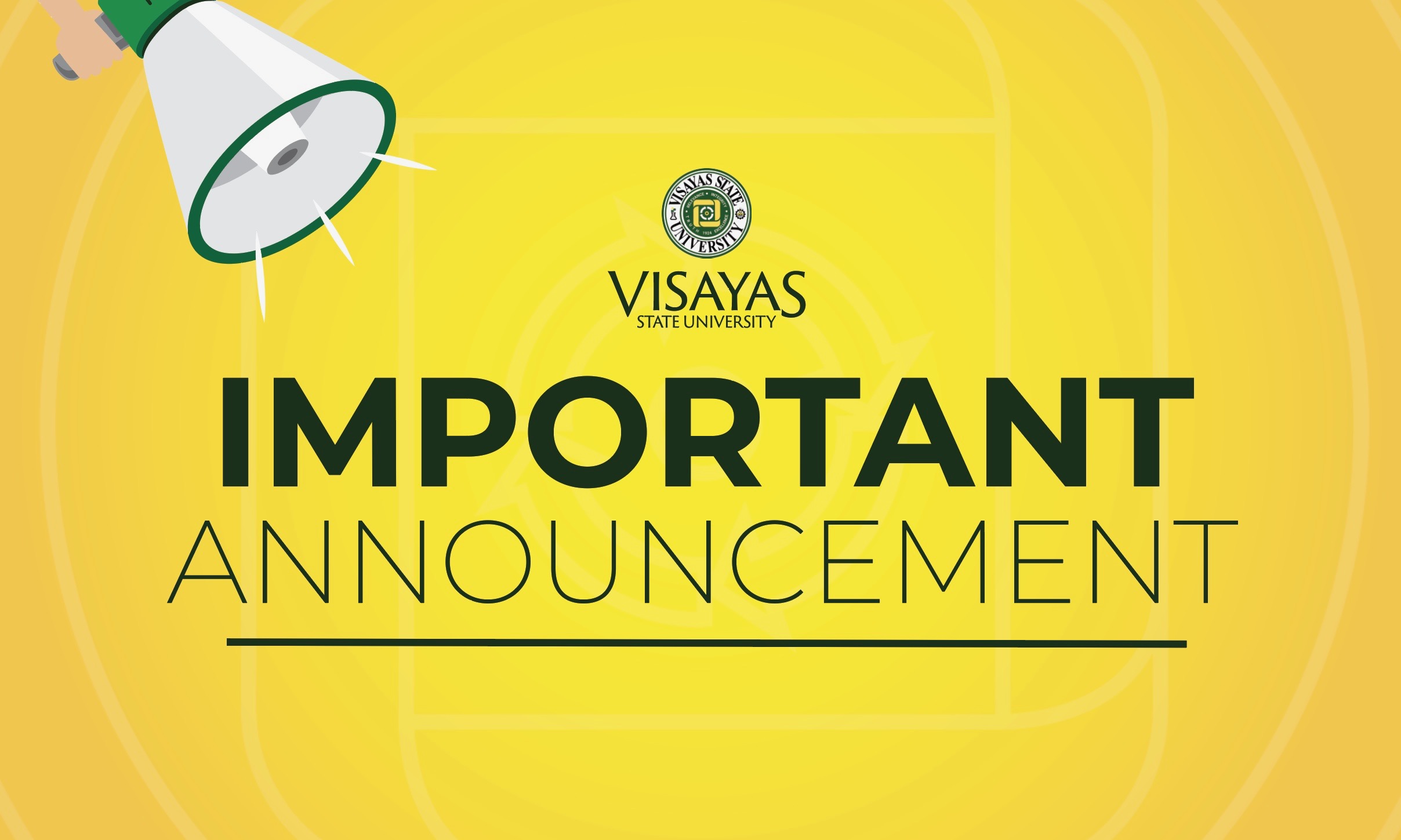 Freshmen and Transferees, you are reminded to submit on or before October 30, 2020 the following official documents:
1. Admission Requirements
For SHS/HS Graduates

For Alternative Learning

System (ALS) Graduates

For 2nd Coursers or Transferees

Original Report Card

(Form 138/SF9)

ALS A&E Certificate of Rating

Transcript of Records (TOR) with Certificate of Transfer Credential or Honorable Dismissal
2. Original PSA Birth Certificate;
3. Original Certificate of Good Moral Character;
4. Two (2) ID pictures, 2"x 2", colored with white background.
HOW TO SUBMIT?
1. Enclose all documents sealed in a brown envelope with sender's contact details;
2. Send documents to your respective campus using the following address:
Main Campus

Villaba Campus

Isabel Campus

Tolosa Campus

Alangalang Campus

Dr. Nancy V. Dumaguing

Head, Admissions Office

VISAYAS STATE UNIVERSITY

Baybay City, Leyte

Dr. May Melina N. Barro

Registrar

Villaba Campus
VISAYAS STATE UNIVERSITY

Villaba, Leyte

Ms. Angelen F. Hermoso

Registrar

Isabel Campus

VISAYAS STATE UNIVERSITY

Isabel, Leyte

Dr. Dexter A. Oberes

Registrar

Tolosa Campus

VISAYAS STATE UNIVERSITY

Tolosa, Leyte

Ms. Sharon A. Costelo

Registrar

Alangalang Campus

VISAYAS STATE UNIVERSITY

Alangalang, Leyte
3. A scanned copy of the official receipt of courier service should be sent to the respective campus registrar email address: This email address is being protected from spambots. You need JavaScript enabled to view it. ( for Main Campus); or to This email address is being protected from spambots. You need JavaScript enabled to view it.; This email address is being protected from spambots. You need JavaScript enabled to view it.; This email address is being protected from spambots. You need JavaScript enabled to view it.; This email address is being protected from spambots. You need JavaScript enabled to view it..
4. Students living nearby the campuses may drop the documents at the guardpost and sign-in the logbook to record that it was received in good condition.
5. All students are required to comply with the IATF minimum health and safety protocols.