VSU Official Advisory for #RubyPH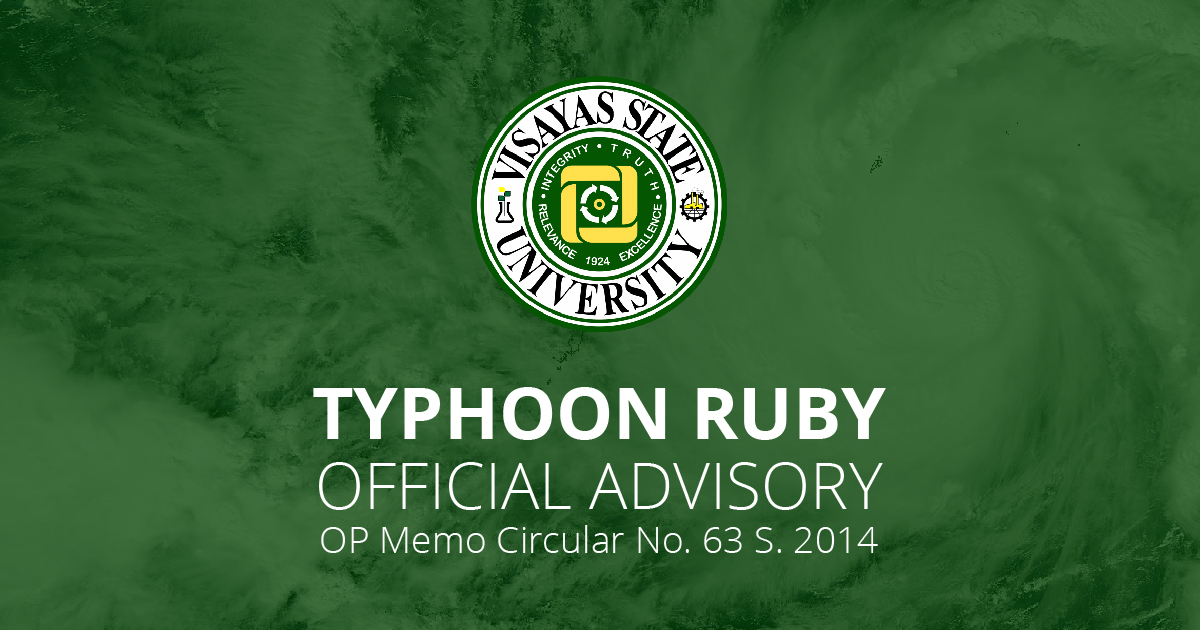 To: Students, Faculty Members & Staff
Re: Preparations for Typhoon Ruby
Due to the incoming Typhoon Ruby which is projected to make a landfall in Eastern Visayas in the next few days, all classes at all levels are suspended on December 4-5, 2014. Meanwhile, there will be no office work on Dec. 4, 2014 (starting 3 p.m.) until Dec. 5, 2014.
According to PAG-ASA, the province of Leyte is in Alert Level C expected to have a rainfall of 10-20 milliliters/hour, or heavy to intense rains and winds of 100-170 kilometers per hour.
Everybody is advised to take safety preparations and preemptive evacuation if you feel it is not safe to stay in your respective dormitories/cottages/apartments. The following buildings are identified as evacuation centers and its respective in-charge:
For Students:
Dept. of Economics, Education - Dr. Antonio Abamo / Prof. Manolo B. Loreto, Jr.
For General Public:
Dept. of Agronomy - Dr. Berta Ratilla
Dept. of Horticulture - Dr. Rose Salas
Dept. of Pest Management - Prof. Jesusito Lim
Eco-FARMi - Dr. Pastor Garcia
PhilRootcrops Training Hall - Dr. Marcelo Quevedo
NCRC/NARC Bldg. - Dr. Feliciano Sinon
ISRDS - Dr. Ma. Aurora Teresita Tabada
College of Forestry - Dr. Renezita Come
Let us prepare and stay calm and alert.
JOSE L. BACUSMO (signed by OIC-Dr. V. Asio)
President