Songwriting competition for agriculture, fisheries, and natural resources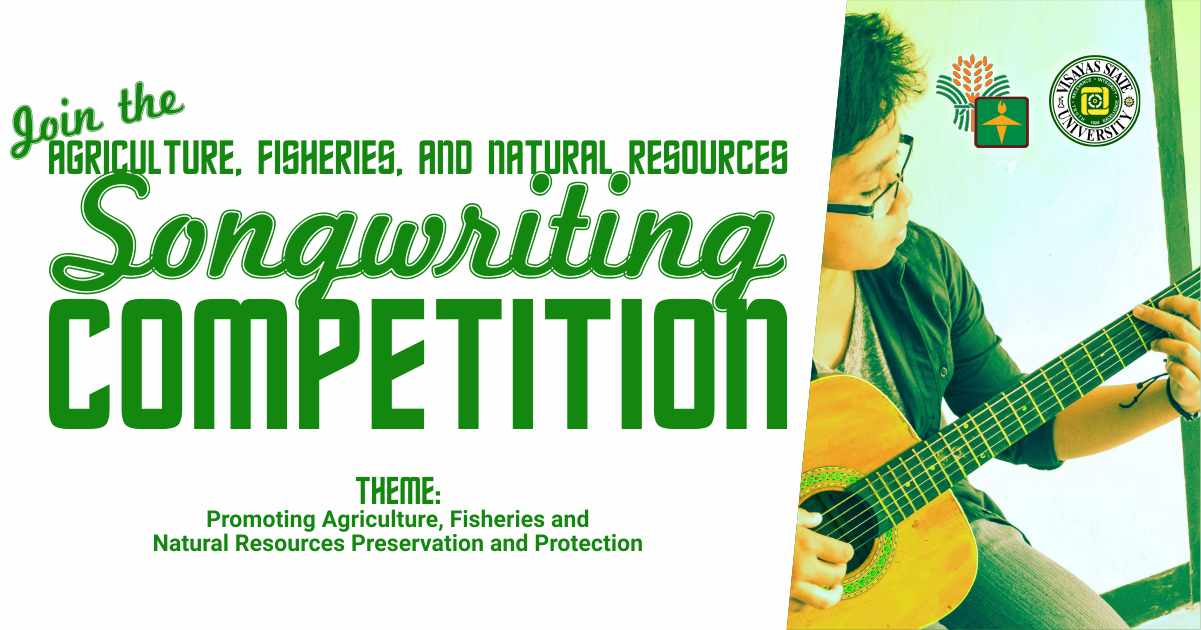 Join the songwriting competition for agriculture, fisheries, and natural resources and win prizes:
Grand Prize : P30, 000.00 + plaque
Ist Runner Up: P20, 000.00 +plaque
2nd Runner Up: P10,000.00 + plaque
Category Winners – P3,000.00 each (8 categories) + trophy
Non-winning finalists shall automatically receive P1,000.00 + certificate
People's Choice : P 5, 000.00 +trophy – chosen by popular votes through texting
Downloader's choice: P5,000.00 +trophy – the most downloaded song
O All entries may qualify
Non-winning entries will automatically receive P1,000 and certificate.
Who may join:
The competition is open to all amateur composers
Entrants must be Filipino citizens or of Filipino descent
There is no age requirement. However, minors joining the competition must be represented by a parent or guardian.
Mechanics:
Song entries should deal with the subjects on promoting agriculture, fisheries and natural resources preservation and protection
The song entry must be original, unreleased, and written in any of the following categories:
Pop
Country Ballad
R&B
Gospel/Inspirational
Folk/Acoustic
Jazz
Hip-hop/Rap
Novelty/Comedy
A song may be entered in only one category. However, the Screening Committee may re-classify the entry to a more appropriate category.
Contestants may submit 3 songs in any category. However, should more than one song from the same composer become a finalist in a particular category, the composer shall choose only one song as his/her final entry in that category.
Song entries must not exceed 4 minutes in length
Song lyrics may be in Cebuano, Tagalog, Waray or English and must not contain any vulgar or offensive language.
All songs submitted will automatically become the property of both the VSU Extension Office and ATI-RTC8.
Entry forms are available at the VSU Extension Office and the ATI-RTC-8.
For more information, call/text 09059569926, or email This email address is being protected from spambots. You need JavaScript enabled to view it., or visit OVPRE-extension office and look for Mrs. Adelina Carreno.