#VSUAnniv greetings from Pres Duterte, VP Leni
Details

Written by ELTBestil

Published: 09 August 2016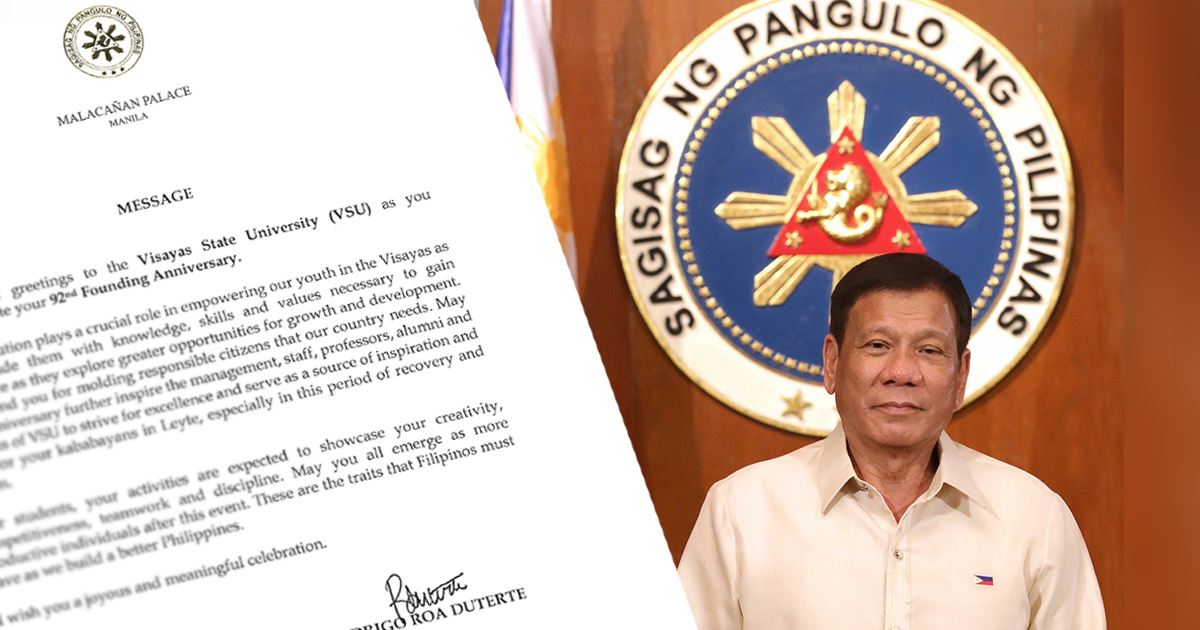 President Rodrigo Duterte and Vice President Leni Robredo wished VSU a meaningful and fruitful 92nd anniversary celebration! VP Leni commended VSU for initiating an activity for farmers and fisherfolks. Pres. Duterte left a message for VSU students.
My warmest greetings to the Visayas State University (VSU) as you commemorate your 92nd Founding Anniversary.
Your institution plays a crucial role in empowering our youth in the Visayas as you provide them with knowledge, skills and values necessary to gain confidence as they explore greater opportunities for growth and development. I commend you for molding responsible citizens that our country needs. May your anniversary further inspire the management, staff, professors, alumni and students of VSU to strive for excellence and serve as a source of inspiration and hope for your kababayans in Leyte, especially in this period of recovery and reform.
Dear students, your activities are expected to showcase your creativity, competitiveness, teamwork and discipline. May you all emerge as more productive individuals after this event. These are the traits that Filipinos must have as we build a better Philippines.
I wish you a joyous and meaningful celebration.
(sgd)
RODRIGO ROA DUTERTE
Message from President Duterte
Our warmest greetings to the Visayas State University on your 92nd Founding Anniversary.
The VSU, through its agricultural research, has been and continues to be a dependable ally in the agricultural sector. We are happy to note that one of the highlights of your anniversary celebration is the Farmers and Fisherfolks Day. We value their role in sustaining our country and it is a challenge for all of us to help them as well.
We wish the VSU Board and faculty good luck as they continue to strive for academic excellence in the fields of science and technology. In your hands is the formation of the minds of the next generation—one that we hope works for the development of our country, and that of our agricultural sector.
We look forward to seeing the fruits of your faculty and student's research and project developments.
Muli, binabati naming kayo sa inyong pagtitipon, maraming salamat at mabuhay ang ating bayan!
In the spirit of inclusive growth,
(sgd)
LENI ROBREDO
Message from VP Leni Robredo by visayasstateu on Scribd