CSC awards two VSU officials
Details

Written by KPRoca

Published: 07 September 2016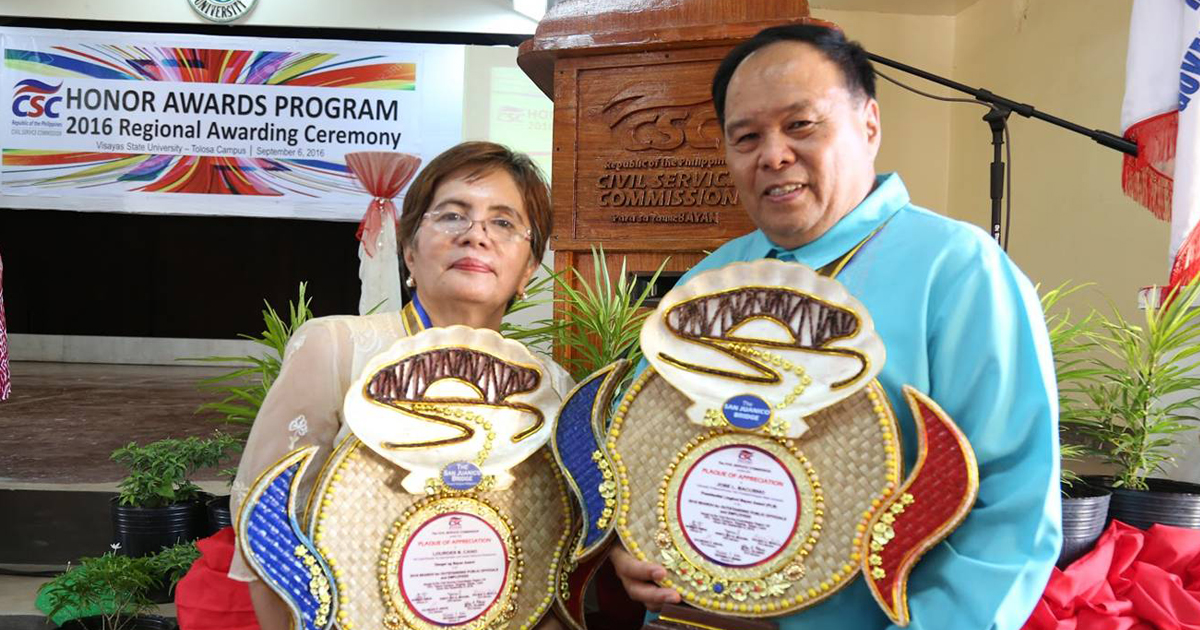 The Civil Service Commission (CSC) recognized former VSU President Dr. Jose L. Bacusmo, and Chief Administrative Officer Dr. Lourdes Cano, during the CSC 2016 Regional Search for Outstanding Public Officials and Employees at the VSU Tolosa Campus, September 6.
Dr. Bacusmo was awarded the Regional Presidential Lingkod Bayan Award for his contribution in VSU's research, development, and extension programs during his administration. Income-generating projects at VSU also sprouted during his term.
Owing to the international partnerships he forged, VSU obtained funding from the Australian Centre for International Agricultural Research from 2013-2014 for various research scholarships, and development of VSU's research facilities.
Dr. Bacusmo had also facilitated the fast rehabilitation of the Yolanda-stricken VSU Tolosa campus through a partnership with the Korea International Cooperation Agency.
In his acceptance speech, the university professor emphasized the importance of "shared stewardship" in managing the university. He also added that the accomplishments during his administration were due not much to him as the President, but rather to the people who worked hand-in-hand with him.
Meanwhile, CSC accorded Dr. Lourdes P. Cano the Dangal ng Bayan Award for her assistance in revising the organizational staffing standards for state universities and colleges nationwide.
As VSU's Director for Administrative and Human Resource Development, Dr. Cano conducted a series of handholding and capability building activities in establishing a strategic performance management system to the Council of Personnel Officers in the provinces of Southern Leyte, Western Leyte, and Biliran. She also was instrumental in the passing of the VSU ISO 9001:2001 Stage 1 Audit.
In her stint as Acting Dean of VSU Tolosa, three degree programs passed the Level 1 accreditation by the Accrediting Agency of Chartered Colleges and Universities of the Philippines in November 2015 despite the loss of several documents to the ravages of supertyphoon Yolanda.
Through its Honors Awards Program, CSC conducts an annual search for public service exemplars in three categories including the Presidential Lingkod Bayan Award, the CSC PAGASA Awards, and the Outstanding Public Officials and Employees Award or Dangal ng Bayan Award.
VSU President Dr. Edgardo E. Tulin and former Vice President for Administration and Finance Dr. Roberto C. Guarte also received the Presidential Lingkod Bayan Award in 2014 and 2015, respectively.