VSU ranks 3rd in Top State Universities, Colleges—AACCUP
Details

Written by ELTBestil

Published: 17 February 2017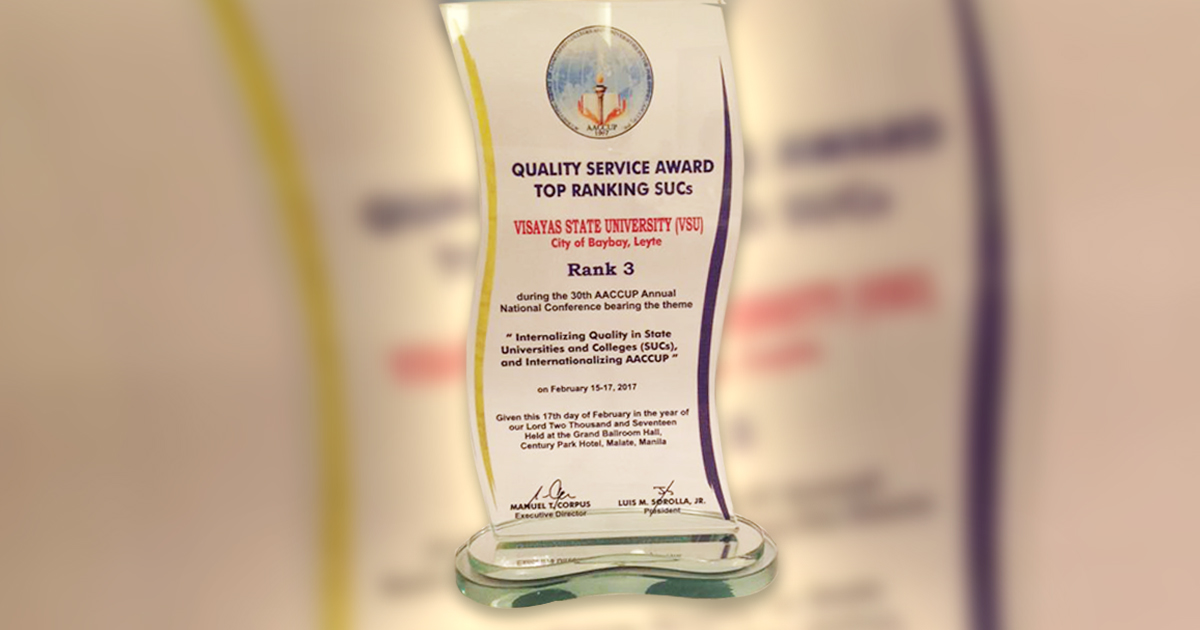 VSU earned the Quality Service Award from the Accrediting Agency of Chartered Colleges and Universities in the Philippines (AACCUP) as among the three top ranking state universities and colleges (SUCs) in the country.
VSU shares the 3rd spot with Iloilo Science and Technology University, and Benguet State University. West Visayas State University earned the top spot, putting Isabela State University on second place.
The ranking was based on number of accredited curricular programs, number of faculty members who are certified and active accreditors, among other criteria. AACCUP also gave credence on the capability of the SUC's internal quality assurance (IQA) office and the school administration's support to IQA.
VSU President Dr. Edgardo E. Tulin received the award during the 30th AACCUP Annual National Conference at the Century Park Hotel, Manila, February 17-19. With him were Dr. Lualhati Noriel, head of VSU's Quality Assurance Center, Vice President for Instruction Dr. Beatriz Belonias, Dean of Students Engr. Manolo Loreto, Online Programs Office Head Dr. Editha Cagasan, and Dean of the Graduate School Dr. Annabella Tulin.