President Tulin challenges VSU to "dare to excel" in 2017 university address
Details

Written by Isabelle Amora

Published: 14 November 2017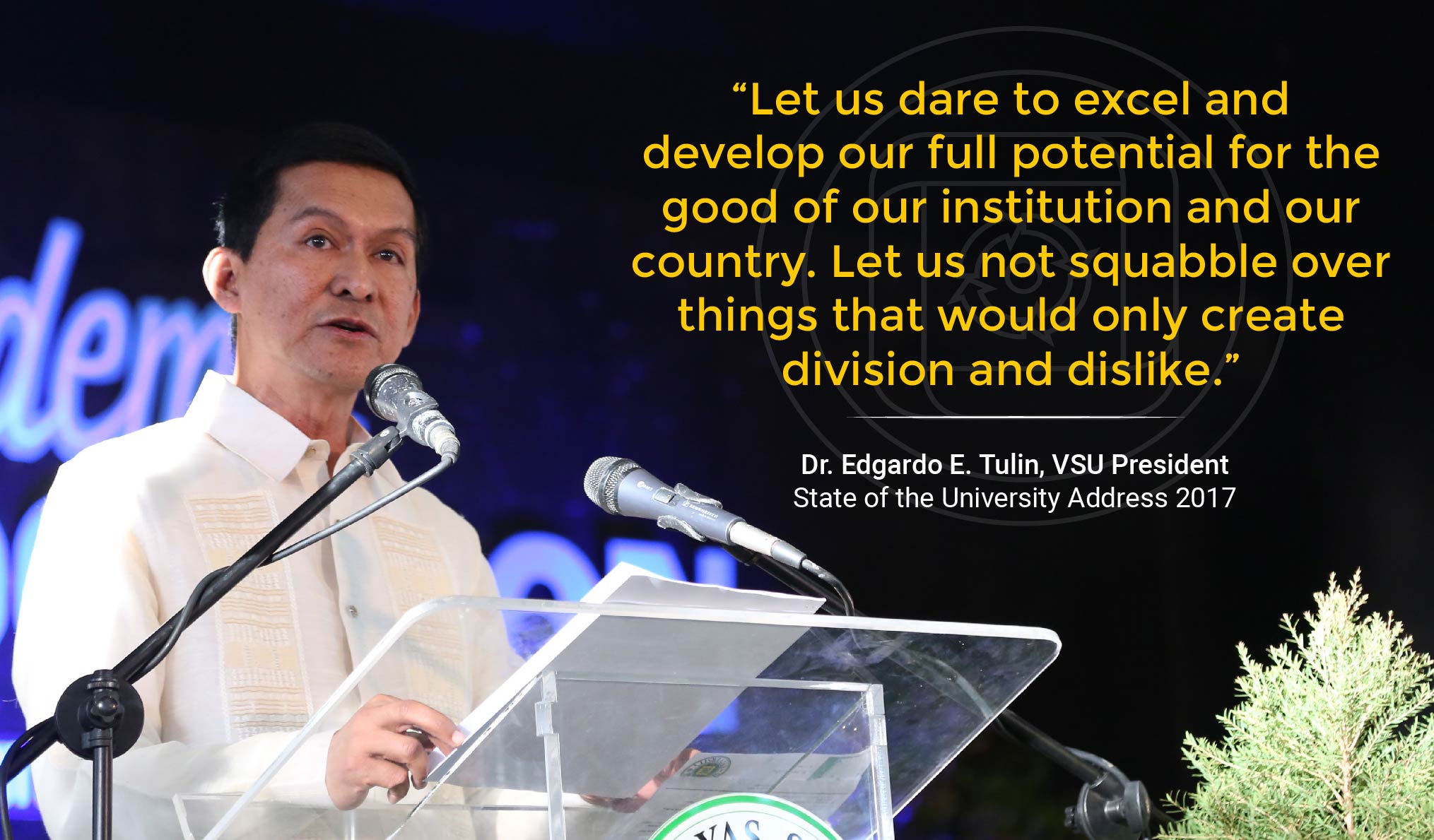 VSU President Edgardo E. Tulin posed a challenge to VSU to 'dare to excel', in the State of the University Address (SUA) during the 2017 Academic Convocation held at the VSU Gymnatorium on November 13, Monday.
Dr. Tulin gave a report on the university's developments and achievements during his second year in office.
In his address, he recognized VSU staff and units who got prestigious awards, and graduates in Agriculture, Agricultural Engineering, and Geodetic Engineering who topped the board exam.
Dr. Tulin highlighted VSU's efforts at quality assurance, particularly the Accrediting Agency of Chartered Colleges and Universities (AACCUP) giving VSU a Level III institutional status - the first and only one in the country today. This was apart from being named as a Center of Excellence in Agriculture and Agricultural Engineering and Center of Development in Development Communication.
VSU in 10 years: A dare to excel
During his speech, the president publicly launched VSU's Strategic Plan 2017-2027, approved by the Board of Regents on October 23.
This blueprint sets the course of VSU for the next decade. In the plan, VSU's vision now shifts from being a 'premier university in the Visayas' to become a 'globally competitive university of science, technology, and environmental conservation'.
The President believes that this new vision captures the strength of VSU and the scope of its work.
"We do not aim to excel only in the Visayas Region; rather we want to show our presence beyond our borders," said Dr. Tulin.
The plan is captured in seven Strategic Goals: World Class Education, Globally Competitive S&T, Empowered Communities, Sustainable Resource Generation, Client-Centered Governance, Versatile Spaces for Innovation, and Strong Alumni Engagement.
Campus development
In his address, Dr. Tulin also pointed out VSU's new and continuing partnerships with big universities in Asia and Europe, which provides good avenues for student-exchange programs. VSU also continues to forge enduring partnerships with stakeholders to carry out programs addressing issues of global importance such as climate change, poverty alleviation and gender and development, among others.
He gave updates on existing and planned construction of campus buildings and other infrastructure, including the newly completed fiber-optic network, and the upcoming free Wifi service due next year.
To the delight of the students, Dr. Tulin announced that starting August 2018, free tuition and miscellaneous fees will be fully implemented.
He added that VSU will be instituting a qualifying exam to ensure the best quality of students to enter the university, as the university braces for a flock of graduates from senior high school next year.
In terms of faculty development, the president reported VSU's awarding of scholarship grants to faculty and administrative staff to pursue their graduate education.
This year, VSU Graduate School had 455 enrollees, its largest number of graduate students in history. Moreover, new PhD and MS programs will be offered by the university next school year.
Dr. Tulin was also happy to reveal that VSU's budget is steadily increasing, receiving PhP 980 million for 2018.
Even with all these achievements, the President felt that challenge for the future requires yet more work to do. Dr. Tulin concluded his 2nd State of the University Address as he encouraged VSU to become the best that could be.
"We are all made to fly, to realize our full potential as human beings. Let us dare to excel and develop our full potentials for the good of our institution and our country," he said.