VFES holds Science and Math Fair
Details

Written by JFMBaldos

Published: 09 March 2012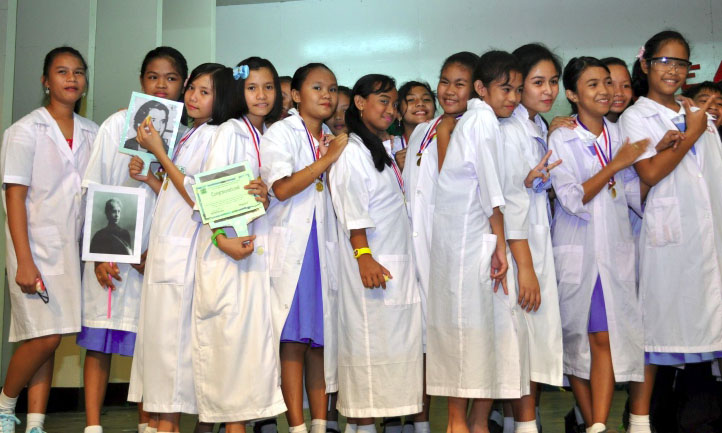 The ViSCA Foundation Elementary School (VFES) conducted the Science and Math Fair on January 13-27, 2012 in the different venues.
Focusing on the theme "Key to Survival, Restoration rather than Destruction, Science and Math the Life of Nature," the affair kicked-off with the Battle of the Brains participated in by the pupils categorized into three levels—Pre-Elementary Level (Kindergarten I – Kindergarten II), Primary Level (Grades I-III), and Intermediate Level (Grades IV-VI). The Primary and Intermediate Levels also joined in the Poster-Making Contest.
A whole-day symposium was held on January 19 to educate the intermediate pupils on Proper Personal and Dental Hygiene jointly presented by Dr. Josephine O. Zafico and Dr. Maria Belen J. Buzon of VSU Hospital, respectively. Dr. Maria Juliet C. Ceniza of the Institute of Tropical Ecology also shared her knowledge on the topic "Environmental Awareness and Concern"
The Fair was highlighted with the Science Research Defense by the Grade VI pupils before a panel of judges composed of Dr. Julie D. Tan, chairman; Dr. Beatriz C. Jadina and Dr. Milagros C. Bales, as members. The young researchers presented and successfully defended their projects by answering the questions raised by the panelists.
The Paper Works Group who studied on "Production and Quality Evaluation and Utilization of Seaweed Paper" won the Best Research Award. The Food Enthusiasts Group who investigated on the project "Evaluation of the Quality of the Malunggay-Enriched Macapuno Biscotti" garnered the Best Poster Award. Antonio Tumamak, Jr. of the Pechay Group who presented the study on "Performance of Container-Grown Pechay Using Different Potting Media" was adjudged Best Presenter.
Among the different science projects that were displayed during the occasion, the Econ Group was proclaimed as the Science Project of the Year for its project "The ABC's of Electricity."
Winners in the different research presented were given certificates and medals.
In her message as guest speaker during the Science Research Defense, Dr. Dolores L. Alcober, VSU's Dean of the College of Education, pointed out that enhancing the understanding of the use and importance of Math and Science in our daily lives is a tandem between the teachers and the pupils. "As a matter of fact, math and science subjects were integrated in VSU's BS in Elementary Education and in the Bachelor in Secondary Education because the subjects can develop students' attitude and skills for logical and critical thinking and problem solving," Dr. Alcober stressed.
The occasion was concluded with a parade around the campus among the VFES pupils and the teachers clad in different costumes reflecting the known mathematicians and scientists, symbols, instruments, technologies generated through science and math, and environmental conservation.
The Third Honors Program followed with the giving of certificate of merits to the honor pupils (either included in the Chairman's List or in the Principal's List) for the Third Grading Period. The program was spiced up with talent presentation by the VFES pupils.