e-Learning consultant orients VSU faculty and staff in online education
Details

Written by MMCano

Published: 09 February 2012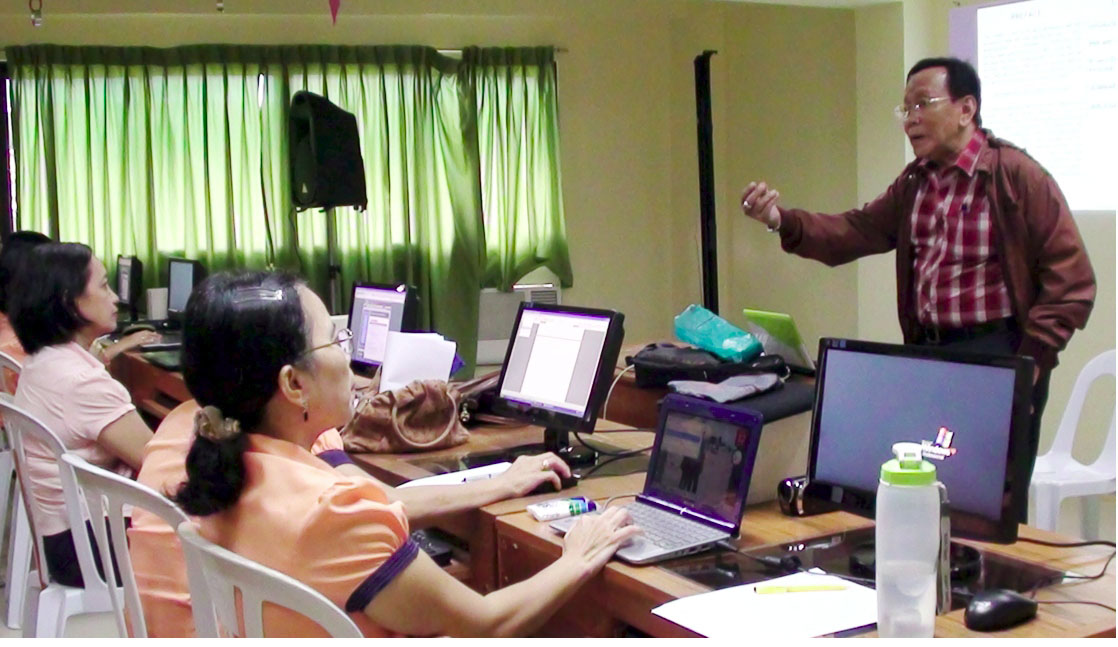 Dr. Antonio E. Refre, an e-Learning/Online Education Consultant/Developer from Quezon City, oriented the selected 80 faculty and staff of the VSU Main Campus on January 11-13, 2012 the Antonio E. Refre Virtual Learning Environment System (AERVLES) that he developed at the VSU IT Building Computer Room.
Dr. Refre said that the AERVLES is user-friendly and that resource materials can easily be converted into web-ready materials. According to him, faculty members should go online so that they will become global professors.
The AERVLES is now being used by the Philippine Women University (PWU), Philippine Normal University (PNU), and the University of Makati in their Open University Programs.
In his introductory remarks, VSU President, Dr. Jose L. Bacusmo, recalled that VSU is one of the earliest, if not the earliest school, to offer Extramural Program in the country in collaboration with the Massey University of New Zealand. He said that up to this time, the VSU Extramural Programs have Level III Accreditation given by the Accrediting Agency for Charted Colleges and Universities in the Philippines (AACCUP). However, the President noted that the extramural program is gradually dying and that there is a need for its revival.
He said that Dr. Fernando A. Bernardo, the first ViSCA President, advised him while he was then the VP for Academic Affairs, to offer online courses—both in the graduate and undergraduate levels.
"This orientation and the two-day workshop on e-Book Writing signal the revitalization of the distance learning program of VSU," Dr. Bacusmo said. The President also wants the entire faculty of the University to be trained on how to convert their resource materials into web-ready materials so that they can attend to their other responsibilities, such as research and extension work, without necessarily leaving their classes unattended.
The training is part of the implementation of VSU's plan to offer both its undergraduate and graduate courses on-line, through the Open University, starting the First Semester of School Year 2012-2013.
The workshop on e-Book Writing on January 12-13, 2012 at the Department of Computer Science and Technology was participated in by 35 faculty and staff from various academic departments of the University. They were taught on how to prepare instructional materials and examinations, and how to check examinations via e-Book.
To facilitate the hands-on activities of the concerned faculty members, each of them logged-in as a class member to the virtual classroom of Dr. Refre.
As agreed during the workshop, Dr. Refre will be posting more instructions and activities for the enrollees until April of this year. The activity was organized by the Office of the President, in coordination with the Office of the Vice President for Academic Affairs (OVPAA) of VSU.