VSU faculty bags Springer Nature award in Japanese research tilt
Details

Written by Jeanie Rose Deluza

Published: 27 September 2019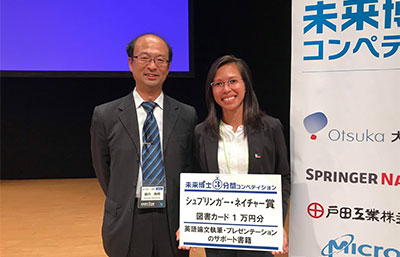 Jade Daphnee Compendio, a faculty of the Visayas State University Department of Animal Science (DAS), bagged awards in the '5th Home for Innovative Researchers and Academic Knowledge Users Three Minute Thesis (HIRAKU 3MT)' competition held at Hiroshima, Japan on September 14, 2019.
With her presentation entitled "Are there still wild chicken in the Philippines?", Compendio explained her research vision in three minutes with only a single slide.
She competed with the other postgraduate students from various fields of discipline from the universities in Hiroshima, Ehime, Tokushima, Gifu, Yamaguchi, and Hiroshima City University in Japan. The competitors presented their research in either English or Japanese and were judged based on the following criteria: vision, attractiveness, novelty, and clarity.
Among the 15 awards given, Compendio, who is now pursuing her doctoral degree at Hiroshima University in Japan, received the Audience Award (English Presentation) and the coveted Springer Nature Award.
The Springer Nature Award is an award given by a leading international research, educational and professional publisher of the same name that aims to advance discovery by publishing robust and insightful research, supporting the development of new areas of knowledge, making ideas and information accessible around the world, and leading the way on open access.
In a press release by natureasia.com, Noriaki Horiuchi a senior editor of the Nature Phonics journal at Springer Nature and one of the juries shared his thoughts about Compendio and her research.
"At the end of her speech, I realized that she was going to address humanity's grand challenges in the near future. Her speech based on her real experience was logical and her explanation was easy to follow. I totally felt empathy for the attitude of Jade who was going to address challenging research subjects. In the hope of further progress of her research, I selected her as a recipient of the Springer Nature Award," Horiuchi said.
In the same article, the DAS faculty expressed her gratitude after receiving the award.
"Joining that [HIRAKU 3MT] competition has been one of the greatest milestones in my life and receiving two awards during that event made it more priceless. I am thankful beyond words to Springer Nature as well as to the people who voted for me. These awards have strengthened my self-belief thus, making me more determined to continue my Philippine wild chicken research work with great enthusiasm," she told.
Compendio is set to finish her studies at Hiroshima University and come back to VSU in 2021. She is the first Filipina to enter the 3MT competition after she won in June during the preliminary round where she also received two awards.
The 'HIRAKU 3MT Competition', according to Yoshihisa Kawahara, Executive Vice-President of Hiroshima University and chair of the jury panel, is designed to provide PhD candidates with an opportunity to share their research visions and achievements with a non-specialist audience in a short time of 3 minutes. It also aims to improve the communication skills of PhD candidates and to make the audience fully aware of their excellence and usefulness of their research.
The event gathered almost 300 students, researchers, and the general public. High school students also participated in a poster presentation where they are given the chance to discuss their research projects.
The 3MT was developed by the University of Queensland in 2008 and is now held in over 400 institutions across six continents. The competition is focused on the theme "HIRAKU" which literally means to open-up or bloom in Japanese.