VSU 's quest for the Seal of Excellence under PRIME-HRM of CSC kicks-off; CSC AsCom Cabanag and VSU President Bacusmo sign Memorandum of Commitment
Details

Written by JFMBaldos

Published: 30 August 2013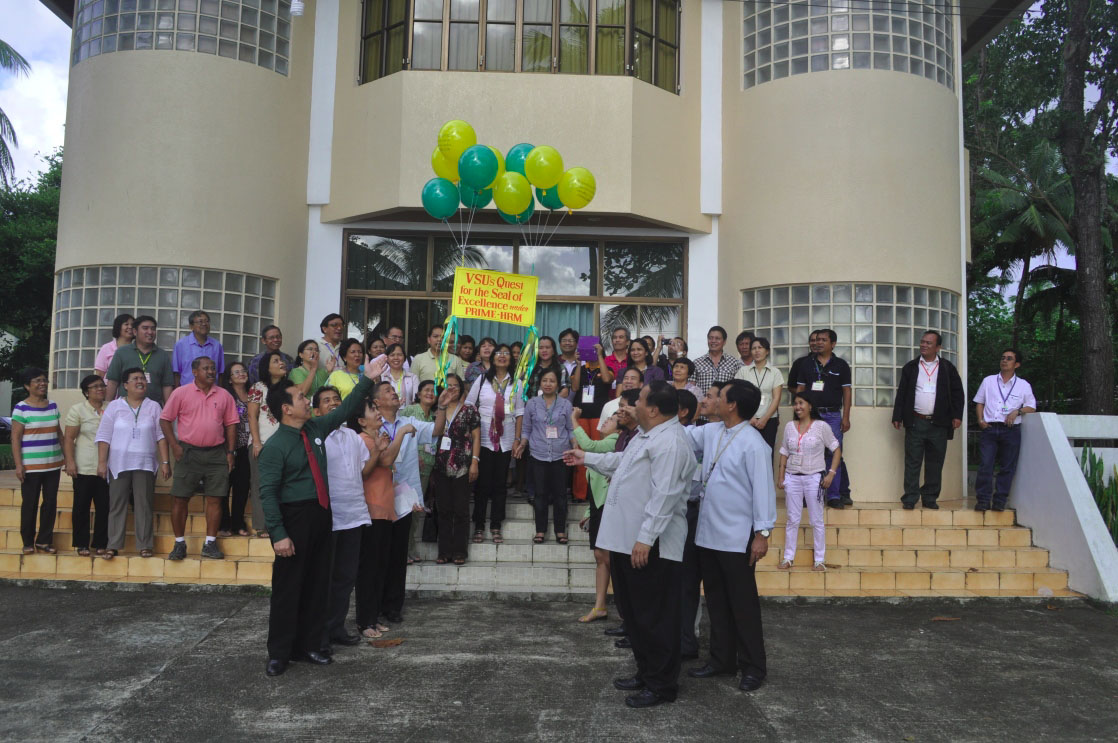 The VSU's Quest for the Seal of Excellence under the Program to Institutionalize Meritocracy and Excellence in Human Resource Management (PRIME-HRM) of the Civil Service Commission (CSC) was launched during the closing program of the "EHEM! Anti Corruption Sensitivity Workshop" on February 8, 2013 at the VSU's Center for Continuing Education.
The launching took place with the releasing of yellow and green balloons that carried the banner "VSU's Quest for the Seal of Excellence under PRIME-HRM." It was done by the President of VSU, Dr. Jose L. Bacusmo, together with the four Vice Presidents—Dr. Oscar B. Posas, Dr. Roberto C. Guarte, Dr. Othello B. Capuno, and Dr. Edgardo E. Tulin—and with Dr. Lourdes B. Cano, Director for Administration and Human Resource Development.
The occasion was also graced by the presence of Atty. David E. Cabanag, Jr., Assistant Commissioner of CSC; Mr. Rowin P. Riños, Acting Director III of CSC-8, Mr. Michael M. Dela Cruz, Director II of Biliran Field Office with Western Leyte Satellite Office; Ms. Pharida Q. Aurelia, Chief Personnel Specialist of CSC-8; and other personnel from the CSC-8.
Likewise, the Memorandum of Commitment (MOC) between the Visayas State University thru its President, Dr. Jose L. Bacusmo, and the Civil Service Commission represented by Assistant Commissioner, Atty. David E. Cabanag Jr., was signed. The four vice presidents of VSU, together with Dir. Riños, Dir. Dela Cruz, and Ms. Aurelia, served as witnesses in the MOC signing.
The MOC revalidated the Level II – Accredited Status of VSU under the PRIME-HRM that authorizes VSU to exercise in accordance with the policies on the PRIME-HRM and within the bounds of Civil Service laws and rules such as operationalization and implementation of the CSC-approved human resource mechanisms, to include the Strategic Performance Management System (SPMS) and Strategic Human Resource Plan (SHRP), not later than June 30, 2013; ensure that report on appointment issued, including electronic copy and certified true copies of each appointment issued, with supporting documents, are submitted promptly to the Commission's Western Leyte Satellite Office;
Mobilize all departments concerned during the conduct of all programs for assessment and assistance under PRIME-HRM; maintain and strengthen coordination with the CSC Regional Office and Western Leyte Satellite Office; and perform related tasks.
The CSC-8 and the Western Leyte Satellite Office, on the other hand, shall render technical assistance whenever requested; conduct comprehensive HRM assistance, review and monitor when there is a valid ground; conduct, at least once every two years, continuing assistance and review for excellent HRM which will be the basis for recommendation to Level III (Deregulated) Status or possible conferment of Center for Excellence recognition, or ultimately the Seal of Excellence in HRM recognitions; render special program for evaluation and assessment as required/requested; and continually evaluate and monitor the extent of compliance with the terms and conditions of accreditation.