VSU Prof is UPLB 2020 Distinguished Alumnus for DevCom Education
Details

Written by Isabelle Mae P. Amora

Published: 08 October 2020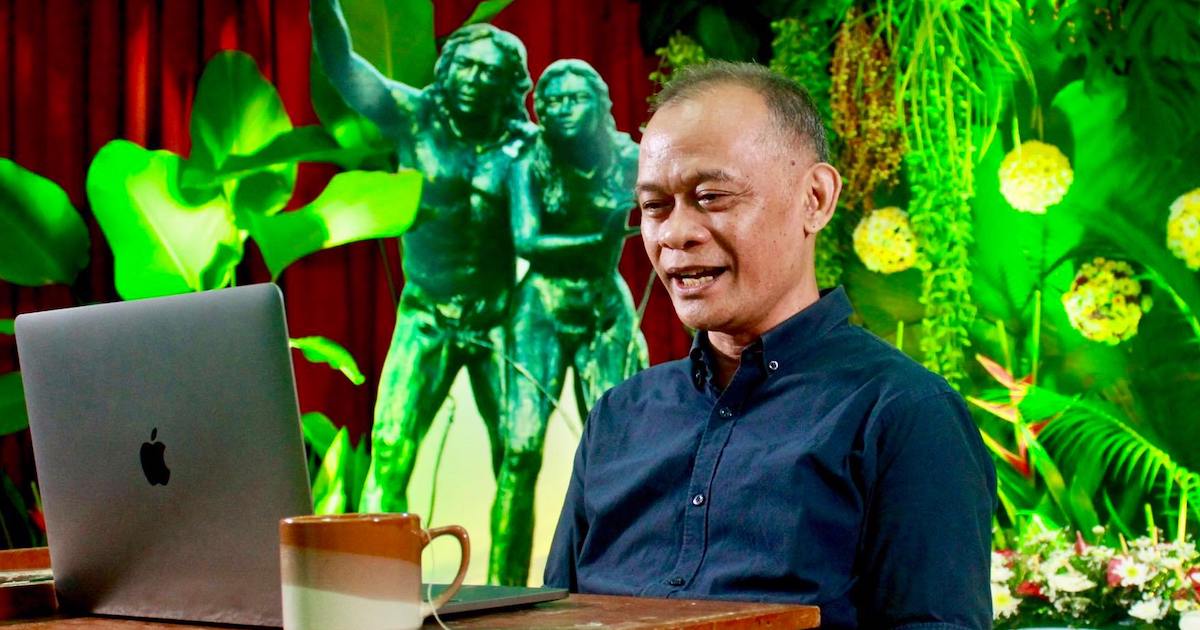 VSU Professor Rotacio S. Gravoso of the Department of Development Communication (DDC) will be accorded the 2020 Distinguished Alumnus Award by the College of Development Communication Alumni Association (CDCAA) of the University of the Philippines Los Baños, on October 10, 2020.
Dr. Gravoso will receive the award in a virtual ceremony and recognition program to be livestreamed at 2:00PM (PST) on the UPLB official Youtube page and the UPLB Office of Alumni Relations Facebook page. This event is part of the 102nd Loyalty Day, an annual homecoming and reunion celebrations of the alumni of UPLB.
Dr. Gravoso is one of the most reputable faculty researchers of the Visayas State University (VSU) dedicating more than 30 years of exemplary service to the university. He earned his bachelor's degree in Agricultural Development Education from then Visayas State College of Agriculture (ViSCA) in 1987.
He started off as research assistant, earned his Master's degree in Development Communication from UPLB in 1991, and became an instructor at DDC in 1992.
In 2003, Dr. Gravoso earned his doctoral degree from Hiroshima University, Japan. In December 2012-May 2013, he was at the School for Mass Communication Research of the Katholieke Universiteit Leuven, Belgium for a Post-Doctoral Fellowship from the Erasmus Mundus.
In his 28 years in the academe, Dr. Gravoso has brought pride to VSU by obtaining international, national, regional, and local fellowships and awards from various institutions.
Most notable are the John Dillon Memorial Fellowship for Research Management by ACIAR in 2012, Regional Professorial Chair from SEARCA in 2018-2019, and most recently, the Visiting Research Fellowship from the Centre for Southeast Asian Studies of Kyoto University in Japan.
Dr. Gravoso and his team also bagged the Presidential Lingkod Bayan Award, Group Category in 2018 which is the highest award given to exemplary public servants in the country. The team was particularly recognized for their forest restoration initiatives and for working to improve the quality of life of forest-dependent communities in the country.
He also served two terms as President of the Association of Development Communication Educators and Practitioners (ADCEP) Philippines from 2014 to 2018.
During his term as ADCEP President, the organization was able to forge linkage with the Commission on Higher Education and suggested curricular reforms to harmonize the Devcom programs in the country.
Dr. Gravoso has published several research articles in the areas of development communication, educational communication technology and learning science, and community-based action research on forestry and the environment, among others.
He shares his expertise with his students and instills in them the passion for research. He has stood as adviser to several award-winning undergraduate studies, as recognized by the Philippine Carabao Center and Phi Delta, The Honor Society of Science.
As testament to Dr. Gravoso's excellence both as a faculty member and researcher, VSU awarded him the institutionally distinguished Exemplary Research Performance Award and Exemplary Academician Award in 2014 and 2018, respectively."
Dr. Gravoso is the third faculty member in DDC to be accorded with the UPLB Distinguished Alumni Award after retired Professor Dr. Wolfreda T. Alesna in 2008 and Professor Emeritus Dr. Monina M. Escalada in 2009.
He was recently featured in the cable television program 'Dito Sa Laguna' as part of the recognition. He will also be presenting a talk on his DevCom journey in a webinar to be aired on October 9, 2020 at 2:00PM (PST) in the Youtube page of the College of Development Communication (CDC).