VSU's ViCARP wins P1M as country's top 2 research consortium in 2020
Details

Written by Ulderico B. Alviola

Published: 23 December 2020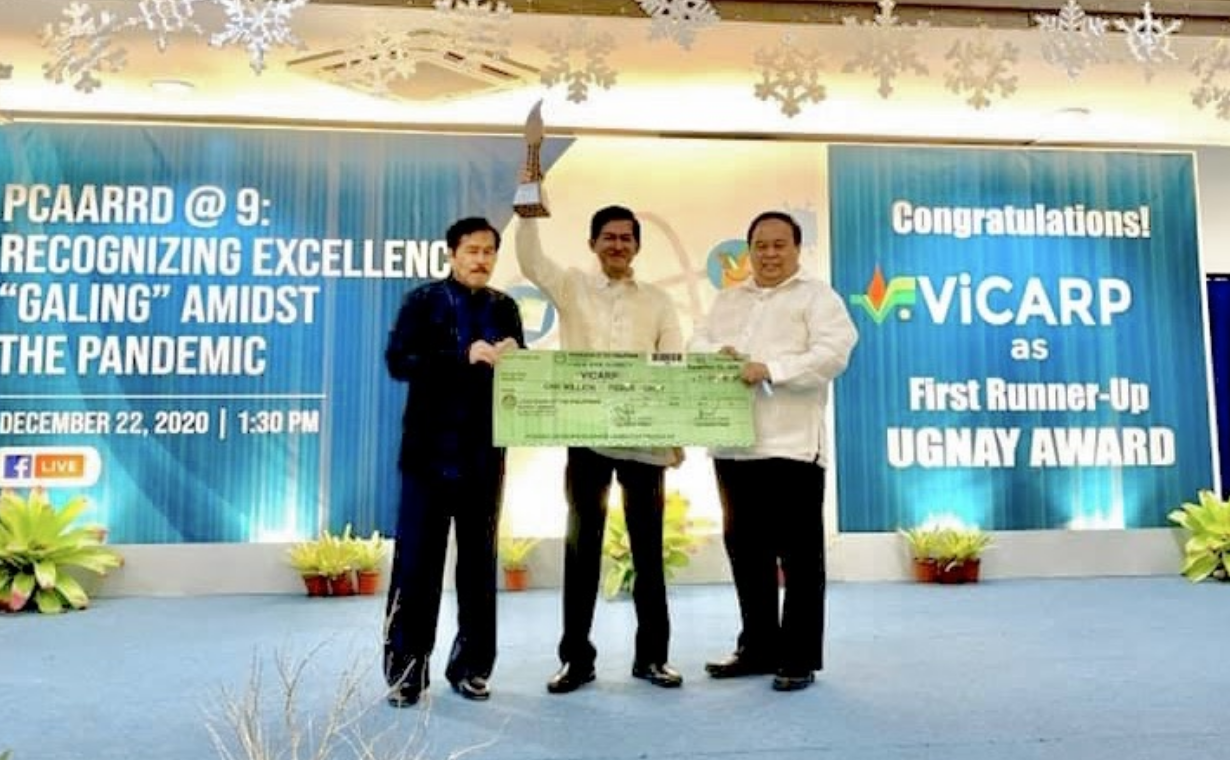 The Visayas Consortium for Agriculture, Aquatic, and Natural Resources Program, known as ViCARP was selected as the 2020 Ugnay Award 1st Runner-Up, being the country's second-best managed research consortium for years.
ViCARP, based in the Visayas State University, received the award in a virtual ceremony held yesterday, December 22, 2020.
The Ugnay Award is a national prestigious recognition conferred by the Philippine Council for Agriculture, Aquatic and Natural Resources Research and Development (PCAARRD), one of the three sectoral councils under the Philippines' Department of Science and Technology (DOST).
This award is given to the outstanding regional research and development (R&D) consortium for its efforts in addressing regional and national research and technology needs through planning, monitoring and evaluation, resource generation, technology generation, promotion, and commercialization.
"ViCARP's resource sharing mechanisms, cooperation, and partnership schemes had advanced to achieve major breakthroughs on its regional commodities/banner programs anchored on its goals, vision, and mission. Remarkable accomplishments on the implementation of S&T programs in jackfruit, coconut, root crops, carabao, bamboo, and rainforestation were not only recognized in the regions but were further expanded at the national and international levels," the award's citation reads.
For winning second place this year, VSU's ViCARP will receive a cash prize of Php 1 million and a plaque of recognition from DOST-PCAARRD.
ViCARP, now with 26 active members from various government line agencies and state universities here in Eastern Visayas, continues to be one of the most prolific research consortia in terms of R&D initiatives and accomplishments. It has research and extension projects spread across the six provinces of Region VIII.
Dr. Othello B. Capuno, VSU Vice President for Research, Extension, and Innovation (VPREI) and the Chairman of ViCARP, expressed his heartfelt thanks to the active member institutions of the consortium. He also thanked PCAARRD for the recognition.
"We have always managed to become one of the best consortia in the country because of the active participation of our 26 member agencies in our region. I personally thank all of them for always cooperating in and supporting all the initiatives that we are currently doing. I also say thank you to PCAARRD for this recognition because this inspires us to continue the work we do in developing the agriculture sector here in Eastern Visayas" Dr. Capuno shared.
For his part, former VSU President and now Research Director Dr. Jose L. Bacusmo, credited for strengthening ViCARP during his administration, also expressed his delight for the award. He also encouraged ViCARP to collaborate further with all the 26 member agencies of the consortium.
"We could have been happier if we were chosen as the top consortium in the past two years but I think that our collective achievement as an organization is way bigger than any award, for as long as we are making a significant difference in the lives of our farmers and fisherfolk. We should not slow down but rather we should even aspire for greater relevance by relating more to our partner agencies and most especially to all the people we serve," says Dr. Bacusmo.
VSU President Edgardo E. Tulin, who joined in the virtual awarding ceremony, was equally delighted for the award bestowed by DOST-PCAARRD to ViCARP. In a message, he expressed continued support for the growth and development of ViCARP in the years to come.
"My administration will continue to empower ViCARP: to make it flourish and grow as an effective catalyst of development here in our very own region. VSU's leadership in ViCARP is a testament to our ability to effectively work with various government agencies as well as serve as big brother to other state universities so that together we can bring about meaningful change in our society," Dr. Tulin said.
He also congratulated the dedicated men and women of ViCARP who continue to work extra hard to bring honor to VSU.
He further challenged them to continue the winning streak of the consortium so that more research and extension projects will be made available to the organization and its partner agencies in the years to come.
"Through ViCARPs leadership, strategic management and network, implementation of the AANR programs and projects to address the regional research and technology needs were hastened, thus, efficiently utilized resources and served more beneficiaries," the award citation concludes.
ViCARP won the grand prize of the DOST-PCAARRD Ugnay Award in 2008 and was also adjudged as 1st runner-up in 2013.