ViCARP holds basic ICT training among staff of new TechnoGabay centers
Details

Written by SMCLemos

Published: 01 December 2011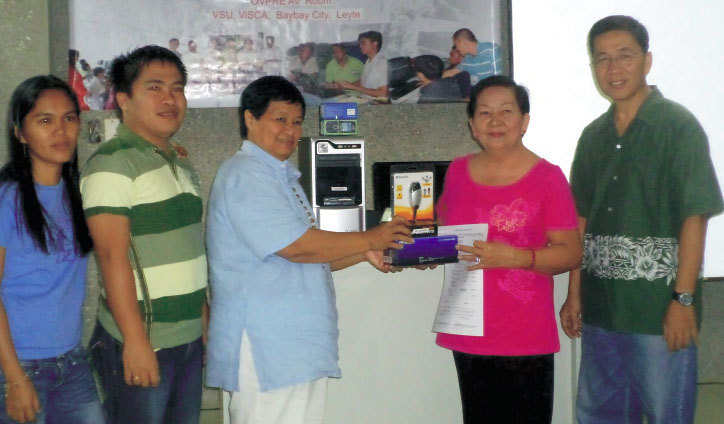 The Visayas Consortium for Agriculture and Resources Program (ViCARP) conducted on November 15-18, 2011 a training on Basic Information and Communication Technology (ICT) for Farmers' Information and Technology Services – Information System (FITS-IS) among the personnel of the newly established TechnoGabay Centers. The training was held at the Audio Visual Room of the Office of the Vice President for Research and Extension. The training aimed at inculcating knowledge on the basics in information and communication technology among the FITS-IS.
Twenty-five participants from the local government units of Alangalang, Leyte, McArthur, Kananga, Merida, Mayorga and Hindang in the Province of Leyte; and from Macrohon, and Tomas Oppus in Southern Leyte attended the training.
In his welcome remarks, Dr. Othello B. Capuno, VP for Research and Extension, emphasized that the training would be a big help to the extension workers as they promote latest technologies to the clients through the TechnoGabay Centers located in the different local government units in the region.
Engr. Sean O. Villagonzalo, one of the resource persons, explained the importance of knowing the basic features of the computer. He also shared to the participants the basic procedures in troubleshooting computers including hardware and software maintenance.
Engr. Villagonzalo also introduced a software which is equivalent to Microsoft Office—that is the Open Office. The Open Office is part of a program called the Open Source. Open Source is a program in which the source code is available to the general public for use and/or modification from its original design. The software is free of charge, has lower cost of ownership, reduces dependence on software vendors, easier to customize, has higher level of security, and has a very minimal maintenance with a zero percent Intellectual Property Rights (IPR) violation. The participants were immersed on other topics such as using USB flash drive, battery charging, using multifunction printer (printing, scanning, photocopying), basic photography, DVD burning, basic networking and the use of the internet communication tools like the Yahoo Mail.
In her closing message, Dr. Wolfreda T. Alesna, ViCARP-RCTU Coordinator, thanked the participants for their full cooperation and doing their best during the conduct of the training. Likewise, she encouraged them to apply and practice the skills they have learned from the training because it is very important for the LGUs to have easy access to their databases and for them to easily produce IEC materials translated to their local dialect to be placed in their respective TechnoGabay Centers. Dr. Alesna also advised the participants to use the facilities given by the government to the fullest to benefit their clientele.