PTFCF recognizes VSU's effort as partner to forest conservation in the country
Details

Written by JFMBaldos

Published: 08 October 2013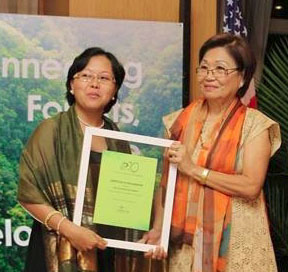 The Philippine Tropical Forest Conservation Foundation, Inc. (PTFCF) recognized its partnership with the Visayas State Univesity (VSU) as they work hand-in-hand in forestry conservation projects nationwide. The Certificate of Recognition was presented to VSU "for developing forest conservation approaches that restore forests and benefit forest-dependent communities" during the 10th Anniversary of the Tropical Forest Conservation Fund (TFCF) in the Philippines Fellowship and Recognition Night held on September 18, 2013 at the Diamond Hotel, Manila.
The Certificate was received by Dr. Renezita S. Come, Dean of the College of Forestry and Environmental Science, for and on behalf of VSU President Jose L. Bacusmo.
The occasion was graced by the United States Ambassador to the Philippines Harry K. Thomas, Jr. who delivered a keynote address; and the Department of Environment and Natural Resources (DENR) Undersecretary Demetrio Ignacio, Jr.
The PTFCF, under the chairmanship of Dr. Paciencia P. Milan, former president of VSU, was established under two bilateral "debt-for-nature swap" agreements between the governments of the Republic of the Philippines and the United States of America, authorized under the U.S. Tropical Forest Conservation Act. These agreements, signed on September 19, 2002, leveraged $41.5 million in Philippine-U.S. debt, diverting $8.25 million in peso-denominated interest payments over 14 years to a fund dedicated to forest conservation. These agreements also establishedthe PTFCF to implement the fund, working with civil society organizations to improve the status of Philippine forests.
Other key partners from various civil society organizations, government agencies, and the private sectors that were also recognized for their exemplary contributions to forest conservation in the country included: Xavier Agricultural Extension Services (XAES), Former Isabela Governor/Comelec Commissioner Grace Padaca, University of the Philippines Los Baños, Palawan NGO Network, Inc. (PNNI), Rain Forest Restoration Initiative (RFRI), Concepcion Durables, Inc., and Energy Development Corporation (EDC).