VSU's BS Chemistry graduates register 78.57 passing percentage in 2013 Chemists Licensure Exam
Details

Written by Candelario L. Calibo/DoPAC

Published: 10 October 2013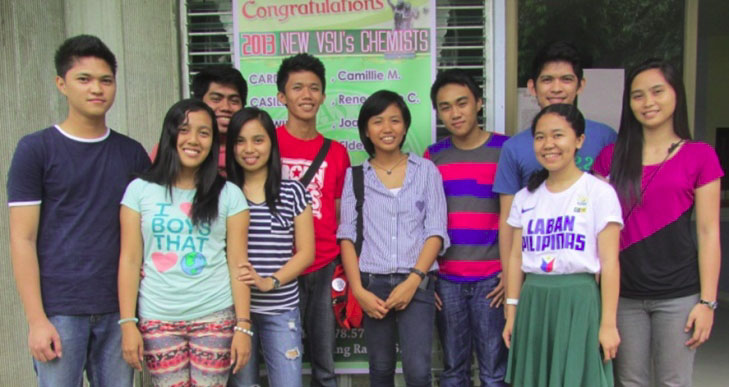 Eleven out of fourteen (78.57%) BS Chemistry graduates of the Visayas State University who took the 2013 Chemists Licensure Examination successfully hurdled the exam given by the Board of Chemistry in Manila on September 17-18. The Professional Regulations Commission (PRC) released the results of the Chemists Licensure Examination on September 20, 2013, two days after the test was conducted.
Out of 571 examinees throughout the country, only 320 passed the examination with only 56.04 national passing percentage.
The new VSU chemists are Camilie M. Cardaño, Renee Rose C. Casillano, Joana P. Datwin, Elden P. Jayag, Kent Mavric J. Macariola, John Lemuel D. Mahusay, Glenis Ann A. Narte, Naomi Leeh L. Pobadora, Ma. Jannel A. Urian, Jonathan G. Patanao, and Harry G. Valenzona.