NAST conducts Biotechnology IEC forum at VSU
Details

Written by JFMBaldos

Published: 29 September 2014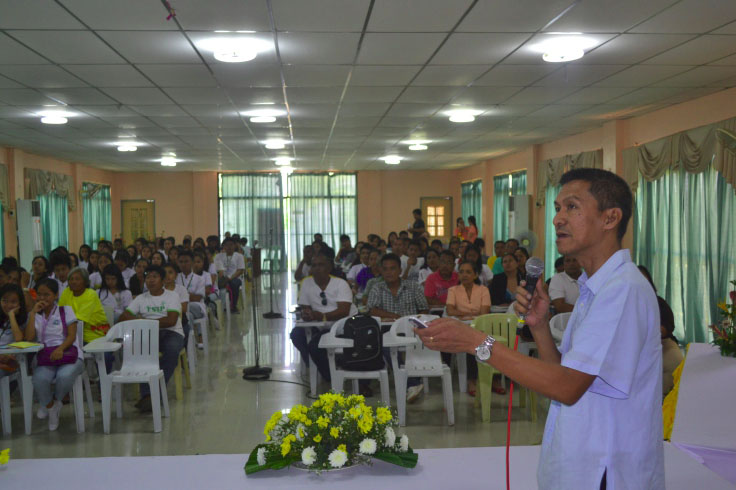 The National Academy of Science and Technology (NAST), in collaboration with the Department of Science and Technology and the Visayas State University, conducted the Biotechnology Information, Education and Communication Forum on August 13, 2014 at the VSU Center for Continuing Education.
More than a hundred participants composed of some local government officials of the City of Baybay, the neighboring barangays' LGU officials, VSU faculty, staff, and students attended the said forum.
The Forum was made possible through the project on Capability Building and Sustainable Biotechnology Information, Education and Communication for DOST and LGU Key Personnel spearheaded by the NAST, Philippines with Professor Emeritus and Academician Evelyn Mae Tecson-Mendoza of the University of the Philippines Los Baños as the Project Leader, and Mr. Dexter L.A. Bautista of NAST, Philippines as Project Manager. The project aims to create awareness of and provide science-based information on modern biotechnology, including issues and concerns and biosafety regulations.
The project beneficiaries included some selected resource persons from private and state universities and colleges, key officials and personnel of LGUs, DOST officials and personnel, and the general public.
Among the different topics discussed by the resource persons include: "Biotechnology for Everyone" by Dr. Edgardo E. Tulin, Biotechnology Focal Person for Region 8 and University Professor and at the same time Vice President for Instruction of VSU;
"Current Applications and Products of Modern Biotechnology" and "Assuring the Safety of Modern Biotechnology" by Dr. Leslie Michelle Dalmacio, Core Trainer of Biotechnoloogy IEC Project and Associate Professor of the College of Medicine of UP Manila; and
"Technological and Social Issues and Concerns" by Dr. Marcos Valdez, Jr., Biotechnology Focal Person for Region 7 and Assistant Professor of UP Visayas-Cebu Campus.
The Forum was concluded with some questions raised from the audience that were readily answered by the resource persons.