2 VSU professors top in post-training exam of AACCUP
Details

Written by JFBaldos

Published: 20 November 2014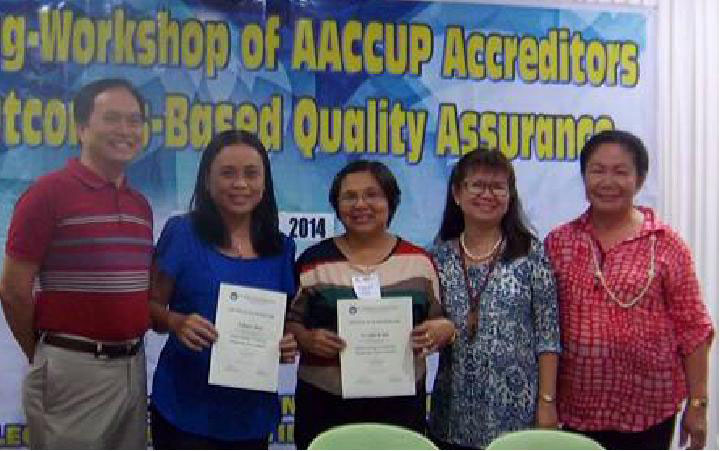 BAYBAY CITY, Leyte —Dr. Lualhati M. Noriel, Director of the Quality Assurance Center, and Dr. Beatriz S. Belonias, Dean of the Graduate School, of the Visayas State University were given recognition for topping the post-training examination of the Training-Workshop of AACCUP Accreditors on Outcomes-Based Quality Assurance.
Both of them tied in the first spot for scoring 55 points out of 60 items during the post-training examination. Each of them received a certificate of appreciation and a book from AACCUP.
Organized by the Accrediting Agency of Chartered Colleges and Universities in the Philippines (AACCUP), the training was held on October 27-29, 2014 in Central Mindanao University in Musuan, Maramag, Bukidnon participated in by 116 accreditors from Visayas and Mindanao.
Dr. Manuel T. Corpus, AACCUP Executive Director, vividly discussed the new paradigm of accreditation that the AACCUP will be implementing—the CHED-Initiated Outcomes-Based Quality Assurance System—as defined under the CHED Memo Order No. 46, which is the new framework of assessing the quality of institutions and curricular programs. For the participants to grasp the topic, Dr. Corpus also delved into the other two topics: A Typical 3-Day Accreditation Survey Visit and the Team Organization and Management.
The topic on the rating system with focus on how to rate was elaborated by Dr. Nenita I. Prado supplemented with a workshop. She discussed further the problems encountered in rating the items in the instrument.
Moreover, Dr. Mario S. Suba elucidated on the topic decision-making on the team report and how to prepare the report.
There were also some simulation activities after the workshops to enable the participants to have a mock experience on how to deal with the problems encountered in rating the items in the instrument, preparing the team report, and the exit conference.
On the other hand, Dr. Rosana Grace B. Belo-Delariarte discussed the topic on the ideal accreditor (decorum, dress code, and behavior), and the accreditation visit closing program.
The gathering was one of the series of training-workshops conducted in the different venues throughout the country from October 6 until October 29, 2014. —vsu.edu.ph