DENR-VSU inks MOA to implement a PhP3.5M project
Details

Written by JFBaldos

Published: 20 November 2014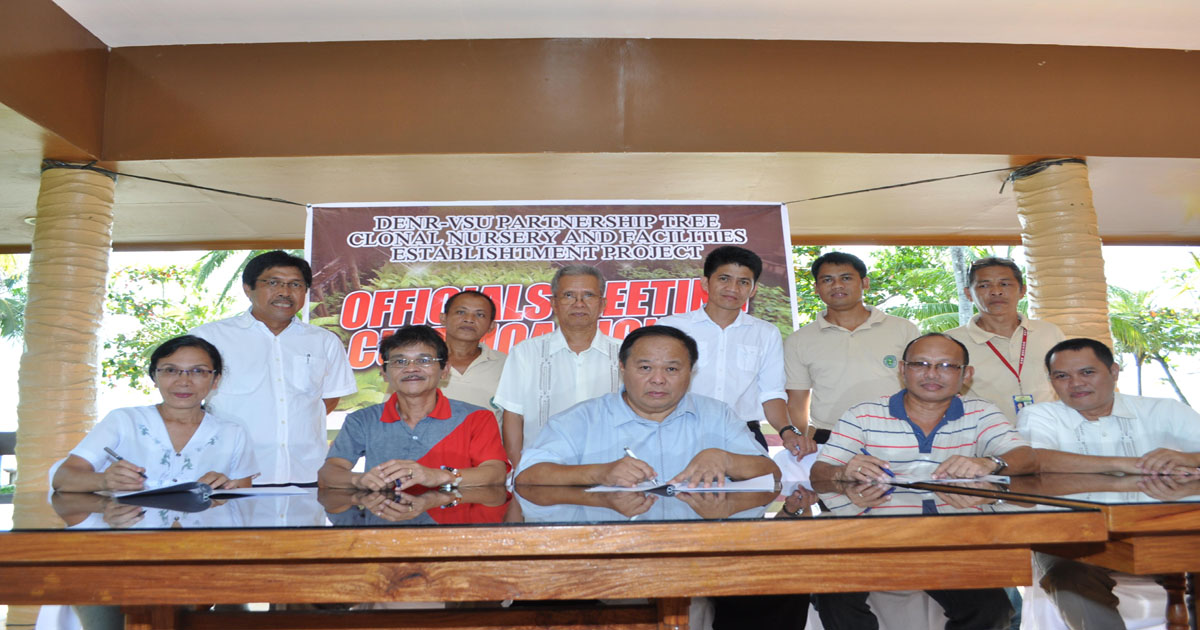 BAYBAY CITY, Leyte—The Department of Environment and Natural Resources (DENR) represented by its Secretary, Hon. Ramon J.P. Paje, and the Visayas State University (VSU) represented by its President, Dr. Jose L. Bacusmo, signed on November 10, 2014 at the VSU Guesthouse the Memorandum of Agreement (MOA) for a PhP3.5-million Tree Clonal Nursery and Facilities Establishment Project.
The MOA was signed by Dr. Bacusmo with Assoc. Prof. Rosa Ophelia D. Velarde, VSU Director for Research, and Dir. Herminigildo C. Jocson, DENR-8 RTD for Ecosystems Research and Development, who signed on behalf of DENR-8 Regional Director Leonardo R. Sibbaluca, as witnesses. Also present during the MOA signing were Forester Carlito R. Buante, DENR-8 OIC-Chief of the Environmental Resources Research and Development, and some personnel of the College of Forestry and Environmental Science (CFES) comprised of Dr. Eduardo O. Mangaoang (Forest Nursery In-Charge), Dr. Ernesto C. Bumatay, Dr. Arturo E. Pasa, Dr. Dennis P. Peque, For. Hernando H. Mondal, Mr. Reynaldo N. Gloria, and Mr. Jaime B. Berondo.
The MOA signing between VSU and DENR as partners in the Tree Clonal Nursery and Facilities Establishment Project was in response to the pronouncement made by His Excellency President Benigno Simeon C. Aquino III, through Executive Order No. 26 on February 24, 2011, declaring the implementation of a National Greening Program (NGP) as a government priority for poverty reduction, food security, biodiversity conservation, and climate change mitigation and adaptation.
Both parties recognize the importance of collaboration and partnership to achieve the NGP objectives and agreed to work together for the production of quality planting materials consistent with the objectives and requirements of their respective mandates and programs.
The DENR, as the lead agency in the implementation of the NGP, shall provide financial support to VSU in the amount of Three Million and Five Hundred Thousand Pesos (PhP3.5M) for the construction of clonal nurseries and facilities, program on manpower development and related activities pertaining to clonal propagation technology. Moreover, it shall also provide assistance in seed sourcing, collection, processing and storage as well as establishment of clonal nurseries and facilities; provide technical guidance in the selection or profiling of species to be planted, species matching for planting sites, propagation of selected tree species, and updates on reforestation techniques and methodologies based on existing DENR research outputs, experiences and policies; and mobilize its bureaus, attached agencies and regional office concerned to provide support to VSU to ensure success in the implementation of the project.
VSU, on the other hand, shall manage the funds for the establishment of clonal facilities/construction of clonal nursery complex to include ramet/hedge garden, seed storage, and seed banking; propose areas or sites needed for the establishment of clonal facilities; oversee the maintenance and operation of clonal nursery and related facilities; be responsible for the production of 60,000 quality seedlings of premium and indigenous species which shall be made available and ready for distribution to the identified and selected NGP sites provided by the DENR Regional Office concerned; provide access of identified sites to representatives of the DENR such as experimental/laboratory areas, Seed Production Areas (SPAs), natural stands, plantation forests, etc.; and provide the DENR an accounting report to the use and disbursement of the fund.
Both parties also agreed that they shall provide other resources needed for the establishment and operation of clonal nursery and facilities, and conduct of activities regarding the propagation of quality planting materials; jointly monitor and evaluate the progress and implementation of this undertaking; and share information on best practices and research findings to further improve the quality of planting materials.—vsu.edu.ph