VSU alumna is SLSU new prexy
Details

Written by Jesus Freddy M. Baldos

Published: 04 February 2015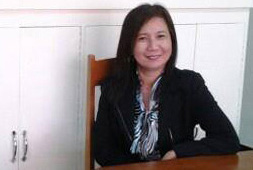 Dr. Prose Ivy Guasa-Yepes, 1990 Cum Laude graduate of the Bachelor of Science in Agriculture major in Plant Protection of the then Visayas State College of Agriculture, now VSU, was appointed new president of the Southern Leyte State University (SLSU) effective December 19, 2014 without prejudice of being reappointed for another term depending on her performance. She took the leadership of SLSU vice Dr. Gloria M. Reyes who successfully completed her term of office as president of the said institution.
Dr. Yepes earned her Master of Arts in Education major in Science Education and Doctor in Education major in Science Education from Cebu Normal University in Cebu City.
Prior to her appointment as president, Dr. Yepes served as Vice President for Research Development and Extension of SLSU (2013-2014). She rose from the rank starting as Instructor I of the then Tomas Oppus Normal College (TONC) in San Isidro, Southern Leyte. During the time when TONC was merged with other higher education institutions in Southern Leyte and named as the Southern Leyte State University (SLSU), in which the main campus is located in Sogod, Southern Leyte, she was designated as department head of the Natural Science Department (1998-2005), dean of the Undergraduate Studies (2005-2006), and then as campus administrator (2006-2013) of SLSU-Tomas Oppus Campus.
In a phone interview with Dr. Yepes, she recalled her vision statement of making SLSU as one of the leading universities in the country. JFMBaldos