VSU has new president
Details

Written by Visayas State University

Published: 23 December 2015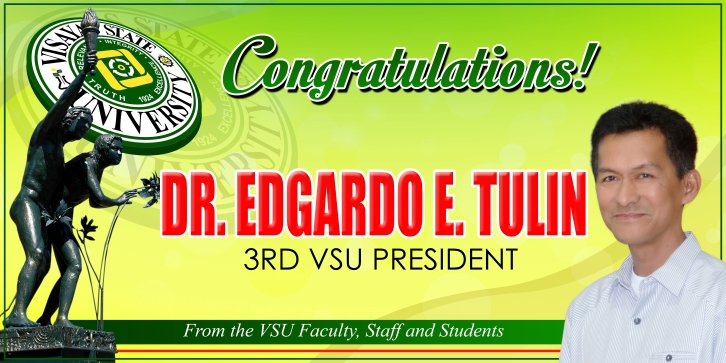 After the Search Committee for VSU Presidency led by Dr. William D. Dar, former Secretary of the Department of Agriculture, endorsed the three applicants who went through the rigorous processes and successfully complied with all the requirements for the selection of the next president of the Visayas State University (VSU), the VSU Board of Regents in its 71st Meeting (Special) on October 24, 2015 at the Commission on Higher Education (CHED) in Quezon City by virtue of Resolution No. 86, series 2015, through the majority votes among the members of the BOR, issued the appointment of Dr. Edgardo Escuadra Tulin as VSU President commencing on October 30, 2015 and expiring on October 29, 2019 vice Dr. Jose L. Bacusmo whose term as VSU President shall end on October 29, 2015 after serving the University for two consecutive terms (one term is equivalent to four years of service) .
The VSU BOR is composed of Hon. Patricia B. Licuanan, CHED Chairperson and Chairman-VSU BOR; Hon. Jose L. Bacusmo, VSU President and Vice Chairman; Hon. Pia S. Cayetano, Chairman of the Senate Committee on Education, Arts and Culture; Hon. Roman T. Romulo, Chairman of the House Committee on Higher and Technical Education; Hon. Bonifacio G. Uy, Regional Executive Director of NEDA 8; Hon. Leo P. Cañeda, Regional Executive Director of DA-RFO 8; Hon. Deogracias E. Pernites, President of VSU Alumni Association; Hon. Luz O. Moreno, President of VSU Faculty Association; Hon. Dexter P. Relevo, President of the University Supreme Student Council of VSU System; Hon. Roy Bernard C. Fiel, Private Sector Representative; and Hon. Joel R. Caminade, Private Sector Representative.
On the other hand, the Search Committee for VSU Presidency is composed of Dr. William D. Dar, as chairman; with Dr. Maura Consolacion D. Cristobal, CHED 8 Director; Dr. Dominador O. Aguirre, Jr., PASUC 8 President; Dr. Candelario L. Calibo, Academic Community Representative; and Dr. Edmundo F. Gariando, Private Sector Representative, as members.
As the new VSU President, Dr. Tulin shall have all the powers, rights, responsibilities, and privileges attached to the position.
It can be recalled that all the applicants—Dr. E. E. Tulin, Dr. Roberto C. Guarte, and Dr. Othello B. Capuno—were asked to present their vision, mission, and development thrusts for the University before the Faculty Association, Alumni Association, Administrative Personnel Association, and Supreme Student Council during the Public Forum on October 16, 2015 at the VSU Convention Hall. The candidates wittily responded to the questions raised by the different organizations. Jesus Freddy M. Baldos