Bee-keeping a profitable venture for tree growers—VSU president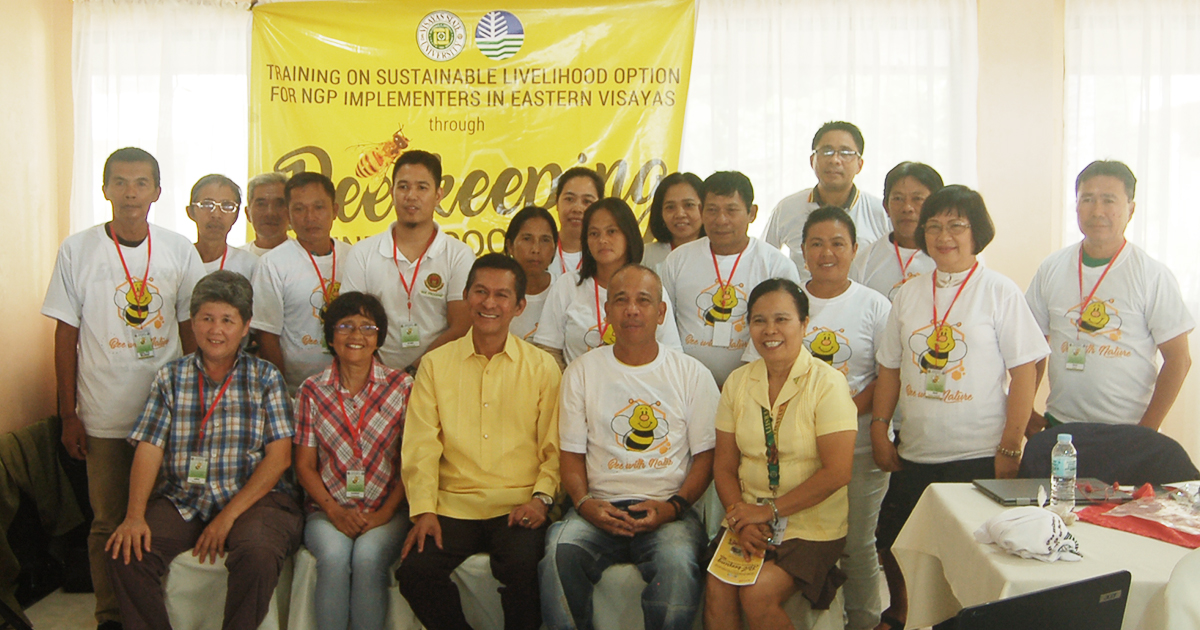 VSU President Dr. Edgardo E. Tulin encouraged beneficiaries of the National Greening Program to engage in the bee-keeping industry as an alternate source of income for growing trees.
"Bee-keeping is a good source of income because it can produce honey and propolis," said Dr. Tulin during the Training on Bee-Keeping under Coconuts, July 27-28.
The training is part of a series of other livelihood programs implemented in partnership between VSU and the Department of Environment and Natural Resources (DENR). The program, Integrated livelihood project to support beneficiaries of the enhanced National Greening Program (NGP), aims to train NGP beneficiaries in gainful technologies that can provide extra income while they wait to harvest the trees they have planted.
DENR Assistant Regional Director for Technical Services Carlito Tuballa said that often, NGP beneficiaries cut the trees ahead of time owing to the extreme need for income. Thus, alternative sources of income such as from bee-keeping technologies provide a huge help for this challenge.
The training is led by Dr. Maria Juliet Ceniza, Director of the National Coconut Research Center-Visayas housed at VSU, and VSU Entomologist Prof. Reny Gerona in partnership with the University of the Philippines Los Banos Bee Program.
Honey is a source of food and medicine, as well as in-demand products such as cider or vinegar from honey, and mead or honey wine, said Dr. Cleofas Cervancia, President of the World Federation of Bee-keepers.
Propolis, also known as bee glue, is another in-demand product besides honey. In the Philippines, a 40-ml bottle of propolis-based products can cost around PHP600.00.
A study by Stefano Castaldo and Francesko Capasso published at the Elsevier journal backed up claims of health benefits from propolis.
Propolis has shown to lower blood pressure and high cholesterol levels, the study said.
Participants to the training are NGP beneficiaries in provinces in Eastern Visayas including Biliran, Leyte, Southern Leyte, and the Samar Islands.