[FULL LIST] 2018 VSU College Admission Test Qualifiers - Branch Campuses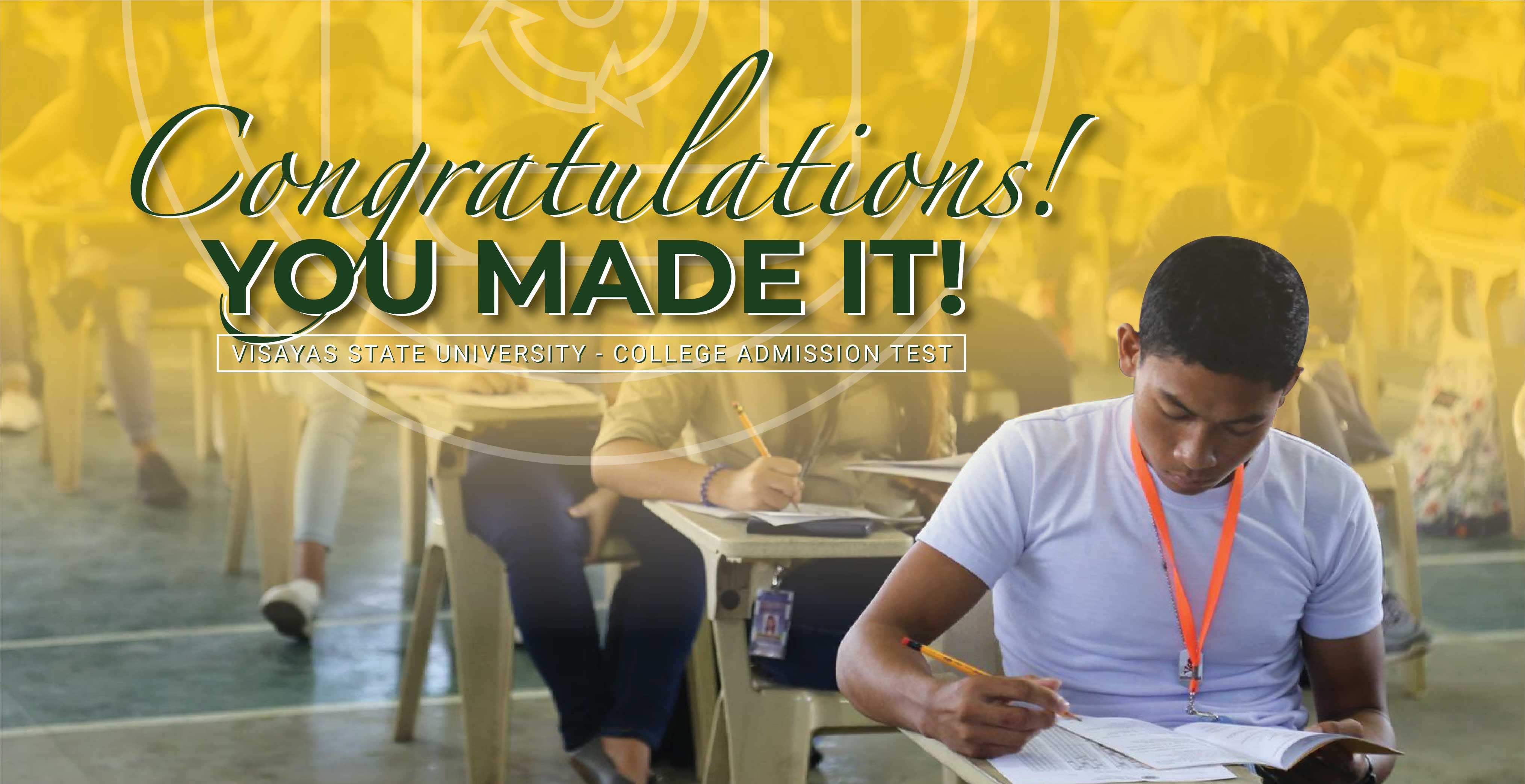 Listed below are the qualifiers of the VSU College Admission Test from the satellite campuses, arranged according to their degree programs.
All qualifiers of VSU-CAT are eligible for free matriculation and other school fees following Republic Act (RA) 10687 or the Unified Student Financial Assistance System for Tertiary Education (UNIFAST).
VSU Alangalang Campus
VSU Isabel Campus
VSU Tolosa Campus
VSU Villaba Campus
--
VSU Alangalang Campus
Bachelor of Science in Agriculture
ABALLA, MELLODY G.

ABENOJAR, MABELL S.

ABRASALDO, IVYGAIL G.

ALASTRA, ALDRIN D.

ALASTRA, RINA G.

ALBAO, ANGIELOU B.

BABULA, ANUEL C.

BANADA, MELANIE A

BARGULA, ANGELICA

BARTOLOME, RONALYN A.

BESCANTE, FATIMA A.

BLONES, JOHN PATRICK S

BONDOS, AIMEE C.

BONTOC, CATRINA G.

BRAZIL, MARK R.

BREGANIA, ALEJANDRO S.

BROCAL, MARK TYRONE R.

CAONES, MARICEL V

CUACHIN, IAN B.

DAGA, RHINA MAE M.

ENGCOY, MELANIE N.

ESPELITA, LIEZEL JOY

FAUSTINO, RONALYN C.

FRANCISCO, IVIES JAY A.

GARRIDO, NELSEN B.

HOMILDA, ABEGAIL B

HORCA, RENELYN A.

IBANEZ, RONA MAE C

LABASTIDA, MARK ANTHONY C.

LACABE, FLOREZA P.

LIANZA, MARLYN E.

LUPIT, JESUS MATHEW R.

MABINI, SHERRY MAE C.

MARAYA, DENZEL RHECKS V.

MORANTE, MARY ANN S.

NICANOR, FRANESSA S.

PALCON, ROMMEL A.

PALE, MICHAEL CARRIE G.

PASTILLERO, VANGIE T.

PERMEJO, JULLIE ANN Z.

PIÑAS, RALPH CHRISTIAN C.

PORE, JO LEANDRA R.

QUINTANA, ANGELINE C.

RABIA, MARY JEAN C.

REMOLIN, EDMAR T.

RENDORA, PAMELA C.

REYES, NADELYN C.

RONDA, MELVIC S.

SABANAL, JENNELYN S.

SALGADO, ANGIENETH R.

SILVA, GERALYN MAE

TADO, RENGIE R.

UBAN, POCHOLO CARMELO D.

UNABIA, JESSICA B.
BS in Environmental Management
ABALLA, JESSA A.

ABOLENCIA, MICHAEL ANGELO

AFABLE, MARLYN

AZORES, JESSA MAE O.

BALTONADO, ALVIN M.

BATICA, RONALD C.

BRIER, PRINCESS C.

BULANTE, JUDELYN C.

CABALONA, SHIELA MAE M.

CAMILLER, CHESTER BEL S.

CARATAO, ALDRIN F

CASPE, SEDRIC R

DURAN, GABRIEL A.

GALLANO, LEADEL P.

GUILLERA, MA. CHABELITA C.

IMUS, IRICA M.

LAGUNSAD, ARNEL C.

LAURENTE, JULINA O.

LETRAN, DENVER FRANCIS R.

LLURAG, RUCHELLE A.

LUNTAGA, RENZO M.

MOLDES, IVAN FRANCIS D.

PALADIN, EVANGELINE O.

PALCON, RONALIZA P.

PICO, ROSEMARIE S.

PONTILLAS, NESTOR JR. C.

REAZON, GLYDEL

ROMERO, RECEL

ROTA, SHAIRA MAE E.

ROYO, JOHN REY O.

SABALZA, IMIE ROSE

SADIA, AMALIA

TANTE, JAKE A

VERGARA, MAY VENAZIR C.
Bachelor in Elementary Education
ABALLA, REMILYN R

ACEBEDO, KIMBERLY

ACEBO, ARCHIE M.

ADRALES, ANJO A.

AGAB, MARIBEL C.

AGAO, SHYNA MAY

AGOSTO, JOANA R.

AGRAMON, ISABEL T.

AGUILAR, ABEGAIL

ALARBA, LEALYN D.

ALBARIDO, VINCE JUSTINE S.

ALDAS, MYRALEEN C

ALDAYA, ERIKA B.

ALIMANGOHAN, CHIN-CHIN A.

ALIPAO, PERL JOY P.

ANTONIO, MAXINE ANTOINETTE A.

APURILLO, RHEA ROSE S.

ARGUILLES, ANGIENETTE M.

ARPON, CHRISTINE JOY S.

ARTOZA, MARIA FE L.

ARTOZA, PRECIOUS VERA S.

ASOY, KATE LOUISE M.

ASPA, HONEYLENE M.

BABIANO, JOELYCEL L.

BACALE, JECEL M

BACANE, KRISTINE S.

BACHO, JESALINE D.

BACHO, RHEALYN B.

BACIERRA, JELLE ROSE L.

BALAIS, KATE P

BALDESCO, ALYSSA MAE D.

BALDESCO, JAIME FAYE

BALIDA, JESSABEL J.

BALURAN, CHRISJUN ARA B.

BANTILAN, MICHAEL J

BANTILAN, MICHAEL JADER

BARGOLA, APPLE G.

BARGOLA, FLORIZA A.

BARGOLA, RUBY ANN R.

BARGULA, GRACE D.

BARRANTES, RAYAH CLEOFAZE I.

BATUCAN, ANA ROSE S.

BELIRAN, ERICA MAY

BIÑAS, ERWIN C.

BOLIVAR, GRETCHEN Q.

BORER, JR

BORER, MICA ELA A.

BRAZIL, IVE JEAN D.

BRAZIL, REYNALYN R.

BRUN, RUZIEL D

BUDAC, RHEA C.

BURANDAY, DONNA B.

CABANGISAN, ROSELLE C.

CABANGISAN, RUFFA MAE A.

CAJUDO, ANNA MYLENE B.

CALDOSA, FRENCH RIGO L.

CAMPUS, MARICRIS M.

CANONA, RIZA MAE R.

CAPATE, JESSA MAE V.

CAPLES, MARVIE ANGELI T.

CARBA, HAZEL M.

CARMINADA, CHRISTINE R.

CASTILLAJA, LUCIELLE

CATINDOY, NELSON E

CATINDOY, ROSE LYN C.

CAUBALEJO, JERAHMEE

CORDERO, JULLIANA JAMES O.

CORPIN, RYAN M.

CORSANES, ANGELICA M.

COTEJAR, KRISTEL JANE MARIE

CUSTODIO, MARIA SHANE O.

DADES , CARLO B.

DADOR, JOAN R.

DADOR, VANESSA

DAPURAN, STEPHEN JOY V.

DAROLE, SHIELA MAE A.

DE VEYRA, NIKKI R.

DEGAMHON, ANGELICA A.

DIONALDO, PRINCESS T.

ELIAS, MARIA GIA L.

ESPELETA, IAN MARK

ESPINOSA, JOYCE L

EUSORES, KARREN Z.

FLORINOSOS, REMALYN L.

GALLANO, ANESA G.

GALLANO, RONNEL A.

GALLANO, RUTCHELL M.

GALVEZ, RUEL C.

GARING, JAKE G.

GARRIDO, CEASAR JAY

GARRIDO, MARY JEAN C.

GARRIDO, VANESSA A.

GARROTE, PATRICK C.

GATELA, BELLA MAE T.

GATELA, CRISTINA MARIE M.

GATELA, REZALYN P.

GATELA , JOVEN G.

GATELA , MARY JOY

GINAY, MICA R.

GOLES, NOREEN MAE M.

GOLIN, ARNIE M.

GONZAGA, JESSA MAE A.

GRANA, JOAN G.

HEMBRA, JAZZ

HEMBRA, MARK JOSEPH

HORE, SHYRIBELLE ANNE B.

IBAÑEZ, JOANNALETTE S.

IDLOY, MARY JOY H.

IDLOY, RIMARK B.

INOCANDO, ROCHELLE D

INTAN, JULIE ANN C.

IROY, JEAN Q.

JAINGUE, JESSEL

JAINGUE, JOYCE

JAMORA, CLAIRE C.

JOMADIAO, HAIDE F.

JOMADIAO, JONNA D.

JORDIAS, JOCEL ANN MAE D.

JORDIAS, MARI GWEN G.

JUAN, KAREN P.

JUMADIAO, RUBY MAE C

LABARRETE, KIM M.

LABESIG, CARLA REJOICE B.

LABIAN, LENEI V.

LACABE, ANGELICA

LACOSTA, ERNALYN P.

LAGADAY, KELLY MARIE R.

LAGADO, JOYDELIZ S.

LAMSIN, GABRIEL D.

LAURON, ANNA FATIMA F.

LEDESMA, BEVERLY B.

LETRAN, JAZEL C.

LIZARANDO, MARIALYN C.

LLAGAS, JESUSA C.

MACAYAN, ARCHEE C.

MALINAO, MARINA MAE O.

MANINGO, ROSALINA M.

MANSUETO, JESSICA Q.

MARAÑON, AARON KING D.

MARAÑON, ANGELICA GRACE D.

MARAYA, EDUARDO JR. P.

MARTIJA, ANGELICA JOY B.

MATELA, LORLYN C.

MATOZA, SHERELYN R.

MENDOZA, ANNIE LYN H.

MENDOZA, CHRISTIAN R.

MESIAS, ELLA JAY C.

METRAN, HARVEY A.

MIRALLES, JESSEL B.

MIRANDA, JUNNEL L.

MIRANDA, MICHELLE T.

MISAGAL, ABEGAIL T.

MOLO, RIZZA R.

MONDENA, ROSELYN G.

MONTEL, CRIZA B.

MORFE, JHASMIN A.

MULLET, CARLA MARIE M.

NARRIDO, JOLINA S.

NATIVIDAD, DAISY S.

NUEVA, JOAN D

OBANIL, HILDA C.

OLIVER, EDZEL JADE J.

OMEGA, DIONESIA S.

OMONES, ANGELA V.

OSTRIA, JAY Q.

PACALA, MELANIE R.

PAGATPAT, JESSA E.

PALCON, LORIE JOY P.

PALLOMINA, JONEL C.

PALOMERAS, SHERMAINE P.

PAMINTUAN, GENE ROSE P.

PASQUIN, JOLYNIZA N.

PASTIDIO, MELVA G.

PEDRERA, MARIANE A.

PERIDA, MELVE B.

PERMEJO, JOYCIE ANN Z.

PERMITO, CHRISTINE A.

PEROTE, MARISSA D.

PONCE, MADELYN B.

PUNONG, JUDITHA B.

PUSA, MA. HAZIL V.

QUILAQUIL, MARY GRACE R.

RAGANIT, MARY ANN E.

RAMIREZ, JESSELLE L.

RANGA, GENIE C.

REAMILLO, CHRISTINE MARIE C.

REDUCCION, JERICHO S.

REGALA, AARON R.

REGALA, DONNA B.

REPOSO, HONEY ROSE J.

ROBITAS, ANNA MARIE B.

SABALZA, JASMIN A.

SABAR, MARJORIE V.

SABELA, CATHY C.

SABULAO, MARIEL C

SADINO, JESSA P.

SANILA, REANA P

SARDIDO, MARGIE E.

SUMBISI, JESSA MAE

SUPERABLE, DIVINE JADE P.

SUPERABLE, MYLENE R.

SUSAYA, CHRISTINE M.

SUSAYA, JULIE ANN M.

TABORADA, FRANCISCO N.

TACUYO, MARIFEL C

TAÑADA, SARAH JANE C.

TAÑOLA, RONIE P.

TANPINGCO, NOREEN KAYE L.

TANTE, NICOLE A.

TEJONES, NEREDITH OWEN G.

TERCEÑO, JULIUS N.

TERCEÑO, KRISHA MAE N.

TOLIBAO, JEANYMAY E

TORREFIEL, ROSIE E.

TULOD, ANGEL MAE B.

TULOD, JOLINA MARIE T.

TUMANGAN, GINA R.

VALERIANO, EDMAR S.

VALERIANO, JHONNEL S.

VALERIANO, MARIANNE D.

VARONA, LOBEYN C.

VELARDE, NOVERLYN C.

VERGARA, MADELYN C.

VERO, GIELYDALE MARIE L.

VICUÑA, ANNA LORRAINE E.

VILLALINO, DESIREE C.

VILLANUEVA, ARON G.

VILLAROSA, RUSHIEL S.
Bachelor in Secondary Education
ABELLA, ANGELIKA MAY L.

ACUBA, ERICA G.

ACUIN, ANTONIO III T.

ADLAWAN, REYMAR G.

AGRES, GLENN J.

ALAO, ANGEL G.

ALBON, ARLYN C.

ALLUNAM, RACHELLE P.

ALMARINES, GIANNE KARL

ALTICEN, PAMELA JEAN C.

ALVERO, JOLINA B

ANTONI, JOCELYN L.

ARDIVILLA, CHABELITA B.

ARGUILLES, ANGELICA S.

ARTOZA, BERNADETTE T.

BACANI, IVY T.

BADILLA, MARICRIS C.

BALDOS, MARK P.

BRUN, JONATHAN M.

BUSTILLO, SHALUM JHANE C

BUSTOS, JONEL T.

CABALTERA, JEROME J.

CABANGISAN, CHRISTINE MAE M.

CANDARE, CATHRINE L.

CASILA, LORELYN T.

CASTILLO, ALESA JOY E.

COLLERA, JUBELLE C.

CUBA, JOHN ALMER D.

DACUTANAN, JENELYN C.

DIAZ, JERWIN G.

DINOLA, DAISYRE

DINOLA, VENERANDO JR. E.

DIOLA, JENNIFER M.

FERRANCO, ROWENA L.

GARRIDO, LALAINE C.

GARRIDO, MAYVEN CLAIRE L.

GAYAS, SHIELA MAE

GEREZ, MARICAR V.

GLORE, CHEYENNE R.

HORCA, ARA RAE T.

HORCA, ROXANNE T.

JABONERO, JULIE ANNE A.

KATANGKATANG, JANINE T.

LARINO, CLARRISE FAYE G.

LAUG-LAUG, MARIEMEL B.

LESIGUES, CHARMAINE ANNE Q.

LOCSIN, JESSA MAE G.

LORICA, JERENNE MAE

LORICA, LILIAN V.

MABUTE, MESALEY B.

MACAYAN, LORIEJEAN

MATELA, ANGELIE MAY A.

MATELA, ANGELINE

MIRALLES, JOVI ANN Q.

MIRALLES, VICTOR A.

MIRANTE, ROMEO JR. B.

MOLDES, CRISTY

MONTEHERMOSO, JOLINA S.

MORANTE, REYNALDO JR. C.

MORBOS, KYLA ROSE B.

OMAMBAC, HOLLY IKA L.

PAGASPAS, RICA JOY V.

PANIS, ARROL L.

PEDRERA, MELCHOR B.

PEDRIQUE, JAY BOY C.

PONTILLAS, JINKY

PORE, JOMAR L.

PORE, PROMENCIO G.

QUINTANA, BERNALYN D.

RAQUEL, CHONA

ROTA, ELAMIE E.

RUIZ, LESTER H.

SALAÑO, JERALDINE C.

SANITA, ARIANA

SECORATA, DOMINICA ROSE C.

TAÑEGA, DANIEL P.

TEJONES, CRISAMAR C.

TERCEÑO, GERALENE M.

TINGZON, HERLINE JOY L.

TOGONON, KERBY V.

TURNO, ALONA M.

VALERIANO, AIDELL L.

VERGARA, IVY D.

VICTORIA, CAMILLE O.

VIRSOZA, NALYN
The following examinees can enroll on "Conditional Status", please see the Dean of VSU-Alangalang prior to enrollment.
ABAL , KESSELYN P.

ABALLA, LEMUEL G

ADARNE, GEMMAR JEAN C.

AGRAMON, EDWARD A.

AGRES, MARIA JOLINA M.

ALARCON, JONALYN

ALBARIDO, JESEL

ALBON, CESAR C.

ALDAYA, KIM ALFIE S.

ALGAS, MYLENE M.

ALTAREJOS, RINALYN A.

ALVERO, ELLA MAE P.

ALVERO, RAIZA B.

ARPON, JARREL B.

ARPON, JOVEN P.

ARROJO, ARJAY S.

AUDITOR, FE P.

AYO, MA. JENIA T

BACAL, RENALYN C.

BADILLA, JASON A.

BALAIS, MARY ANN M.

BALANO, JEAN ROSE B.

BALONA, ROSE ANN A

BARGOLA, JOY-ANNE MARIE A.

BATUCAN, ANTONIO B.

BORROMEO, EDEN A.

BRAGAS, MARIAN BETH LIEZEL N

CABALTERA, RUFANEL S.

CABELIN, CYRIL MAE P.

CABELIN, JOE KENNETH M.

CALABIA, ANA MAE D.

CAMILLER, LANIE S.

CANCELLER, RHODA S.

CAONES, ERIKA V

CAONES, JESSA ROSE M

CAONES, RYAN PAUL B.

CAPONES, NERISSA B

CAYREL, DARREN ROSE T.

CHUA, MA. LOURDES C.

CINCO, KRISTINE C

CONOS, JERWIN G.

CUÑA, KIMBERLY M

CUNANAN, JINNY-NOI Q.

DADOR, JUDE A.

DOGUE, NELSON T.

DUYAG, JUSTINE REY L.

EMBERSO, JUDY ANN S.

ESPINA, MARISSA B

ESTRADA, DONNA MAE A.

FABI, RUEL T.

FAMOR, NEIL BEN C.

FLORENDO, JUDY ANN

FLORES, ANGEL ROSE O.

FLORES, MA.WENNYLYN C

GARRAS, ARGELINE T.

GATELA , JOSHUA C.

GONZALES, AIMEE R.

GRANA, MAE JOY H.

HORCA, JOLINA L

HORCA, LESLIE C.

HORQUITA, JC DIVE M.

IBAÑEZ, RENCHELL MARK P.

JOMAO-AS, JERWIN P

JUNTILA, ESTEFHANIE A.

KATANGKATANG, KRYSEL T.

LACOSTE, RACHEL T.

LARIDO, MARLOU M.

LAURE , NOELYN E.

LAURENTE, GABRIEL T.

LAXAMANA, JHOMAR D.

LEGO, MARY ANN E.

LLENA, EDEN P.

LLENA, EDEN P.

LUCBAN, SHIELA MARIE V.

LUCERIO, ZOREN A.

LUMPAY, ANGELICA B.

MACANDA, ANA CHRISTINE A.

MACANIP, ERICA JANE C.

MANINGO, SHIELA M.

MEJARON, FLORAMAE O.

MERCOLITA, ILUMINADO R.

MESA, DIANA ROSE G.

MIRALLES, JOSHUA

NARIDO, ARGIE S.

NAUL, CHARLIE D.

NEDUA, RIZA

NEGRADAS, HARRA MAY M.

NERI, BERNADETH P.

OLIVA, JHON CARLO O.

PACLEBARE, VELYNDA A.

PALACIO, MERCY M.

PARADO, GINA MAE C.

PEÑA, BABY JANE A.

PIDO, ERIKA

PIPITO, JASON G.

PONCE, JULY ANN B.

POTO, JASMIN MAY P.

QUILAQUIL, RIZZA H.

QUIZA, DANMARS G.

RAAGAS, ROMMEL B.

RAGRAG, BENJELITA Z.

RAGUB, MARISOL C.

RAGUB, MARISOL C.

RAMOS, SARAH DANIELLE

RANES, JOANA MARIE G.

REGATO, JUNREY V.

REMEDIO, ALLYSSA S.

RODADO, ALMA T.

SABELA, LORLYN M.

SADIA, LEI ANN A.

SALAÑO, ANGELA MAE P.

SALAZAR, ARIZEL KEM L.

SALAZAR, RENATO JR. L.

SAMONTE, MARICEL

SAMORANAS, RINALYN A.

SAMSON, MARIFE C.

SANITA, REGIE R.

SANTOS, RHEA

SAYSON, VICENTE D.

SEMENIANO, ALGERIN

TALACAY, JUDE I.

TERADO, MARY JOY B.

TRIGO, LYKA MAY B.

UDPAO, RICA MAE C.

UDTOHAN, MARY JOY V.

VARONA, MARY JOY V.

VELARDE, CHRISTIAN

VELARDE, CHRISTIAN

VELARDE, LIMUEL R.

VERSOZA, CRISTINE PEARL J.

VILLABLANCA, RICA C.

VILLAMOR, JUBILLE E.

VILLAMOR, RACHEL B.

VIÑAS, JEVALYN P.
VSU ISABEL CAMPUS
Bachelor of Science in Agribusiness
AMODIA, JEAN CARYL L.

CABUNDOC, VANESSA E.

CAGAS, TYRILL ROYCE E.

COSTAN , MARIUS KIM C.

DIONGZON, JAYMART C.

GARBE, ANTONIO D.

GUIÑAREZ, SHEM BOY C.

MERCADAL, VINA B.

MIRAMONTE, JINEZEL P.

MISE, RIALYN

NECESITO, CYRUS P.

PANTONIAL, ZYRA G.

PELOSTRATOS, CHINELINE E.

PENING, NENIA FE P

PEREZ, ANNE CARL V.

QUILLOPAS, BEA F

TAMPOS, CHARLENE B.

TOLIBAS, JOLINA A.
Bachelor of Science in Industrial Engineering
ABELLA, AIZEL M.

ALINA, EHRL P.

AMITH, JAMES G.

ANDOY, KENNY R.

BENTOY, MARJUN P.

CAGUROL, ELLIACA P.

COLON, JOVELYN D.

CUERBO, IAN P.

DALUMPINES, WELFREDO JR. M.

DAYANDAYAN, NIKKO C.

DE LEON, HANNA JANE D.

DELALAMON, LUIGIE P.

ELE, LIEZEL E.

GABAS, LESLIE ANN A.

GONTIÑAS, SHIELA G.

GRANADA, EMELYN I.

GUEVARRA, JUSTIN M.

IGNACIO, GENELYN C.

INOCELLAS, MARIANE C.

ISULAN, REGINA Y.

JOSEPH, ARCHILLE L.

JOYO, GLADYS KAYE A.

MANTUA, CHRISTIAN JOHN P.

MARIOT, JOHN MICHAEL T.

MATARLO, JOSEPHET F.

MURZO, SHERYL G.

ONDE, LOIDA C.

PELIN, NEIL G.

PELONIO, DAVE B.

PEÑA, RAQUEL ANN A.

PICA, KLINT JOHN V.

REMERATA, HARVEY M.

RIVERA, JAMES D.

ROJAS, FREIMA C.

RUFIN, GOTTFRIED M.

SEDILLO, EDJAY P.

SUMODLAYON, ANGELICA A.
Bachelor of Science in Information Technology
ABELA, MC ARTHUR D.

ALOB, CHRIS VINCENT C.

BATERNA, ANTHONY C.

BATISTER, ANGELICA M

BIONG, WELL MAY JANE G.

BIORE, GEN ANN B.

BONCALES, ALBY JEAN A.

BOOC, RICA MIE C.

CABINTOY, MARIA VANESSA L.

CAIDIC, JENELLE P.

CATIIL, HAROLD L.

COLINA, JOHN CHRISTOPHER M.

CUBICO, KENT ROQUE G.

DACAL, GENIO O.

DAVIDON, BLONDINE RAI N.

DECIPULO, IRENE C.

DECLAROS, ROMEO L.

DELALAMON, CLINT MICHAEL B.

DELOS SANTOS, HAROLD G.

ESTRERA, RYAN C.

ETURMA, SHANIA LOREN B.

FERRAREN, DEANNE SWYNIE S.

FORTALIZA, EDMUND C.

GABRIEL, JAMES A.

GEORFO, CHRISTOPHER T.

GIMBARDA, COURTNEY SHANE A.

GONZALES, CHRISTINE ANN S.

LARINO, HAZEL KAYE M.

LIMPANGOG, BENZON P.

LOREJAS, RHONA JEAN M.

MAGNO, CARLO ALEXIS B.

MATA, MARY ANN A.

MENDOZA, LEA JANE B.

MUAÑA, JUDALYN G.

MURILLO, JENIO B.

NARIDO, ANGELA C.

NOYA, JULY- ANN C.

PEÑA, JOSE REY A.

PEROS, YJAY S.

QUIÑANOLA, IAN MANUEL G.

RUFIN, JEAN ANN B.

SAYSON, REYNALDO C.

SIATON, ZYSA MARIE M.

SILVANO, FRITZ IAN G.

SURIGAO , WILLIAM JR. E.

TABIOLO, REENA MIKAELA G.

TAJOS, ANTHONY DAVE D.

TARROZA, VENUS MARIE R.

VILLACARLOS, CLINT D.
Bachelor of Science in Mechanical Engineering
ALBERIO, DANILO JR. M.

AMARILA, RUFFALENE SHIN C.

ARBELO, LEAN T.

ARDADE, MARK P.

ARELLANO, ROMART C.

ARGUILLES, LUCINO JR. T.

ARNADO, CHRISTIAN B.

BALORO, ANGEL P.

BATOY, WILDREN T.

BAYOT, BRIAN D.

CALDERON, DHIEN R.

CALIXTRO, JOHN ROWELL V.

CANILLO, JOSEPH R.

CATAYAS, EDCHEL JEANESES T.

CAYAHONG, ELJAN M.

CHIPES, MARK JADE G.

DAGALA, AILA MARIE R.

DUMAGSA, GLENN A.

GONZALES, ALUNA S.

GULTIA, CHARIZE MARIE P.

JACA, CHARWIN L.

JOSEPH, BETHSHE MAE S.

LIMPIOS, KIMBERLY M.

LIPORADA, KIM B.

LIPORADA, NIÑO

LLANO, RAYMUND A.

LUTCHAVEZ, MELO JANE A.

MABINI, CHRISTINE P.

MACA, MARY MAE M.

MADRAZO, EUNICE B.

MALDO, REX R.

MAYO, JOMARI T.

MEKING, JADE

MOÑERA, JONILSON O.

NIM, JILL CHRISTIAN A.

OLITRES, JOHN RAY

ONDE, LEONAIDA C.

PANAL, PAUL FRANCIS D.

PARENA, PRECIOUS LOVE P.

REGULACION, ERICKA JANE R.

RETIZA, PATRICK PAUL C.

SACAY, JESTONIE M.

SILVANO, AARON PAUL A.

SILVANO, RONALD S.

SOROTE, STEVEN L.

TAN, ASIAN JAMES B.

YARE, HARRISON A.
Bachelor in Elementary Education
ABANDONADO, JANE B.

ALBUTANTE, EFRELL JAY V.

ALCANTARA, BEA S.

ALCANTARA, RICEL P.

CALAMBO, DESIRIE S.

CAPULAC, RHENALYN L.

COLON, MA. LOURDES L.

CORCELLES, CANDYLYN E.

COSTAÑEMO, LIEZL A.

DACAL, JESSICA O.

DALAG, ANA MAE

DECLAROS, ANN GRACE R.

DEGULACION, SHARMIE S.

DIMASACAT, CATHERINE T.

DONIA, ISA M.

ELADRO, REYNA P.

ELE, LISSA A.

GARCIA, MARJORIE S.

LANORIAS, KRISTINE ANN L.

LASTRA, CANDICE DARYLL M.

LIMOSNERO, JOLINA T.

LINGGAS, KARE SHEILA E.

MANCHERA, MERI MAI H.

MERCADAL, CHERRY CRIS C.

ODTUHAN, GILDA GRACE

ORLASAN, CHARISSE B.

PALACIO, MAY ANN GRACE C.

PEGA, ROSLIE P.

PELOSTRATOS, ELVIE S.

PEPITO, GINALYN T.

PETEROS, LIZZLE MAY M.

PIGA, NIEL JEAN P.

POGOY, CRYSTAL JEAN S.

QUILLOPAS, ARA JEAN B.

RIOS, DANIELA A.

ROCHE, IRENE M.

ROQUE, JINKY D.

SAGALDIA, LADYGEN E.

SEPRADO, LYLE KIAN

SETENTE, JENNY B.

SOLIS, MAY ANN B.

SOLLO, RODELYN S.

TALABON, ALOHA S.

TANGUIHAN, NOVA R.

TERO, C-JAY I.

TORION, IVY M.

VERANO, JUDY- ANN L.

YARE, IMIE DITH E.

YODONG, FRANCES JHOY A.
Bachelor in Secondary Education
ABORDO, GEMHIEVEV C.

ALARDE, KATE KRISTENZ G.

ALCANTARA, RODVICK N.

ALCOBER, VIELLE REGINE E.

AMITH, MYKA T.

ANONAT, ABEGAIL I.

APAS, ROSEMARIE L.

ARCAYAN, GENAMIE E

AYUBAN, JENELYN A.

BALORO, CRISTY M.

BESTUDIO, MERRY JESZEIN KRIS L.

BOHOLST, REY T.

BORINAGA, ALMILA AMIHAN R.

BORINAGA, JULIE JEAN M.

BREGILDO, ROSEMARIE T.

BRIONES, JOLINA ANN M.

CABANDOG, RHEA Q.

CAJES, MA. ERICA T.

CALAMONGGAY, IREN M.

CALUPAZ, JAY-R M.

CANDO, ALMARIE B.

CARMELOTES, SHEEN MAE N.

CELEDIO, GLYDEL L.

CENIZA, CHRISTIAN P.

COSTELO, NORILYN A.

CUBICO, ALAIZA MAE A.

DAYANDAYAN, MAE R.

DAYANDAYAN, RHAZEL A.

DE GUZMAN, FATIMA MAE C.

DECLARO, MA. GLYNDYL T.

DELALAMON, GEMARIE B.

DUMAGSA, JUMAR B.

ELIVERA, ELVIE B.

FIN, VAL EMMERSON L.

GAMPAY, REGELYN O.

GERMAN, MIRA LOU S.

GICA, VEA LIN D.

GONZAGA, REYNA MARIE C.

GUCELA, JERYL S.

LAGUNA, CHARLYN S.

LAURITO, GERLIE L.

LAURON, JOANA JANE

LAWAS, MARY ROSE D.

LEQUIN, ALLYSA S.

LINGANAY, CHIN CHIN F.

LLOVERAS, QUENNLY C.

LUBIANO, CRISTINE MAY M.

LUMANTAO, CHARLIE T

MAINIT, RENELYN L.

MAJADAS, DAISY MARIE

MAJADAS, REYMART T.

MALBASIAS, JEVRIL E.

MANCAO, MELJOHN N.

MANHAO, SAMSON L

MASUELA, MARJORIE Z.

MATUGAS, DARLYNN FAYE W.

NEPOMUCENO, JED V.

OSMA, KATHLEEN S.

PASCULADO, MICHELLE R.

PATRICIO, RHODA JANE C.

PENING, JEVIEN O.

PEROLINO, LYZSHAN PAUL B.

PINGOS, SHIENNA M.

PINOTE, ZEPHANNIE YHONA G.

PUNAN, CHARLENE D.

ROBLE, MICAH A.

ROJAS, BENJIE A.

ROQUE, ELIA JANE C.

RUFIN, MICHELLE B.

SAGALDIA, JUDY ANN C.

SALINAS, DEXTER M.

SERATO, JENNEVIEVE G.

SUMAYLO, JENNY ROSE M.

SUMAYLO, JOSIE LEIZEL M.

TORCENO, ELEEN ROSE D.

TORCENO, MARIEL JANE C.

TORINO, MARY ANN R.

URBODA, REGIENALD S.

VILLABER, RAZEL E.

VILLOCINO, MARY BELL Y.
DTTE
MALBASIAS, NYLE B.

PIADORA, DARYL M.
The following examinees can enroll on "Conditional Status", please see the Dean of VSU-Isabel prior to enrollment.
ABORDO, DARYLL P.

ACOMPAÑADO, AIRENE B.

AMABAO, REALYN D.

AMODIA, REA LYN B.

ARBELO, JOMARIE U.

ARELLANO, REYJOEPHER R.

BAHAY, AILENE C.

BATING, RHEA MAY R.

BOHOT, ANNIE ROSE L.

BORLASA, RENAL Q.

CABILLO, JENNY ANN R.

CABRAL, ISIAH ROWIE C.

CADAG, JOBERT A.

CANONIGO, ELJOHN PAUL A.

CORAZA, LILIAN T.

COSTELO, NORILYN A.

DE LEON, JESSA

DELA CERNA, GLEEN S.

DIGMAN, ROSE QUEEN T.

ESPERANZA, ANDREW RIO E.

FAJARDO, JESSA R.

GALO, GEZEL

GEREZ, MICHELLE C.

LAMIEL, NIKKO N.

LAMIEL, NIKKO N.

LIGUTAN, GENESSA J.

LIPORADA, JOHN B.

MAGBANUA, LUCIO Y.

MAHILUM, FEDERICO JR. M.

MAJADAS, FLORESA MAY R.

MALBASIAS, RONALYN B.

MANCAO, KATHERINE N.

MENDOZA, HERLIE R.

MESIAS, RUBY M.

MORALES, ALEXANDER JR. P.

NAVARRO, JACEL REY E.

ONDE, ERIKA O.

ONDE, HECHILLE W.

ONDE, JAN PAUL D.

ORILLO, SHENALYN O.

PIGA, DANILYN P.

PITAO, MARK MARVIN M.

PORCADILLA, SHYRA MAE B.

QUILISADIO, ETHEL ANDREA D.

ROCHE, ROSALYN C.

ROJAS, DERIK S.

ROMERA, HONEY MAE

RUIZ, SARAH MAE B.

SALADO, JORO R.

SANTANA, MARVIN G.

SEGARINO, JHONNA MAE S

SEGUERA, VANESSA

SIASAT, ANNALOU J.

TAN, JOVELYN B.

TERO, AIREEN G.

TOROCTOCON, JERALYN G.

TOYONG, CRISTY B.

VERSOZA, ANA MARIA CRISTYL S.

VILLABER, JUMAR R.

VIOVICENTE, CHRISTIAN MARK O.

WENCESLAO, LOUIE S
VSU TOLOSA CAMPUS
Bachelor of Science in Criminology
ABAD, MELDRID C.

ABALOS, REYNALDO JR. O.

ABGAO, MORRIS JHON S

ABONG, JHUNALYN A.

ABORDO, CLOUIE R

ABOSEJO, SALVACION I

ABRAHAN, IAN M.

ABRENIO, JANE ANGELA

ADARAYAN, JOHN CLIEFORD U

ADONIS, IVAN JULIUS P

ADRALES, GIO O.

ADVINCULA, ALBERT N

ADVINCULA, LOWELAINE L.

ADVINCULA, SHEEN ANTON C.

AFABLE, JHUNREY S

AGNER, RHALF D.

AGUILAR, MAUREEN JOY T.

AGUSTIN , CAMILLE JOY C.

ALBERCA, JASPER A

ALBERTO, MAILYN G.

ALCARAZ, JESSA H.

ALCOBER, JONAS A.

ALMADEN, JAMES PATRICK L

ALMIANO, NOEMI

ALMODEN, SONY Q

AMADOR, RAFFY S

AMBLON, PAUL EVANDER B

ANCAO, RENANTE JR. D.

ANSUAS, DOMINIC M.

APOSACAS, CRISPIN L.

ARBAS, REYMOND Z.

ARIAS, LYKA JANE V.

ARIZA, LORIAN

ARIZA, QUENIE MARIE R.

ARUTA , NESTOR JR. O

ASUERO, BRYAN D

ASUMBRADO, MANETH M.

AVILA, MARK RICHARD T.

AVILA , VICENTE C

AYES, EDWIN C.

AYO, ARNEL A.

BABIERA, MARY JOY D.

BACATE, SHEENA O.

BACQUIANO, LYKA MAE B

BACULIO, ANALYN C

BADANA, CHERRY M.

BADEO, MYLEN M

BADION, RONEL C

BAGOL, LEMAR A

BALAIS, RUFFA MAE A.

BALMES, LEFF KEVIN S.

BANTILAN, RECHELLA P

BARBASA, ROIBEN JOHN C.

BARBOSA, RYAN C

BEA, RYAN B

BECEREL, ELLA MAE C

BELARMINO, RHEA M.

BELLEZA, MARLON P.

BERBASA, EMALYN V.

BERINGUEL, KIM ERECKSON D.

BERONES, JERRY P.

BERUEGA, JAMES KENNETH C.

BIACO, KENNETH LAURENCE M

BICO, MARY JOYCE C

BIDONG, JOSIEVEL P

BINGCO, EFFIE MARRY M

BINGCO, JOEGIET H.

BIOCO, ARJAY G.

BOCADE, AICA C

BONGA, ARIZA C.

BORDONADA, ARIES D

BRACERO, BRECHELLE G

BRAO, RICO G

BRITON, CRYSHA L.

BUENO, RODELYN A.

BUSARA, ABDULLAH T

CAALIM, NIÑO MARK V.

CAAMIC, BRYAN A

CAAYA, JOHN PAUL

CABAJES, JONATHAN G

CABALES, MARK APRIL REY A

CABALLA, JAICA DOREAN M.

CABANATAN, JEFF MARION B

CABAOT, JERWIN V

CABIAS, SEAN CHRYSLER M.

CABIDOG, ERLINDA L.

CADAYONG, GLOBIE A

CADIZ, ROVIC V

CADUNGOG, JUNARD D.

CAGARA, JOMARI D

CAGARA, KRISTINA MAE S

CAING, JEFFREY P

CALABIA, RENIEL MARK D

CALABIA, ROQUE VINCENT D

CALDA, JESSA N

CALDERON, JOHN EDISON D

CALDOSA, CHRISTINE T.

CALUBAY, JAYSON P.

CAMERO, JOSHUA A

CAMOSE, CHRISTINE Q.

CAMPOSANO, JOVIN P.

CANALEJA, REDIN ANDRO C

CAÑAS, IRAH VONETTE S

CANCILLER, MARK FLORENCE D.

CANDELA, JHUN A.

CAÑEDA, ALEJANIO JR. G.

CAÑETE, KENT BRIAN P

CANILLAS, KRISTIAN JAKE E.

CANONA, JEROME G.

CAORES, REYMART U.

CAPAWA, MONICA R

CAPIZ, CHERRY MAE L

CAPONGCOL, RAUL A

CARTECIANO, MIGAFHABRAEL

CASQUEJO, ANTONIO III A

CATAN, DEXTER M.

CATANOY, JENELYN C

CATAPAL, MA. LOCEL D.

CATAYAS, RONALD C

CAUNTIC, KRISTLE JANE D.

CAYANES, MAWARIE B.

CAYOBIT, EDEN P

CAYUBIT, JOHN DAVID C.

CERDEÑA, GERALD C.

CESAR, LEONILO JR. A

CINCO, AIRENE R

CINCO, CRISALYN B

CINCO, JOVENCIO JR. A.

CINCO, RENAROSA M

CIONELO, JEREMY CARL G

COBACHA, KAREN T.

COMANDAO, ROSE ANN O.

COME, DENIECE FLORENYL Z.

COMIA, SHEINA MEA T.

CONOS, JERIC E

CORDA, EDUARDO JR N

CORNISTA, MARK N.

CORREGIDOR, JOHN PAUL M.

CORRO, DARYL M.

CORTON, IVY P.

CRISOSTOMO, GIO D

CUAYZON, JOHN IVOR B.

CUAYZON, SAIRA MAY S

DADULLA, JOSEPH L

DAGAMI, ERNIELYN JELL M.

DAGAMI, MARK VINCENT L.

DAQUIATAN, MA. DEXY L.

DAYATA, ARK NATHANIEL A.

DE LOS SANTOS, JOHN RYAN A.

DE PAZ, ERIC LANCE F.

DECINA, JELLIE ANN A

DECINA, LYKA MAE M.

DEL VALLE, JOSEPH AARON

DELA CRUZ, JEFFREY D

DELA CRUZ, MARLON C

DELA ROSA, VEDJAN KYLE GERARLD M.

DELLORO, MARIBETH O.

DIAZ, JOSELIN D.

DISPO, EDWIN JR. A.

DOBLE, JUVY A

DOCDOCAN, JOSE C.

DOLOR JR., ROBIN E.

DUMA, DARYLLE P.

DUQUIATAN, MA. DEXY L.

DURANA, MARLON D

DY, CHRISTIAN PATRICK M.

EBARAT, LEONARD REY S

ELISEO, IVAN L

EMBODO, REY B

ENGANA, DESIRIE E

ESCOLLANTE, ALLIAH B.

ESCORO, RODRIGO JR. R

ESIO, JEBOY

ESLABAN, LOVELY JANE D

ESLABAN, NIEL JAY L.

ESPOLOR, ETHEL MAY R

ESTABILLO, GINO MARIANO M

ESTOPIN, LOREN MAY T

ESTOR, VIVIALYN C

EUSORES, RYAN KIER G

EVANO, ARON D

FABELLA, DANIEL N.

FABI, JIMS

FAJARDO, REAN P

FERNANDEZ, KATRINA

FERNANDEZ, KENNETH A.

FERNANDEZ, MA.RIEZELLE M

FIEL, GLENN IVAN C

FIEL, WYNKIE V

FUENTES, JENO M.

GACUTAN, SANDRO S.

GALICIA, JOSHUA L

GALLAMOS, AIMON JOSEPH

GALLARON, JERINO C

GALLARON, NIKKIE C.

GALVEZ, MELISA S.

GARCIA, JEPEE HAZPER F.

GARCIA, MYSZIEL ANNE L.

GARES, RENZIE ROI G.

GASAO, JULIUS ROMEL L

GAYOSA, CHRISTINE JOY R

GERALDO, AIROSE T

GEREZ, DOMINICA M.

GERONES, EMMANUEL V.

GERUNDIO, ANAMIE S.

GLINO, MARK L.

GOLO, RICA B

GRESOLA, RONNIE JAY M.

GUIMONG, JANE C.

GUIRON, ELLA JANE C.

GUIRON, GIANNA ANDREA G.

GUSTON, JERIC F.

HACHERO, JOMAN R.

HIJADA, JUSTIN CYRIL C

HORCA, ALEX V

IBANO, JACKILOU P

JACALA, KYLA B.

JAIME, JESSA N.

JARDIN, GRACE JOY P.

JARDIN, JAM KIRSTEN P

KATANGKATANG, JORDAN D.

LABRA, ANDREW L.

LACBAYEN, RAPH VINCENT M.

LAGADO, JOHNA C.

LAGARTO, AMY GRACE D.

LAGARTO, HAROLD JAY S.

LAGARTO, JESSABEL E.

LAGRADILLA, KAIRA JOY L.

LAGUNZAD, RUBIE MAE O.

LARIDO, GERALD P.

LAURINO, ROXANNE M.

LAURON, LADY HYACINTH T.

LEGASPI, ERIKA

LEGASPI, JOHN DAVE C

LEGASPI, JOHN ERIC T.

LEGO, EDISON S.

LETRODO, JOVEN H.

LIGAN, ALYSSA P

LORICA, ULYSES M

LOTEYRO, GARRY G

LOZADA, JESSA MAE C.

LUBIO, RAFAEL A.

LUCERNAS, JERALD R.

LUCERO, ARIANNE PEARL C

LUCINARIO, CHARLITO D.

LUMABI, ALLEN B.

LUMANTA, BLAINE DAVID S.

MACANES, SHEIKA MAE

MACAWILE, FLORELYN C

MACEDA, HANNA V.

MACEDA, JAYSON N.

MAGOS, JEREMY R

MAGTABOG, ANICETO JR. B.

MAGTABOG, JHEMWEL M

MALATE, DENNIS

MALATE, EHL JOY Q.

MALBAS, RICO F.

MALTE, JON LEVY A.

MANITO, GLEN D

MARCELLANO, ALMA JEAN M.

MARCELLANO, ISMAEL V.

MARILLA, JERRY

MARTIJA, AMIEL IAN V

MARTINADA, CRISANTO B.

MARTINEZ, JOHN PATRICK R

MATUGUINAS, CHARLIE C

MATUTES, JOSEPH IAN G.

MAURILLO, RANDY C.

MAZO, CHRISTIAN REY O

MAZO, RAYMART C.

MCINTOSH, DRAKE D.

MENDOL, APRIL JOY B.

MERCA, RHEYNAN

MERCADO, JHON GLENN S.

MESIAS, BRENT

MIANO, PATRICIO JR. A.

MILLARA, MARK R

MIRANDA, EDGARDO JR. B.

MODESTO, JESTHER C.

MODESTO, MARK L.

MOLON, LOVELY C

MOLON, MARINHEL

MONTON, C-JAY C.

MORABE, KAYLA D

MORIS, JOEFEL A

NAPOLES, MAJA KHANJI U.

NARCISO, ROCHIELL C

NARITO, MARVIN P

NARITO, MARVIN P

NATIVIDAD, MA. MELVIE B

NAVARETTE, JOHN LESTER S.

NAVARRO, PAUL BENEDICT D.

NAVARRO, PAUL ERICK D.

NAZARET, TYRON A

NIEGOS, RAYMART E

NIERVES, WELDON

NIKAZY, ALTHEA BIANCA C

NIÑADA, GERALD L.

NOBE, DAVE

NOMIO, PASCUAL III A.

NOVALES, SOCRATES R.

NULLA, GLENNY DAVE M.

OCAÑA, MARK LOUMEL P.

OCHONDRA, ELENOR L.

ODTOHAN, AMIEL T.

ODTUHAN, JHAI MAE M

OLEMBERIO, JENNIFER J.

OLINDAN, LEONARDO C.

OLIVER, NEILBERTO JR R.

OMEGA, JONEL R.

ONIAS, MELODY A.

OPINIANO, IRRONE T

OPINIANO, TINA P

OQUIÑA, JHON PAUL

ORDAME, RUTH P.

PACHECO, ARIAN V.

PACURE, JEFF ANTHONY C

PADEL, MICHAEL ANTHONY B.

PADIL, MARY JOY C.

PALAO, CATHLEEN

PALLER, ROSEMARIE

PALO, MAYETH A.

PAMARAN, JAYPEE A.

PAPISTOL, TOMMY A.

PARADO, JOHN DEO G

PARADO, JOMAR O.

PARO, MAREZ N.

PATENTE, JOHN KENNETH C

PECORE, CHARLIE D.

PELICANO, TEONYL C

PERMEJO, EBARA D

PERMEJO, SHARWEN D.

PESADO, BRIDGET MYANN P.

PETILLA, ARA MINA P.

PIDO, JOHN REY B

PLANAS, JEROME

PONTILLAS, MARY JOY T.

PROFETANA, GILBERT C.

PULGA, PAUL WALTER T.

PUNDAVELA, RICO S

QUAYZON, AICO A

QUILAÑA, MICO F

QUIMTAMA, JHONATHAN

QUIÑA, PATRICK KYLE M.

QUITORIO, ANALYN G.

RAGA, ALYKA MAE

RAMIS, ARNOLD B.

RAMOS, JENETTE V.

RAÑOLA, SYDNEY G

RAQUEL, WALLY JOHN

RAVELO, JUDY ANN A.

REBATO, JANICE P.

REBATO, JHOMAR C.

RECAMADAS, NICO M

REDOÑA, RICHELLE S.

REDOÑA, ROSELYN R.

REDUBAN, CLARICEL D.

REMION, AIRALIZ T.

REMOLLO, EMACULADA B.

REPALDA, APOLLO V.

REPOLIDON, SHAREN B.

REVILLA, WILFRED T.

RILE, JHAN REY N.

ROA, DARYN S

ROMERO, PRECIOUS ANN R.

ROYO, JOVEN E.

RUEDA, CZARIELLE R.

SABAULAN, RONNEL T

SABELA, CHARYLLE T

SAING, DENEBETH D

SALAZAR, ARIEL L

SALCEDA, IRIS O

SALCEDA, JULIENA E

SALUBON, KIM LAWRENCE V

SAMO-OC, MILBERT G

SAÑO, JUSTINE A

SAYONG, LYNDON A

SAYSON, CEDRICK JOSEPH B

SELVIO, IRIS JANE L

SELVIO, JESSICA R.

SELVIO, RONAMAE C

SEMINE, ANGELICA MAE P

SEQUITO, JONEL P

SERRANO, GWYNETH A

SERVAÑA, KHIMERIE M

SILVANO, JHON ANTHONY D

SILVANO, LENARD K

SINO, ENRICO G.

SISTER, ROLLY A.

SOLAR, MARK DAVE M.

SONGALIA, MARK LEVI D.

SUDARIO, ERIC M.

SUPERIO, RAUL MARK C

SUPILANAS, CARL BENEDICT Q.

SUSAYA, MIKE NICKO G

SUYOM, LERMA D

SUYOM, MAYLANE E.

TABLAO, NICKEY JAY

TAGARA, JOHN AARON C

TAMBAL, KENNETH P

TAÑOLA, SHERA MAE O.

TANTUAN, CHRISTOPHER C

TAROY, GIAN S.

TECSON, ANACLETO H

TEJERERO, MA. MYDEL VICENTA D

TENDIDO, DWAYNE R

TIANSAY, ERRON JOHN B.

TOBIAS, GWEN C

TOBIAS, JADE C.

TOBILLA, JEVEE ANN

TOLIBAS, ARVIS CLINTON KENNETH B

TOLIBAS, EDRALYN V

TOLIBAS, JOVEDITH C

TRAGURO, JAY L

TUPAZ, ANALYN C.

TUPAZ, CHRISTIA MAE B.

TUPAZ, KYLA B.

TUSCANO, MARK JUSTIN V

UROT, JELYN P.

VACAL, KENNETH M.

VALIENTE, DANILLOYD M

VALUIS, ARIAN MAE B.

VELASCO, EDWIN JR. V.

VENCIO, BEBZ CAREN A.

VERGARA, KEVIN

VERZOSA, ALLAN JULES T.

VIADO, JHOANA LOZELLE V.

VILLABLANCA, GEMMALYN C

VILLABLANCA, JEZZYRYN L.

VILLANUEVA, RIX

VILLASANTE, EDVER B.

VILLERO, DHEN MARK JHAPET C.

VILLERO, JUNJIE M.

VIÑAS, DIORICO B.

WANIWAN, BRYAN G

WENCESLAO, NONELYN A

YAMON, GARY JR. P.

YEPEZ, GLYNDEL S

YU, KRISHA MAE P.

ZABALA, VINCE ALDWIN A.
Bachelor of Science in Fisheries
ABUEG, ABBIE P.

ANCHOJAS, YANCY S.

ARASAIN, JASMINE S.

ARCE, CHRISTIAN PAUL R.

BALMES, IVERSON B.

BARBASAN, REGIE M

BAYLON, LUCILLE T.

BERGULA, FRANCIS NICOLE C.

BIE, JOHN LLOYD B.

BINGHOY, LEONICA MAY B

BRIONES, PATRICIA

CALDA, MARK JASON

CAPATOY, ANDREA FRANCINE L.

CAYANES, DONNALENE C.

CENIZA, HANNAH JANE

COSTEMIANO, JOHN REY D.

CUAYZON, JESSIL C

DAISOG, MARYROSE C

DE PAZ, MARIETTA V.

DUHAY, GIL L

ERCILLA, EDMUNDO A

ESCORIAL, PAUL V.

FAJARDO, NOLIE NEIL B.

FLORES, NELMAR B.

FRANCISCO, MA.CATHERINE T.

GAMBA, ROYETTE A.

GEROMALA, JAYMAR R

GRIEGO, BETTY G.

HONOR, JOHNNIEL A.

ISRAEL, CLAIRE MARIZ

JACA, RUFFA MAE A.

KAHANO, MARANATHA D

LAGADO, JANIEL G

LAGARTO, JANET E.

LAMATA, MANILYN A.

LAZARTE, RHEA MAE L

MOLINA, LALAINE V

NARIO, MARIALENE L.

OLINO, MARY ANN T.

ONLAO, JOEY H.

OPERIO , VHEENOS A.

ORIÑO, JONNARI A.

PARONE, STEVEN JAY C.

PELICANO, CHRISTIAN R.

PIAMONTE, ROJELYN P.

PICOY, ROVILYN M

QUILAQUIL, KIM J.

REGACHO, NELSON G.

RELANO, JENNY VIV P.

RIPALDA, GODLY A.

RISOS, ESTELITA G

RIVERA, CHAVIS G

ROQUIÑO, JUDY ANN V.

SAMIANA, CIDIE JOHN S

SANTOS, KAYE E.

SOTTO, JIROHN L

TAOL, DONASEL P.

TIOZON, MARY JOY O.

TUANO, NIKKA LYNN C.

TULANG, GERAMEI F.

URIAN, ROSEMARIE

VARGAS, RUFFA MAE C

VERECIO, LEIKA MAE M.

VIOJAN, AMPARO C.
Bachelor in Elementary Education
AGRAVA, KRIESTAL T.

AGULLO, DOVELYN F

ALCOBER, AILYN M

ALMENARIO, MA.LIEZEL C

ANIMOS, ARTURO JR. P.

ARANDIA, ABIGAIL T

BASIBAS, CHRISTINE JOY

BIOCO, JAMAICA C

BRIONES, MA. ELLA MAE T

BUENO, JAYANN L

BURANDAY, ERICKA JOYCE S

BUSA, MAY A.

CABIA , ANGELICA L.

CABRERA, BERNARDO JR. S

CALDONA, MYLENE A.

CAPILI, ALVIA P.

CINCO, CHRISTINE KAYE C.

CINCO, LESLIE ROSE B.

CINCO, JULIUS CESAR A.

CLARIDAD, MA. SUSILET D

DALINO, CRESTLIE B.

DE LA CRUZ, JINKY R.

DE LOS ANGELES, CATHEREN

DE LOS SANTOS, SHANNEN C

DE VERA, MELVA G.

DUBLIN, MA. MARGIE C

DURAN, MA. ANDRIA H.

ESCLEO, REBECCA JOY A.

ESCOBAL, ATHENA JANE C

ESPANTA, ERICA V

GABRIELA, THRIESE ANNE L.

GELITO, JANELLE M

GERONIMO, ALEAH FAIL

GRIEGO, CARLO Y.

IBAÑEZ, CECILE A

IGNACIO, ROSELLE T

LAGAHIT, MECHELLE D.

LOR, CHRISTINE R

MAGLINIS, ANNAMARIE C.

MAURILLO, MECHELLE ANN L

MEDINO, JESSA MAE D.

MENDIGO, EDRINA MAE Q.

MUÑEZ, MICHELLE C.

NARAJA, JOY PEARL A.

NATIVIDAD, MA. MELVIE B

NAVARRO, FATIMA

NUEVAS, ERMA E

OBAR, MARVIE JOY E.

PALAÑA, RUFFA MAE S

PATUYAN, MADILYN A.

PEDRIGAL, LOVELY R.

PERMEJO, VERGIE C.

PESADO, CHELANNIE C.

ROBIN, RENALYN C

ROYERAS, DONITA D.

SALES, MYRA FLOR A

SARTO, MANLY L

SASING, JOANA JANE M

SILVANO, LISLIE P.

SORIANO, ANGELICA B

TANGILE, VINCE J.

TIOZON, RHEA MAE T

TRINCHERA, MARISOL A.

TUSCANO, JANICE A.

URGEL, ARIANNE JOY

UY, JEFFERSON C.

VEGA, KRISTINE F.

YODONG, FRANCES JHOY A.

ZACARIAS, RIZA J.
Bachelor of Secondary Education
ABALOS, ANGELO M

ABRENEO, RHEA B

ACOSTA, FITZ HENRICK B.

ADONIS, DARRYL

ADONIS, REGINE O

ADVINCULA, HULDAH B

ADVINCULA, MA. CLAIRE C

ADVINCULA , APRIL ROSE C

AFABLE, ERICA S

ALCE, KATE K

ALIRE, FLORENES C.

AMOR, RALPH L.

ARCO, PINKY M

ASOMBRADO, ALMIRA I

BACOTO, EFFIE MAE S

BADILLO, RIKKI MAE L

BADION, MELANI JOY C

BADIQUE, BEVERLY R

BAJADO, MITCH

BALDERIAN, MELVIA ROSE G.

BAÑEZ, AUDREY ROSE C

BANGAY, ANGELINA R

BARDALO, ELMARIE JEAN M.

BARRERA, JAMES RICO D

BATIS, DEJAY PEARL M.

BAUTISTA, ROSIE JANE A

BELLO, JHOBEL T.

BENGZON, CRISTEL L.

BIBAR, ANGELA R.

BIBAR, JENY T.

BOHOL, MARIAN R

BOLLENA, ANGELYN R

CAALIM, SHAINELYN C

CABIDOG, CATHERINE ARRIANE J

CABIDOG, ROMEL S

CABRAS, JAKE H.

CABRERA, JOY A

CABUS, MICHELLE L

CADARO, MARIA TERESA N

CADION, JONNA MAE E

CAGARA, DENISE MARIE U.

CAHINDE, NATHAN JANE V

CAIDOY, JE ANN J

CAIMOY, CARLO G.

CAINDOY, SANDRA C

CAMINONG, JAMAICA P.

CAMITOC, DEO C.

CAÑADA, RHEA A.

CANALES, SYREL MAE G

CANDELA, FLORJEAN G.

CANLAS, DAISY RAY R

CANON, JOSIE O

CANTERO, LAURO JR. J

CAOLE, MAY ANN C.

CAPILITAN, GRACE D

CARIDO, JUNREY C.

CASALJAY, REMEGIO JR. M

CATILOGO, DIANA ROSE D

CATUDIO, MARJORIE L

CAYUBIT, JOHN FEL C.

CECOGO, ALAIZA D.

CENTILLAS, JADE LAURENCE P.

CERRO, PRIMAVIL A

CIJAS, MARVIN D.

CINCO, LEMAR A

COLASITO, ARIANNELOU CARMELA D

COLASITO, KIMBERLY D

COLETE, ANDRES JR. R.

CORADO, CLEMENCIA JRA. P

CORONADO, AURECIA MAE A

CUEVAS, MARISSA A

CULAR, GWEN P.

DACLIZON, MARJORIE

DAGAMI, KIMBERLIE V

DAGAR, CRISTEL DAWN T.

DAVOCOL, ERICKA MAE B.

DE PAZ, JOVELYN T

DECEN, ARIANNE F

DEL AGUA, DAPHNE GRACE G.

DIANITO, FHENA MAE

DIANITO, LENIE S

DIAZ, DAISY ROSE M.

DOQUIATAN, CHRISTINE J.

DUHAY, MARY JANE M.

DURANA, JEAN MARIE A.

EBALANG, REYGENE O.

ECHAVEZ, MARIESOL D

ELACION, MA. RONNIELYN C

EMBERSO, DESIREE JANE C

EQUIPAJE, MELODY M

ESCARDA, RELYN J

ESCARLAN, LAICA

ESIO, JOSEPHINE

ESPINA, JOMALYN P

ESPINA, RICHARD B

ESPINO, CHRISTIANA JOY A.

ESTOPIN, JANICE E

ESTUDILLO, REZHA MAE M.

FALGUERA, REBELYN A

FLORES, QUENNIE ANNE F.

FRIO, JHAMICE REEVE E.

GABRINO, ANGELIE C.

GALAN, RONALIZA D

GALANZA, DIOSDADO JR. J.

GALVEZ, EDELYN A.

GAPOL, SHEEMA MAE T.

GERANCAS, BON MARK M

GEROLAO, KATHLEEN KAYE R.

GEVEN, JOVAN R

GODEN, MICHAELA N.

GONZAGA, JANET C.

GONZALES, MICHELLE L.

GRABATO, FLORA P

GUALBERTO, MARICHU V.

GUIMONG, CRISTHEL

HERMOGENES, MARIELIVA B

HOLANDA, KIMBERLY D

IBAÑEZ, JELICA FLOR S.

IBAÑEZ, NIÑA L.

IGNACIO, LINDSAY MYLENE

IGROBAY, KRYSTAL M

INTOG, JOHN REY M

ISAYAS, JERICO B

JACER, JHON CARLO T

JOCSON, HONEY MAE D

KALAQUE, MAY ANN E

KEMPIS, MARIAN LOURDES O.

KEMPIS, ROSIE MAE S.

KIMNO, ROSELA C

LABACLADO, ANGELA MARIELLE E.

LACUSTA, JEMUEL P.

LAMING, KIM JOFFET S.

LAUZON, JOEL JAY S

LEGASPI, JELLE ANNE Z.

LEPATAN, TRESHIA P.

LLAMES, ALEXANDER DAVID A.

LUANGCO, MARIEL M.

LUBAN, MARK RAFFY O

LUMEN, DENMARK B.

LUMPAZ, MELISSA R

MACA, RODEL T.

MAINIT, MARY ANN B.

MAKIMAY, CARYN B.

MALATE, CHARYL R.

MALQUISTO, SHIENA MARIE A.

MANACPO, AMIRA I.

MANATAD, ARAH S

MANATAD, MA. ANITA R.

MANUEL, PRINCES JEAN G.

MARAYA, MARIBETH

MARTIJA, CHERRY KAY M.

MAS, TRISHIA R.

MATOZA, MALYN M

MAURILLO, DIANE P.

MEDINO, JONEL L.

MEJARES, KAREN T.

MESIAS, CINDY M

MESIAS, JAMILKAE JOY G

MONTAÑO, THERESE O.

MORABE, DONAROSE C.

MORALES, PAUL ERWIN B

MORANA, MARICAR L

NAZARETH, LALAINE T.

NONAY, KIMBERLY V.

NONAY, KRISTINE MAE V.

NOVIO, KYRA T.

NUEVAS, KRISTEL E.

NUEVAS, MEYCO A

ODO, KIMBERLY C

OGARO, ERICKA MAE T

OLFINDO, JAKE S.

OLINO, VIA ANN V

OMABE, RAYMUND D

OSTACO, EDLYN JOY C

PANES, LYDIA PAMELA L

PAYOT, MERIANE T

PELIAS, CHRISTIAN VIN S

PEÑADA, MARK ARGIE V

PERMEJO, KYLA P.

PETRO, HAZEL P.

PETRONIO, ZAIRA YVES D.

PILLE, ANA ROCES M

POGENIO, CHARRA G

PRESIGUEL, JAYSON A.

QUIÑONES, MICHAELA NICOLE C.

QUINTANA, MARIA FEDELAINE H.

RAAGAS, LILIBETH C.

RAMIREZ, MARLON M.

REFUERZO, JOVAN M.

REPOSO, NICOLE O

RETALES, MAILYN R.

REVILLE, RAZIL K.

RICAFORT, ROSEMARIE O.

RIPALDA, JULIE ANN D.

RIVAS, REANEL B.

ROBIDILLO, DIOSCARA C.

RODRIGUEZ, JARED R.

SABAN, JASMINE JOY A

SAN MIGUEL, JOCELYN E

SEVILLANO, APRIL ROSE S

SIBLE, AIRA G.

SIMBORIO, CHRISTINE JADE C

SOLIBAR, JERLYN A

TAGABE, JEAN ROSE D.

TAN, ROUELLA MAE C

TANAUAN, JENNIFER P.

TANGPUZ, IRENE A.

TANGPUZ, IRISH A

TANHALE, ELDIONA B

TIMONERA, MELLENDRA MARIE B

TINGZON, PRITSIE MAE YESSA T

TOLIBAS, CLARIZ JANE S

TOLOSA, RONALYN R

TONDO, DAIZY ROSE A

TORIANO, LAARNIE O

UDTUJAN, GENO M.

VENCIO, JESTONY C

VERE, JANINE L.

VERGARA, ROSE ANN MARIETEO E.

VERONA, JERWIN L.

VILLANUEVA, ANGELICA C

VILLASANTE, ERICA PIE C

VILLEGAS, JOLEX E

VIÑAS, FLORA MAE F

YBAÑEZ, JESSIELLE CHARM B

ZABALA, MAEDHEL JANE Y.

ZABALA JR., MARVIN G.
VSU VILLABA CAMPUS
Bachelor of Science in Agriculture
ABRINGE, JENELYN G.

BELIBET, MARVIN JUNE M

DAMAYO, FERNANDO JOSE P

DONATO, ROEL C

MONARES, JESSAN V

PUTOT, SANNY M

ROCHE, CHRISTIAN LLOYD D

VALENZONA, JESMARIE S.
Bachelor in Agricultural Technology
CATADMAN, JOMAR T.

DECLAROS, JERALD T.

LICARDO, MICHAEL A

PEPITO, WARREN D

QUEBEC, ARVIN A

REGALA, JULIUS C

RELENTE, JUNBERTH V.
Bachelor in Elementary Education
ABORITA, MARILOU T.

ALFORQUE, MERRY JANE P

AÑOVER , ROBELYN O

ARSOLON, LORLYN L

BALEJON, ARIEL B

BANDINO, JOINABETH C

BARTE, WILMER S

BONITE, DANIEL JAY I

CONDE, LARRA BELL A

CRAMEN, JENECIL R

DACLITAN, JEANY ROSE P.

DALAG, MARY ANGELIQUE R.

DALMAN, ANTHONY Y

DECLAROS, LOVELYN L.

DIEGA, TED C

DURA, MELISSA O.

ESTAURA, MARY ANN C

GALLO, JENES G

JAYAG, IRISH P

MEÑORA, LILIBETH Y

MERCOLITA, MARIA NIÑA C

PARAS, EDGERLEN D

QUILITAR, LEA B

SABINAY, HONELYN O

SINOGBOHAN, NIEL JOHN L

SUSON, ARIEL A

TASAN, ALMERA B

TUMAMAK, REA LOREEN E

VELASCO, LUZVIMENDA D

VERAL, JOHN ANTHONY F

VILLARO, FERLAND O.
Bachelor in Secondary Education
ABAD, RANDHELL M.

ABADILLA, MONTESSA A

ALANO, REA R

ALAPAN, FLORDELYN F

ALBARICO, ARAH T.

ALISON, ANA N

ALMADEN, MYLENE M

ALVEZ, ROSEMARIE A.

ANDRIN, MARIEMEL S

ARNADO, ANA REGINE D

AYADE, MA. LIZA M

BALAONG, MARY ANN L

BALBERO, MELISSA I

BARSANA, MARVIN R.

BERMOY, JIMBOY Y

BOHOL, ANGELICA CLAIRE C.

BOISER, EVA MAE W

BONOTE, JAY Q.

BOYA, JESSA R

CABAHUG, ANN MARIE N

CATAMORA, MAYESSA MAE C

CATAQUES, DANILYN V.

COLORADA, RONALD L

CONCEPCION, IRISH P.

CUBIAN, ABEGEL R

CUEVA, JANE N

DE ASIS, ANGELICA S

DE JESUS, ROSE ANNE L.

DEJON, JOEDEN R

DELA PIEZA, MARIEL C

DELICA, HONEY JANE B

DICHOS, BERNADETH M

DILLERA, ROSHEL T

DOMAEL, GIOVANNI Z

DORIA, ANGEL C

ECOY, MELBA A

EDAÑO, NORIE JANE B

ELORDE, MIGUELITO M

ENTRAMPAS, MARNELIE JOY F

FERNANDO, ANGELICA

GALLO, CHARIES G

GLORIA, GLYDELL R

GULANE, MARIELYN P

HINLONG, PHILIP O

HUETE, MAVILYN

IHADA, GERALD P

ITOC, FRIENDLY C

LACABA, MABEL S

LAURENTE, EDEN F

LORDAN, LOBERT A

LUBAT, DAISY L

LUMANTAO, KENNY FAITH A

MALOLOY-ON, JEFFREY

MAURENG, AREN MONIQUE E

MENORIA, ELMA MAE D

MOLO, JAYSON B

MORALDE , KELCID EMYR C

OBZUNAR, RHONIEL Z

ORDINEZA, CYRIL

ORNOPIA, NELSIE P

PANAL, JAY R

PICULADOS, LUCILLE A

PITOGO, CRYSYTAL JANE P

PUENTESPINA, DOUGLAS JR. M.

PUTOT, SAMMY M

QUESIO, JENELYN E.

REMULTA, ANNA LYKA E

ROMERO, CHRISTY JOY N

ROMERO, JANE D

ROSALES , SHEENA LEE L

ROSEL, GERALDINE E

SACAY, ANA MAE L.

SALABAO, EDWARD P

SALCEDO, WENELYN R.

SANCHEZ , JANE

SANGLITAN, EDALYN R

SANGLITAN, IVY MARIE C

SAYOD, MARICEL P

SUSMEÑA , MARY ANN B

TALLE, DANECA M

TALLE, JIELANIE A

TANDOC, CHERRY MAE N

TEROL, APREL L

TOLERO, EFREL JAMYCA A

VILLAR, VANISSA T.

VILLARO, ALVIN L
The following examinees can enroll on "Conditional Status", please see the Dean of VSU-Villaba prior to enrollment.
ARIBATO, MELISA M

BAQUERO, JENNYCEL E

BASILOY, JUDY ANN L

BENITEZ, BERNARDINO JR. D

DOHINOG, IRISH P

FLORES, SHIELA C.

ROBLES, NIMFA T.

DEMETRIO, IMARK L.

LICARDO, ED O

OCHEA, ROSELITO N

SANCHEZ, LEA MICHA A

TUMAMAK, MICHAEL VINCENT A

ZAMORA, KATHELINE E

BATES, MARIEL T

CAAGAY, ELMAR A.

GASPAR, JENNIFER

MARQUEZ, LESTER JAVE

SANCHEZ , NOEL S

ARPON, RENA D

BOSOTROS , CRISSA MAE E

ANCAJAS, ROSEMARI ANN S

LATOY, CRESTINA L.

OFEMA, DONNA GIFT P

OLIVEROS, ROLLAND D.

YBAÑEZ, JOEY S

LABIGAN, ERICA B

MABUTE, IVY Y

PEDRA, JOHN CHRISTIAN T

PELIT, MARY GRACE H.

SALES, ALVIN C

VERZOSA, FERNANDO JR. S.

BALIOLA, ROSE ANNE C.

CONAG, LODELITO C

CONDES, JOLY MAE T

GALVEZ, DIONILA Y

HIBAYA, GENEVA A

LAMOSTE, BETCHAIDA C

MAUÑO, MEBYJENE P

QUILO-AN, REYNALDO M.

MUÑEZ, ELMARIE F.

QUESIO, ROSE LEY M

BATIS, ALVIN

DE CLARO, EDWIN R.

ROSSEL, JOEDEL S

ANCERO, RENANTE M

DALUT, RICO

FUENTES, JOY MARIE C.

GACOSTA, MELVIN P.

MONTERO, GLEEN O

PAGOBO, TERTOLIANO JR. C

VILLEGAS, CHARLYN