VSU and LGU-Dalaguete sign MOA for scholarship grant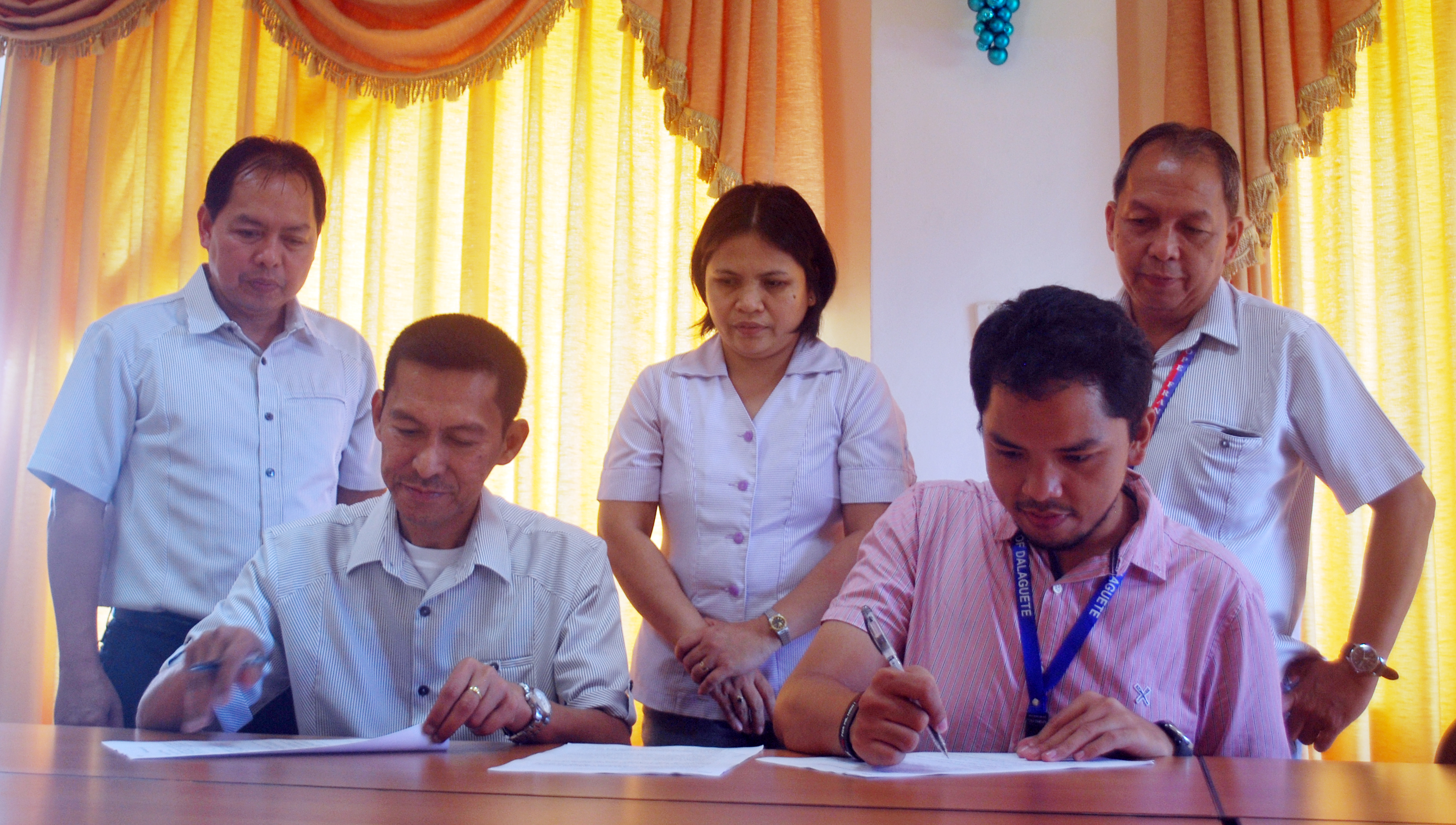 The MOA was signed on March 26, 2015 at the VSU Office of the President with Dr. Edgardo E. Tulin, VSU's VP for Instruction, and Mr. Leo Carlo D. Casinillo, OIC of the Dalaguete Municipal Programs on Education Office, as witnesses, in the presence of Prof. Alan B. Loreto, Executive Officer, Assoc. Prof. Manolo B. Loreto Jr., Dean of Students, and Ms. Chona A. Brit, VSU Scholarship In-Charge.
The scholarship grant shall subsist for the whole duration of the degree program enrolled at VSU by the grantee which includes full financial support for tuition fee, miscellaneous, and other fees every semester; uniform/book allowance of PhP1,000; and a monthly stipend of PhP1,500. DMSP grants college scholarship privileges based on the scholar's statement of account duly signed by the university or college registrar, provided that faithful compliance with the MOA shall be observed.
According to Mayor Cesante, the scholarship desires to help deserving secondary school graduates of Dalaguete, particularly those who cannot afford to pursue college education due to financial constraints, because he believes in making valuable contributions to the growing needs of a higher education and better life for Filipino students.
The scholar, on the other hand, shall adhere to the Scholar's Code of Conduct; should not incur any failed grade or academic deficiency in accordance to the grading system adopted by the higher education institution where he/she is enrolled; maintain a minimum grade point average of 2.0 every semester or its equivalent; should actively participate in any municipality-sponsored activities to develop a confident, responsible, resourceful and dynamic leader in the future; will extend community services when needed in the Municipality of Dalaguete; will give back to the Municipal Scholarship Program after his/her graduation and once he/she secures a stable job, to sponsor some other future students; shall give an amount of PhP500 per month from his/her salary or its annual equivalent for two (2) years to DMSP for sustainability and to sponsor other qualified younger scholars; and actively participate in any activities of the Dalaguete Municipal Scholar Alumni Association (DMSAA) once he/she graduated. JFMBaldos