VSU, PhilRice celebrate National Year of Rice
Details

Written by Ma. Teresa M. Manito/DevCom student

Published: 30 August 2013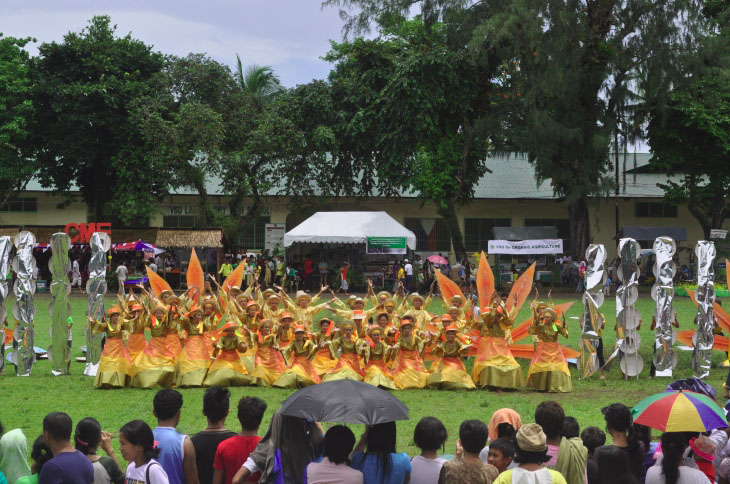 The Visayas State University (VSU) and the Philippine Rice Research Institute (PhilRice) celebrated the National Year of Rice (NYR 2013) through the Capturing Rice Photo Contest, Rice Poster-Making Contest, and Rice Harvest Dance Festival as one of the highlights of the 89th VSU Founding Anniversary.
The Capturing Rice Photo Contest with three categories—Rice and Culture, Rice and Environment, and Rice Production and Conservation—was participated in by students with ages 18 years old and above. The contest was judged according to the photos' visual impacts, technical exposure or focus, and creativity and composition. Among the nine entries submitted, none was adjudged Best Photo. Instead, all the participants were given PhP200 each as consolation prize.
On the other hand, the Rice Poster-Making Contest was participated in by secondary students and elementary school pupils in Baybay City. The contest theme was anchored on NYR 2013's advocacy, "Be Riceponsible! Palay ay Mahalin Kaya Huwag Itong Sayangin."
In the high school category, Jan Ulrico Manuel M. Aguilar, fourth year student from Baybay National High Shool, won first place owing to his poster's relevance to the theme, artistry, creativity, and originality. He received a certificate and cash prize of PhP1,500. Maria Alexandra M. Iligan, a Grade 7 student of VSULHS placed second, while Eric T. Hingabay, a third year student from Baybay National High School landed in the third place. They received certificates and PhP1,000 and PhP700, respectively.
In the elementary category, sixth grader Midrianne D. Pelecano of Baybay I Central School won the first prize among the ten contenders. Second prize went to fifth grader Lyza Jane Osmeña of the same school, and third prize to Sofia Beatriz L. Punzalan, a grade 4 pupil of the Visca Foundation Elementary School. Cash prizes of PhP1,500, PhP1,000, and PhP700 were given to the first, second, and third placers, respectively.
On the other hand, the First Rice Harvest Dance Festival was participated in by contingents from VSU-Tolosa, VSU-Alangalang, and the College of Education of the VSU Main Campus. The College of Education was adjudged the most relevant to rice harvest, most precise in performance, best in choreography, and most artistic in costumes and props design. The team received a certificate and PhP20,000. VSU-Alangalang emerged the second prize and received PhP15,000, while the VSU-Tolosa won the third prize and received PhP10,000. The competition was sponsored by PhilRice and the Department of Agriculture-Regional Field Unit 8 under the National Rice Program.
NYR 2013 is an advocacy campaign in support to the government's bid to achieve rice self-sufficiency beginning 2013. President Benigno Aquino III proclaimed this year as the National Year of Rice under Proclamation No. 494 on October 18, 2012.