VSU delights three outstanding farmers during the Farmers and Fisherfolks' Day; USEC Delima's rep expounds rice self-sufficiency program of the government
Details

Written by JFMBaldos

Published: 30 August 2013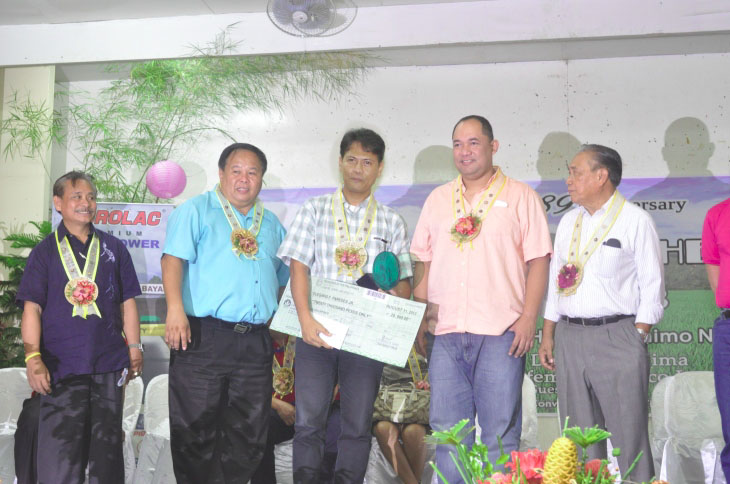 One of the main highlights of the 89th VSU Anniversary Celebration was the Farmers and Fisherfolks' Day (FFD) on August 11, 2013 at the VSU Convention Center. The event is VSU's way of acknowledging the role of farmers and fishers folk in countryside development and giving accolade for their achievements by adopting new technologies developed by some researchers and scientists of the University.
The occasion also provided a venue for the farmers to have firsthand information as regards the programs initiated by the government through the different agencies and to gain immediate response from the experts on the problems they encountered in the field.
In attendance during this year's convergence of farmers, aside from VSU experts, were some dignitaries from the Department of Agriculture (DA), Philippine Rice Research Institute (PhilRice), and the DOST's Philippine Council for Agriculture, Aquatic and Natural Resources Research and Development (PCAARRD).
DA Undersecretary Dante S. Delima, National Rice Program Coordinator, who was represented by Dr. Santiago R. Obien, National Rice Program Senior Technical Adviser, as guest speaker, conveyed his appreciation to VSU for sparing a day dedicated to the farmers and giving them honor and recognition for their significant role in providing the agricultural needs of the country.
As requested by USEC Delima, Dr. Obien expounded the proclamation of P-Noy about 2013 as the National Year of Rice dovetailed on the theme "Sapat na Bigas Kaya ng Pinas." He further explained the rice self-sufficiency program of the government. Dr. Obien said that to become rice self-sufficient, we need to increase our irrigation facilities in which the government is focusing on the said direction. He also reported that we used to have high imports of rice although it's gradually decreasing since 2010 up to the present.
"We cannot escape rice importation even if we are rice self-sufficient because it is part of the World Trade Organization's agreement among all countries to import certain volume of rice," Dr. Obien stressed. He added that our minimum access volume of rice is 360 thousand metric tons and the Philippines is only importing half of that.
He also pointed out the government's goal in rice self-sufficiency. He said that in 2010, the country produced 15.77 million metric tons (MMT), 16.88MMT in 2011, 18.3 MMT in 2012, and the government is targeting 50MMT and more, in the next years.
Dr. Obien also revealed that the country is presently cultivating 4.5 million hectares of land for rice and he is optimistic that with the increasing irrigation facilities, by 2016 we will have five million hectares for irrigated rice. "It is important that our production should keep up with the population growth and per capita consumption which had also increased from 95 to 114 kg," Dr. Obien mused.
Likewise, Dr. Art Argañosa spoke on behalf of PCAARRD Executive Director Patricio S. Faylon, while Mr. Abner T. Montecalvo delivered the message of PhilRice Executive Director Eufemio T. Rasco, Jr.
Moreover, Atty. Carlo P. Loreto, Vice Governor of the Province of Leyte, also delivered his piece.
On the other hand, Outstanding Farmer-Entrepreneur (Ugmad Award), Outstanding Vegetable Farmer, and Outstanding Livestock Farmer awardees were honored and given plaques and other prizes.
The winners were: 2013 Outstanding Farmer-Entrepreneur – Mr. Olegario F. Paredes, Jr. of 437 Carlos Tan St., Ormoc City, Leyte "For his hard work, innovativeness, resourcefulness, high productivity, active community involvement, and concern for the environment. He showcases his innovative practices in a three-hectare rice-based crop-livestock farming system using organic farming technologies. He augments his income through his innovative swine and goat dispersal program that benefits hundreds of backyard swine and goat raisers and a farm equipment leasing venture that mechanized farmers' land preparation and threshing operations. A born leader and strong believer in organic farming, he founded the IAL Farmers-Employees Multi-Purpose Cooperative (IALFEMCO); was Vice-President of the Leyte Organic Producers Organization (LOPRO), now the number one organic fertilizer producer in Region 8; and was instrumental in strengthening the Ormoc City Hybrid Rice Seed Producers Organization (ORHSPRO) including the establishment of its own agricultural inputs store during his stint as its Secretary. Mr. Paredes is an outstanding example of the new breed of successful farmer-entrepreneurs who can prove that farming is a highly rewarding vocation." He also received a cash prize of PhP20,000 from the province of Leyte through Governor Leopoldo Dominic L. Petilla;
2013 Outstanding Vegetable Farmer – Mr. Ariel R. Rupa of Barangay Baras, Palo, Leyte "For his hard work, innovativeness, and indomitable spirit to turn an idle one and a half (1.5) hectare land into a productive vegetable farm. For his concern for the environment through his use of organic pesticides and biocontrol agents that considerably lowered his cost of production, increased his productivity, and raised his profits. His success in vegetable farming prodded him to willingly share his knowledge and skills to his fellow farmers by joining the Palo Vegetable Growers Association and the Barayong Farmers Association. Mr. Rupa is a commendable example of a responsible, innovative small farmer who can show that a small farm size is not a hindrance to high productivity and income in agriculture." He also received a cash award of PhP5,000 and a box of certified seeds from East-West Seed Philippines; and
2013 Outstanding Livestock Farmer – Mr. Rowil G. Batan of Barangay Belen, Leyte, Leyte "For his innovative, remarkable and pioneering livestock production practices resulting to high productivity and profitability. For his industry that made him the primary goat milk producer in Leyte. He has also engaged in meat and milk processing that produced dried chevon and mutton, and cheese from goat's milk that gave him substantial income. For his leadership skills that catapulted him to become a member of the Provincial Board of Leyte for three terms; and his passion for environmental preservation where he penalized open-burning of rice straw through a provincial ordinance. Mr. Batan is willing to share his knowledge in livestock and organic farming practices to his fellow farmers through the Goat Raisers Association of Leyte, Leyte where he is currently President." He received animal inputs worth PhP10,000 from Univet Nutrition and Animal Health Care Company (UNAHCO).
The finalists in each category and the Agricultural Technicians of the winning farmers received certificates of recognition from VSU.
This year's Farmers and Fisherfolks' Day gathered 1,591 farmers and other entrepreneurs from the different municipalities and cities in Region 8. The celebration focused on the theme "Abundang Ani sa Humay, Mahimo Nato ni Bay."