FASTLab sponsors scholarship to BS Chemistry student
Details

Written by JFMBaldos

Published: 30 August 2013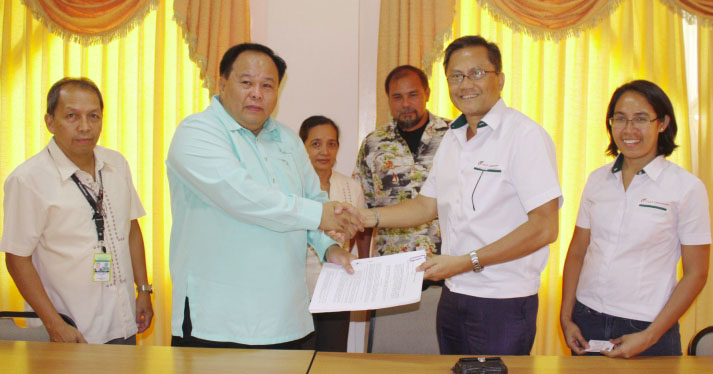 The First Analytical Services and Technical Cooperative or its tradename F.A.S.T Laboratories or simply FASTLab has recently granted a scholarship to Mr. Marino C. Salilin Jr., a third year BS in Chemistry student of the Visayas State University.
Mr. Salilin availed of the FASTLab Scholarship Grant as an offshoot of the Memorandum of Agreement (MOA) entered into by the FAST Laboratories, represented by Engr. Reynaldo A. Kangleon, the General Manager of FASTLab, and VSU, represented by its President, Dr. Jose L. Bacusmo.
The MOA was signed on May 22, 2013 at the VSU Office of the President in the presence of Engr. Manolo B. Loreto, Jr., Dean of Students, and Ms. Christina Georgina Solis, Business Manager of FASTLab-Mandaue City Branch.
FASTLab established the undergraduate scholarship program at VSU as part of its company's social responsibility program that aims to provide full tuition support and allowances for one or more scholars each year who are enrolled specifically in the Bachelor of Science in Chemistry of VSU's College of Arts and Sciences.
Recognizing the support of FASTLab to its students, VSU, through the Department of Pure and Applied Chemistry (DoPAC) and the scholarship unit of the University Student Services Office, has agreed to assist in the implementation of the scholarship program consistent with the terms and conditions manifested in the MOA.
As the pioneer recipient of the scholarship program, Mr. Salilin shall enjoy full basic tuition fees, laboratory fees, monthly stipend and all related miscellaneous fees including book allowance every semester to be paid by FASTLab.
The Grant also provides a corresponding monetary reward once the scholar becomes either as Summa Cum Laude, Magna Cum Laude or a Cum Laude graduate as well as when s/he passes the licensure examination of the government.
However, the scholar must carry the regular load as prescribed by DoPAC and shall maintain a grade point average of at least 2.0 every semester with no failing grade or incomplete mark in any academic and non-academic subjects. He or she must be willing to sign an undertaking to work as a Laboratory Analyst-Trainee during semestral breaks and after graduation, as a full-fledged Laboratory Analyst/Chemist in one of the branches of F.A.S.T. Laboratories in the country for an equivalent number of years as the scholar has been granted scholarship.
FASTLab is a primary cooperative, duly organized and existing in accordance with the laws of the Republic of the Philippines, registered at the Cooperative Development Authority, with main business address at No. 62, 20th Avenue, Cubao, Quezon City and branch business address at M. C. Briones Ave., Mandaue City.