JLB charts plans and challenges before his presidency ends to VSU alumni
Details

Written by JFMBaldos

Published: 30 August 2013
As the VSU President, Dr. Jose L. Bacusmo, continuously propels the Visayas State University, he said he has charted his plans and challenges before his term ends in 2015 and presented them during the Grand VSU Alumni Homecoming on April 17, 2013 at the VSU Convention Center.
With some 100 alumni in attendance, Dr. Bacusmo discussed his topic entitled "Challenges, Direction and Plans of VSU for 2013-2015." The VSU president started his presentation with a question, "How will we realize a dream if we will not dream at all?" He also encouraged everyone to "dream with our feet on the ground."
In his presentation, Dr. Bacusmo narrated that the University was once an agricultural high school that blossomed into an agricultural college in the 70s and 80s. "Now, we are a comprehensive University with agriculture and natural resource management as the core offering. We are the most prolific in research and research publication in the Visayas," the VSU President said.
He also revealed that the University operates at about P500-million budget this year, in which four-fifths (80%) of the operating budget each year comes from the national government while the other one-fifth (20%) comes from fees, businesses, and grants.
The President also mentioned that the Maintenance and Other Operating Expenses (MOOE) represent about 10% of the General Appropriation Act (GAA) in which P16-million is budgeted for electricity. Dr. Bacusmo also added that VSU's enrollment is increasing every year and most of the students come from poor families, thus increase in fees is remote under his administration.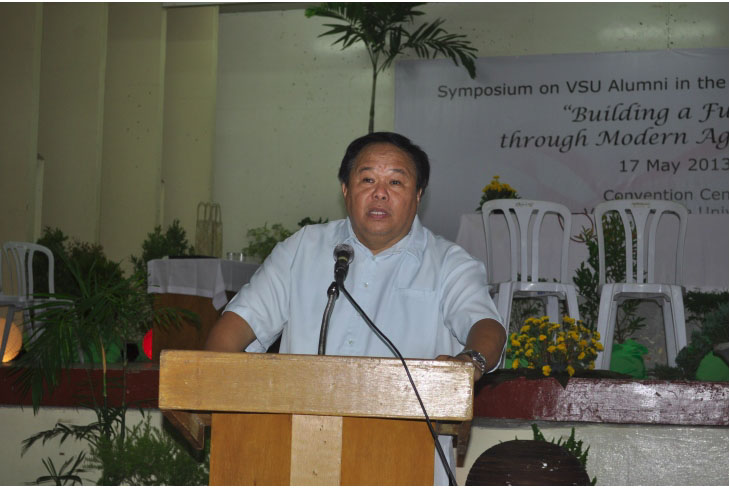 "We are at a defining moment for Philippine Higher Education, especially now that there is a proposal for amalgamation of higher education institutions (HEIs) throughout the country," Dr. Bacusmo stressed. In Region 8, for example, there will only be one university to be named as Eastern Visayas University System from among the 10 existing state colleges and universities whose leadership has yet to be determined.
Dr. Bacusmo also said that the University is facing a lot of challenges. And these are: massive retirement of faculty members with PhDs, low publication rate (Asia and World standards), low faculty research participation, low enrollment in graduate school, inconsistent performance in licensure examinations, eroding values of students, outdated and decaying buildings and equipment, high utilization and high cost of electricity, remoteness from major airport, and inadequacy in facilities (dormitories, laboratories, classrooms, etc.)
The VSU President, however, takes the different challenges as great advantages for these will become the guiding principles as to where VSU shall be going.
Dr. Bacusmo pointed out that within a three –year period, VSU shall strengthen engineering and education as core offerings other than agriculture and natural resource management, attain the status as "Doctoral/Research University" in the CHED typology of HEIs, become the 'flagship university' of the "Eastern Visayas University System" based on the merit of its qualifications, attain full sustainability, gain recognition as a destination for conventions and agro-eco tourism, become the premier science and technology university in the Visayas, and produce competent graduates with desirable attitude.
The VSU President discussed categorically to the alumni his 2013-2015 Plans:
For Instruction, Dr. Bacusmo said that his administration will invest more on faculty and staff development, continuously improve curricula, accredit programs and campuses, strengthen graduate programs and recruitment of students, and improve access through on-line offerings;
In Research and Extension, it will maintain regional and national leadership in research, increase publication and IP protection rates, bring research results from laboratories to users or market, and converge and scale-up extension projects aside from replicating; In Resource Generation, the University will improve the managerial capabilities of its faculty and staff, and establish more profitable businesses; and
In Facilities, he will push for the completion of construction of the new VSU Library, construct an Olympic-size swimming pool, establish surface water treatment facility for the campus, construct covered walks, renovate the last of "core value" cottages, renovate the science lecture hall and faculty offices in various departments, construct studio apartments and additional dormitories, establish fish hatchery and floating restaurant, fence and establish VSU agri-eco tourism loop, complete the construction of sea wall and river control dikes, maintain and renovate the academic buildings and facilities, and purchase additional trucks and service vehicles.
The presentation was made to inform the VSU alumni how his administration has been doing and what he plans to do in the next two years of his presidency.
The host batches '86 and '87 presented a Certificate of Appreciation to Dr. Bacusmo as one of the resource persons in the symposium on "VSU Alumni in the ASEAN Community: Building a Future through Modern Agriculture."