Grand VSU Alumni Homecoming 2013 draws 373 alumni
Details

Written by JFMBaldos

Published: 30 August 2013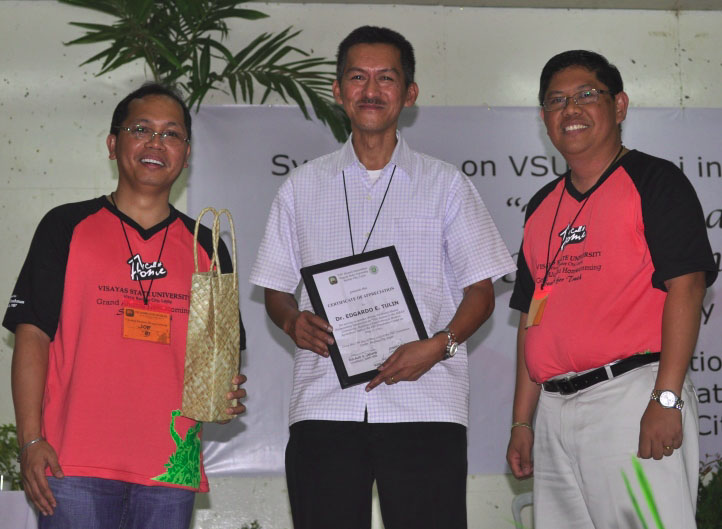 Three hundred seventy-three VSU alumni from the different parts of the country and abroad gathered during the Grand VSU Alumni Homecoming on May 17-19, 2013. Hosted by Batches 1986 and 1987, this year's convergence focused on the theme "Hisgutay, Agik-ikay, og Tinabangay VSU Alumni."
In his welcome message during the opening of the event, Dr. Jose L. Bacusmo, VSU President, expressed his happiness for once again the alumni have come to their beloved Alma Mater—the Visayas State University, for various primary reasons.
"Many come primarily to reminisce the time they spent while they were students at VSU, the then VAC, ViSCA, and LSU; to check back the places and nooks where they usually hanged-out with their barkadas, walked on the sand of the beach where they used to walk with their close friends and dearly beloved; see the dormitories where they lived for months or years and where they had adapted to the routines of waking up at five in the morning to do the sweeping of the surroundings, lined up for the bathroom, and be at the dorm before ten in the evening or else they are booted out of the dorm the following semester," Dr. Bacusmo narrated.
The VSU President also encouraged the VSU alumni to find time in going around the campus and see some changes that occurred since the last time they were in this great institution.
More than anything else, Dr. Bacusmo emphasized that "VSU is a part of you, it's yours and you are a part of it, thus be a part of the development of your Alma Mater."
The occasion also provided an opportunity for the VSU alumni to listen and interact with the speakers during the symposium on "VSU Alumni in the ASEAN Community: Building a Future through Modern Agriculture."
The President of the VSU Alumni Association, Inc. (VSUAAI), Dr. Edgardo E. Tulin, presented a paper on "Issues for ASEAN 2015 and Opportunities for VSU Alumni." Dr. Tulin discussed some factors affecting growth such as: demographics: population growth, declining farmers population, urbanization, increased income, diet changes; environmental degradation and climate change; increase in oil prices/biofuel expansion; rapid transformation of supply chains; and ASEAN Economic Community 2015.
Dr. Tulin also mentioned some opportunities for action which include food security, sustainability conundrum, biotechnology, urban/peri-urban agriculture as part of the problem or part of the solution, and bio-entrepreneurship: keeping farmers on the farm.
Added glamour to the celebration were activities like thanksgiving mass officiated by three VSU alumni who became priests (Rev. Fr. Victor Florida, Rev. Fr. Manuel Lagumbay, and Rev. Fr. Ador Javier), campus tour, videoke challenge, departmental visit, alumni night, fun and surprises, modified budol, and community outreach.