VSU and PCA forge agreement to increase coconut production and farm productivity in Leyte
Details

Written by JFMBaldos

Published: 30 August 2013
The Visayas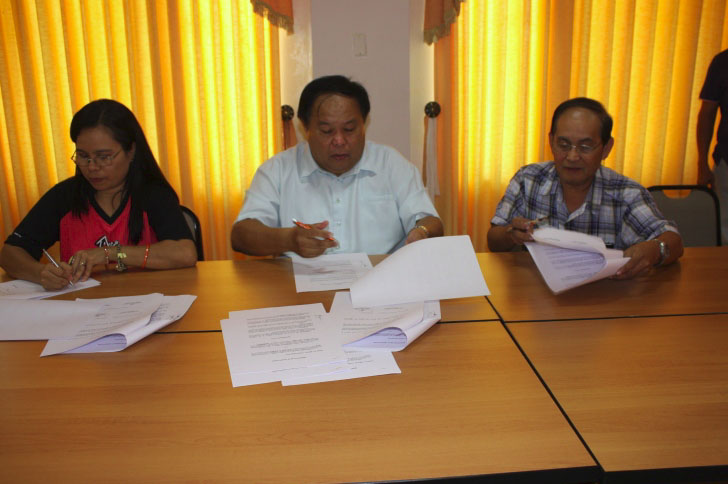 State University (VSU) and the Philippine Coconut Authority (PCA) have entered into a Memorandum of Undertaking (MOU) for a joint venture on "Coconut Planting and Replanting Project." The MOU was signed on May 17, 2013 by VSU President Jose L. Bacusmo and PCA Administrator Euclides G. Forbes in the presence of Mr. Edilberto V. Nierva, PCA-8 Regional Manager III, and Dr. Maria Juliet C. Ceniza, Director of the National Coconut Research Center-Visayas (NCRC-V), at the VSU Office of the President.
VSU and PCA signified their interest to work together for the coconut planting and replanting program to increase coconut production and farm productivity in the province of Leyte for the benefit of the coconut farmers and other coconut industry stakeholders.
As stipulated in the MOU, PCA shall provide funds in the amount of Php2,600,000 to purchase 100,000 selected quality coconut seedlings at pick-up price of Php26 per seedling from VSU. Likewise, it will coordinate with the VSU coconut plant breeders and nursery in-charge on mother tree and seed nut selection, and on establishment and maintenance of the coconut nursery; evaluate eligible coconut farmer-recipients including the farms to be planted or replanted; undertake the distribution of seedlings to eligible coconut farmer-recipients; provide technical assistance to farmers on farm establishment, field planting, care and maintenance and pest/disease management; and regularly monitor planted/replanted sites.
VSU, on the other hand, shall supply to PCA 100,000 coconut seedlings from selected trees and nuts of identified Baybay Tall population needed for the latter's replanting program; provide the area/nursery site needed for the establishment of the coconut nursery; provide the tools and the needed labor in the establishment and maintenance of the nursery; and assist in the evaluation of farms and participants.
PCA is an agency under the Department of Agriculture responsible for developing the coconut and other palm oil industry to its full potential in line with the new vision of a united, globally competitive and efficient coconut industry.
VSU is a state university engaged in coconut varietal improvement and other researches on coconut, has sizable area grown to advanced population of coconuts, has identified/certified Baybay Tall mother trees, the high yielding nationally recommended coconut variety, and is active in implementing agricultural development programs/projects in Eastern Visayas.