VSU opens 2018 women's month with advocacy forum, film showing
Details

Written by Letty Jean Lor

Published: 14 March 2018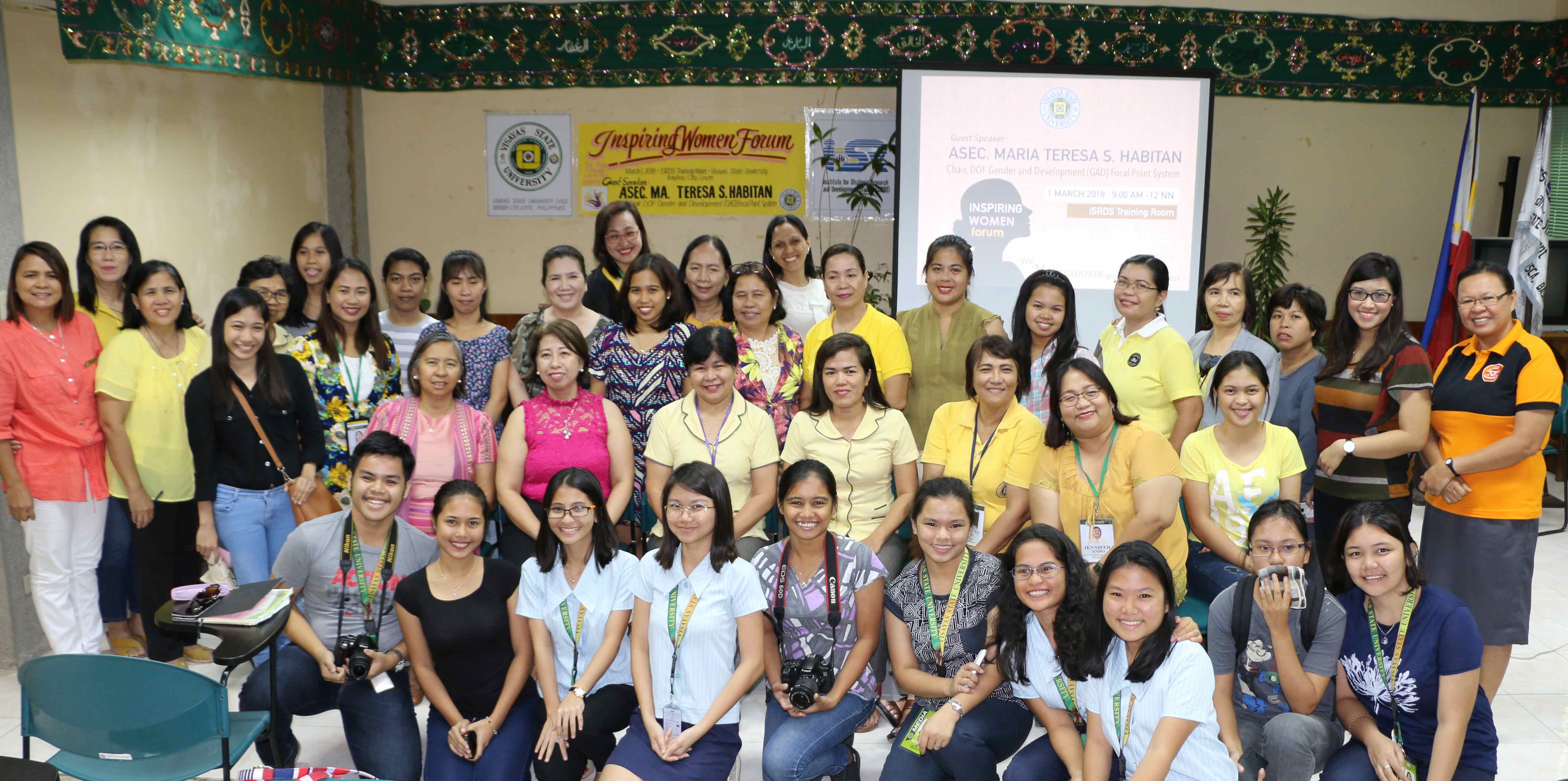 Visayas State University (VSU) through its Gender and Development (GAD) program took part in the 5th National Women's Month Celebration in advocating for women empowerment, highlighting their active contribution to the country's development.
Assistant Secretary Ma. Teresa S. Habitan of the Department of Finance (DOF) opened the celebration with the 'Inspiring Women Forum,' where she talked about pace-setting for women leader in the public sector. The event happened at the Institute of Strategic Research and Development Studies (ISRDS) at VSU, March 1.
Asec. Habitan, who chairs the DOF-GAD Focal Point System, shared her success story and encouraged women to go beyond their comfort zones—to dream big.
"Finding great passion in doing one's best in promoting social justice and in helping the poor is key to being a public servant. Projecting confidence in presenting knowledge and skills are equally important," said Habitan.
She added that a good leader is one who takes care and inspires her people and tagged opinionated women as attractive.
The secretary also stressed that challenges should be treated as an essential part of life, and be grateful as these can be considered as a 'stretching exercise to develop women's resilience and flexibility.'
"Let mistakes become stepping stones to perfect your craft and never forget to take a leap of faith," she added.
Habitan ended her speech by sharing her toughest experiences in the public sector and how she was able to conquer them. These experiences, according to her, opened up more significant opportunities and enhanced her leadership skill.
VSU's opening salvo concluded with a free screening of the award-winning independent film "Boses" by Erasto Films. More than 350 viewers composed of VSU faculty, staff and students attended.
Mr. Roger O. Macua of Erasto Films facilitated the open forum that followed, where the audiences shared their insights about bullying and violence against women and children, which are the core themes of the film.
The month-long activity, observed every March, is anchored on the theme: "We make change work for women" and is in-line with the International Women's Day.