VSU prexy and 4 administrative staff attend Regional Budget Forum
Details

Written by SMCLemos

Published: 09 February 2012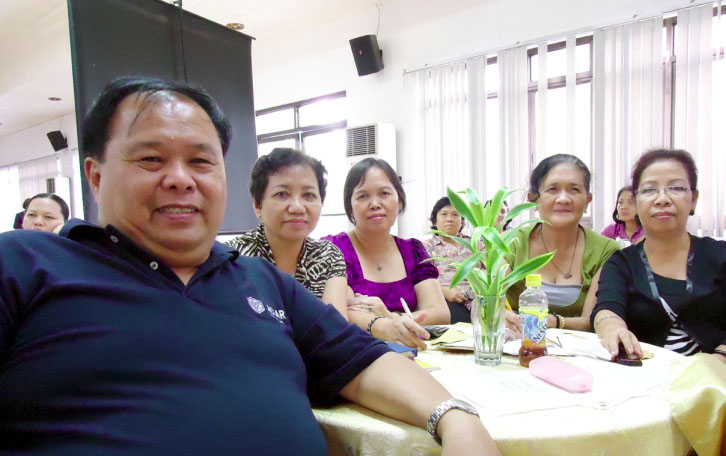 Dr. Jose L. Bacusmo, VSU President, together with Ms. Roberta C. Lemos, Director of Finance; Ms. Erlinda S. Esguerra, Chief Accountant; Ms. Anita G. Godoy, Budget Officer; and Ms. Redempta L. Soria, Administrative Aide VI; participated in the Regional Budget Forum for Fiscal Year 2013 organized by the Department of Budget and Management of Region 8. The activity was conducted on January 20, 2012 at the DPWH Multi-Purpose Hall in Candahug, Palo, Leyte.
DBM-8 Director Imelda C. Laceras, in her topic "Objectives, Budget Framework and General Procedures," explained that the budget framework in the fiscal year of 2013 focuses on the 5 key result areas of the President's Social Contract with the Filipino people which are: 1) Anti-Corruption and Transparent, Accountable and Participatory Governance; 2) Poverty Reduction and Empowerment of the Poor and Vulnerable; 3) Rapid Inclusive and Sustainable Economic Growth; 4) Just and Lasting Peace and the Rule of Law; and 5) Integrity of the Environment and Climate Change Adaptation and Mitigation.
The gathering aimed to ensure that all agency programs and projects directly support the President's Social Contract and focus on the five (5) key result areas.
Some DBM personnel took turn in discussing topics of their expertise. The topics and the resource persons were: "Guide to Department/Agency Budget Formulation and Resource Allocation" by Ms. Aleli N. Hernandez; "Specific Budget Preparation Guidelines/Forms and Calendar" by Ms. Florita M. Lacdo-o; and "Guidelines on the Release of Funds for FY 2012 and Other DBM Issuances" by Ms. Josefina P. Escoto.
Invited resource speaker from NEDA Region 8, Ms. Marivic Cuayzon, presented the Highlights of the CY 2011-2016 Regional Development Plan.