USSO holds echo-seminar on cyber-generated concerns
Details

Written by JFMBaldos

Published: 09 February 2012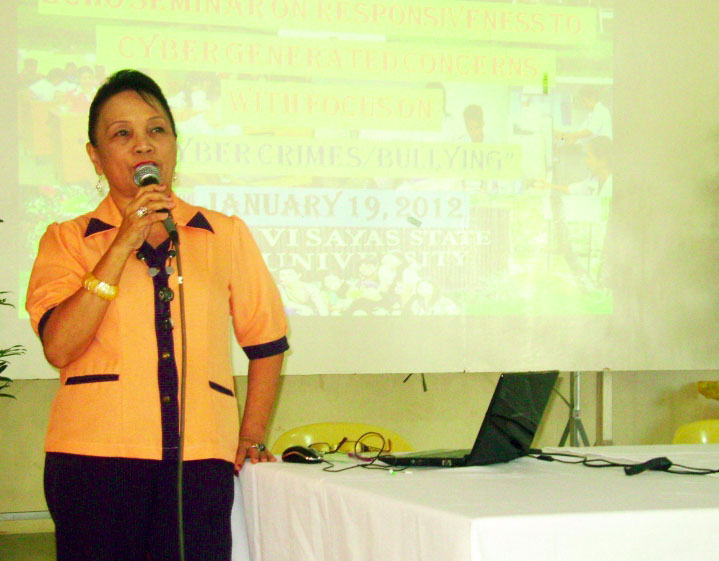 The University Student Services Office (USSO) conducted an echo-seminar on "Responsiveness to Cyber-Generated Concerns" on January 19, 2012 at the VSU's Center for Continuing Education. The seminar was an offshoot of the 8th Mid-Year Assembly and Seminar- Workshop of the Philippine Guidance and Counseling Association – Cebu Chapter held on September 6-7, 2011 at St. Theresa's College in Cebu City attended by Ms. Carmencita S. Reyes, Guidance Coordinator, and Ms. Miriam M. Dela Torre, Guidance Counselor, of USSO.
The echo-seminar was attended by the guidance counselors from the VSU Main and Tolosa campuses, college/department-based guidance facilitators, and dormitory/cottage advisers.
In her presentation entitled "Cyber Bullying: Combating the New Thief of Innocence," Mrs. Reyes updated the participants on the terminologies and cyber environment, effects of the internet cyber crimes and cyber bullying, skills in assessing signs and symptoms of cyber bullying, approaches that may be applied to cyber bullying victims and perpetrators, developing a school-based cyber bullying program and intervention, and advocating cyber bullying by creating a group that promotes "Pro-Safe and Responsible Internet Use."
Mrs. Reyes also discussed the good and harmful effects of internet. She explained that cyber bullying happens when a child, pre-teen, or teen is tormented, threatened, harassed, humiliated, embarrassed or otherwise targeted by another child, pre-teen, or teen using the internet, interactive and digital technologies or mobile phones.
Facts about cyber bullying were also presented to the participants. The resource person cited the following results of different studies on cyber bullying: 1) cyber bullying typically starts at about 9 years of age and usually ends after 14 years of age; 2) after 14, it becomes cyber or sexual harassment due to nature of acts and age of actors; 3) it affects 65-85% of kids directly or indirectly through close friends; 4) most common among middle school students (high school students); 5) 20% of the population have been cyber bullied; 6) 60% of students have been cyber bullied and are victims of cyber bullying; 7) adolescent girls (26%) are more likely to have experienced cyber bullying than boys (16%); 8) girls are more likely to spread rumors; and 9) boys are more likely to post hurtful pictures or videos.
Moreover, Mrs. Reyes enumerated the different kinds of cyber bullying such as: a) Flaming – online fights using electronic messages with angry and vulgar language; b) Cyber Stalking – repeatedly sending messages that include threats of harm or are highly intimidating; c) Impersonation – pretending to be someone else and sending or posting materials online that make a person look bad in the eyes of others; d) Outing and Trickery – sharing someone's secret or embarrassing information online; e) Denigration – sending or posting cruel gossips or rumors about a person to damage his or her reputation; and f) Exclusion – intentionally excluding someone from an online group, like a "buddy list". She also urged the participants to be sensitive enough in detecting signs and effects of cyber bullying among the students.
To this effect, laws have been passed and filed by some senators to address the problem on cyber bullying, the speaker said. For instance, Senator Miriam Santiago filed in February 2011 Senate Bill No. 2677 which mandates all schools, whether public or private, including colleges & universities, to craft policies that will address the problem of bullying in their respective institutions (Anti-Bullying School Policy Act).
In March 2010, Sen. Manny Villar filed Senate Resolution No. 915 entitled "Resolution urging the senate committees on Science and Technology, Public Information and Mass Media and other appropriate committees to conduct an inquiry in aid of legislation, on the occurrence of cyber stalking cases and modus operandi adapted to perpetuate crimes in the internet".
Sen. Juan Ponce Enrile filed Senate Bill No. 3177 entitled "An act defining cyber crime, providing for the prevention, suspension and imposition of penalties and for other purposes. It specifically tackled child pornography."
As frontliners in dealing with students in their respective colleges/departments and dormitories/cottages, the resource person introduced to the participants some approaches that they could use in advising or facilitating victims of cyber bullying.
The echo-seminar was facilitated by Ms. Dela Torre with the assistance of the USSO staff. It was concluded with an open forum and sharing of encounters among the participants and the resource person.