VSU faculty, staff and students assist LGU Baybay in its rabies program implementation
Details

Written by MMCano

Published: 03 February 2012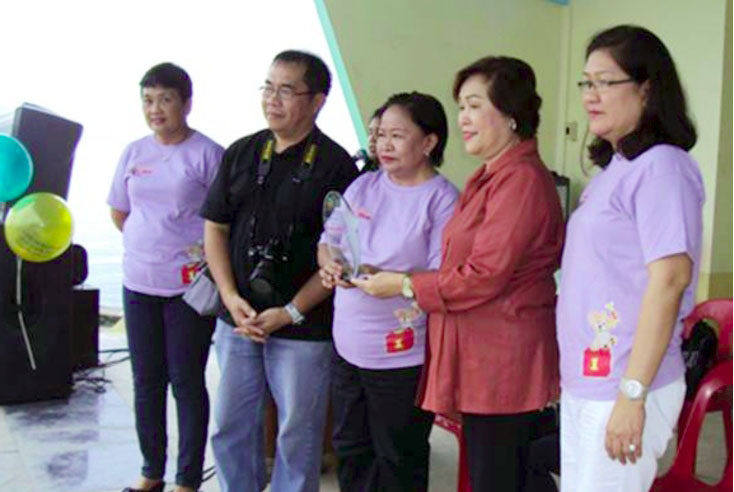 The Department of Health of Region 8 (DOH-8) invited Dr. Eugene Lañada, Dean of VSU's College of Veterinary Medicine, to attend its Awarding of Health Achievers on December 6, 2011 at Patio Victoria in San Jose, Tacloban City.
During the said activity, Dr. Lañada and Dr. Evelyn Guinocor, City Health Officer of Baybay City, received, on behalf of the City of Baybay, a Plaque of Recognition for being the Top Performing LGU in Rabies Program Implementation in 2010.
Ms. Elena P. Siddiqui of the City Agriculture Office said, "This is because the City of Baybay is unique because it crafted its own ordinance and imposed dog registration that will ensure the sustainable implementation of the anti-rabies program in the city. The City Rabies Control Committee (CRCC) also conducted massive information campaign."
Some VSU faculty, staff and students contributed to this victory of the Baybay City LGU. Dr. Lañada and Ms. Marissa Cano of VSU Radio DYAC and Information Office helped in the crafting of the implementing rules and regulations of the Anti-Rabies Ordinance of Baybay City. The veterinarians of CVM, including Dr. Lotis Balala, Dr. Santiago Peña Jr., Dr. Ronald Torregoza, Dr. Ana Marquiza Quilicot, and Dr. Evelyn Cortez served as resource persons during the trainings conducted and the massive information campaign spearheaded by the CRCC.
The Civic Welfare Training Service (CWTS) Team Fortitude of VSU, under the supervision of Dr. Balala, assisted the Local Government Unit of Baybay City in the conduct of the special events such as the Dog Walk and the Dog Show. The group also conducted a seminar on Responsible Pet Ownership in two elementary schools and two barangays of this city.
Dr. Lañada and Dr. Guinocor turned over the Plaque of Recognition to the City Mayor, Hon. Carmen L. Cari, during the first ever City of Baybay Dog Show held on December 9, 2011, sponsored by the Association of Barangay Captains (ABC) and the CRCC, with financial support from the Province of Leyte, 5th Congressional District, and the City Mayor's Office of Baybay.
In her message, Mayor Cari said, "I would like to thank the CRCC and all the people who helped us to get this award as the Top Performing LGU in Rabies Program Implementation in 2010. I hope that we will be able to get the same award in 2011 and the rest of the coming years. But we can only do this with your continued support."
Mayor Cari also thanked the dog owners who joined the Dog Show because according to her, "This is part of our campaign for responsible pet ownership. We want to stop the transfer of rabies from dogs to humans. So I hope that you will continue to support this program of the local government unit of Baybay."