Team VSU tops tree measurement, lands 3rd runner up in nat'l forestry contest
Details

Written by Isabelle Mae Amora

Published: 22 February 2019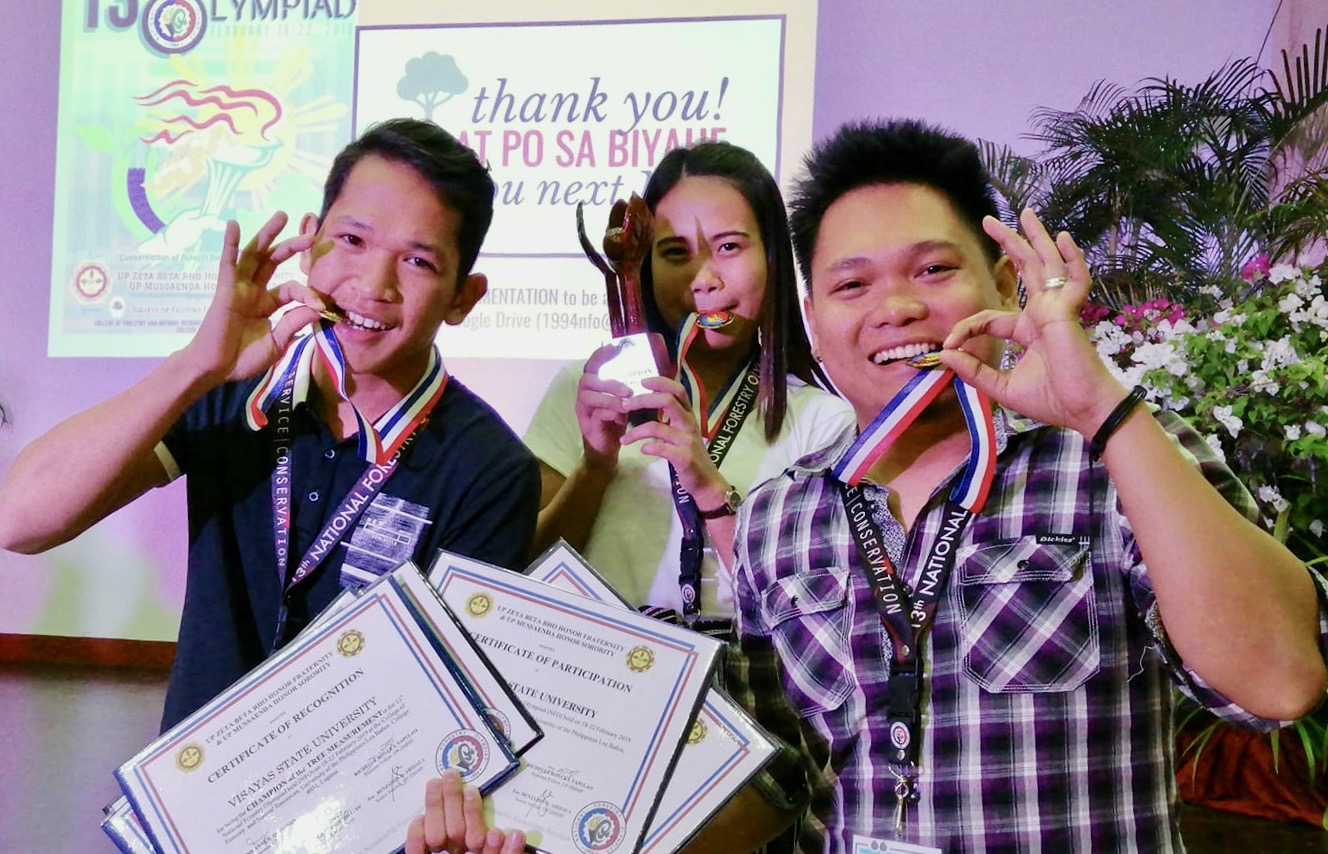 Forestry students of Visayas State University bagged the first place in the Tree Measurement Category during the 13th National Forestry Olympiad (NFO) held at the University of the Philippines Los Baños from February 18 to 22, 2019.
Overall, VSU finished as the third runner up from among the 17 participating schools in the country.
The VSU forestry team was composed of senior BS in Forestry students Mark Matthew A. Auguis, John Jochiel M. Artajo, and Riva Shane P. Llano, who also bagged second runner-up in the 'Leaf Identification' event.
VSU College of Forestry and Environmental Science (CFES) Dean Dennis Peque expressed great pride and honor to the CFES Team for their achievement. Dr. Peque highlighted that this is the first time VSU emerged as the champion in a national contest event in forestry, and second time landing a top spot among the competing schools in the country. In 2005, VSU also ranked fourth in the national olympiad.
"Ranking 4th (third runner-up) is already a feat considering that there were 17 forestry schools in the country who participated in the Olympiad. The team's participation in the NFO brought honor and pride to CFES students, faculty, alumni and VSU as a whole," the dean said.
NFO has been running for 25 years, founded in 1994, as a scholastic competition among different forestry schools in the Philippines. However, more than recognizing the best among these schools, NFO also "promotes linkages among forestry students nationwide and builds upon the higher sense of environmentalism and commitment for the conservation and sustainable management of the country's forest and natural resources."
Dr. Peque also conveyed his hopes that the team's participation will have an impact on society.
"May you [VSU Team] have learned something new from your experience, established linkages with other forestry students, and perhaps raised the level of your commitment towards the conservation and sustainable management of our environment, especially our forests and natural resources," Peque added.
The events included tree measurement, identification of forest diseases, leaf identification, forest surveying, seed identification, and wood identification.
UPLB is this year's overall champion, followed by the Southern Luzon State University, then Benguet State University with only a 1.36 point lead over VSU for the second-runner up title.
NFO is organized by the UP Zeta Beta Rho Fraternity and Mussaenda Honor Sorority and held every two years at UPLB College of Forestry and Natural Resources. This year's competition is anchored on the theme, "Conservation of Forests for Sustainable Ecosystem Services."