Viscan lad is PH most outstanding agri, biosystems eng'ng student leader for 2019
Details

Written by Isabelle Mae Amora

Published: 26 April 2019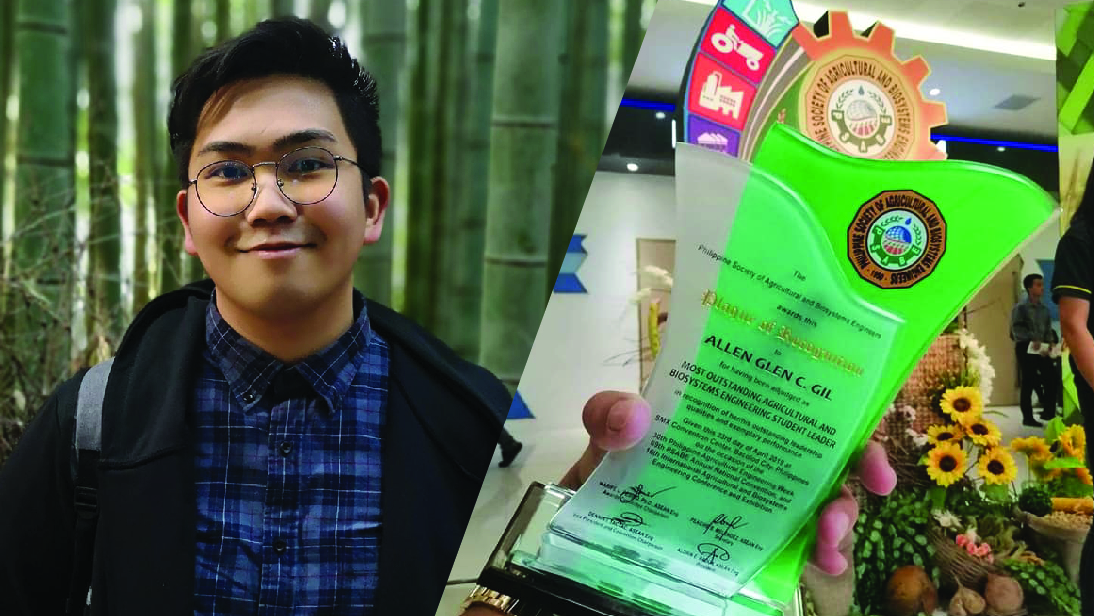 Allen Glen C. Gil, a senior Agricultural and Biosystems Engineering student, was awarded as the most outstanding agricultural and biosystems engineering student leader for 2019 by the Philippine Society of Agricultural and Biosystems Engineers (PSABE), from among 61 schools offering the BSAE and BSABE degree programs in the country.
This was during the 16th International Agricultural and Biosystems Engineers Conference and Exhibition, 30th Philippine Agricultural Engineering Week and 69th Philippine Society of Agricultural and Biosystems Engineers' Annual National Convention held this year at SMX Convention Center Bacolod, SM Bacolod City, Negros Occidental, from April 22 to 26.
Gil was recognized for his outstanding leadership qualities and exemplary performance as a student leader. Some of his contributions include spearheading numerous collaborative youth-led environmental education and awareness campaign, restorative initiatives and youth-empowerment activities, and being an active member in local, regional and national organizations. Because of his leadership, he was chosen as the Philippine delegate to the 2018 youth environmental planning workshop in Vietnam
In his Facebook account, Gil posted that he feels conflicted in receiving the award, thinking he should not be the only one recognized for this distinction.
"One side of me is happy that I finally got the award that I have been preparing for, for almost a year. But another side of me is telling me that I don't deserve this award. I feel like I should not receive this award on my own. I feel like the people who have guided me, mentored me, inspired me, supported me, and motivated me should also be there up in the stage," Gil said.
Gil also shared that he owes the recognition to his Agricultural Engineering family, for trusting him to become the president of the student organization in 2016.
"That experience was a major milestone of my life and it truly made me into a real student leader," Gil added.
The outstanding student leader also highlighted the significance of the Terrestrial and Aquatic Restorations by Students Immersed in Environmental Reforms (TARSIER) organization to his recent achievement. Gil shared that he found his passion for the environment through the said group of environment enthusiasts in VSU.
"I would always say that everything started with TARSIER. This organization has changed my life so much and I hope that we will keep the fire burning and continue to inspire and empower more youths to come [join]," Gil told.
Gil is a consistent university honor, a recognition given to students with a GPA of 1.00 to 1.45 every year, and is a candidate for Latin honors when he finishes his bachelor's degree in June 2020. Currently, he is an exchange scholar at Tokyo University of Agriculture and Technology in Japan.
The Student Chapter also received the following awards:
Agricultural Structures Design: 1st placer
Lenard D. Maitem, Cherry Mae A. Cervantes, Cathlyn Mae B. Ngoho
AutoCAD Challenge: 2nd placer
Jovan Matthew T. Costillas
Videomaking Presentation: 2nd placer
Cristlyn V. Bacariza which was represented by Krystel Denice L. Labrador
Combine Harvester Parts Identification: 3rd placer
Myrla Mae B. Sintos
Dance Challenge 2019: 3rd placer
Cherry Mae A. Cervantes, Cathlyn Mae B. Ngoho, Myrla Mae B. Sintos, Virgil Mae P. Taghap, CJ Jose Nino J. Tizon, Jovan Matthew T. Costillas, Ray Domingo C. Serdan, Maristel Angeli B. Gonzales, Evan Adam Paul M. Arguelles, Desiree Ann S. Tampus.
Ms. ABE 2019: 2nd runner-up
Vanessa M. Panta
Mr. ABE 2019: 3rd runner-up
Lenard D. Maitem
The team landed overall fourth in the ABElympics 2019 among the participating universities and colleges, coming from Luzon, Visayas, and Mindanao.
VSU sent a total of 19 student delegates to the five-day national forum, along with Department Head Prof. Arthur It. Tambong, FPSAE, and faculty member Engr. Feliciano L. Sinon, Jr.