"Sumad": Art exhibit for a cause opens for 95th #VSUAnniv celeb
Details

Written by Isabelle Amora

Published: 02 May 2019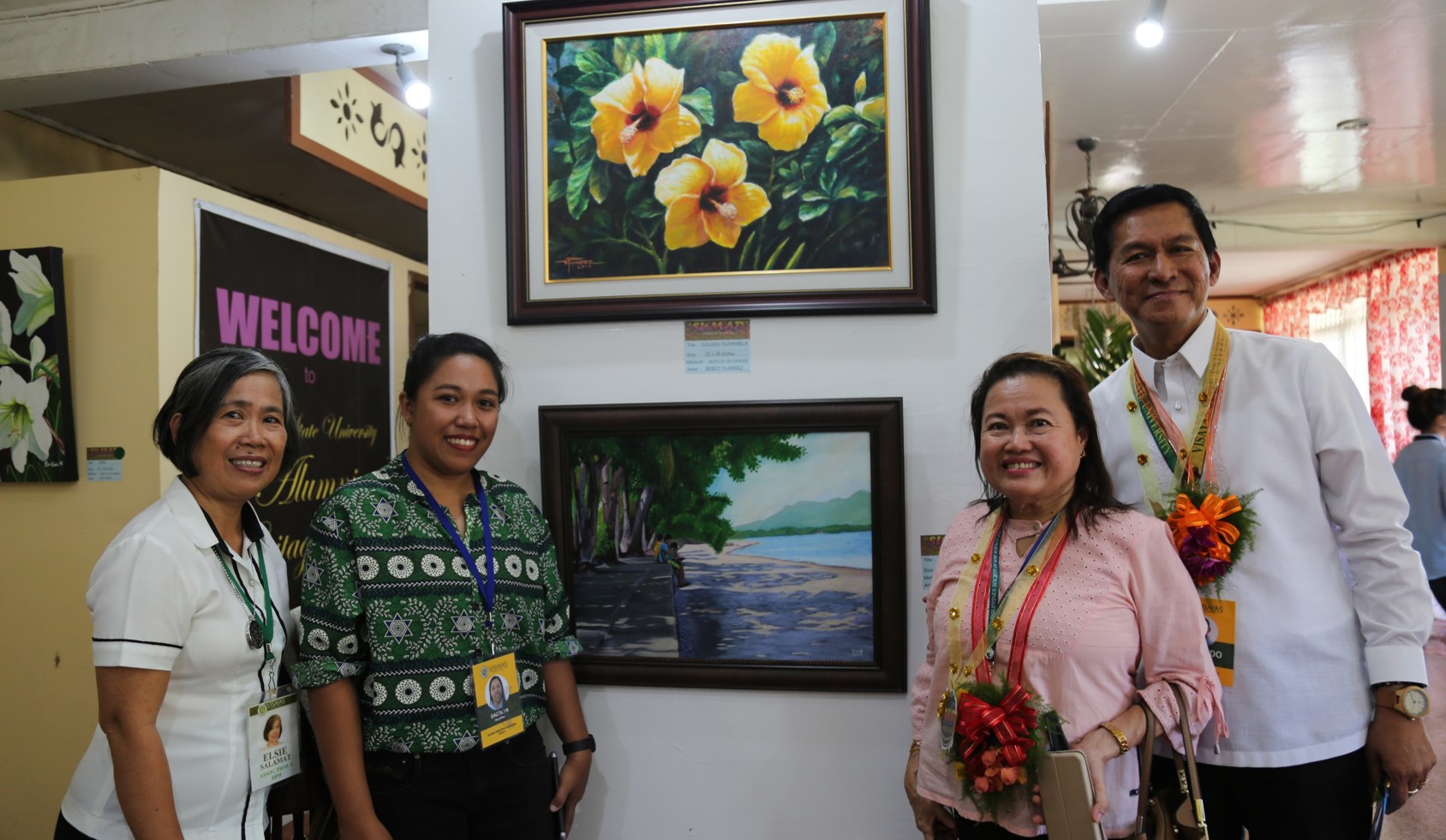 The annual art exhibit formally opened on April 22, 2019 at the Balay Alumni in celebration of VSU's 95th founding anniversary, following the formal opening of the Flower and Garden Show.
The opening ceremony was graced by VSU President Edgardo E. Tulin, Graduate School Dean Anabella B. Tulin, Former VSU President Pacencia P. Milan, Baybay City Mayor Carmen L. Cari, and Department of Budget and Management Region 8 Director Annabelle C. Echavez.
The art expo dubbed "Sumad" (Cebuano for "anniversary") features the works of local and homegrown artists: Buen Josef Andrade, Lolito Caña, Mizael Cerna, Domingo Flandez, Romarico Palacio, Dazzilyn Palermo, Pauline Cari Perez, Billy Pomida, Jude Nonie Sales, Jessie Bonnie Bazalo, Joan Cormanes, and Angel Mae Rafols, with guest artist Roger Pernites.
Prof. Elsie Salamat, VSU Alumni and Community Relations Office (ACRO) Head, was pleased to announce that this is the first time for ACRO to host an exhibit with more than ten exhibitors.
"[The artist group] is growing in number, and hopefully this creates more consciousness on art and develops more people, especially our students, to appreciate art as a means to set a change in outlook as it can depict culture, and also development."
The art exhibit, organized by the VSU-ACRO in cooperation with the Hugpong Sabado group of artists, has become a traditional part of the VSU anniversary celebration in support to the VSU Alumni Association, Inc. (VSU-AAI) and VSU Administration's "Tabang Mo, Kaugmaon Ko" program. The project aims to help less privileged but deserving students to graduate from their respective courses in VSU.
The artists believe that when they can "help transform the lives of students by becoming graduates and be productive members of the society, then art, finally has a purpose. Only then will the colors in their palette and the texture of their brushes in the canvass become relevant."
The exhibit is open until May 19, from 8am to 8pm.