CHED Chair is #VSUGrad 2019 commencement speaker
Details

Written by Isabelle Mae Amora

Published: 14 June 2019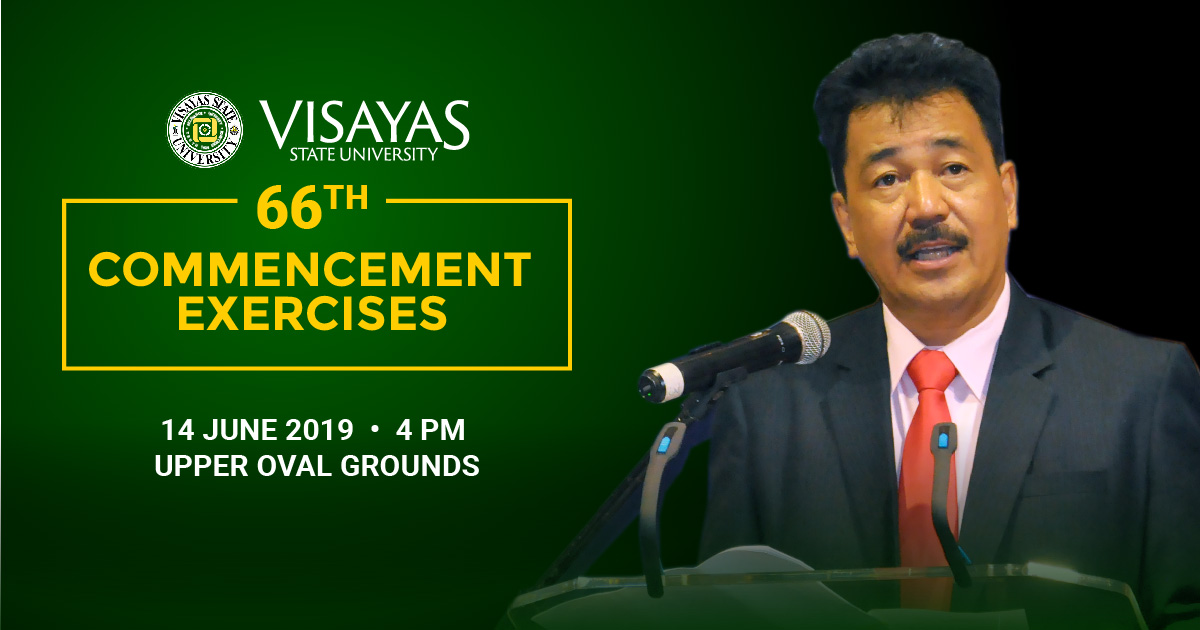 VSU is producing 1,405 graduates this year, with 160 student honorees.
Dr. J. Prospero "Popoy" E. De Vera III, Chairman of the Commission on Higher Education (CHED) and of the Visayas State University Board of Regents, is set to grace VSU's 66th Commencement Exercises as keynote speaker.
De Vera was appointed as CHED Chairman in October 2018 but started serving as Commissioner in September of 2016. He was the first Commissioner who openly supported the Free Tuition Bill pending in Congress in 2016.
The Chairman graduated in the degree B.A. History in the University of the Philippines. He took M.A. in Social Science at De La Salle University, and then Doctor of Public Administration back at UP. He was a Fulbright-Hays Visiting Scholar at the University of Southern California and the California State University-Sacramento (1990-1992), and Senior Fulbright Visiting Professor/Fellow at the Johns Hopkins University (2000-2001).
De Vera is a Professor of Public Administration since 1993, teaching courses in administration of social development, public administration and national development, Philippine administrative system, and policy process, among others. His specializations include demography/population, environmental policy, higher education governance, legislative studies, monitoring and evaluation, non-governmental organizations, policy analysis, political management, and social development.
In 2014, De Vera was awarded the Outstanding Pangasinense Award by the Provincial Government of Pangasinan.
Just in May 2019, De Vera also keynoted the annual convention of the State Universities and Colleges- Association of Colleges of Agriculture in the Philippines (SUC-ACAP) hosted by VSU. The CHED Chair also sits as Chairman of the VSU Board of Regents.
VSU is producing 1,405 graduates this year, with 160 student honorees. Of these, two will march as Summa Cum Laude: Thich Eloise Paris (BS in Economics) and Jose Celso S. Perez, Jr. (B of Secondary Education); 13 as Magna Cum Laude; 144 as Cum Laude; and one "With Honors."
In 2018, VSU produced 1,276 graduates with 136 Latin honors. Department of Science and Technology (DOST) Secretary Engr. Fortunato dela Peña was then the commencement speaker.
This year's graduation rites will be held at the University Upper Oval Grounds on June 14.
Congratulations, Class of 2019 Viscan graduates!