#VSUGrad 2019 | Valedictory Address by Thich Eloise Paris (Summa Cum Laude)
Details

Written by Visayas State University

Published: 27 June 2019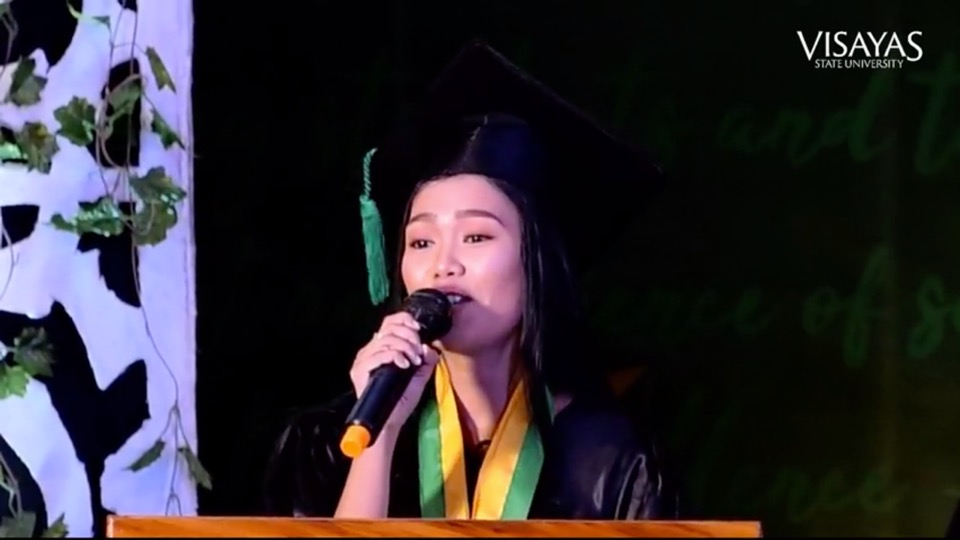 To the University President, Dr. Edgardo E. Tulin; to the Vice Presidents of the Visayas State University, Dr. Beatrice Belonias, Dr. Othello Capuno, Dr. Rimberto Patindol, and Dr. Dilberto Ferraren; to the board of regents; to the deans of the different colleges; to the heads of the different departments; teachers; fellow honorees; parents; friends; and honorable guests; ladies and gentlemen, a pleasant afternoon to one and all!
As I recall my pre-school education, there was this one moment when I had to force my mother to send me to school despite having a high fever. The innocent me was only thinking about avoiding absences in class in order to receive 3 stars from my teacher. But it was different from my mother's perspective. It was really momentous for her that she had to pray and thank the heavens, not because her child was sick of course, but because at that moment, she knew that her child had already developed a passion for studying. So at an early age, I was this "naning" little girl. Naning in short for "naningkamot" which I am proud of, because I know that since the beginning, it was our parents' only wish, for us to do well in school.
Moreover, I am grateful because that passion grew in me and has stayed until I went to college. Now the question is, "Was college really a no-sweat experience for me?" Definitely, no. As an individual, I also face different struggles every day, I mean who doesn't, right? Just like every college student, I also had a terrible experience of waking up as early as 5 o'clock in the morning and I also faced a multitude of academic stressors especially when all those projects, assignments, reporting, paperwork, drafts, and exams were coming at once. But the ability to overcome all of that is up to the person which is the reason why I salute every graduating student of the class of 2019. And for that, let us offer ourselves a big round of applause.
Well, I know for sure that we have not graduated on our own.
To our Almighty Father, whose grace Has bestowed upon us, thank you very much for being our source of everything. We trust that You always have the best plan for us.
To our teachers and mentors, who played a big role in our education, thank you. You made a substantial impact on our lives and please know that whatever success we are receiving today and in the future, you are always a part of it.
To our friends and classmates who have been our companion in difficulties and comfort for the last years, thank you. Thank you for all the sleepovers, that in reality, the word "sleep" was nowhere to be found. Thank you for the group studies that we've shared especially on our major subjects when we felt like we're a bit off and shaky. And most importantly, thank you for the memories of tears and laughter that were all pierced in our hearts.
To our parents and guardians who serve as the reason why we thrive to achieve greatness and why we are very eager to receive the diploma, thank you very much. Thank you for all the "pangasaba" where "baon" comes after, thank you for being a human alarm clock without any snooze, and thank you for being our number supporter and provider in all our endeavors. Trust me, you all deserve and should require, a major percentage in the monthly salaries that we'll earn later on.
Now, ever since grade school, I have been asked about my motto and usually, I would just surf the internet and look for famous mottos said by different personalities. But this time around, I want to share something that really captures me as a person and as a student. So here it goes, "THE TOUGHER IT BECOMES, THE MORE FULFILLING THE REWARD."
I always believe that taking the easy road is okay, but choosing a formidable path is something that's admirable. Although we often want stress-free situations, I presume everyone has already experienced that in life, problems always arise along with it. But having the courage to take on that challenge and just put in your best effort really says a lot. Like no matter what result comes after, it will always be a gain for you since it was your personal choice to make room for self-growth and self-improvement. And I think that alone weighs more than any trophy or medal a person could actually have.
Tomorrow, we will be closing another chapter of our lives, and a new beginning shall be opened.
Well, who knows maybe some of us would immediately proceed to a Master's Degree, or apply for a job that's well-suited for our degree programs, or start and open a new business, or pursue a career in acting and beauty pageants, or just relax and enjoy being unemployed at the moment, or marry the person we truly love. But whatever that is, I hope we live a life that's full of happiness, kindness, and contentment. Before I end this valediction I would like to request the graduating students to please rise and repeat after me. I WILL LIVE A HAPPY AND MEANINGFUL LIFE. Okay, one more time and say it louder, I WILL LIVE A HAPPY AND MEANINGFUL LIFE!
Once again, congratulations to the parents and to all of us, and I hope that we all become useful citizens in the economy. Thank you so much, and mabuhay!