#GoingGlobal: Japan's Tottori University signs agreement with VSU
Details

Written by Ulderico B. Alviola

Published: 30 June 2022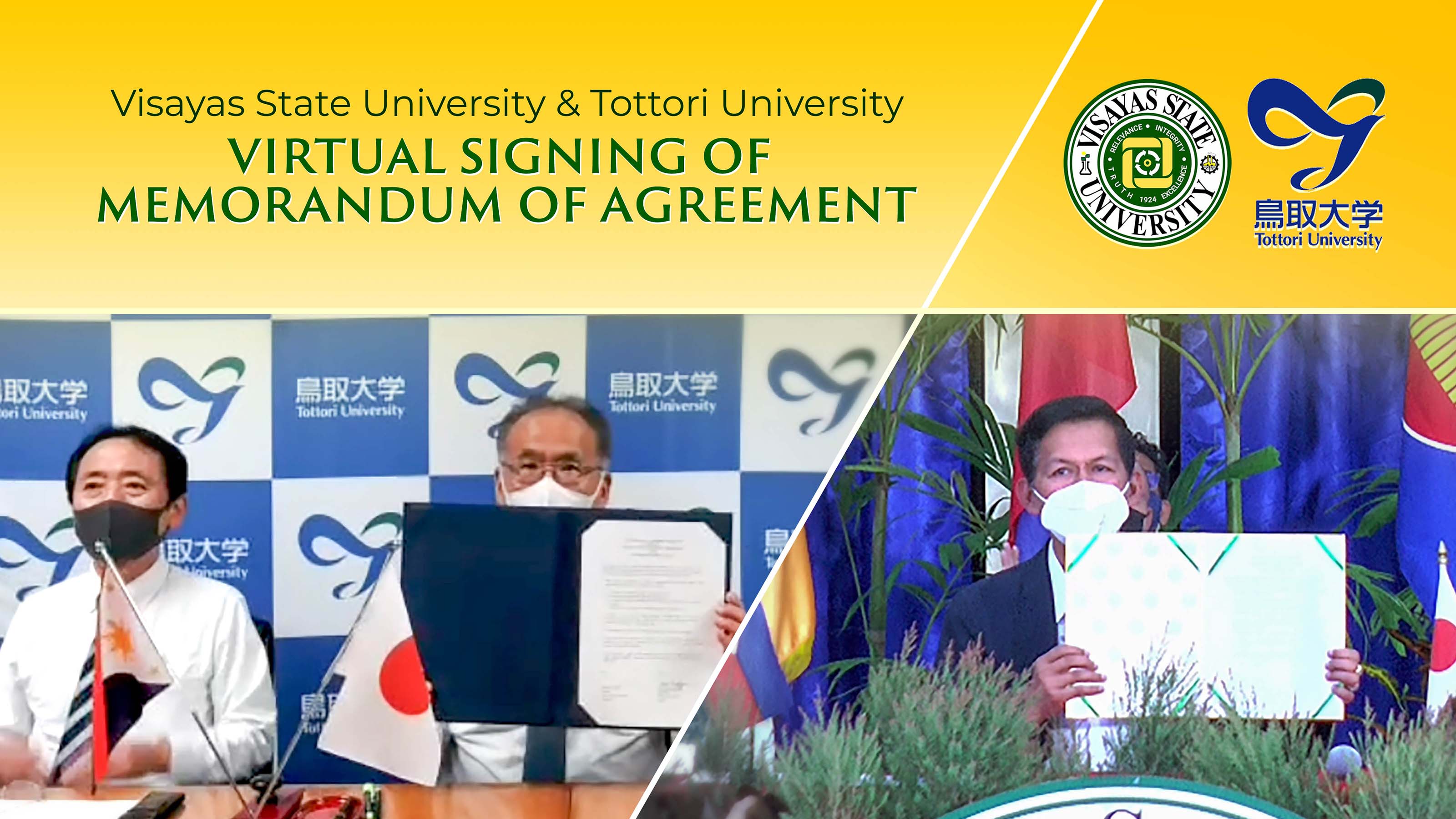 The Visayas State University finds a new partner with another Japanese institution, the Tottori University (TU).
This is the third Japanese university to have signed a memorandum of agreement (MOA) with VSU, with Hiroshima University being the first and longest partner since 2011, followed by Nagoya University in 2021 who proposed to establish their second Philippine station here inside the flagship campus at Baybay City, Leyte.
VSU has intensified its internationalization efforts by partnering with more foreign universities as a way of improving student and faculty mobility overseas.
The virtual signing of the MOA between TU and VSU happened on June 15, 2022 which was featured in a local Japanese television newscast.
TU President Dr. Hiromitsu Nakajima and VSU President Dr. Edgardo E. Tulin led in the ceremonial signing which was witnessed by the other key officials of the two universities.
Located in the Chūgoku region of Honshu, the Tottori University was established as one of the national universities of Japan in 1949.
This institution is engaged in educational research and community service, taking advantage of the knowledge discoveries and practical resources to be able to contribute to the development of regional and global scale programs.
Aside from VSU, TU has also established academic exchange agreements with three different institutions in the Philippines that started in 1993.
In his speech during the virtual signing, Dr. Hiromitsu Nakajima explained how this new partnership with VSU will benefit the two universities.
"I believe that the agreement plays a vital role in carrying out the project. It is essential to have close sectoral exchanges. We can see that there are possibilities to exchange not only in agriculture but also in veterinary medicine, engineering, education, nursing and other fields," the TU President said.
The MOA also expands current extension engagements between TU Faculty of Agriculture Professor Dr. Eiji Morimoto and VSU Vice President for Administration and Finance Dr. Daniel Leslie S. Tan.
"Our door is always open and we welcome researchers and students in our university. We would have a continued understanding and have cooperating relationships to have more extensive development of academic exchange between the two universities and the two countries," Dr. Nakajima added.
The MOA also enables both universities to engage in different activities such as exchange professor programs including a mobility opportunity for research scholars, undergraduate and graduate students, and other collaborative activities in design and production of scientific materials.
In response VSU President Tulin expressed his gratitude to Tottori University for choosing VSU as one of their four partner institutions here in the Philippines.
"I'm personally delighted and grateful to our friends from Tottori University for making this partnership happen. By partnering with many foreign universities, VSU could further amplify its global standing and achieve greater international prominence. Our strong pool of academic faculty and researchers can also collaborate with your university in a lot of areas that will hopefully result in regional and national development for both our countries," Dr. Tulin said.
Key officials of both universities were present in the virtual signing ceremony.
There were two Trustees of TU who witnessed the event along with their Vice President for Promotion and International Exchange, the Head of International Affairs Division, two Deans and three other faculty members.
From VSU's side, the five Vice Presidents were in attendance, joined by the Dean of the Graduate School (GS), and the Dean of the College of Engineering and Technology (CET). All the Department Heads of the six academic units of CET were also present in the signing ceremony.
VSU has sent several faculty members to Japan for graduate studies. In fact, the current VSU President is also a Japanese educated scientist who completed his doctoral degree in Nagoya University in 1993 including his post-doctoral degree in Iwate University in 1995.