Bureau of Plant Industry accredits PhilRootcrops as plant nursery operator
Details

Written by Joseph Kenneth M. Labastida

Published: 29 June 2022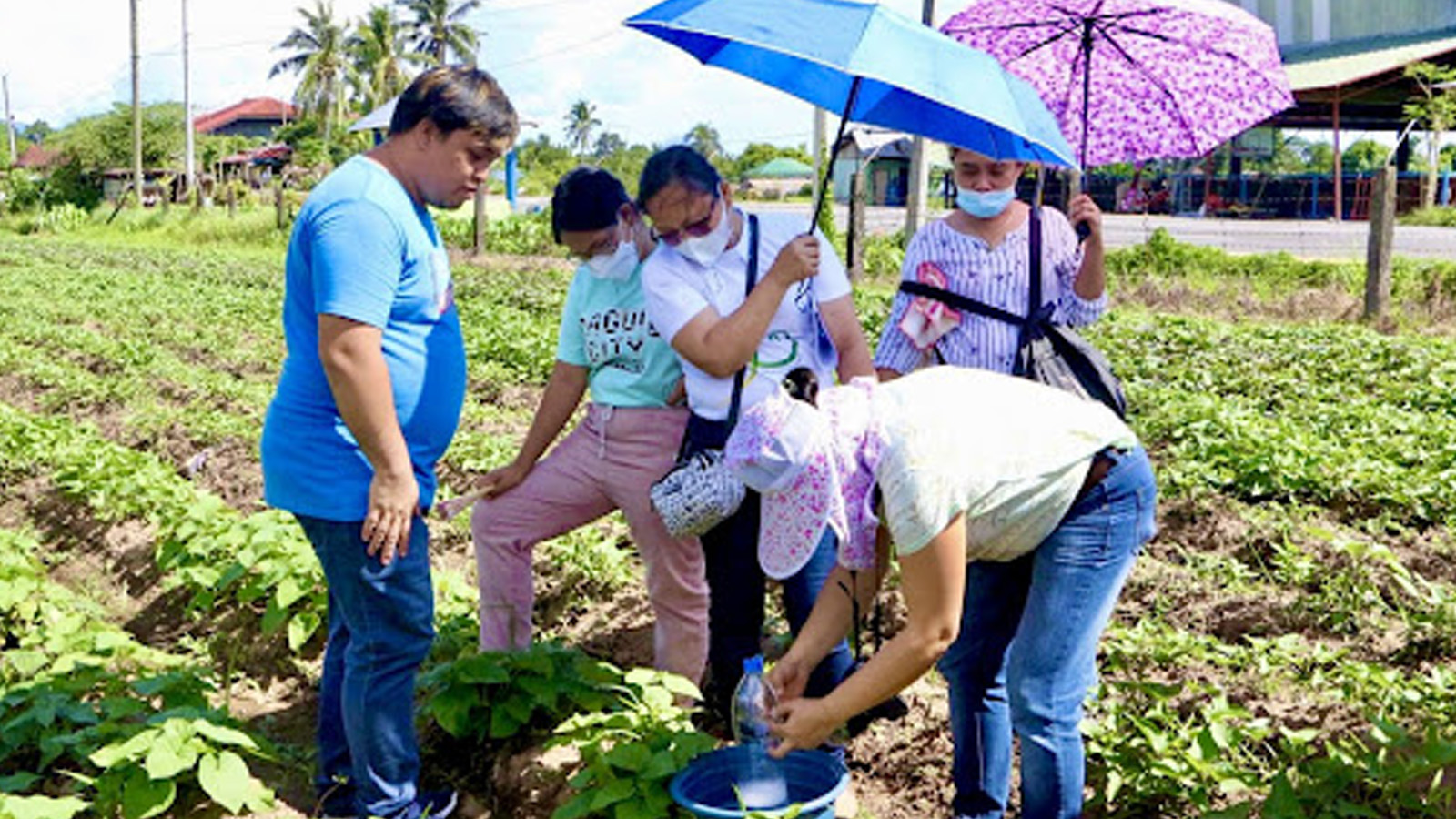 BPI officials were accompanied by PhilRootcrops research staff for the site validation visit which was implemented as an important part of the plant nursery accreditation process.
The Philippine Root Crops Research and Training Center (PhilRootcrops) is now an accredited nursery operator of the Bureau of Plant Industry (BPI) for quality planting materials of sweetpotato.
This is the second crop to be accredited by the BPI for PhilRootcrops with cassava getting its first certification in 2017 and was later renewed in 2020 that will last for another three years.
The BPI accreditation for sweetpotato nursery was awarded on May 30, 2022 during a stakeholders' meeting at Barangay Cogon,. Baybay City, Leyte and will be effective until 2025.
Former PhilRootcrops Director Dr. Erlinda A. Vasquez was the prime mover in getting this accreditation through the help of Mr. Dioscoro M. Bolatete, Jr., a senior agriculturist of the center.
Officials of the BPI both from national and regional offices also conducted a validation site visit to the newly accredited sweetpotato nurseries as part of the regular monitoring process of the bureau.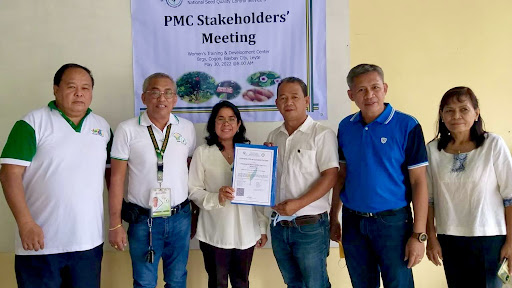 Dr. Erlinda A. Vasquez and Mr. Dioscorro M. Bolatete (center) receives the accreditation certificate from BPI officials with former VSU President Jose L. Bacusmo (leftmost) also joining the simple awarding ceremony.
Plant nursery accreditation and planting stock certification is believed to be a sound strategy that can promote high quality plant seedling production which would eventually provide a lucrative livelihood opportunity for smallholders and local communities.
The main goal of plant nursery accreditation is to ensure the production and distribution of quality planting materials coming from recommended crop varieties or species that are true type and are free from pest and diseases.
Dr. Vasquez explained that BPI's certification to PhilRootcrops will make way for more agencies and groups to source out their planting materials from VSU.
"Government agencies who would like to do massive agricultural development programs that include distributing thousands of planting materials are required to only get their planting materials from accredited nursery operators. Now that we have two certifications for both cassava and sweetpotato, we can access more people in different parts of the country who would like to introduce root crops production in their respective localities," Dr. Vasquez said.
With the lifting of travel restrictions, PhilRootcrops has now been very active in partnering with various government agencies in Luzon and Mindanao to promote root crops as a viable source of income for farmers.
In fact, the planting materials from PhilRootcrops have been distributed recently to Southern Leyte as part of the recovery programs initiated by the provincial government to rehabilitate agricultural communities that have been heavily devastated by Typhoon Odette.
Another upcoming project of the center related to massive promotions of root crops as a viable livelihood venture is to be implemented in Basilan in partnership with the Institute for Autonomy and Governance (IAG).
Through a project called Modeling Inter-LGU Alliance in Basilan (MILAB), this initiative will seek to establish root crop based livelihood programs for the people with PhilRootcrops assisting the project stakeholders through the provision of technical assistance and other forms of capacity building activities.